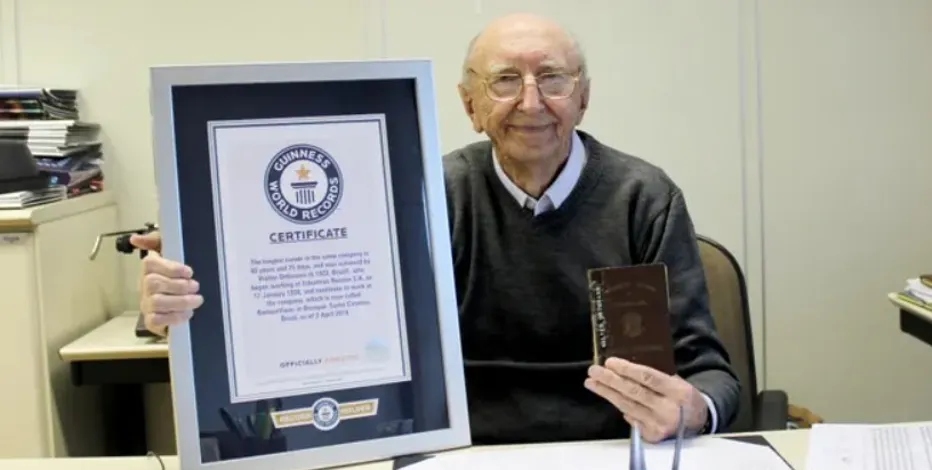 100-year-old Walter Orthmann of Brazil broke the Guinness world record for the longest tenure by staying in the same company for 84 years.
Guinness World Records reported that Orthmann was born on April 19, 1922, in the small Brazilian town of Brusque. He started working at 15 to help his family with financial issues.
Many people work at multiple companies throughout their careers, rather than just one.
Not Walter Orthmann.
He says his best career advice is to find a good employer and do what you love.
On Jan. 17, 1938, he was hired as a shipping assistant for the textile company- Industrias Renaux S.A., now known as ReneauxView. He was quickly promoted to a sales position, and then became a sales manager, a post he has held ever since.
He's now been with the company for more than 84 years, breaking the Guinness World Record for the longest tenure in the same company.
Orthmann described this record as his "proudest achievement". He said that focusing on the present was what drove him to make history.
"I don't do much planning, nor care much about tomorrow. All I care about is that tomorrow will be another day in which I will wake up, get up, exercise, and go to work," he said in a news release. "You need to get busy with the present, not the past or the future. Here and now is what counts."
In the 1950s, Orthmann's job required him to travel around Brazil, and he stated he fell in love with being on the move and building solid relationships with clients. He celebrated his 100th birthday with coworkers, friends, and family last week. Orthmann is in good health, according to Guinness, with "great mental clarity and memory". His favorite place to be in the office, and his advice for obtaining the same level of longevity as he has is to work for a good company where people feel motivated.
"When we do what we like, we don't see the time go by," he said.
With the Guinness recognition, Orthmann is breaking his own previous record for the longest career at the same company. In 2018, he was already recognized for having worked 80 years at ReneauxView.
Looking back on his life so far, Orthmann says he considers the record his "proudest achievement" despite "never having contemplated breaking a record."