Do you remember the first time people looked to you to make a big decision or asked for approval before moving forward?
That was power, and chances are, you liked it, wanted more of it, and even started looking for additional opportunities to exercise it.
There is nothing inherently wrong with power. Some say it's a fundamental tool used by great leaders. However, nothing will cause a leader's demise more than falling in love with power. It can be a dangerous distraction from the most critical job of a leader today, elevating others.
Take Chris, a Division VP at an established manufacturing company, for example. When he was first promoted to Vice President, he didn't care who had the power or how much he possessed. Instead, he was so excited about the opportunity to impact the lives of 100 people positively.
For the first five years in the job, his team's performance improved so much that Chris was labeled "the next big thing" in the company. When discussions began on the management team about a new President, Chris' wheels began to turn. Not only did he want the job, he thought the other VP's were borderline incompetent.
Chris did what most people in this position do. He started jockeying for power and authority. He communicated his vision for the company and why he was the best person for the job to anyone who would listen. He even went as far as to throw others under the bus to make himself look better.
Not only did it take a toll on his credibility with employees, but his own team's performance began to suffer. When Chris finally noticed the slip, he didn't look in the mirror at himself; he exercised his authority and demanded better and faster work.
The result was a team that turned against him and a promotion that slipped through his fingers. Eventually, Chris was politely asked to leave the company by the newly promoted president.
There is nothing wrong with the desire or ambition to get a promotion, whether it's a frontline manager or president, but pursuing a title just for power is a recipe for disaster.
If you want to ensure what happened to Chris doesn't happen to you, let's get clear on what you can do to avoid being blinded by power.
Understand What Power Is and Isn't
There are many definitions or perspectives about power, but the definition I am using today is the possession of control, authority, or influence over others. It is leveraged by leaders to persuade people to action or to do as they ask. Many managers, supervisors, and executives have control or authority because of their position. However, influence can be gained by anyone because it's primarily earned. Influence over others has its greatest impact when it's earned, not given.
In countless examples from our research, the best leaders earn their influence over others by focusing on an inner strength that doesn't depend on outward things. This inner strength is then used to inspire others to make their own decisions in the team's best interest. While they will occasionally exercise their control or authority because of their position, it's not a trump card they prefer to pull.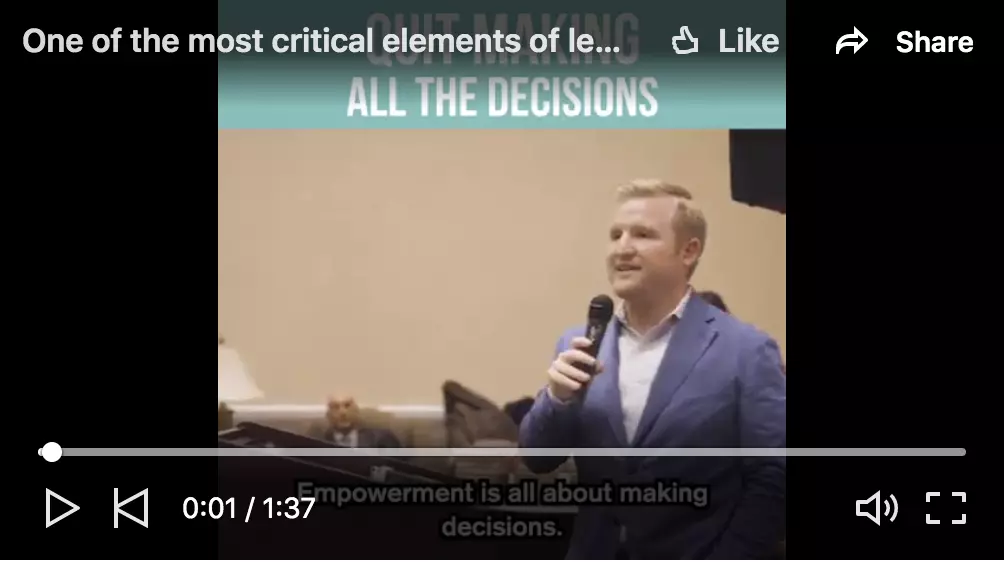 Power Can Corrupt
Abraham Lincon said it best, "If you want to test a man's character, give him power." In organizational leadership, certain hierarchical positions come with control over resources. This can cause leaders to act on their selfish human nature versus what's in their organization or team's best interest. If one doesn't have humility and high character, power will overtake them.
It's common in my coaching conversations to hear about leaders feeling threatened by a high performer or sense they are threatening another leader above them because of their performance. Research suggests that the desire for a leader to maintain their position atop the hierarchy can be so strong that many are willing to engage in questionable and unethical behaviors to protect it.
Typical behavior includes; lying, taking credit where it doesn't belong, sabotaging someone else, or withholding information or resources to make work harder. As evil as these sound, they happen every day in politics, companies, and even families, and no one is immune to the temptation of making them.
Power (Like Money) Does Matter
Don't think for a second this is a bash session about power. Just like money, power absolutely matters. Take money, for example. Money by itself isn't evil; it makes possible the best what earth affords, and it's a vehicle to opportunity.
Power is similar; your ability to get things accomplished, create a better future than exists today, and impact others relies heavily on having power. To act as if it's not essential or that only bad leaders care about it would be stinking thinking.
What you do with power matters, and it makes or breaks you as a leader.
Here are the power questions I want you to ask yourself:
Why are my true intentions for wanting more power?
Who could benefit from the power I gain outside of myself?
Who has the power in my organization today?
Whom do I need to get to know better to acquire it?
How would you use power if you had it?
Closing
The best part of leadership is that it's a journey and not a destination. You will be happy to know Chris learned this lesson about power the hard way. Through a lot of hard work, he makes sure he doesn't fall in love with power and keeps his attention on elevating others, now that he is the CEO.
About the Author: John Eades is the CEO of LearnLoft, a leadership development company helping executives and managers to lead their best. He was named one of LinkedIn's Top Voices in Management & Workplace. John is also the author of Building the Best: 8 Proven Leadership Principles to Elevate Others to Success. You can follow him on Instagram @johngeades.