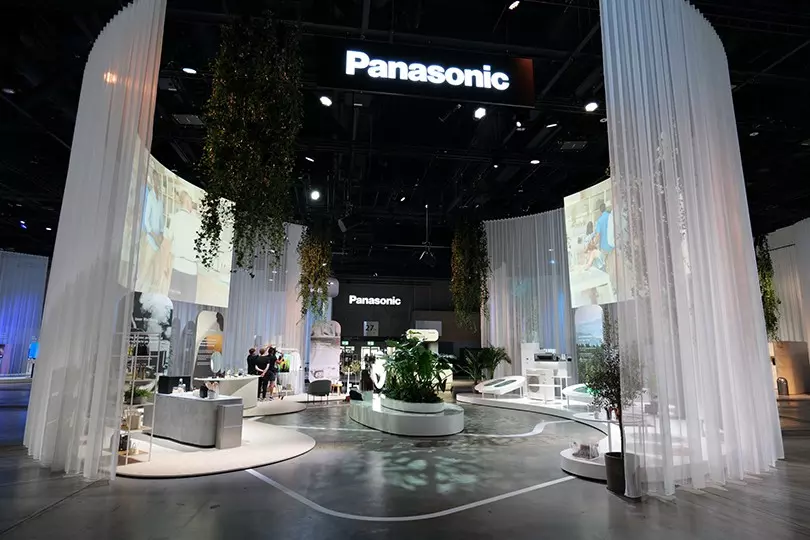 A holistic approach to sustainable development implies an integrated achievement of economic, environmental and social goals of development.
The time is now to move beyond increasing transparency around sustainability outcomes, and indeed those of the Sustainable Development Goals (SDGs) more broadly, to ensure this is underpinned by true commitment and accountability too. Such an ethos has come to the fore as embedded by design within Panasonic's GREEN IMPACT initiative to deliver innovative solutions to fight climate change - with a specific focus on massive carbon reductions and circular economy principles that are ingrained from conceptualisation, through to end of life. This is something I have been privileged to speak to Panasonic Corporation President and CEO Masahiro Shinada with directly, inspiring the development of this piece.
And as a testament to how embedding a sustainability mission into business strategy delivers shared value impact, it comes as no surprise to see Panasonic being recognised in the Top 50 leading companies on Innovation and Climate & Sustainability by the Boston Consulting Group – excellent research, with all the details available here. In this piece I explore some of the critical pillars of GREEN IMPACT, including new announcements from the IFA consumer tech event where Panasonic updated its customers on its bold vision for a more sustainable future, employing technology as a powerful force for good. And as announced at IFA, this goes beyond accelerating the path to Net Zero by 2050, to consider other areas of societal impact, notably enhancing wellbeing, a growing challenge of our time.
Commitment to Sustainability in All Aspects of the Business
Focussing in on IFA, it was fantastic to personally be back to Hub27 in Berlin, where Panasonic demonstrated its latest product evolutions across its entire consumer range, including TV, Home AV, Small Kitchen Appliances, Personal Care and Digital Imaging. And reflecting the 'embedded by design' commitment to sustainability, Panasonic's brand new booth design covering over 5,000 square meters delivered on exactly this, saving a total of 140 tons of CO2 emissions compared to 2019 – that's a substantial reduction of 71%. This was achieved through meticulous attention to materials selection and avoidance, wall decoration and the manner in which both product solutions and pilot projects were presented.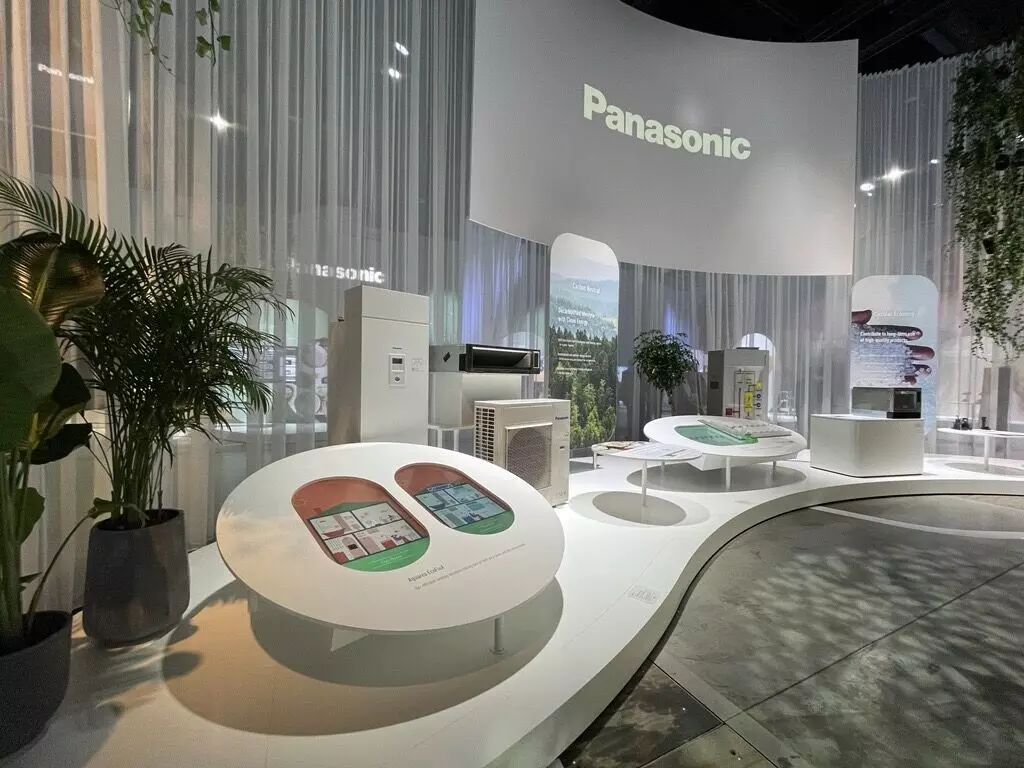 And in respect to headline sustainability commitments, these 3 personally stood out:
✅ Reduction of over 300m tons CO₂ emissions by 2050 across the entire value chain and including avoided societal emissions for the whole Panasonic (Holding) Group.
✅ 150m tons CO₂ emissions by 2050 across P-Corporation's value chain - Mr. Shinada's business sector.
✅ 50% CO₂ emissions reduction by 2030 (FY31) across Panasonic Corporation's value chain compared to fiscal 2021.
Sustainable Technology in Focus
Putting all this into context with real world examples now, in the domain of Carbon Neutrality, notably green and affordable heating, Panasonic introduced the new Aquarea EcoFleX system. As discussed at a private media event roundtable, this innovation could not be more timely given the growing 'energy crisis' in Europe, which is at a tipping point around supply, demand and cost.
The EcoFlex offers a ground-breaking heat pump for heat recovery to produce hot water, energy-efficient space heating, space cooling and with instant connectivity via the Comfort Cloud App for smart monitoring, and with Panasonic's nanoe™ X technology to provide cleaner air; inhibiting five types of pollutants. Or in other words, it combines both energy conscious heating & air conditioning with air purification. And when operated with green electricity, Aquarea air-to-water heat pumps create virtually no CO2 emissions during operations, as up to 80% of the required heat energy is taken from ambient air. Truly a shared value impact innovation across sustainability and spatial wellbeing!

Pure Hydrogen for Future Energy Generation
In respect to Carbon Reduction, notably reducing dependence on fossil energy and enabling fewer CO2 emissions, Panasonic showcased the Pure Hydrogen Fuel Cell Generator that can be operated by green hydrogen – this is important as the process of production using electrolysis to split water into hydrogen and oxygen uses renewable energy sources, as highlighted below. A single Panasonic pure hydrogen fuel cell unit can generate up to 5 KW of electricity while heat as a by-product can be used to produce hot water and space heating.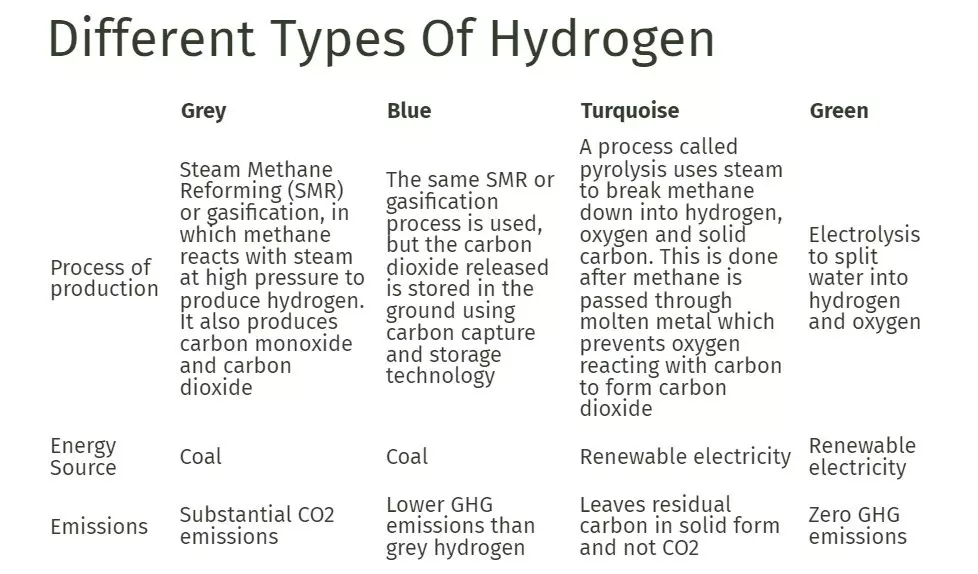 And this approach is already in use! With 99 units of this innovative pure hydrogen fuel cell system becoming an integral part of the pilot facility launched in April 2022 at a Panasonic factory in Kusatsu, 200 kilometres from Tokyo, Japan. Named "RE100" (Renewable Energy 100%) this is the first production plant in the world capable of being powered entirely by renewable energy. Such hydrogen fuel cell technology allows for an additional 495 KW of peak power generation capacity (99 x 5KW), to support the photovoltaic panels positioned across the site's exposed surfaces that generate nearly 570 KW of electricity at maximum efficiency - creating a self-sustaining power system.
With the success of the first commercial use in Japan, and as discussed at the media roundtable, the pure hydrogen fuel cell technology is anticipated to be introduced into Europe once infrastructural conditions and the availability of pure hydrogen are assured, with substantial interest across both the private and government sector. Some of the key benefits, exemplified by the "RE100" site are summarised below.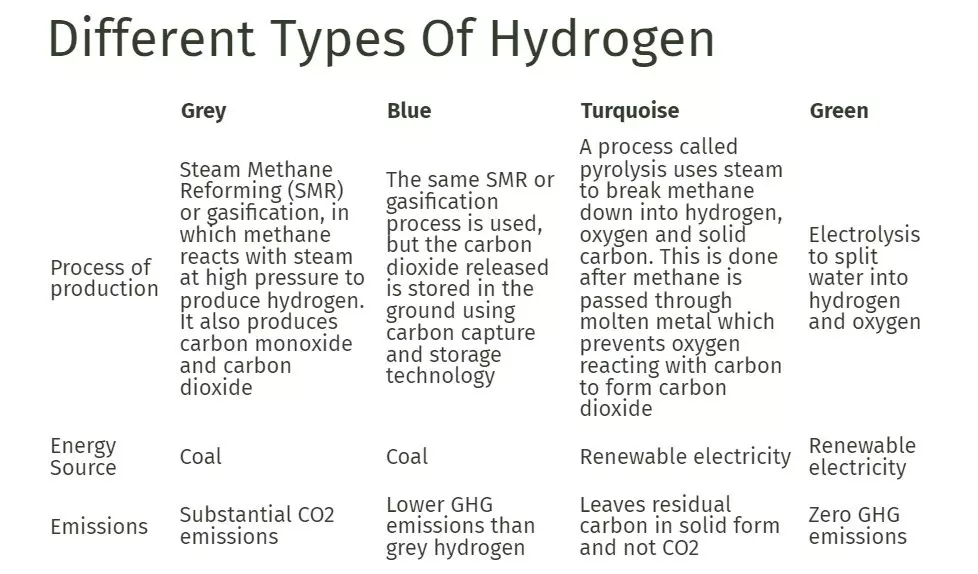 Clean Manufacturing Solutions
And thirdly, aligned to embedding Circular Economy principals, Panasonic is introducing a new design thinking approach to extend the lifetime of its products, commencing in the Europe region. This is embodied in the MULTISHAPE personal grooming product which embraces modularity, with interchangeable heads to enable five different types of personal grooming from a single device. By removing the need to have a motor, rechargeable battery and adapter across separate products, a resource saving of around 60% can be achieved, coupled with the capacity to self-replace individual parts if required to increase longevity.
Moving on now to focus on Panasonic's deepening focus on wellbeing in more detail – this feels instinctively on point, given the increasing connection across technology, environment, wellbeing and lifestyles. Most recently, during IFA and an additional roundtable conversation with Mr Shinada, the ways in which products can help users achieve a greater balance of Inner, Outer and Spatial wellbeing came centre stage.
Taking each in turn, inner wellbeing is reflected in the design of products such as kitchen appliances that allow consumers to prepare healthier food in a more energy-saving way, while outer wellbeing reflects innovation in personal care products that enable consumers to take optimum care of their hair, skin and overall appearance. Finally, spatial wellbeing embraces how to turn homes and work spaces into 'feel-good' zones. Putting this into context with an example that is available right now, Panasonic Etherea room air conditioners are equipped with nanoe™ X technology which produces hydroxyl radicals contained in water, bringing nature's balance indoors and improving the air quality, and so contributing to spatial wellbeing from office to home alike.
Final Thoughts
Technology affords vast potential to accelerate the path to Net Zero by 2050 and also support peoples' everyday lifestyles and wellbeing. Reflecting on all the announcements and discussion above, I believe the new Panasonic message to ''Create Today, Enrich Tomorrow" launched at IFA could not be more appropriate, reflecting not just the desire to deliver for people, society and planet, but the tangible actions to actualise this vision. At a time when increasingly conscious consumers are aware of issues such as greenwashing, and making brand relationship choices not just on areas such as product quality, service and cost, but based on shared values and contribution to society, it is excellent to see not just the transparency afforded to deliver on sustainability and wellbeing, but that this is underpinned by true commitment and accountability too. I look forward to the next steps with GREEN IMPACT and to sharing more about the people and the technology helping to make this vision a scalable sustainable reality. To explore more, please find further details here.

About the Author
Prof. Sally Eaves is a highly experienced chief technology officer, professor in advanced technologies, and a Global Strategic Advisor on digital transformation specializing in the application of emergent technologies, notably AI, 5G, cloud, security, and IoT disciplines, for business and IT transformation, alongside social impact at scale, especially from sustainability and DEI perspectives.
An international keynote speaker and author, Sally was an inaugural recipient of the Frontier Technology and Social Impact award, presented at the United Nations, and has been described as the "torchbearer for ethical tech", founding Aspirational Futures to enhance inclusion, diversity, and belonging in the technology space and beyond. Sally is also the chair for the Global Cyber Trust at GFCYBER.