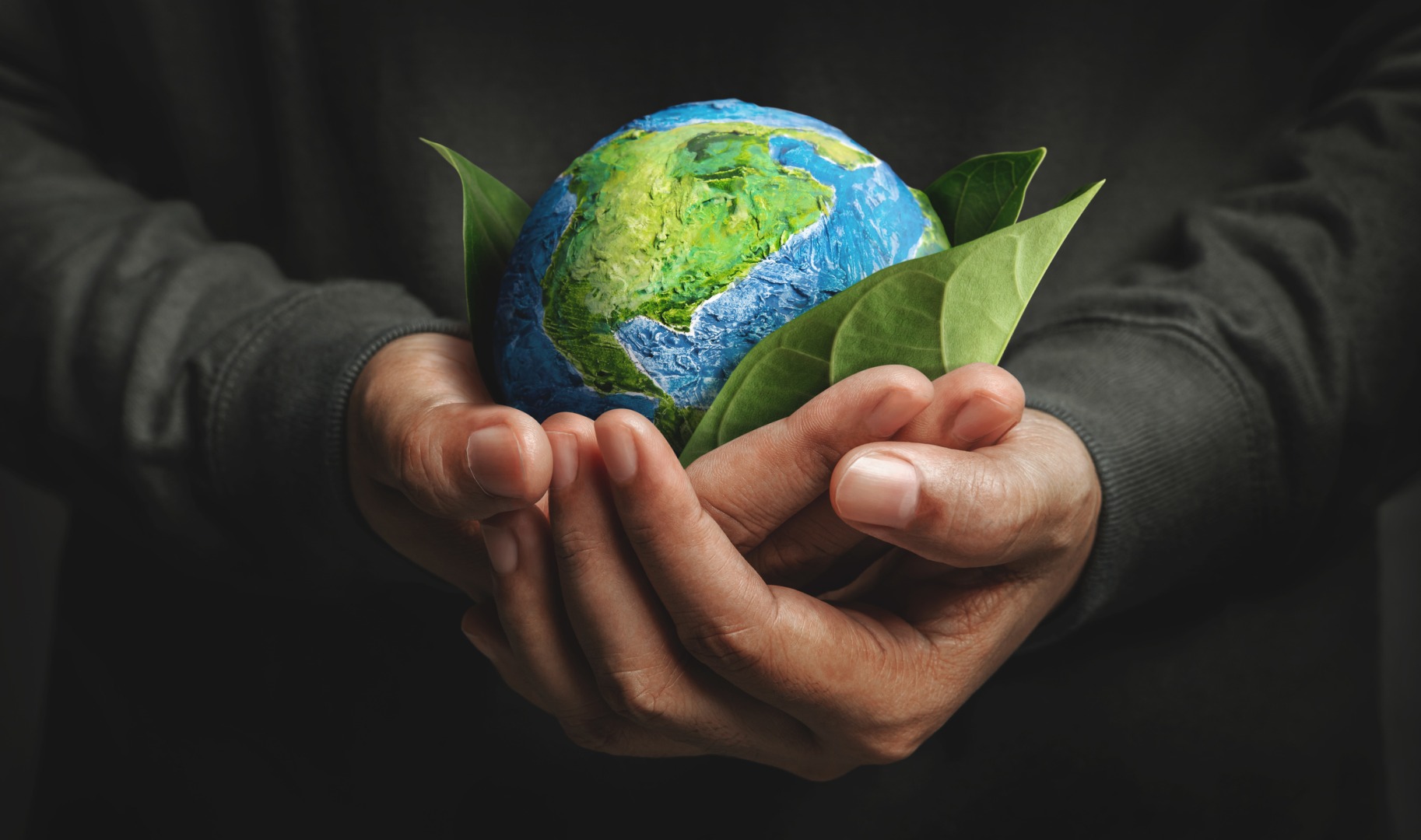 Environmental, social, and governance (ESG) measurement is becoming increasingly important in the corporate world.
It is estimated that 70% of the UN's 169 Sustainable Development Goal (SDGs) targets can be supported directly through advanced technologies (WEF 2030 Vision) and especially as a fundamental driver of Sustainability.
I wholeheartedly believe that a focus on sustainability transformation represents the next step in the co-evolution of business and society to create shared value impact that scales. And indeed, we have already seen a number of indicators of the renewed prominence of Environmental, Social and Governance (ESG) considerations across consumer, employee, governance and ecosystem partner perspectives.
Right across industry verticals, people are learning how to think about ESG and apply it to their work. So how can we better unite technology and sustainability to optimise this potential? This is an area I am deeply active in and passionate about and so here and split into a two part special to allow a complete and holistic deep dive, I discuss the challenges and opportunities, enriched by a discussion with the always inspiring Sarwar Khan, Global Head of Digital Sustainability at BT Group. This is fresh off the news of BT Group's launch of a Carbon Network Dashboard and Digital Carbon Calculator – more on this to come in part two! But first, let's set the scene around ESG today, exploring the indicators of positive change, identifying and addressing key challenges to scale impact and a specific focus on ESG strategy – minding the measurement gaps.
ESG – Indicators of Positive Change
Reflecting on the ESG impact experienced in 2022, especially around corporate sustainability, a number of vectors of change are converging and enabling positive results. Firstly, we have seen an evolution in expectations across customer, employee, governance and ecosystem partners which is actually resulting in behavioural change. As just one example, consumers are taking greater care in choosing who they buy from – according to research by Glow, 1 in 4 consumers have recently changed products based on a brand's ESG performance.
This is equally reflected in the 'Future 100: 2023' study by Wunderman Thompson which amongst a superb diversity of topics, highlights cultural shifts including people turning to social media feeds more commonly for 'good news only' and genuine emotional uplift. And organisations that address these needs are already seeing results! A recent study by Accenture reveals that companies that take the lead on ESG issues also outperform financially, generating up to 2.6 times more value for shareholders than their peers, something that is reflected in developing areas such as commitment setting and reporting.
Today more companies than ever before are setting and sharing their personalised net zero and nature positive goals with about one third, or 34%, having published official decarbonization targets to tackle climate change (Climate Trade 2022). Both the European Central Bank and the European Banking Authority recently communicated their priorities for 2023-2025, making it clear that ESG, climate risk and sustainable finance concerns are high on their agenda. We have also seen the accelerated pursuit of circular solutions including reuse and repair business models to reduce waste, adoption of various ESG measurement models and the growing trend to link sustainability performance to executive pay. The list goes on! but behind the impact trajectory here, it is important to acknowledge challenges so that the full potential to create a contagion of positive change becomes a reality.
ESG – Addressing Challenges to Scale Impact
We are at a dynamic moment of time where a number of challenges are converging, these include the Cost-of-living Crisis, Economic Downturn, Geoeconomic Warfare, Societal Polarization and identified as Number 1, a Climate Action hiatus as foregrounded in the latest WEF Global Risk Report 2023. This research stands out with its emphasis on the interconnected nature of risk and the poly-crisis being experienced globally as summarised in the infographic below – within this, the size of the dot (Nodes) denotes how significant the risk is, whilst the thickness of the line (Edges) reflects how influential the connection is.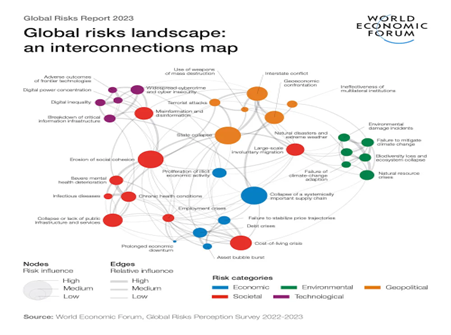 The war in Ukraine also complicated investment decisions around ESG with investors struggling with ethical challenges – for example, is investing in defence companies ethical given the security challenges and of course energy crisis triggered by this invasion? The discipline has also found itself under pressure from different extremes of view with companies, regulators and assets managers too frequently 'stuck in the middle' and consumers often left confused. This combination of geopolitical instability, fragile global supply chains, ambiguity and complexity served to challenge corporate ESG integration.
Additionally, if we consider the growing trend to link sustainability performance to executive pay with greater scrutiny, we also see differences that are noteworthy – especially those across geographies. Indeed a recent study indicates a gap of 60% to 37% respectively comparing Europe to North America. In particular, there was a distinct difference in the type of ESG impact that was tied to executive compensation – taking environmental issues as one example, only 47% of those in North America used this ESG metric, contrasting with an overwhelming 96% in Europe. Let's now explore some of these impact gaps in more detail.
ESG Strategy – Mind the Measurement Gaps!
Putting this into context, a recent study by IBM's Institute of Business Value (IBV) finds that whilst some 86% of companies have a sustainability strategy, only 35% have acted upon it. There are many contributing factors here, one of which being an issue affecting multiple verticals – that of managing the 'data paradox' and going from volume to optimizing full value - this is critical in a context of Statista forecasting a global datasphere of some 180ZB by 2025. And drilling into the IBM study further, difficulty in defining and measuring ROI and economic benefits (57%) and a lack of insights from data (44%) emerge as leading challenges for CEO's in meeting their sustainability impact aspirations.
Providing additional insights, research by BT Groupinto another highly evolving role - that of CIO – highlights not only their key influence in driving both digital and sustainability outcomes, but also that this 'journey to green' is not easy - just two percent of CIOs surveyed marked sustainability as a top priority for their digital transformation efforts. This may be partly explained by the findings of Accenture, which reveals that currently, only 49% of CIOs are part of the leadership team actually sets these sustainability goals.
This is clearly a gap that needs to be closed with a new piece in Pipeline Publishing by Sarwar Khan, Global Head of Digital Sustainability at BT Group, providing tangible advice on 'the how' of embedding digital solutions to help companies make sustainability an integral part of technology investment decisions. 4 key recommendations are summarised below:
🌍 Identify SEC rule changes and the impact they will have
🌍 Understand your organization's digital carbon footprint to make decisions
🌍 Work with key transformation stakeholders to create sustainability goals
🌍 Track progress along the way to measure effectiveness
Drilling into that fourth pillar of 'tracking progress' illuminates what I believe to be the most significant challenge gap of all – that of measurement. Firstly we see issues related to trust, with 'Greenwashing' fears rising and examples ranging from 'phantom credits' right through to misleading or false green claims around household basics. And this trust challenge affects in additional ways too, for example a recent study found that some 41% of Chief Sustainability Officers (CSOs) do not use carbon offsets due to such concerns, with an additional 43% seeking assurance from rating agencies around validation.
Further, with hundreds of measurement options it can be difficult for organisations to evaluate their ESG performance against those of industry peers, and equally it can be hard for increasingly conscious consumers to make informed decisions, something that extends to ecosystem partners too. Scope can also vary in terms of what is being managed, measured and reported upon, with areas as diverse as carbon footprint, water footprint, energy consumption, supply chain miles, savings from conservation efforts, waste reduction rates and both waste recycling and product recycling rates – the list could go on!
In particular, lack of holistic measurement, for example across internal and external scope emissions and lack of uniformity in carbon credit certification methods, alongside other ESG metrics, raises doubts on both the accuracy and comparability of sustainability measurement. Capped with the widely varied approach to ESG implementation observed across markets, it is clear that improved tools for reducing, measuring, verifying and reporting on ESG are both a business and societal imperative - and an enriching opportunity to change!
And at this point, it feels an appropriate moment to stop, pause and reflect on what we have unpacked so far: from the indicators of positive ESG change, to identifying and addressing challenges to scale impact and right through to the criticality of ESG strategy, especially in relation to closing measurement gaps. In part 2 of this special feature, airing next week, the focus moves onto the role of ICT and the telecoms industry, ESG measurement advances with the BT Group and a deep dive on the Carbon Network Dashboard and Digital Carbon Calculator launches!
All questions and feedback meanwhile, are very much welcomed
Thank you, Sally
About the Author
Prof. Sally Eaves is a highly experienced chief technology officer, professor in advanced technologies, and a Global Strategic Advisor on digital transformation specializing in the application of emergent technologies, notably AI, 5G, cloud, security, and IoT disciplines, for business and IT transformation, alongside social impact at scale, especially from sustainability and DEI perspectives.
An international keynote speaker and author, Sally was an inaugural recipient of the Frontier Technology and Social Impact award, presented at the United Nations, and has been described as the "torchbearer for ethical tech", founding Aspirational Futures to enhance inclusion, diversity, and belonging in the technology space and beyond. Sally is also the chair for the Global Cyber Trust at GFCYBER.