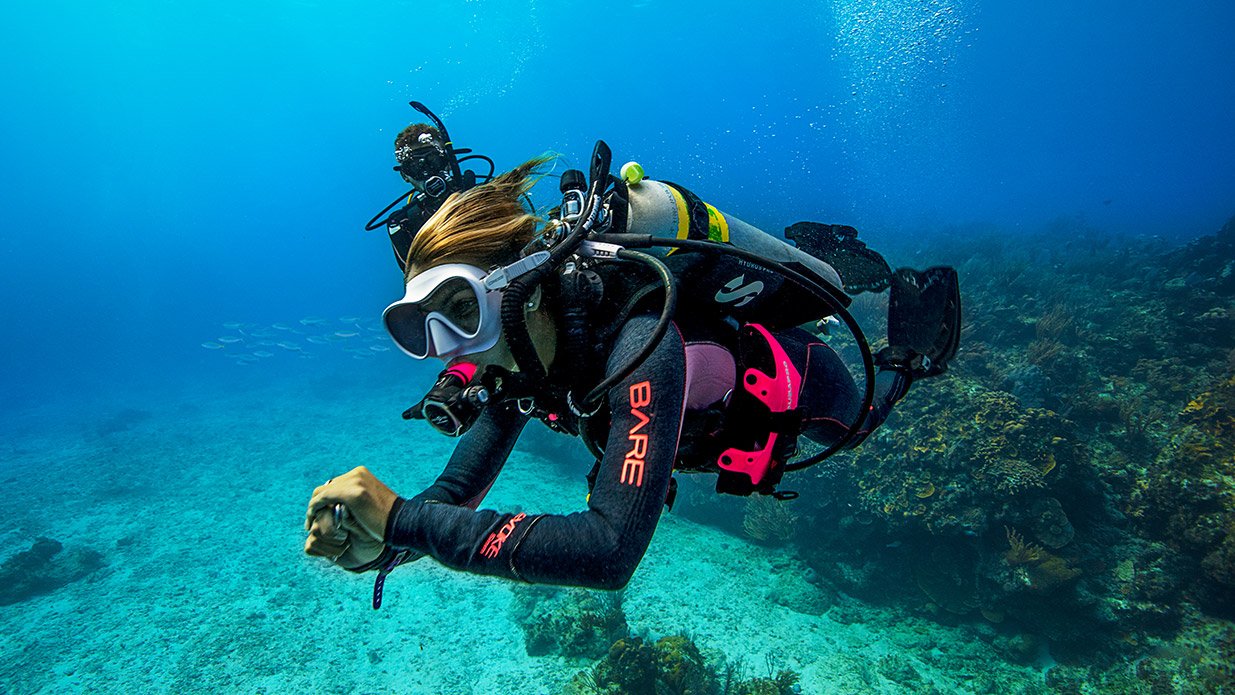 Cynics say the light at the end of the tunnel is a train.
PADI says it's the organization's millions of Ocean Torchbearers, citizen environmentalists joining the mission to maintain the majesty of the world's oceans. The Professional Association of Diving Instructors is proving even the smallest action can help pave the way for marine life to thrive.
"PADI is committed to investing in our ocean, the future of the dive industry, and in our dive communities around the world," says the planet's largest purpose-driven ocean exploration and diving organization, which features a global network of more than 6,600 dive centers and resorts and 128,000 professionals.
"PADI and PADI AWARE Foundation announced their joint blueprint for ocean conservation, commencing the PADI Decade of Ocean Action, joining the United Nations' universal call for a Decade of Action to achieve the sustainable development goals (SDGs), specifically supporting the implementation of SDG14 — Life Below Water. By connecting the PADI conservation blueprint to the international agenda for sustainability, we take meaningful actions that help advance the global agenda designed to create a healthier people and planet."
One of the most meaningful ways the organization is working to protect the oceans is through its three pillars of change, which are ocean conservation, diving industry sustainability, and nurturing inclusivity for people and humanity in the diving community.
"By harnessing the power and size of the PADI brand as a force for good that connects people to causes and actions that create social and environmental impact, we move toward a more balanced and resilient global ocean community," PADI explains.
Igniting the Pathway for Ocean Protection
PADI launched the PADI Conservation Activities Locator in 2021 as a premier industry tool to sync ocean-preservation opportunities in locations worldwide.
The locator was designed to match those seeking to engage in climate change education, marine debris removal, and other ocean conservation efforts with information on how to get more involved.
To boost its environmental efforts, PADI aims to inspire more than 1 million people to join its Torchbearers initiative. Ocean Torchbearers are not only collecting data for shark species protection, but they're supporting the movement to protect 30% of our ocean by 2030. It's all part of PADI and the PADI AWARE Foundation's Blueprint for Ocean Action.
PADI currently has millions of actively involved divers, retailers, and resorts working to keep the oceans healthier with its Adopt a Dive Site program. PADI plans to prompt 50% of its dive shops to adopt a dive site by next year and solidify new marine protected areas in 20 countries by 2026.
All Are Welcome
PADI CEO Drew Richardson says everyone is welcome to join the Torchbearers, even landlubbers.
"You don't even have to be a diver," Richardson says. "You could be in Saskatchewan and make an informed choice about how you source your food, or how you view single-use plastics, or how you look at your energy consumption. It could be anything like that."
PADI offers an ever-evolving list of conservation efforts to get involved with on padi.com/savetheocean, including a list of activities organized according to location, such as a coral restoration project in Costa Rica, a Dive Ninja Mobula Ray Conservation Expedition in Mexico's Baja California peninsula, and a PADI AWARE Dive Against Debris course in Cabo San Lucas, Mexico.
PADI works closely with the PADI AWARE Foundation directly supporting the advancement of underwater citizen science, ocean education, and marine policy change to address everything from climate change to protecting the oceans' most vulnerable species. Over the next decade, PADI has a plan to restore 5% of coral reefs, reduce the carbon footprint of the diving industry, and cut marine debris by 50% through PADI AWARE's grant program.
"Right now, there's an ocean spot in Antigua and Barbuda that's launching," PADI CEO Drew Richardson says. "They're farming coral, and they're trying to put it out on 3 hectares, and then scale that across the planet, and using regenerative tourism as a driver to get people engaged to help do the mechanics of that to show, that even with all the stuff people hear about the stresses of corals, there's hope there too, through action."
PADI Works To Raise Awareness About Marine Protected Areas
There are approximately 16,000 marine protected areas throughout the world. PADI shares that some of the best protected scuba spots are Tubbataha Reefs Natural Park in the Philippines, the Great Barrier Reef in Australia, Pacific Ocean island Palau's National Marine Sanctuary Protection Zone, and Bonaire National Marine Park in the Caribbean.
"What if we could arm divers around the world with the tools to create ocean change? What if we could give them a blueprint for action where they could tackle the key threats to the ocean?" PADI's Global Director, Corporate Social Responsibility Katie Thompson says in a video about protecting dive sites.
Jay Clue, a PADI Dive Center owner and founder of Dive Ninja Expeditions, says his business adopted three of Cabo's most iconic dive sites. "We adopted Land's End, Pelican Rock, and Neptune's Finger," Clue says. "It allows us to leverage the resources and expertise that AWARE brings and bring them to create impact on a local level to make a commitment to work to protect those sites so that future generations can still experience them even better than we see them today."
The PADI Team Remains Committed to Making Sustainable Tourism and Ocean Life Protection a Priority
"We're training millions of people around the world to explore the ocean," Thompson says. "But we're also now creating millions of ocean stewards and people that want to potentially do more than that and take action for the ocean and translate their diving into something more meaningful where they can protect it and save it and also protect what they love now too."
PADI has also played a paramount role in shedding light on places around the world passing legislation in favor of ocean health. For example, in January 2021, Hawaii was the first U.S. state to ban sunscreen products containing chemicals like oxybenzone and octinoxate that are harmful to coral reefs and marine life. In 2018, Seattle became the first U.S. city to ban plastic straws alongside single-use plastic utensils.
Florida made a more robust effort to protect the Great Florida Reef when Key West's city commission voted to ban the sale of sunscreen products that contain oxybenzone or octinoxate in 2019; The ban officially went into effect two years later.
Adopt the Blue
PADI AWARE Foundation Global Director Danna Moore explains how the Adopt the Blue program has been filling a crucial gap in the broader ocean conservation movement.
"In order to truly tackle the key threats facing the marine environment, the world needs a powerful ocean network that drives a clear pathway for nonprofits, governments, scientists, to scale citizen science, monitor marine habitats, and really make an economic case for protection at the local level," Moore says in a video.
The community-minded diving group says working together will continue to be the key to the future of ocean protection efforts.
"We've got a lot of work to do to aggregate a billion Torchbearers," Richardson says. "So, again, we reset our focus on that mission and vision, those pillars, and breaking it down to the blueprints. We're also bringing people together to explore and to think about ocean health. There's a ton of work to be done there, and we're really organizing there. We're all about inclusion."
With Richardson at the helm and millions of Torchbearers spreading the word, PADI is optimistic that the world's waters can be preserved.
"PADI has always been proud of our deeper purpose and the role we play in making the world a better place. We will stand together now, as Torchbearers, to cultivate awareness and stand up for a better world. It will take all of us working together to create a healthier, safer planet for all."