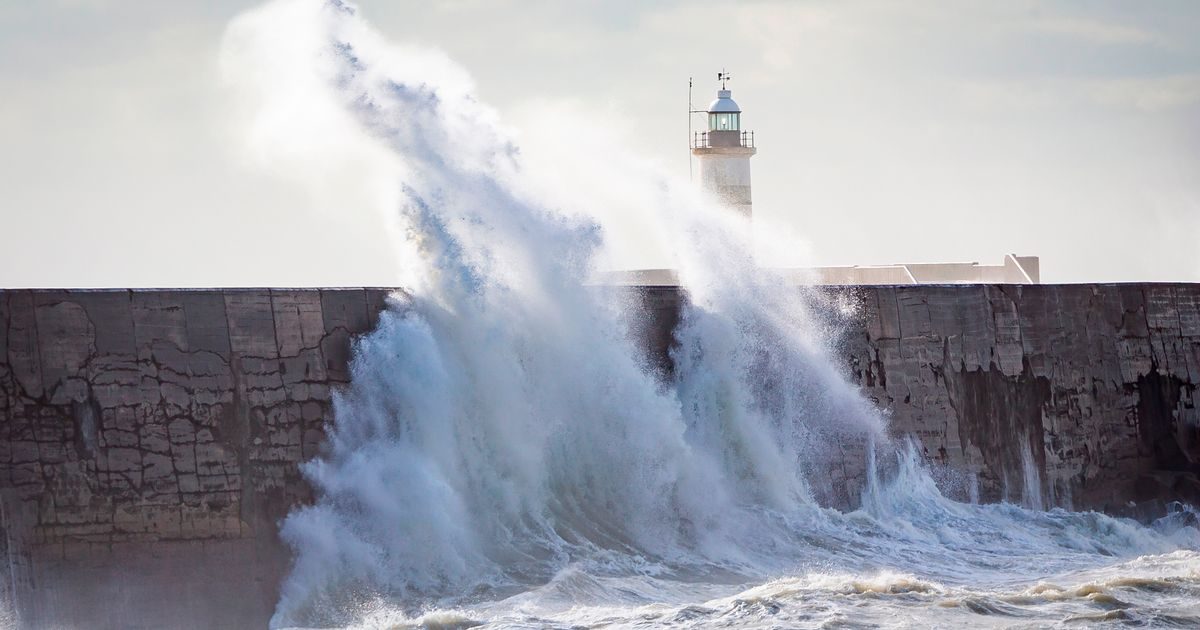 Storm Eunice is hitting parts of Britain with high winds, causing travel disruptions, closing schools and knocking out power.
Britons are urged to stay home as severe winds hit.
The Met Office said people should avoid travelling if they could and stay at home when winds reach the highest speeds.
Rare red weather warnings - meaning there is a danger to life from flying debris - have been issued by the Met Office covering much of southern and eastern England, and south Wales.
It is the second storm in a week for the UK after Storm Dudley battered parts of Scotland, northern England and Northern Ireland, leaving thousands of homes without power.
There are concerns that Storm Eunice's strong winds and a possible storm surge could combine with high spring tides to bring coastal flooding to the west, south-west and the south coast of England.
Red weather warnings are rare, and mean that roofs could be blown off, power lines brought down and trees uprooted - as well as flying debris which could cause a danger to life.Hundreds of schools were closed, all trains in Wales were suspended and rail passengers across England were told not to travel amid mass cancellations as the Army was on standby for what could be the worst storm in 32 years.

This is the first red warning to be issued for either London or south-east England since the system was introduced in 2008.

The Met Office has issued several weather warnings across the UK:
A red warning for wind - the highest level of alert - along the coastline of Devon, Cornwall and Somerset and south Wales from 07:00 GMT until 12:00 on Friday with gusts of up to 90mph

A further red warning for wind has been issued for London, south-east England and parts of southern and eastern England from 10:00 until 15:00

An amber warning for wind covering all of England south of Manchester and Wales until 21:00 with gusts of up to 80mph

A yellow warning for snow for much of Scotland, Northern Ireland and northern England from 03:00 until 18:00

A yellow warning for wind in the Midlands, north-east England, north-west England, parts of Northern Ireland and parts of Scotland from 07:00 until 18:00 with gusts of up to 70mph

A yellow warning for wind covering London, south-east England, south-west England, Wales and parts of the West Midlands from 06:00 to 18:00 on Saturday
During the storm, you should:
Stay indoors as much as possible

If you do go out, try not to walk or shelter close to buildings and trees

Keep away from the sheltered side of boundary walls and fences - if these structures fail, they will collapse on this side

Do not go outside to repair damage while the storm is in progress

If possible, enter and leave your house through doors in the sheltered side, closing them behind you

Open internal doors only as needed, and close them behind you

Take care when driving on exposed routes such as bridges, or high open roads, delay your journey or find alternative routes if possible

Slow down and be aware of side winds, particular care should be taken if you are towing or are a high sided vehicle

Do not drive unless your journey is really necessary
British Airways cancelled more than 80 flights at London Heathrow and City airports, motorists were warned only to make essential journeys and major attractions closed including the London Eye, Kew Gardens and Legoland. On the Southeastern rail network, passengers were stranded on a train between Tonbridge and Sevenoaks in Kent.