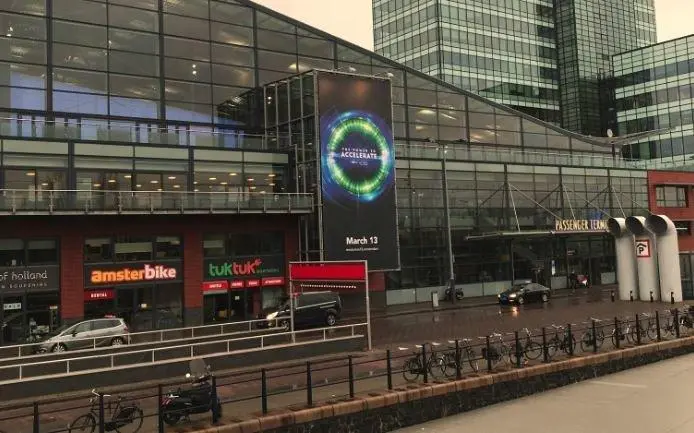 The revolution may not be televised, but it was certainly energised. A really packed day organised by the EVBox team, including the opportunity for me to be a clean energy groupie.
More of that later. It was actually a pretty hectic week for me, which started with flights to Amsterdam on the Monday night. I landed just in time to catch up with the Fully Charged team, for a couple of beers, and a conversation which diverted from EVs, to a shared drug habit with one of the team (a rare mix of eye medications!). Followed by a light soaking on the way back to the hotel.
Up bright and early on Tuesday morning to get to the Passenger Terminal for the main event. The day couldn't have started any better, with the opportunity to have a coffee and a conversation with Keynote speaker and all-round disruption legend Tony Seba. Tempted as I was to ask for a selfie with him, I resisted and turned my attention to some of the hardware on display. Alongside the range of EVBox charging equipment was an awesome electric motorbike from 'Zero', the amazing Formula E car from Nio, and a not so sexy, but hugely important, electric London black cab. All indoors, but no risk of pollution!

As you would expect there was a lot of buzz after coffee and before kick-off. I'm sure much of which was in anticipation of Tony Seba, who was the first keynote. If you haven't read his books, or seen him speak before, this is a great YouTube video to start.
I won't run through the whole agenda, but the other keynotes were from BNEF lead, Colin McKerracher, and Christina Bu, head of the Norwegian EV Association. Both of whom I've seen and met before, and both with some great insight into the growth of the sector. BNEF as you would expect were somewhat more conservative than Tony Seba, but if you watch his video you'll understand why. Also headlining were Umberto Ucceli, CEO of Zero Bikes, and Jack Cheng, the inspirational founder and Executive VP of Nio. Wow, if you are an auto OEM, it's not just Tesla that should have you worried. What these guys are doing is amazing. Interestingly though, their first model, an SUV, is based on a battery swap system, rather than plug in charging. We also had industry insider Roger Atkins sharing some of his thoughts and insight during the many brainstorming events held in the afternoon.
One of the great things about this sector is the willingness for companies and organisations to collaborate. Although this was an EVBox hosted event, I met a number of people from competitors during the networking and brainstorming events, and this was further highlighted at the end of the day when EVBox CEO Kristof Vereenooghe launched a new back-office, software platform from EVBox, EVeron, which is able to interact with and manage systems based on competitor hardware and systems. The message was clear from the whole event, we all need to play our part in the revolution, be that in clean energy, sustainability, or transport electrification. EVBox display that passion, from the top down, and they are a brilliant client to work with, and we are proud to be a partner and to have recruited so many EVBoxers. It was great to catch up with many of them during the day.
After a quick drink at the after event party I had to hot-foot it to the airport to catch a flight to Dusseldorf to meet some of the rest of the Hyperion team for Energy Storage Europe. Another hectic few days that included a talk about talent acquisition at the Energy Storage Forum, sponsoring Ice-creams at the BVES networking event, and just may have included my first ever attempt at karaoke, but that was much, much later!! More of Energy Storage Europe to come, but without the singing!