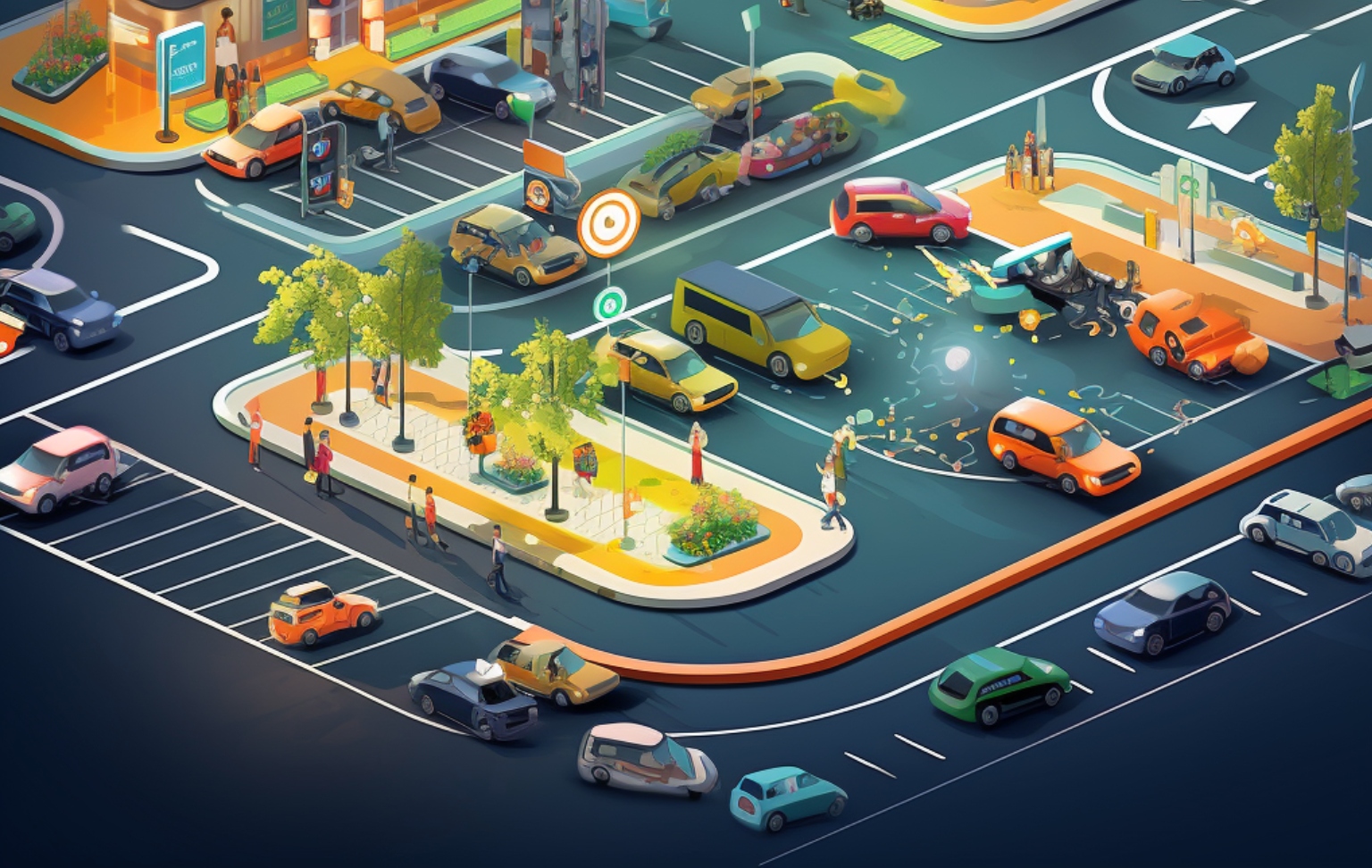 iPAM is the first AI-driven smart city parking management solution that focuses on the needs of drivers, parking managers as well as law enforcement agencies.
This cloud-based solution uses a high-definition camera to provide real-time information on the availability of parking spaces in the city.
Governments worldwide are promoting the development of smart cities with technology, as it helps their country grow economically while also improving the standard of living for the citizens. According to a report, over the next twenty years, local administrations in different American cities are planning to invest $41 trillion to prepare the infrastructure. One of the important aspects of a smart city's infrastructure is that it provides citizens with smart mobility. It implements smart city parking management to reduce traffic congestion and air pollution and improve the overall mobility experience of city dwellers. Smart city parking management is an integral part of smart mobility. It refers to the complete management of on-street and off-street parking spaces in a city.
Smart city parking management is integrated with artificial intelligence, deep learning and other advanced technologies to provide real-time data on the availability of parking spots, peak parking hours, and cashless payment options to drivers. It also assists the parking attendants and government authorities in monitoring parking spaces. The smart city parking management solutions seamlessly connect car owners, parking space operators, and the parking infrastructure through one cloud-based solution and improve the efficiency of the parking experience.
iPAM (Intelligent Parking and Automation System is a revolutionary smart city parking management solution. It is an AI-driven software that uses a high-definition camera to detect the motion and availability of parking spaces in real time. While other smart parking systems focus on drivers, iPAM is the first solution designed with features that help parking lot attendants and government authorities to streamline their operations. Some of the features of iPAM include: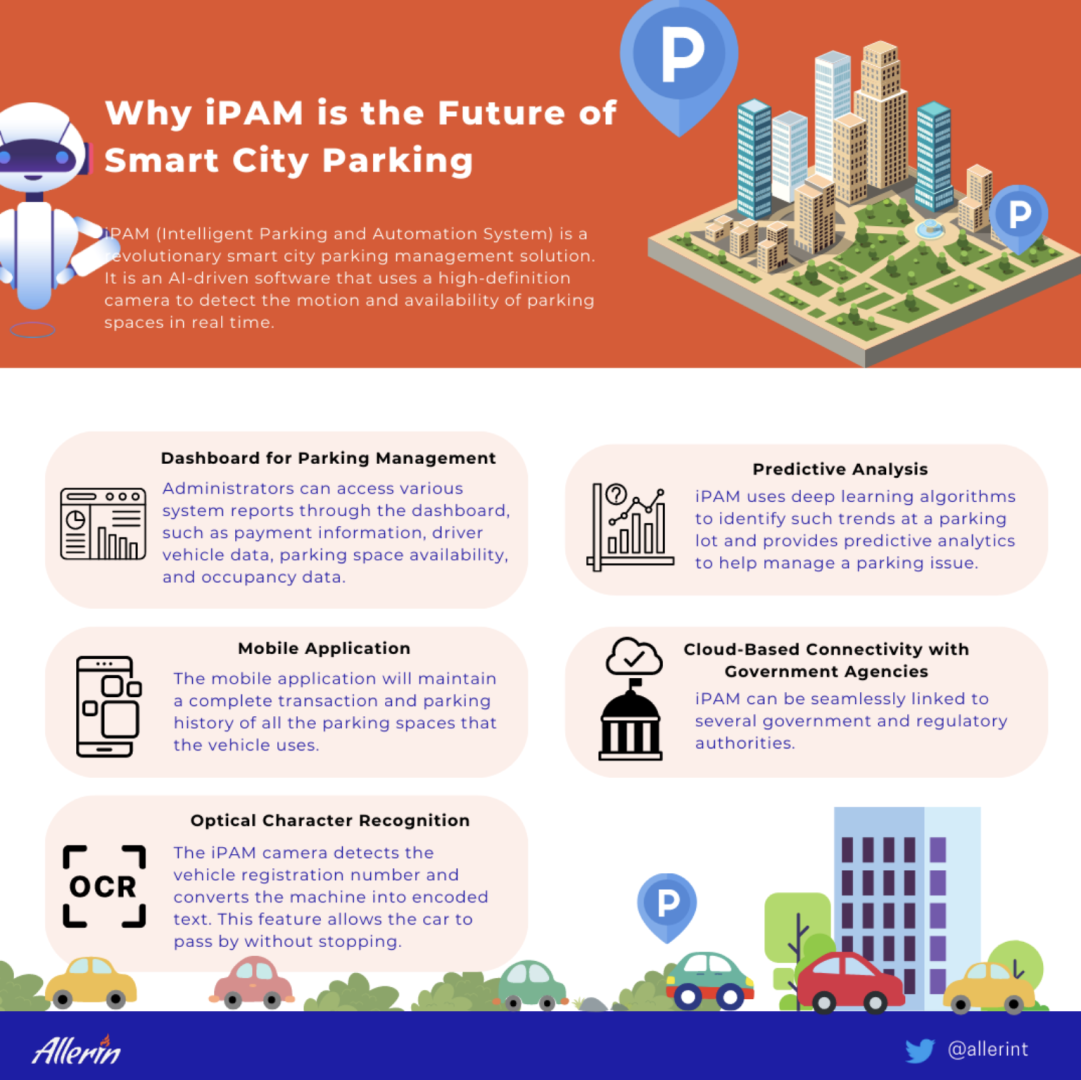 DASHBOARD FOR PARKING MANAGEMENT
The iPAM software has an in-built dashboard exclusively for parking lot managers and governing authorities. The dashboard acts as an admin panel. The managers and administrators can use the dashboard to configure iPAM settings, including parking lot fees, timings, rules, and regulations. Administrators can access various system reports through the dashboard, such as payment information, driver vehicle data, parking space availability, and occupancy data. They can gain valuable insights about curb and street parking through live camera feed from the dashboard, which can be used to improve parking spaces further.
MOBILE APPLICATION
For drivers, there is a mobile application compatible with iOS and Android operating systems. Through the application, drivers can receive notifications about the expiry of a parking session, payment success or failure, and parking violations, if any. The mobile application will maintain a complete transaction and parking history of all the parking spaces that the vehicle uses. It can determine the driver's current location and guide him to the nearest parking lot. Users can pay for parking services through different payment modes via mobile application. Within the parking lot, the application can help drivers track their cars. The driver will receive an alert if they violate any parking rules or if any unlawful activity is detected inside the parking lot. The application also notifies the driver if the desired parking lot has an EV charging station.
OPTICAL CHARACTER RECOGNITION
When a car enters the parking lot, the iPAM camera detects the vehicle registration number and converts the machine into encoded text. This feature allows the car to pass by without stopping. Only the timestamp entry is collected. The software also captures various characteristics of the vehicle, such as model and color. This data is then analyzed to identify the behavior patterns of the driver.
PREDICTIVE ANALYSIS
A leading American newspaper reported that nearly 42% of Americans missed an appointment, and 32% abandoned a trip because of parking problems. During the festive season or events, parking lots cannot handle a heavy inflow of vehicles. To overcome this problem, iPAM uses deep learning algorithms to identify such trends at a parking lot and provides predictive analytics to help manage a parking issue. The software can communicate with weather APIs (Application Programming Interfaces) to provide alerts to help drivers prepare for bad weather conditions. Overall, predictive analytics can provide a glimpse into future trends and help drivers make informed decisions.
CLOUD-BASED CONNECTIVITY WITH GOVERNMENT AGENCIES
iPAM can be seamlessly linked to several government and regulatory authorities. Police stations can be linked to iPAM to identify blacklisted, whitelisted vehicles or VOIs (Vehicle of Interest) and BOLO (Be on the LookOut) and report to law enforcement agencies. It can also be connected with the hospitals to integrate with the list of ambulances so they can enter without any restrictions or billing. It can be integrated with the list of school buses for parking. iPAM can also be linked to RMV (Registry of Motor Vehicles), DMV (Department of Motor Vehicles), MVA (Motor Vehicle Accidents), and NMVTIS (National Motor Vehicle Title Information System) to flag vehicles that have not renewed their licenses. The software can also be linked to commercial establishments that want to book parking spaces to provide extra services to their customers.
iPAM is the perfect smart city parking management solution for improving urban mobility. The implementation of this technology will be an important indicator of a futuristic smart city. It can serve both parking lot managers and law enforcement agencies as a tool to monitor and manage parking spaces by making informed decisions.