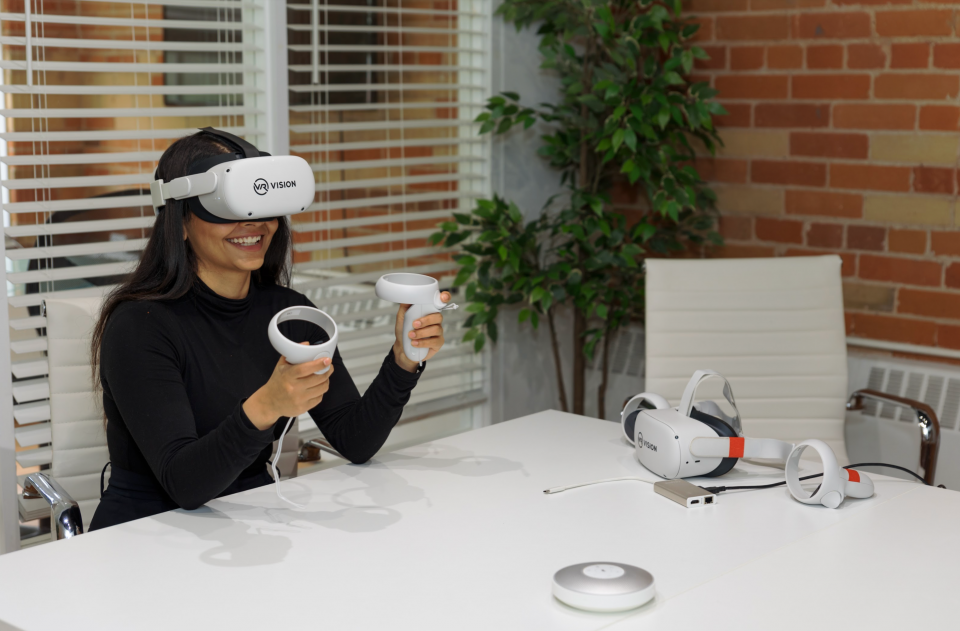 There's no way around it: Companies need to innovate often and require modern solutions to modern problems.
Virtual Reality is one of the latest and greatest emerging software that enterprise groups are starting to learn about and utilize for enhanced training and simulation. The trade-off? VR is expensive to develop and even harder to budget for accurately. Luckily for you, the reader, we have a lot of experience in this sector and will try to break it down for you in this article to give you a better understanding of ROI measurement and benefit.
To make purchases more appealing to stakeholders and decision-makers, you may need to calculate the software's return on investment. However, this is a complicated calculation — it's important to get it right so you can rest assured your company will be investing its money wisely. With Virtual Reality, there are many things to factor into the ROI calculation. Things like training time, cost, travel time, opportunity lost, cost of onboarding and the overall number of employees that will be able to utilize the software are all metrics to look at.
Making an ill-measured estimate that might damage your stakeholders' trust in you or even result in a bad decision is something you likely want to avoid. So to alleviate that concern, follow these guidelines to learn how to calculate the return on investment for VR training investment in a straightforward, accurate way.
What Is Return On Investment?
A return on investment, or ROI, isn't an abstract term. It's a specific calculation of an investment's cost versus its benefit. ROI is always calculated the same way, whether it's for VR development or anything else.
The formula used to calculate ROI is as follows:
ROI = (Gain of Investment) – (Cost of Investment) / (Cost of Investment)
You can check out our ROI Calculator and see how your organization could benefit from VR Training.
Let's break down the two components of this calculation, one at a time, and consider how they relate to virtual reality development purchases in various job roles and sectors.
Gain Of Investment
Your investment gain is the amount of money you stand to gain from implementing the new software system. In some lines of work, the gain is easy to calculate. For instance, if a retail store opens an online storefront, it will almost certainly increase its sales.
In any manufacturing or industrial setting, oftentimes, there are repeatable processes that can be complex and cause production halts to train new employees. With virtual reality usage, we can automate the onboarding process and train new hires in a safe and controlled manner. You can also offset the cost of lost production time by training remotely and using virtual production lines instead of pausing live settings for training.
This leads to onboarding new hires faster, less production time lost for training and overall a smoother hiring process with a measurable return on investment.
Another major gain from using VR as a training tool is the travel expense saved from traditional training methods. Many times employees are flown to learning centers around the world which can carry exorbitant costs as well as productivity time lost. All of this starts to add up when you are running an enterprise organization with hundreds or even thousands of employees to train. This cost can be mitigated with VR learning altogether.
The other added benefit with virtual reality training comes in the work that is performed regularly without fail. The added time saved and the extra work you can do more efficiently due to the training allow for additional revenue saved. Lastly, you can factor in old, outdated means of training that will be discontinued due to the more advanced methodologies — and factor them into the equation.
True Cost of Investment
The actual cost to your organization is the total breakdown from the start of implementation to completing your new training program or platform. The most obvious areas will start with the development costs of the training scenario in itself. This will be the brunt of the cost and will vary depending on the project's scope and the complexity of the VR training simulation.
The other area for raw costs delves into licensing fees, technical support, monthly updates, hardware costs and other various professional services. This could also include things like onboarding staff on how to use your new VR training systems as well as "training the trainer" for any training scenario you are undertaking.
In addition to measuring the raw costs, groups should consider the opportunity costs involved as well. Production increases and making fewer mistakes on the job can increase your bottom line and should be factored into the equation. On the flip side, there is lost production oftentimes when staff are being trained on live production lines. This can be negated altogether in a virtual environment.
Also, keep in mind to measure the actual usage of the VR training as not everyone company-wide will benefit from the learning medium. Finally, there's also the potential that your new VR learning platform won't be applicable to every area of your business, whereas traditional LMS's may be better suited. To create an honest and fair assessment, factor this disparity into your investment's cost.
Guidelines For Calculation
Despite these guidelines, calculating the true ROI for your VR training platform can be difficult. You might not know how to quantify the time you're saving or the time you're losing during the implementation period — much less the amount of money that time represents! Bring on innovation directors and anyone in charge of employee growth to ensure you are making the most of virtual training programs.
For clarity's sake, it's always best to express ROI in relation to a period of time. Your ROI for the first month after you implement your software, for instance, will probably be different from your ROI over the course of the year — and it'll likely be much lower at first due to the high upfront costs of implementing a new VR training system.
To give a full assessment of your system's ROI, you may want to prepare two or more estimates: a pessimistic estimate that assumes the lowest reasonable gain and the highest reasonable cost and an optimistic one with high gain and low cost. Your actual result will fall between the two, but this way, you'll have modelled a reasonable range of possibilities.
For example, with most of our successful deployments, our clients would measure the cost for training new hires, including travel costs, productivity loss/gain and overall time to ramp up. Often training time was increased tenfold, and information was retained up to 65% better across the board. Overall the most important thing when looking to measure VR for training organization-wide is how many employees will be using it and how much more efficient they will be after the training (if at all). Please note that productivity gain is one of the harder metrics to measure due to the growth that happens over time and the way in which training programs evolve (many times there are multiple vehicles for training outside of VR).
While these are only guidelines, many times when developing immersive training scenarios there will be other elements that come into play. If you'd like to learn more about measuring ROI in VR training programs feel free to reach out to us here at VR Vision and we'd be more than happy to guide you in the right direction.