Modern technology like AI in crypto can effortlessly manage investments in the constantly changing crypto market.
AI and machine learning can easily record, track and calculate fluctuating investments.
Cryptocurrency is a digital payment method created by using encryption algorithms. As the market is always fluctuating, it can be difficult to manually keep track of crypto investments. People can even make errors when calculating their cryptocurrency value or building an investment strategy. The evolving crypto market can complicate tracking and evaluating digital currency investments. It is time-consuming to research and analyze the crypto market. That's where AI in cryptocurrency can help streamline the process.
AI IN CRYPTOCURRENCY
This is when artificial intelligence steps in to help monitor crypto investments. AI is a machine learning system that imitates human intelligence to perform tasks. It can not only record investments but also make near-accurate predictions of market trends. AI can also suggest investment strategies that result in high profits. Let's look at some ways AI can be used in cryptocurrency investments.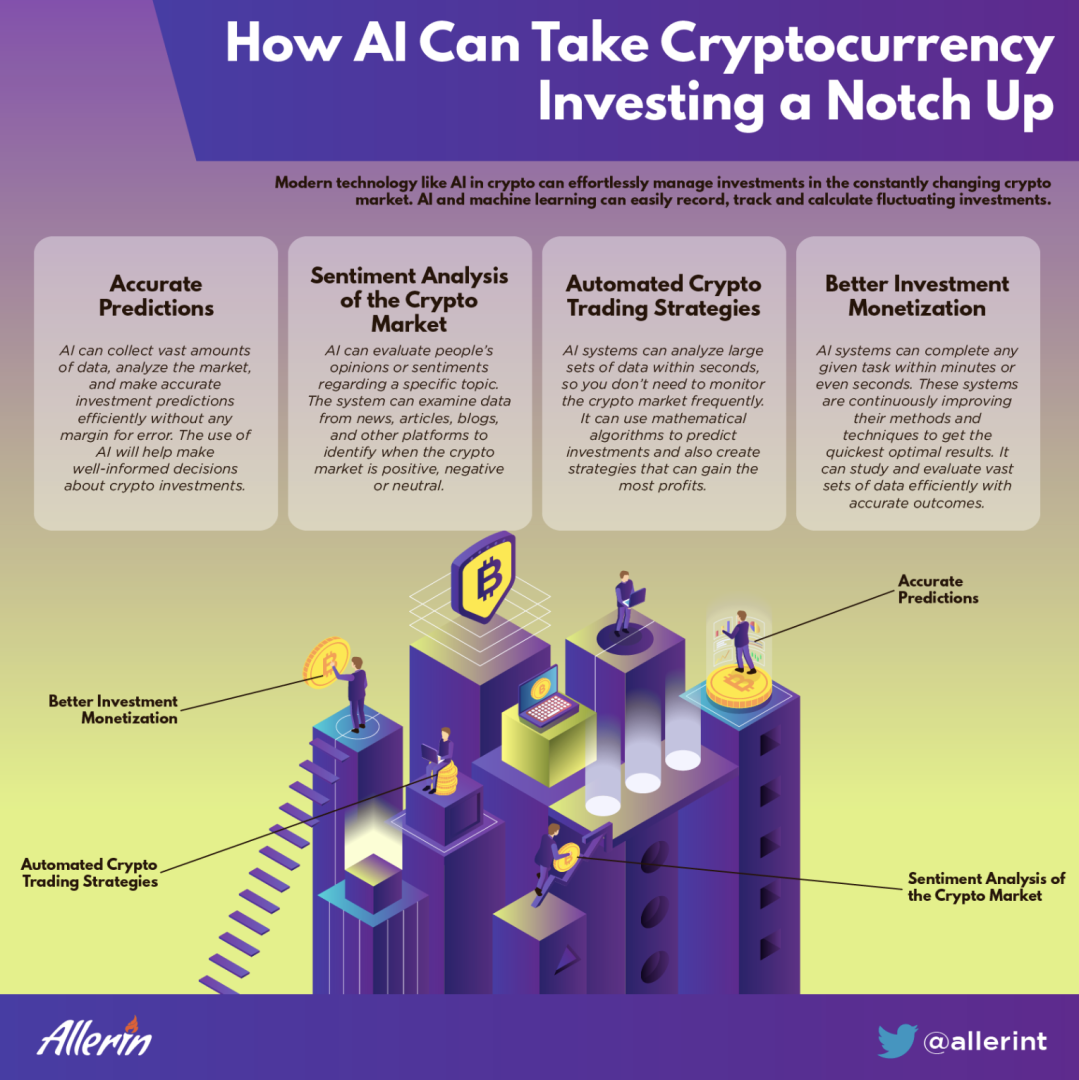 Accurate Predictions
The cryptocurrency value is always changing. It makes market research, analysis and prediction complicated to identify manually. AI can collect vast amounts of data, analyze the market and make accurate investment predictions efficiently without any margin for error. The use of AI will help make well-informed decisions about crypto investments.
Sentiment Analysis of the Crypto Market
AI can evaluate people's opinions or sentiments regarding a specific topic. The system can examine data from news, articles, blogs and other platforms to identify when the crypto market is positive, negative or neutral. Positive sentiment in the market could foretell an increase in prices. On the other hand, the negative sentiment would mean one could assume the crypto market prices could decrease.
Automated Crypto Trading Strategies
AI systems can analyze large sets of data within seconds, so you don't need to monitor the crypto market frequently. It can use mathematical algorithms to predict investments and also create strategies that can gain the most profits. The AI system can also buy or sell crypto currencies for the individual.
Better Investment Monetization
AI systems can complete any given task within minutes or even seconds. These systems are continuously improving their methods and techniques to get the quickest optimal results. It can study and evaluate vast sets of data efficiently with accurate outcomes. It can also monitor and record cryptocurrency. AI can help increase the profit margins of crypto traders by analyzing the crypto market and suggesting better investment strategies.
Thus, AI can prove highly beneficial in managing cryptocurrency investments. It makes the tedious process easy and efficient. The AI system can effortlessly handle and strategize your cryptocurrency investments.