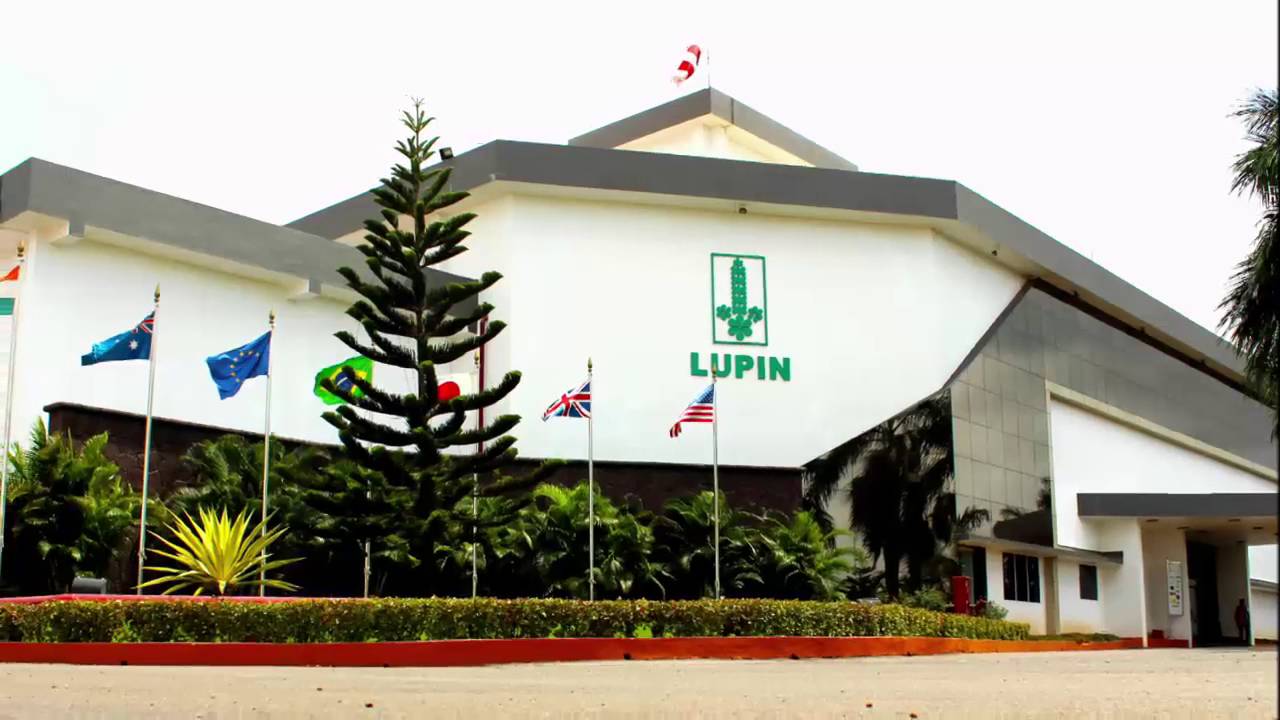 Lupin is a pharma stock that most investors are ignoring at this point but what most people tend to forget is that "a successful investor takes a contrarian approach to investing."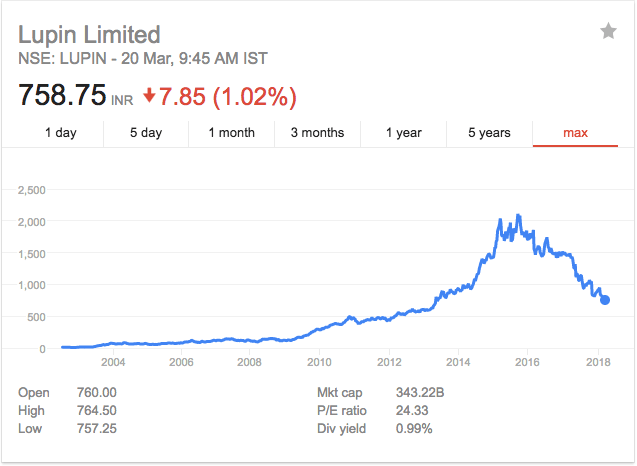 The best investment decisions are based on facts, not speculation. Price fluctuations have only one significant meaning for a real investor. They provide him the opportunity to buy wisely when prices fall sharply and to sell wisely when they advance a great deal. The intelligent investor should recognise that market panics can create great prices for good companies and good prices for great companies. A defensive investor can always prosper by looking patiently and calmly through the wreckage of a bear market. Remember, a great company is not a great investment if you pay too much for the stock. Lupin at this point has become fundamentally attractive. As I will cover the different angles for the stock, you will understand; how Benjamin Graham and Warren Buffett would have done if they were looking at Lupin. Let's try to understand the rules and principles of Warren Buffett and Benjamin Graham.


1) Understanding Fictitious Character Mr. Market
This concept was taught by Benjamin Graham who was the mentor of Warren Buffett at Columbia University. He was a British-born American investor, economist, and professor. He is widely known as the "father of value investing," and wrote two of the founding texts in neoclassical investing: Security Analysis (1934) with David Dodd, and The Intelligent Investor (1949). His investment philosophy stressed investor psychology, minimal debt, buy-and-hold investing, fundamental analysis, concentrated diversification, buying within the margin of safety, activist investing, and contrarian mindsets.
After graduating from Columbia University at the age of 20, he started his career in Wall Street, eventually founding the Graham-Newman Partnership. After hiring his former student and future manager of Berkshire Hathaway, Warren Buffett, he took up teaching positions at his alma mater, and later at Anderson School of Management at the University of California, Los Angeles.
As per Graham, stock market is your servant & not your guide. What the stock market is showing you is just as a servant. Imagine a sales person comes to you everyday with a suitcase trying to sell you different things. He is selling things at different prices today but he might sell the same products tomorrow at different prices. He is serving us with what he can offer. Similarly, stock market might be selling a stock at Rs. 2100 today, but the next day it might sell the same stock at Rs. 750. It is important to look at what the market is offering you at what prices. Relative thinking is important.
Imagine if someone told you to sell your business to him at Rs. 700 cr but you know your business is worth Rs. 1500 Cr. Will you sell your business? Similarly, while investing you need to figure out the real worth of the business you look to invest in. Many times, Mr. Market offers you the prices which may not be right.
Let's understand Mr. Market in case of Lupin :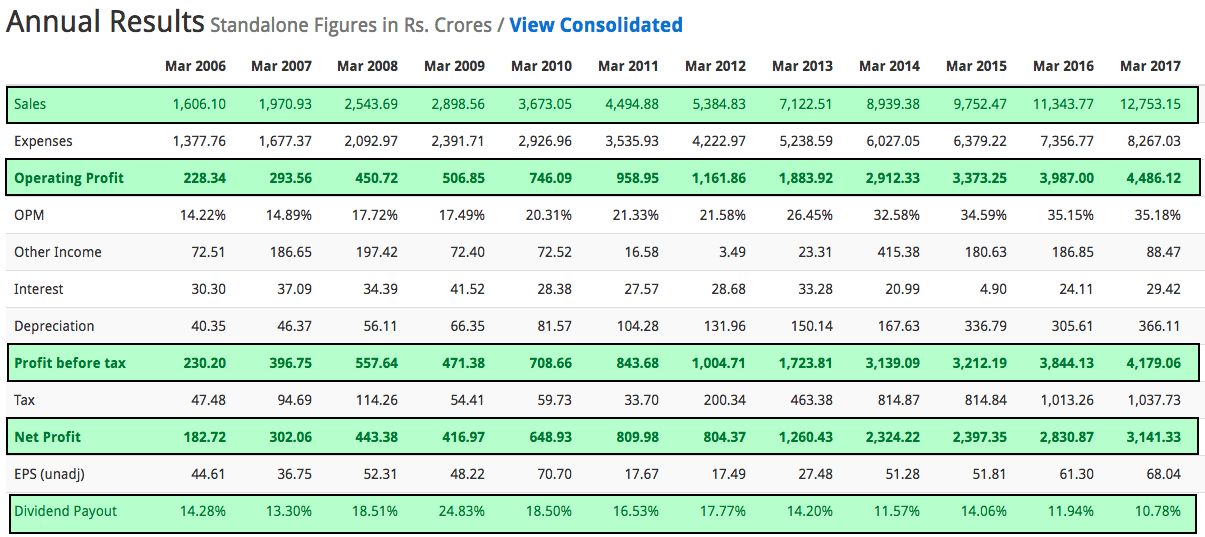 The company is generating consistent sales, operating profit, net profit and also paying consistent dividends but yet Mr. Market is willing to sell the stock way below what it was offering 2 years ago. This is where smart investors understand that all is not wrong, in-fact, all is well!!!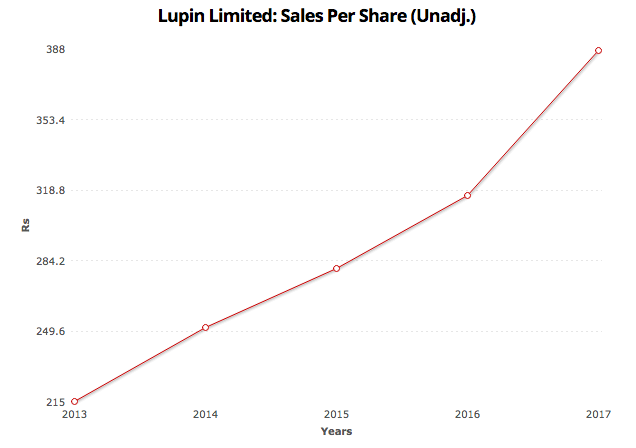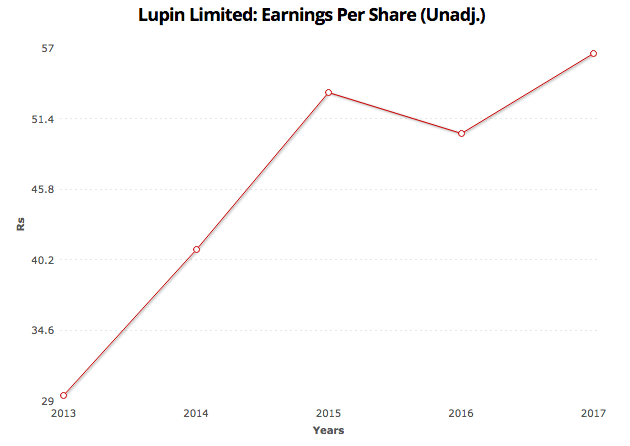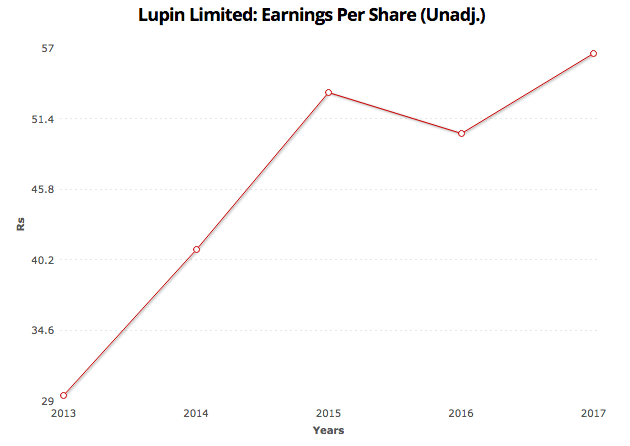 Remember, the sillier the market's behaviour, the greater the opportunity for the businesslike investor. Sometimes, market ignores few facts & discount the stock way beyond it's actual worth.
2) Understanding Business Decision equivalent to Stock Decision
This concept involves understanding large business and small businesses in the same way. Imagine you go to the pizza shop and have one slice of pizza. Do you think, it is any different than having a whole pizza ? Similarly, when Buffett or Graham has to buy 1 share of the company, they understand that they are buying a business not just a simple stock. Like eating one slice of pizza is the same as a whole pizza, similarly owning 1 share of the company is similar to owning all shares of the company. If the business is worth, it is good to own 1 share or the whole company.
Let's understand Lupin's Story, the company was named after the Lupin flower because of the inherent qualities of the flower and what it personifies and stands for. The Lupin flower is known to nourish the land, the very soil it grows in. The Lupin flower is also known to be tolerant of infertile soils and capable of pioneering change in barren and poor climes. The Lupin flower and bean pods have also long been used as food and sources of nourishment, thus protecting and nurturing life.
Embedded in Lupin was a formula for growth. Forty nine years on, what has stayed with Lupin is that same entrepreneurial spirit, culture of creativity and innovation and pride in belonging to an industry that makes a difference in the lives of people. They are today a fully integrated pharmaceutical company with an unrivaled position in the US, India and Japan. This position is built on a backbone of cutting-edge research, world-class manufacturing facilities and a truly global supply chain. With the building blocks in place, the future looks brighter than its ever been.
Most analyst talk about consumption stories and why not? With the rising population, do you think we would need less medication ? The answer is obviously no. Lupin is the 4th largest generic pharmaceutical company globally. What we have already seen so far is that sales are increasing year-on-year and so does the net profit. Yes, their have been concern regarding the margins from the US market, but does that makes the business bad. Again the answer is no. What is interesting is the fact, in-spite of all concerns, the company's net profit is increasing.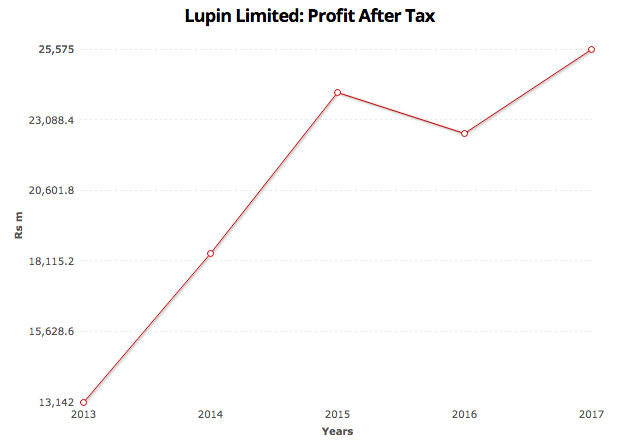 3) Understanding Moat Businesses
A moat is the competitive advantage that one company has over other companies in the same industry; this term was coined by Warren Buffett, the legendary investor and CEO of Berkshire Hathaway. The wider the moat, the larger and more sustainable the competitive advantage of a firm. By having a well-known brand name, pricing power and a large portion of market demand, a company with a wide moat possesses characteristics that act as barriers against other companies.
In the case of Lupin, the biggest Moat is its brand value and quality, which have been known for many years. It also has intangible assets such as patents, brands and licenses that allow the company to protect its production process and charge premium prices. While brands are typically derived from superior product offerings and marketing, patents are obtained as a result of the companies' filings with governments to protect know-hows for a specific period of time, typically 20 years. Pharmaceutical companies earn high profits due to patented drugs after spending billions on research and development.
Lupin is an innovation led transnational pharmaceutical company developing and delivering a wide range of branded & generic formulations, biotechnology products and APIs globally. The company is a significant player in the Cardiovascular, Diabetology, Asthma, Pediatric, CNS, GI, Anti-Infective and NSAID space and holds global leadership position in the Anti-TB segment. What differentiates Lupin from the rest is that they have persevered to do the same things differently. Product development to meet global standards has been the key driver for Team Lupin. Along with focusing on good manufacturing practices, Lupin also focuses on good regulatory practices which helps them navigate through an ever changing regulatory and IP landscape and adapt to the dynamic business needs.
Even doctors recommend Lupin medicines over peers. That is the best thing for the company. Even in clinical research they are doing wonderfully well. They have centralised clinical team which handles clinical trials for Lupin's Biosimilar Pipeline and Lupin NCE's for Global submissions. They have exhaustive experience in managing all phases of clinical trials for various indications. Clear insight of Clinical and Regulatory requirements for bio therapeutics for global approvability is one of their key strengths. In addition, the team has extensive global trial management capabilities along with working and managing global CROs to conduct multi-country patient trials in indications like Oncology, Inflammation and Ophthalmology.
"The team is currently managing the Etanercept Global Phase III clinical trial with patients from EU, Japan and India in over 500 patients. The Clinical team has recruited and managed more than 200 oncology patients during GCSF and PEG-GCSF Clinical trials in India and capable of managing multi-centric, global complex clinical trials involving more than 10 investigative sites per trial. Planning for two more global clinical trials are ongoing."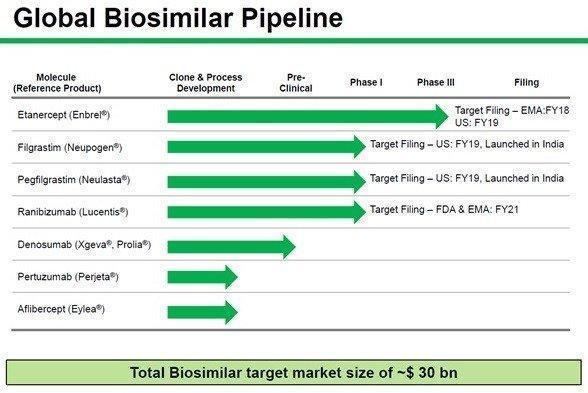 Understanding what they have & what they will have, gives a clear edge to the company over it's peers. They have built a strong castle as Buffett defines it, which is a competitive advantage over its peers.
4) Understanding Leadership & Quality of Management
Desh Bandhu Gupta (8 February 1938 – 26 June 2017) was an Indian billionaire businessman, the founder and chairman of Lupin Limited, a multinational pharmaceutical company. Mr. Gupta was a visionary. He founded Lupin in 1968 with a start-up capital of ₹ 5000 borrowing the money from his wife. The first office of Lupin was rented premises in Central Mumbai used for dispatching medicines. Later, with a loan from Central Bank of India of ₹ 8 lakh, it started a factory whose major order was to provide iron and folic acid tablets to the Government of India programmes related to mother and child healthcare. Under his leadership, Lupin became a global pharmaceutical company whose consolidated turnover was ₹110,866 million (equivalent to ₹130 billion or US$1.9 billion in 2017).
Gupta died on 26 June 2017 at Mumbai, aged 79. But he ensured that his legacy is passed onto his son & daughter. Gupta was married to Manju and lived in Mumbai. They had five children; four daughters and one son. Their daughter Vinita D. Gupta is based in United States and is Group President and CEO and son Nilesh Gupta is also Group President and Executive Director based in India.
What is important is that the legacy continues. What Mr. Desh Bandhu ensured was the ethics, management quality & principles continue even after his death. Let's see how these two look at the top.
MR NILESH GUPTA
Nilesh Gupta is the Managing Director of Lupin Limited.
He joined Lupin in 1996, having led the company's research, supply chain, manufacturing, quality and regulatory operations, he was made Managing Director on 1st September, 2013. A chemical engineer from the University Department of Chemical Technology, Mumbai, and an MBA from the Wharton School, he has not only been responsible for transforming Lupin's research program and expanding the Company's manufacturing operations but has also been instrumental in formulating and executing the core strategy that has helped Lupin emerge as a global specialty pharmaceutical major.
MS VINITA GUPTA
CHIEF EXECUTIVE OFFICER LUPIN LIMITED
A graduate in pharmacy from the University of Mumbai and MBA from J L Kellogg Graduate School of Management, Ms. Vinita Gupta has been instrumental in Lupin's forays into the Advanced Markets and heads the Advanced Market business of the company in the markets of USA and Europe. Under her leadership, Lupin has emerged as a global generic player, especially in the US market in addition to becoming a strong player in the pediatric branded market. She is also a Chief Executive Officer Lupin Limited on the Board of Lupin Ltd.
Apart from that, they have Dr Kamal K Sharma, Mr Ramesh Swaminathan, Dr Vijay Kelkar, Mr Dileep C Choksi who are very respected in their own fields. So the board consist of talented people with sound track records.
5) Understanding P/E, P/B Fundamental Charting
PE ratio is calculated by dividing the share price with earnings per share. Theoretically, PE ratio tells us how much investor is willing to pay for per rupee of company profits. If the share price grows along with the company profit, the PE ratio remains fairly consistent (a good sign). The P/E ratio is a much better indicator of the value of a share than the share price alone. With the PE plotting tool, now you can analyse the historical trend of PE of a specific company on charts. P/E ratio alone, does not take company growth prospects into account. Investors should be cautious while investing in stocks with fluctuating PE as fluctuations indicate that the stock is news driven and risky from an investment perspective. It's better to avoid companies with a PE ratio greater than 25 (unless long term average industry PE is in the same range, which is the case for some growth industries) as they are too expensive even for a high-quality company. Overall, investors should prefer low PE stocks with higher growth prospects while choosing stocks from the same industry. On the other hand, the price-to-book ratio (P/B Ratio) is a ratio used to compare a stock's market value to its book value. It is calculated by dividing the current closing price of the stock by the latest quarter's book value per share. P/B ratio around 2.5 is considered good level to buy in companies with strong financials. Specially if the industry P/B is higher. It is also known as the "price-equity ratio".
Calculated as:
P/B Ratio = Market Price per Share / Book Value per Share




In the case of Lupin, here is how the PE chart looks like :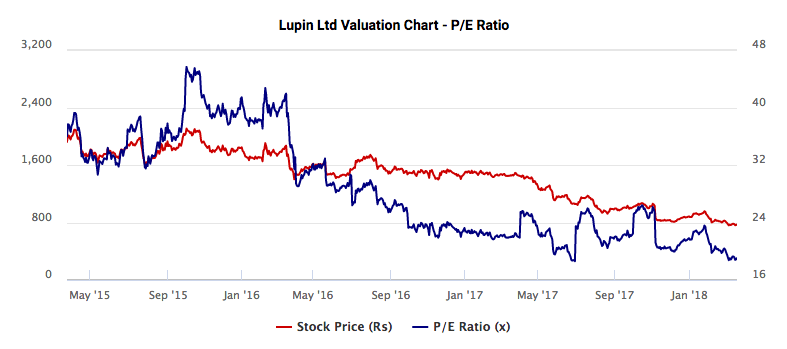 The PE for lupin is 19 & it is way below it's historical average, giving a good opportunity to accumulate the stock for long term. Also historically, whenever the PE for lupin has fallen below 20, it has given good returns in future. In case, if the stock falls more & PE comes towards 15, it will be an extremely good buy. Also, see how Lupin PE is trading V/S Nifty PE. Here is the chart :
If you see the chart above, Lupin is extremely cheap on valuation front. Most people who understand valuations can interpret what I mean here. Again, it is time to be greedy if one has long term view.
Let's check P/B Chart :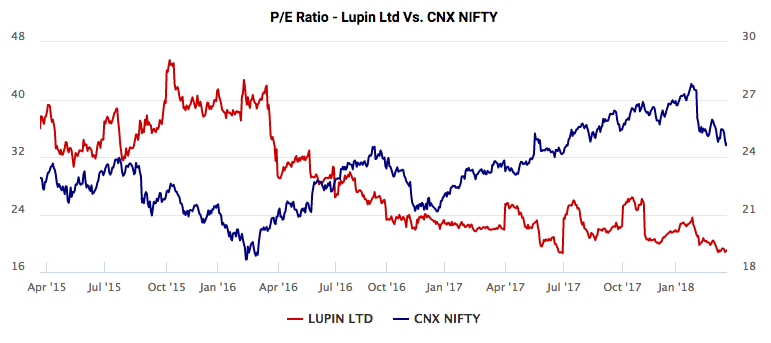 P/B for the stock is standing near the lowest, suggesting good time to get in. It looks extremely good to buy at current levels, as such valuations are rarely seen with Lupin. Also if you see the chart of Lupin PB vs Nifty PB, it gives a clear idea as to how the stock is trading in comparison to the Index.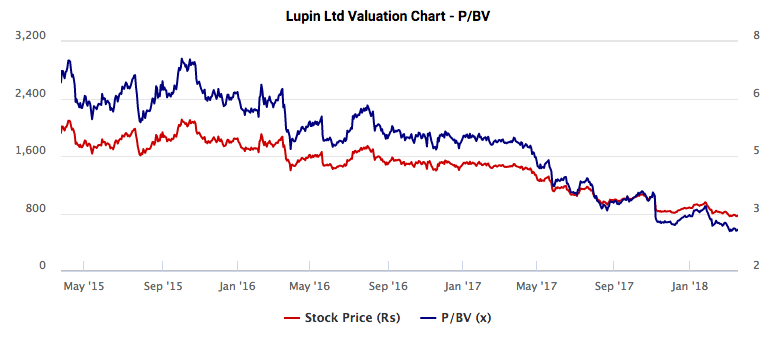 Interestingly, on both PE & PB valuation, the stock looks good, in-fact great!
6) Understanding Shareholding Holding Pattern




If we check, the majority stake is held by promoters, Mutual Funds & FII's. Free Float is only 10.1% for the stock. Hence, any buying by the fund houses in the future will take up the stock fast. Another point to note is that recently promoters are buying Lupin stock from the open market. Again, it is a good sign. It depicts the confidence of the management for their own stock. Not only this, Rakesh Jhunjhunwala, one of the pioneer Indian Investor who is regarded as Big Bull, has been invested on Lupin stock for long term. As of 31st Dec, 2017, RJ has nearly 870 Cr. invested into Lupin stock.
7) Understanding Return on Capital Employed (ROCE)
ROCE is a useful metric for comparing profitability across companies based on the amount of capital they use. There are two metrics required to calculate the Return on Capital Employed - earnings before interest and tax and capital employed. Earnings before interest and tax (EBIT), also known as operating income, shows how much a company earns from its operations alone without regard to interest or taxes. EBIT is calculated by subtracting cost of goods sold and operating expenses from revenues.
Capital employed is the total amount of capital that a company has utilised in order to generate profits. It is the sum of shareholders' equity and debt liabilities. Also, it can be simplified as total assets minus current liabilities. Instead of using capital employed at an arbitrary point in time, analysts and investors often calculate ROCE based on the average capital employed, which takes the average of opening and closing capital employed for the time period.
Let's check ROCE for Lupin :

Average return on capital employed 10 years: 49.18%
Average return on capital employed 10 years: 51.40%

Average return on capital employed 10 years: 54.22%
ROCE for Lupin has been quite consistent & it's improving. If someone looks at a company from long term point of view, it shows what the company is doing. Sometimes, market ignores the important facts.
Even ROIC stands at 23.33% & ROE is 23.56%. Looking at these parameters, the stock looks good if one has long term prospect.
Please note : I can be wrong in my analysis and there could be many concerns on business. Do your own research. This is more for educational purpose only. Buying stocks can always be risky and you might lose your full investment too. I hope I could inspire you towards value investing. If you liked the analysis, do spare two minutes and post your honest feedback.