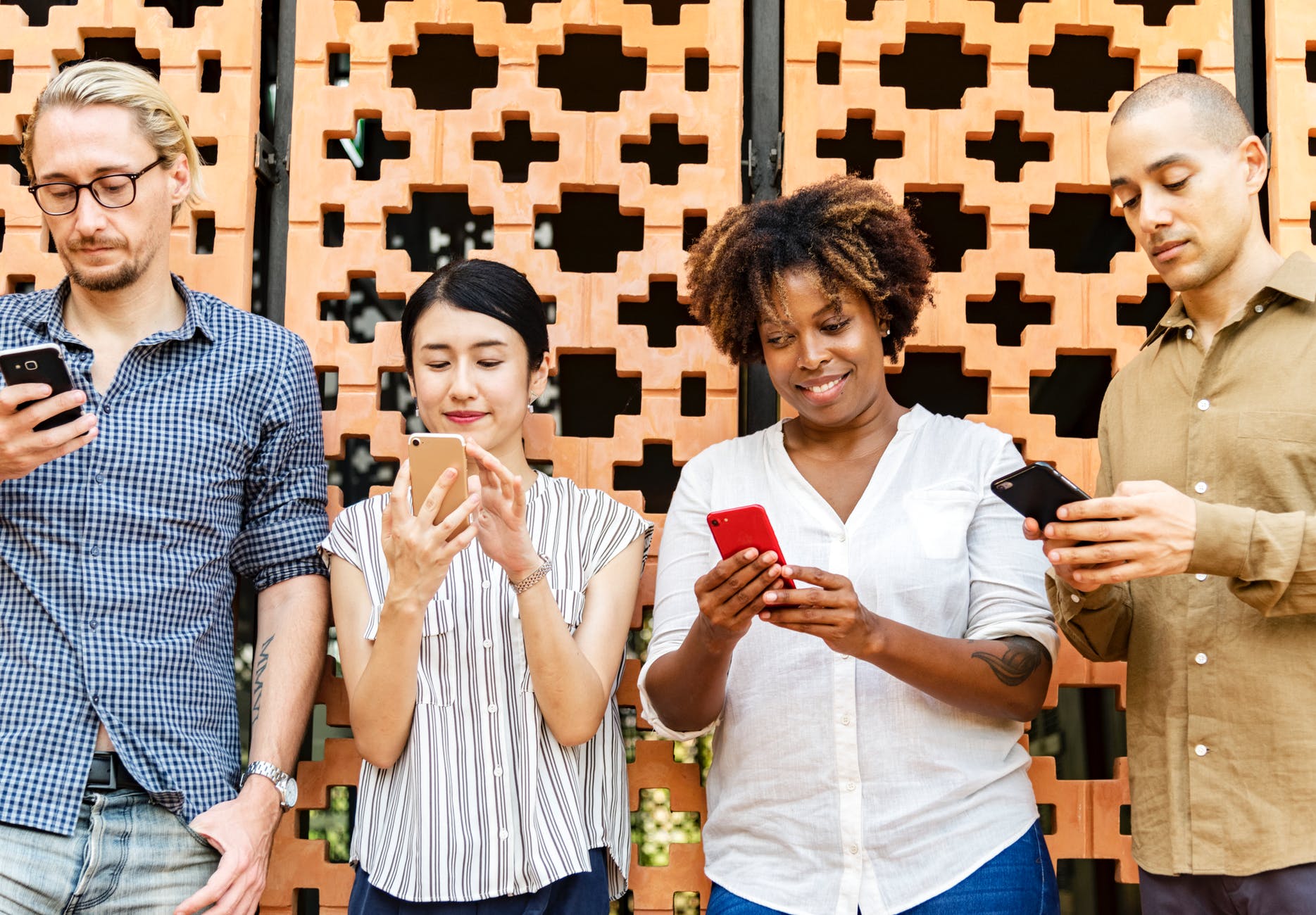 With 1.32 billion daily active users, Facebook is widely considered the most used social media platform. 79% of Americans use Facebook—the platform with the second closest usage percentage is Instagram, at 32%. Globally the number of smartphone users is expected to reach 2.5 billion in 2019 with 36 percent global penetration, but more significantly with most developed economies expecting 70-80 percent smartphone penetration within a couple of years. This has led to massive increases in social media use over mobile. WeChat, the Social Mobile Network powered by TenCent in China, had 963 million monthly active users in 2017.Over 3.5 billion snaps are sent everyday on Snapchat as of the third quarter of 2017.
As social media continues to embed itself in modern society, we have many traditional businesses and brands still scratching their heads trying to make sense of it all. Where's the ROI? What's the business case for investing in social media? Apart from the likes of Facebook, is anyone actually going to be able to make money out of this? Isn't it ironic that it wasn't that long ago that we were asking the same things about the Internet. Believe it or not, the Internet wasn't the first medium to be received with skepticism.
When radio first became popular in the early 1900's there were fears from many that it would be extremely destructive to society. These fears included the likes of the fear that families would sit around listening to entertainment programs, wasting hours upon hours, when they could be sitting around the table studying scripture, having sing-alongs around the piano or simply talking. The success of radio hinged on news, story-telling, the ability to create dramas and comedies that would capture the imagination of listeners, along with some factual, up-to-the minute news delivered as it happened, instead of having to wait for the morning's broadsheet to report. There was the occasional sporting event thrown in also. The first organizations to make money off this new medium were the owners of the radio stations and the content producers. The second were those that produced advertising and conduct marketing activities via the 'wireless,' and finally, the third were businesses who tapped into this new phenomenon to create market reach.
Radio broadcasting is spectacular and amusing but virtually useless. It is difficult to make out a convincing case for the value of listening to the material now served out by the American broadcasters...Is the whole radio excitement to result, then, in nothing but a further debauching [morally corrupting] of the American mind in the direction of still lazier cravings for sensationalism?

E. E. Free [science editor], "Radio's Real Uses", The Forum, March 1926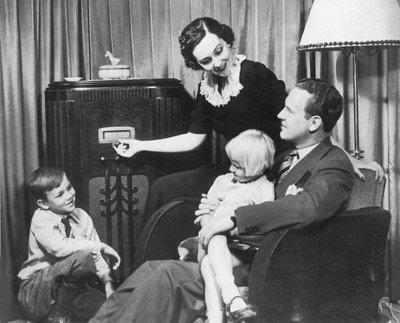 Radio was perceived as a threat to society in the early days
When TV appeared en-masse in the late '50s, the same concerns surfaced again. TV would be a great time waster, would produce a decline in morals, and would disrupt families from the wholesome activity of sitting around listening to the wireless. Radio certainly didn't disappear as a result of TV, but certainly the kaleidoscope of content and sharing, advertising and marketing, programming and story telling became richer and more complex. On top of this new technology were first the 'networks' — the emerging giants of TV programming: ABC, CNN, NBC, BBC and the like — and advertising firms who knew just how to turn the emotion of a 30-second story into a product endorsement or sales pitch. For decades businesses who could afford to advertise on this medium, were able to generate significant results and revenue through brand awareness.
Internet proved the pattern once again, but the difference in the web was it allowed two-way interaction, something not possible via earlier mediums. This allowed the web to move from a story-telling and advertising medium, to a business platform where transactions in real-time could take place. The first players on this new layer of technology believed that owning the network and content distribution over that network was where real value lay. The ISPs (Internet Service Providers) — players like AOL and Yahoo — were the advertisers once again, but were also now the equivalents of the NBCs and the CNNs. The web was a technology that allowed not only advertising and brochureware, but also e-commerce. The Internet's most disruptive characteristic was the challenge to existing distribution mechanisms and businesses. It would eventually result in the demise of long-established brands in publishing, music and retail, the disintermediation of travel agents, brokers and dealers, and the creation of new giants like Amazon.
Social Media is following the same pattern. The initial 'land grab' was all about the network. Then advertisers flocked to shove more messages down the new pipe to consumers. However, the really interesting developments are the new ways of doing business that will emerge on top of this layer. New businesses will be disruptive to traditional businesses based on physical/geographical communities instead of the better aligned virtual communities centered on interests and behaviors. New businesses will eliminate classical market segmentation and demographics, by generating rapid affinity within social groups that don't fit traditional marketing classification.
On top of Social Media has come a plethora of "Apps," marketing initiatives, communities and the like. Instagram, Foursquare, Pinterest, Vine, Cinemagram and many others have been designed on top of Facebook's capability to provide a common user platform, allowing for rapid sharing and adoption through the social network in the form of posts, links back to the App, etc. If a friend posts an Instagram Photo, it shows up on Instagram, but it also invariably show up on Facebook as someone shares their pics. And when your friend clicks on your pic, they are then invited to try Instagram for themselves. Instagram, Foursquare and others maintain their own 'network,' but you always tend to find new friends from Facebook or Twitter to build your network within the App's ecosystem.
The biggest challenge for these businesses is finding revenue models as they evolve. Many of the same challenges occurred for businesses starting out on top of the Internet layer. Business like "Pets.com" and "Webvan.com" found this out as revenue didn't come quickly enough to save their businesses. We'll have a few fits and starts on the social business layer also, but those that emerge triumphant will not necessarily be the network owners (Facebook, G+, Twitter), but businesses that marry community, collaboration and the reach of social in entirely new ways. As before with the web, these businesses will disrupt traditional players massively, and emerge as some of the new giants of the next decade.
Some interesting examples of entirely new businesses that are emerging on top of the social layer are business like Kickstarter, Peer-to-Peer lending, AirBNB, Yelp, Uber and others. Business that thrive on community and work by using social as the glue to commerce, creating value through the community, but monetizing it in unique ways also.
Not sure where the ROI is coming on social? By the time you wait to see others find it, it may already be too late for your business. Social is here to stay, and it's just getting started.
A version of this article first appeared on the HuffPost.
About the Author
Brett King is a widely recognised top 5 FinTech influencer. He is a futurist, an Amazon bestselling author, an award winning speaker, hosts a globally recognized radio show (Breaking Banks), is the CEO of Moven, and in his spare time enjoys flying as an IFR pilot, scuba diving, motor racing, gaming (mostly FPS) and Sci-Fi. He advised the Obama administration on the Future of Banking, and has spoken on the future in 50 countries in the last 3 years.
Breaking Banks, #1 show on VoiceAmerica Business, is the leading global fintech podcast with more than 5.5 million listens from 172 countries. Breaking Banks broadcasts, are live every Thursday at 3pm EST in NYC on 1160AM WVNJ Radio and globally via VoiceAmerica's Business Channel.
His latest book Bank 4.0: Banking everywhere, never at a bank will be shortly released on Amazon.