Artificial intelligence in smart cities is set to play a big role in making urbanization smarter.
Certain systems powered by AI in smart cities may be expensive to incorporate or may need to comply with several regulations before implementation, making them 'high-risk' AI applications.
Using such risk criteria, here are some of the low-risk AI application areas for smart cities.
Smart cities around the world are littered with advanced and interconnected technologies. The high level of automation and data flow allows such cities to optimize various public operations such as waste disposal and traffic regulation effectively. While the concept is still fairly new, several countries, like the US (New York, Santa Cruz), England (London, Manchester), and Spain (Madrid, Barcelona), include multiple highly automated and digitally interconnected cities today. Additionally, the smart city industry is expected to grow rapidly in the coming years due to its popularity and effectiveness in delivering the results expected from it.
As you know, smart cities feature various AI-powered systems in abundance. At times, the application of AI in smart cities may be excessively costly or not very useful later. A combination of high implementation costs, complexity, and low practicality means that such systems may end up becoming proverbial white elephants in smart cities. Also, regulatory bodies in certain areas, such as healthcare and pedestrian surveillance, make it mandatory for such systems to comply with a laundry list of requirements before they can be put to use in smart cities.
Keeping all these, and many more, factors in mind, here are some application areas that carry the lowest risk for AI in smart cities.
Banking
As stated above, smart cities need their AI-powered systems to be easy to implement and cheap to run on a daily basis. However, the most important requirement remains long-term reliability and a proven performance record. In those aspects, AI and machine learning-enabled banking and finance systems score well. Apart from not being exorbitantly expensive for organizations and public bodies to incorporate, such systems execute their tasks to the T. In smart cities, centralized banks can use AI's advanced analytics to facilitate the flow of liquid cash through various channels so that the overall economy can be stabilized by effective regulation of the Cash Reserve Ratio (CRR) and Statutory Liquidity Ratio (SLR). In banking and finance, AI-powered systems need to ensure a few things:
a) Loan Management
Using AI's connectivity tools, banks and financial institutions can do a complete background search of loan-seeking individuals to determine their real creditworthiness. Based on the system's findings, banks can sanction loans for such individuals. As we know, banks earn a large part of their revenue from the interest amounts paid by individuals settling their loans. Crucially, loans and repayments affect the macroeconomy too, a fact highlighted by the role of banks in 2008's devastating global recession.
b) Meeting Customer Requirements
I-powered chatbots are useful for banks in smart cities to replicate human conversation. Chatbots allow banks to deal with several customers simultaneously. Most importantly, the reduction of personal attention to customers does not translate into poor service quality. AI enables chatbots to resolve customer issues in the shortest time, thereby making the tool invaluable for banks dealing with a large customer base. Apart from these, AI can also assist banks and financial institutions with making long-term budgets and forecasts for accurate resource allocation. Although banks may not come across as quintessentially smart city-related, the involvement of AI in the field can positively influence the economy of smart cities. As a result, banking can be classified as a relatively fail-proof area for the implementation of AI in smart cities.
Pavement Management
Year after year, we hear or read harrowing news reports about accidents taking place on pavements. AI-powered pavement monitoring and management systems allow regulatory bodies to reduce accidents, improve space utilization, reduce pavement congestion and oversee regular maintenance and repairs. Pavement management is extremely important as it ensures that roads are clear for vehicles. It also ensures that pedestrians do not use roads for walking due to pavements being overcrowded. Additionally, effective pavement management increases the accessibility of sidewalks in smart cities. From a maintenance point of view, such systems can use computer vision to remotely check if there are any damaged panels on pavements that need to be repaired. Such systems can also notify their administrators whenever any pavements in smart cities are up for repairs or upgrades.
It is rightly believed that maintenance of pavements should be routinely and proactively done rather than in reaction to damage, or to prevent an imminent accident or collision in the short term. Acting proactively can be useful to minimize repair expenses whenever there are budgetary constraints. Poor decision-making in pavement management can lead to loss of lives, damage of public property, and large repair expenses. The main benefit of AI-powered pavement management systems is their cost-effectiveness and ease of usage.
Smart cities can use AI-powered pavement management systems instead of, say, governments spending taxpayers' money on highly expensive systems for on-site pavement inspection. Apart from preventing accidents and bringing down the overall costs of pavement management, such systems can be a useful tool in the hands of law enforcement officers too. AI and computer vision can constantly provide visual data via CCTV cameras. Using the real-time footage, law enforcement officers can keep their eye on pavements during the night to keep criminal activity under check and also apprehend any individual participating in criminal behavior.
AI-powered pavement management systems use deep learning and computer vision to read road images and make objective, immediate, and generally correct and cost-effective solutions for pavement management-related issues. All in all, the application of AI in pavement management and monitoring systems allows governments to save large amounts of taxpayer money by ensuring that high-quality, real-time, data-driven solutions are provided in order to allow smart cities to fix their roads or pavements on time.
As a result of all these, AI-powered pavement management systems are highly useful and not very risky to implement in smart cities. Additionally, such systems also possess several benefits and not many compliance requirements.
Intelligent Security Monitoring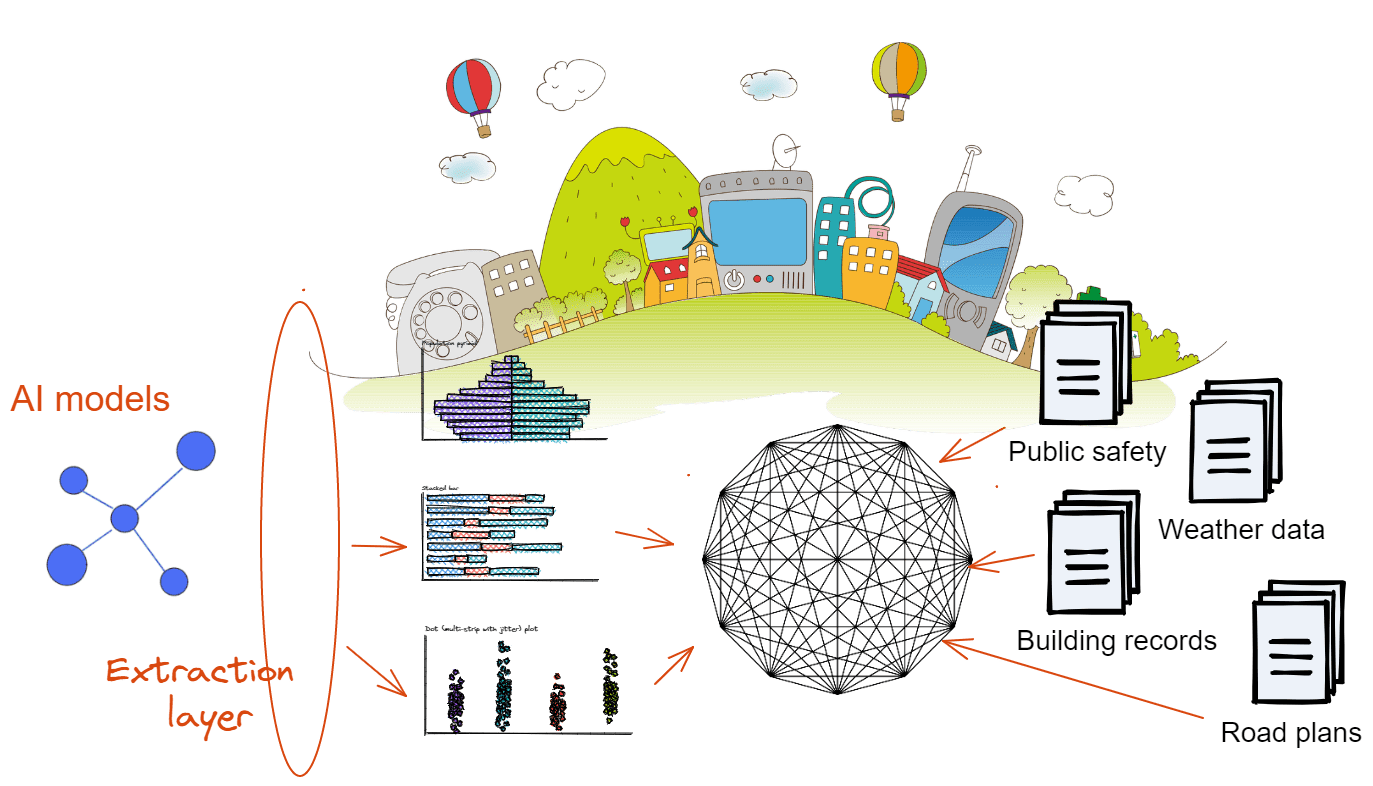 As implied in the previous point, surveillance and monitoring are useful for purposes other than pavement management too. Intelligent AI-powered cameras are, again, incredibly cheap to install and highly effective in the performance of the tasks expected from them. The low-cost aspect allows security cameras to be low-risk options for the implementation of AI in smart cities worldwide. What's more? Intelligent security cameras and other vigilance monitoring systems provide a host of benefits for smart cities.
AI-powered security cameras are one of AI's most widely used applications. It is made up of several components. Out of those, computer vision is the main component to run the system, which has a straightforward operational mechanism. The benefits of computer vision in various industries are well known and it allows intelligent cameras to perform effective facial recognition and verification.
So, what is the difference between normal security cameras and high-end AI-assisted ones? To understand that, we will have to understand how each system works and, more importantly, achieves its end results. As we know, standard surveillance cameras need a security team to constantly be present in order to not miss any incident in a monitored area. Apart from that, past footage can be reviewed to see whether any malicious activity took place during intervals in which nobody was monitoring the screens. While these systems may be cheap for security companies and other regulatory bodies to purchase and install, they are incompetent when it comes to reducing crimes and forecasting potential criminal activity in a large location. Moreover, standard security cameras do not allow security guards and other monitoring personnel to pick out specific individuals in a crowded area. So, criminals could get away after committing a crime.
Computer vision-powered intelligent cameras, on the other hand, can accurately detect individuals with past criminal records by running facial recognition scans through police records and other historical security data. AI-powered security cameras go the extra mile and closely monitor the behavior, mannerisms, and actions of individuals to predict whether they are about to commit a crime or not. Such systems do not need humans to constantly check if they are functioning properly. Apart from that, these systems, just like pavement management systems, are relatively cheap to incorporate in smart cities of wealthy countries. Intelligent security cameras are truly low-risk when it comes to the implementation of AI in smart cities. Like pavement management applications, these systems have to just comply with basic individual privacy norms to be accepted for implementation for daily use.
Apart from these, there are several other low-risk-high-reward applications and application areas wherein AI would enhance the overall connectivity and efficiency of smart cities without governments having to spend a fortune for their incorporation and running. To gain momentum in their smart city initiatives through successful AI implementation, administrators will need to focus on such applications before moving on to more ambitious projects.