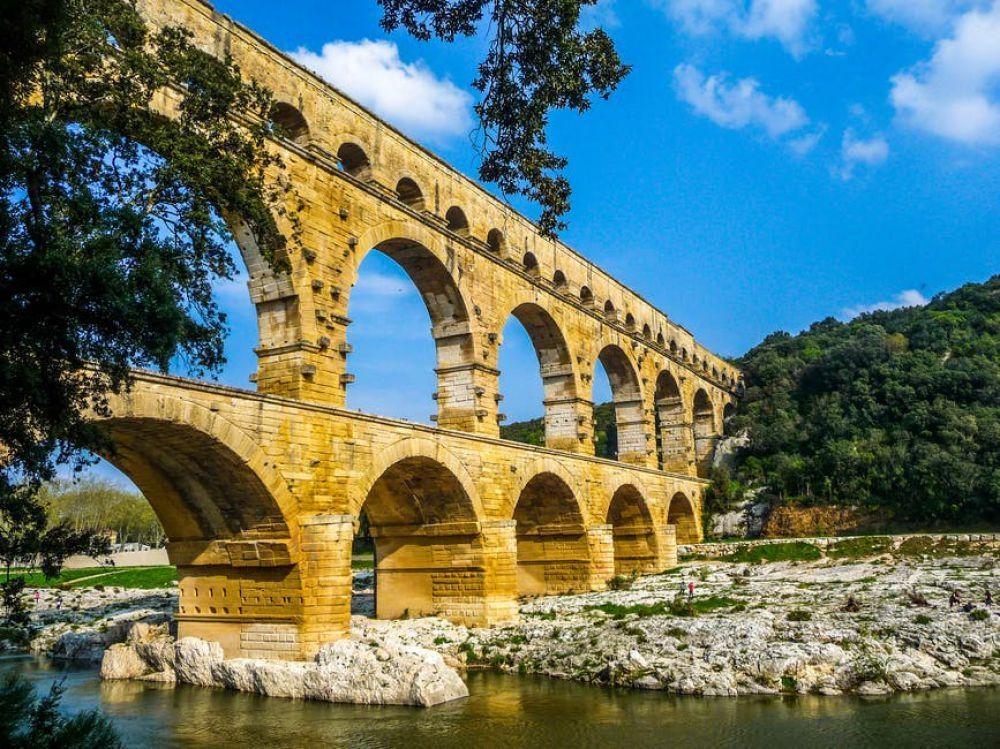 Highest Growth Since 2011


According to the latest OECD forecast, the French economy is set to grow significantly following a growth of only 1.1% last year. The country is still lagging behind the euro zone average. To boost long-term growth, reduce debt and afford labour tax cuts, the Eurozone's second largest economy tackled its strained finances with gradual cuts in public spending, currently at more than 56% of economic output.

France was seen making little headway reducing its public sector deficit, which the OECD estimated would fall from 3.0% of output this year to 2.9% next year. The government is targeting 2.7% annual growth rate for 2018. Emmanuel Macron expects to decrease spending by 20 billion euros in 2018, however much of the savings will be offset by increased spending in priority areas such as education and tax cuts.


Inflation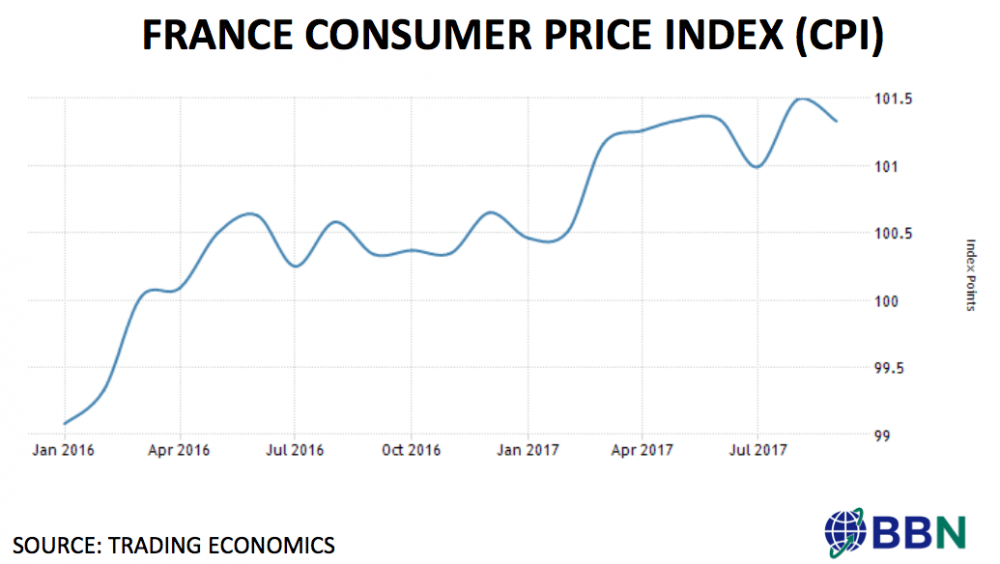 Spending and inflation data provided further proofs of a strengthening economy, reassuring the European Central Bank as it begins a gradual tightening of monetary policy. According to Reuters, the consumer price inflation increased by 1.2% year-on-year, up from 1.1% in September and 0.1% points ahead of estimates. Inflation rebounded based on the latest monthly estimates, rising 0.1% against a 0.2% drop in the previous month. In addition, annual price increases were driven by a rise in food prices and a smaller drop in manufactured product prices, as claimed by the French National Institute of Statistics and Economic Studies (Insee).

Household spending on goods bounced back. They should benefit from a reprieve in energy price rises, which should slow down slightly following two months of sharp acceleration as claimed by the Insee. According to the same source, consumption expenditure on goods increased 0.9% in volume in September, well ahead of a reversing course from a 0.2% fall in August.



Tax Reform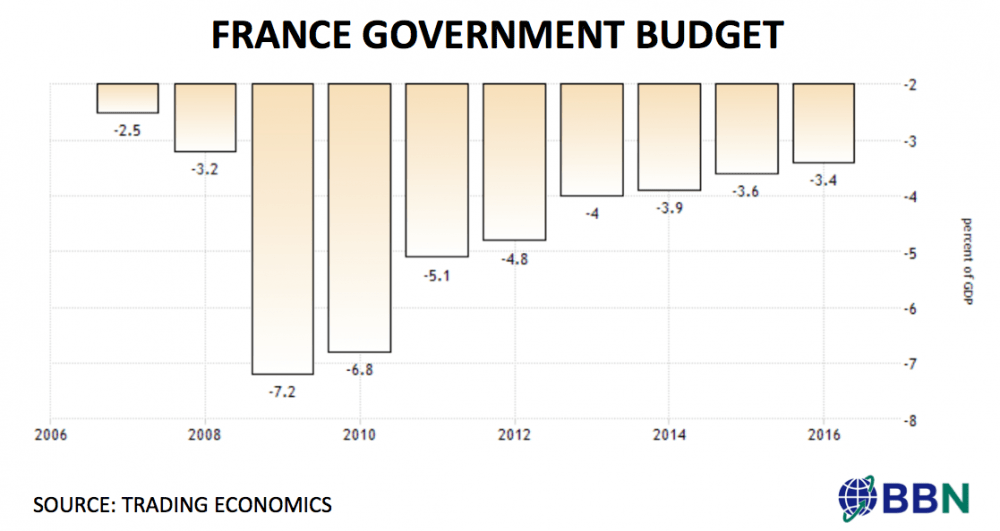 As mentioned earlier, the French government plans to cut spending next year by 20 billion euros, but much of the savings will be offset by tax cuts and increased spending in priority areas such as education. The bill proposes an investment of €56.3 billion and €10 billion in tax cuts over the five years, of which €15 billion would be used to promote professional training programs to reduce stubbornly high youth unemployment. It is important to note that cuts in public consumption of €16 billion infuriated the political opposition, especially the Socialist Party, which argued that the slashes would disproportionately impact lower-income families.

Thanks to these cuts, the French government not only plans to lower the fiscal deficit to under 3.0%, bringing it in line with EU fiscal rules for the first time since the recent financial crisis, but also to lower public debt levels by five percentage points in the next five years. The bill was introduced at a time when economic activity seems to be gaining momentum. Business and consumer confidence remained above their long-term averages throughout the 3rd quarter, and the manufacturing PMI reached a multi-year high in September, which bodes well for fixed investment and private consumption growth.

Labour Law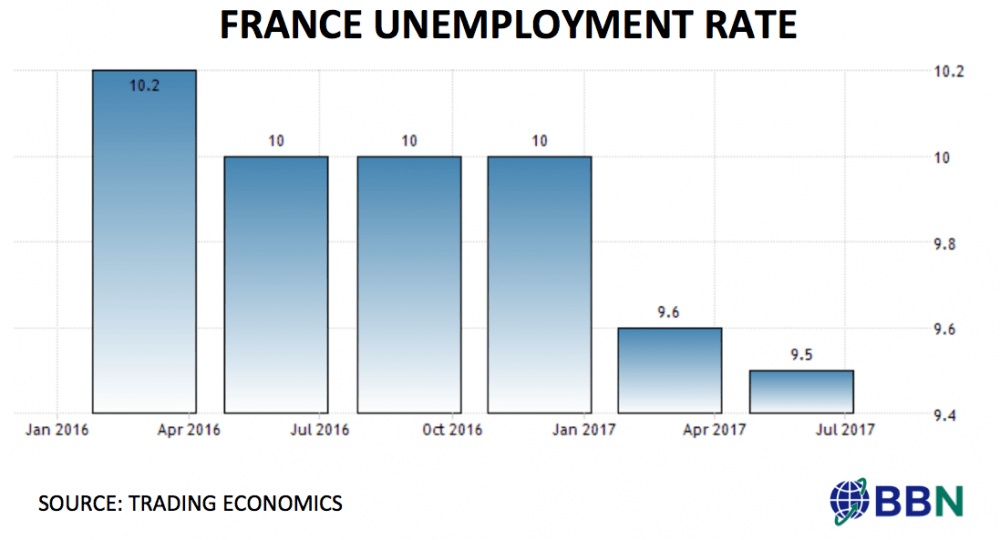 The French President's efforts to loosen France's labour code are innovative and welcome. They might also help attract more investment continuing the revival of the economy. Emmanul Macron's biggest challenge is to convert economic growth into more jobs and maintain the unemployment rate below 10%. But if the country truly wants to reconcile the interests of workers and companies, it also needs a different kind of reform, one more focused on protecting more people than jobs. The French government wants to increase legal penalties for wrongful dismissals, while curbing at the same time the ability of courts to enable workers even greater compensation.
Macron wants to provide companies more flexibility easing court process that follows many dismissals, yielding a positive outcome for companies and workers. France plans to provide corporations more power to negotiate hours of work and wages. The following would ease the bureaucratic pain for multinational companies and local firms with fewer than 50 employees. Labour unions have labelled the reform dangerous for workers and a social regression, but to date most of the protests have not even reached anywhere near the level that greeted previous reforms. The revival of the French economy is still underway.