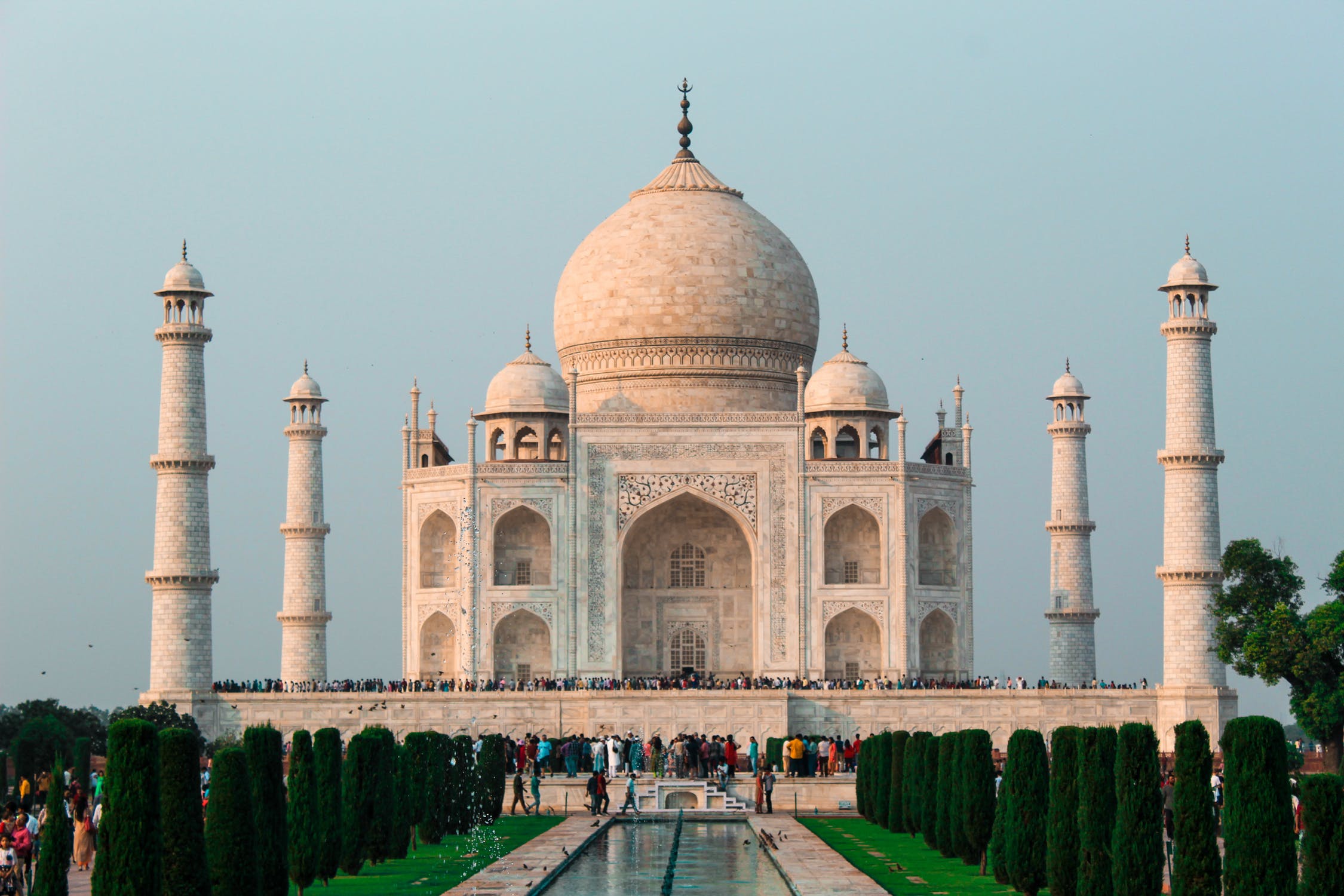 India's decision to stay out of Regional Comprehensive Economic Partnership (RCEP) has been lauded by Indian media, while some declaring India as the winner for the time being. Paradoxically, South-Eastern media found to be critical on India's move, some have gone to the extent of declaring China as the ultimate winner. Most of the analysts view RCEP as a pseudo battle between China and India, therefore they artificially declare a winner. Classical trade theories advocate free trade based on the basic principle –'trade a positive sum-game'. So, declaring a winner goes against the fundamental principle of global trade.
China finds ASEAN as one of the most important trading bloc with $580bn trade out of total $4.5 trillion global trade in 2018. In fact, China registered trade growth of 11.2 percent with ASEAN, which was higher than China-US and China-European Union trade. Rising trade deficit of US with China created tension – resulted in open trade war between the powerful economies. Despite, all punitive actions by the USA, China's trade surplus reached all time high of $378.6 bn in 2018.
China-USA trade relationship is under troubled waters, hence China pushed for RCEP even without India to pose an alternative to US trade power. Will India's absence disturb the equation? India's conscious exit from RCEP leaves a little less room for the regional group to make best use of the situation. New Delhi's withdrawal from RCEP may have displeased China but certainly created lot of hope for US. Prime Minister Modi was firm on his demand for uncompromising solutions to India's concerns.
A multi-lateral negotiation process consumed 7 years to finalize RCEP and India preferred to stay out of equation. Did India overestimate its power or underestimate China's clout? Were the demands beyond reach of other RCEP negotiating members? It's understandable that the India's withdrawal decision must have been judicious and well calibrated. It is difficult to make a second guess, why such a late withdrawal took place.
China's ability and intention to flood Indian market with cheap products could be a major concern. China's absolute advantage over India has been evident from the bilateral trade statistics. India's export to China grew from $13.5 bn in 2012-13 to $16.7 bn in 2018-19, whereas import clocked $70 bn in 2018-19 from $52 bn in 2012-13. During the period, India's trade deficit with China widened to $53.5 bn from $38.7 bn (Table1), an average increase of about $2.5 bn/annum.
India enjoys a combined trade surplus of $766 million (2019-20, April-Sept) with Cambodia, Laos, Myanmar, and Philippines (Fig. 1). With rest of the ASEAN + 5 nations, India's trade deficit is a big concern.
Made in China initiatives yielded more than desirable results to dominate global supply, even US struggles to tackle trade deficit with China. Conversely, 'Made in India' initiative by Modi Government is comparatively at infancy stage. In India, preparedness of farmers and small & medium scale enterprises (SMEs) to face the Chinese storm is inadequate at this stage, frankly speaking they need a little more time and handholding by the government.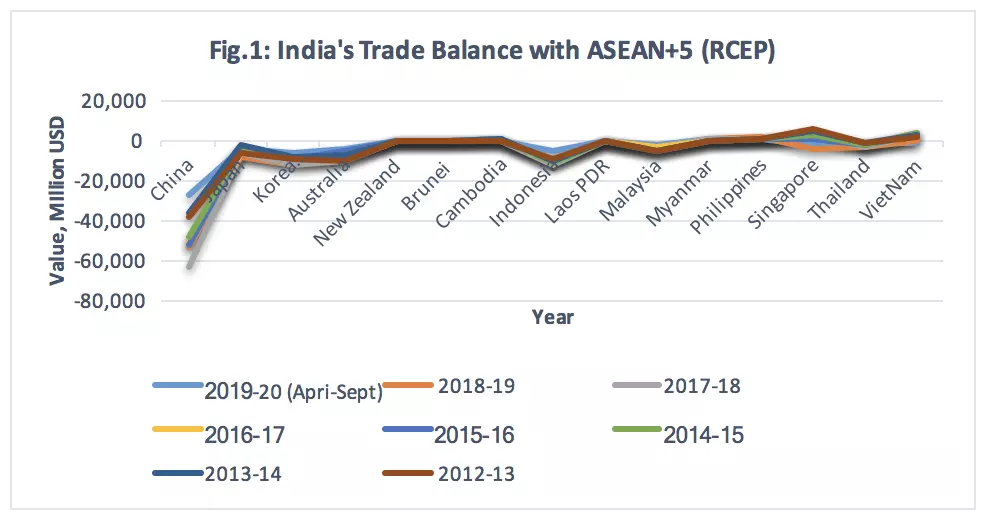 Some analysts argue that free market access could have allowed domestic manufacturers, especially Indian SMEs to fight the turbulence; certainly with a risk of sinking. Safeguarding interest of farmers and domestic manufacturers couldn't be undermined. It can be argued that India had reasonable time to prepare domestic stakeholders to take long-term advantage of free trade, with potential short-term trouble. However, that's not the case; domestic stakeholders need to build capability and competency.
Economic slowdown is visible owning to struggling manufacturing sector and many other policy decisions. The government is infusing capital to keep economic growth upright. Probably, a decision to put own house on order seems to be logical rather than signing multi-lateral free trade agreement, which may not bring immediate benefit to the nation.
Multi-lateral trade deals are not the end of road. New Delhi is willing to take a different route to tackle the matter. As outstanding issues and concerns of India remained unresolved; India's graceful exit from RCEP may be viewed as a better deal.
Due to India's sudden exit, there are multiple questions targeted at Modi administration. One of them: Does India lose out by leaving RCEP? To my mind it is acceptable to protect domestic constituencies, if the deal is not sweet enough. It's to be noted that India's trade deficit with ASEAN + 5 jumped to $105 bn in 2018-19 compared to $75.8 bn in 2012-13 (Table1). Even 2019-20 (April-Sept) period trade deficit reached $54.8 bn, which may exceed previous year's record. At this point in time, if Modi administration joins RCEP—the newest trade bloc, India's trade deficit might shoot up beyond control. In the context, India's exit decision should be fully respected without prejudice.
India's egress compels China, Japan and other members to revisit outstanding issues. Modi administration may reconsider joining RCEP subject to suitable resolution of concerns. Japan Times reported that Tokyo would like to have India in the framework of RCEP. India's presence in RCEP is essential to balance growing power of China. Without India, RCEP may find it difficult to achieve the objective of making Asia-Oceania – a powerhouse trade bloc.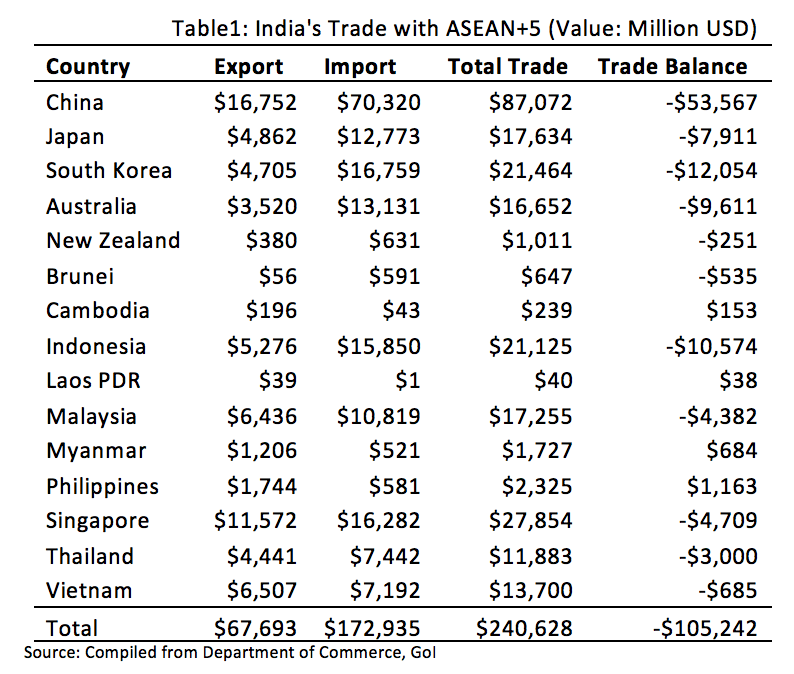 Note: Dr. Rohit Bansal and Dr Saroj Mishra, both are working as Assistant professor at Department of Management Studies, Rajiv Gandhi Institute of Petroleum Technology, Jais contributed to this article.