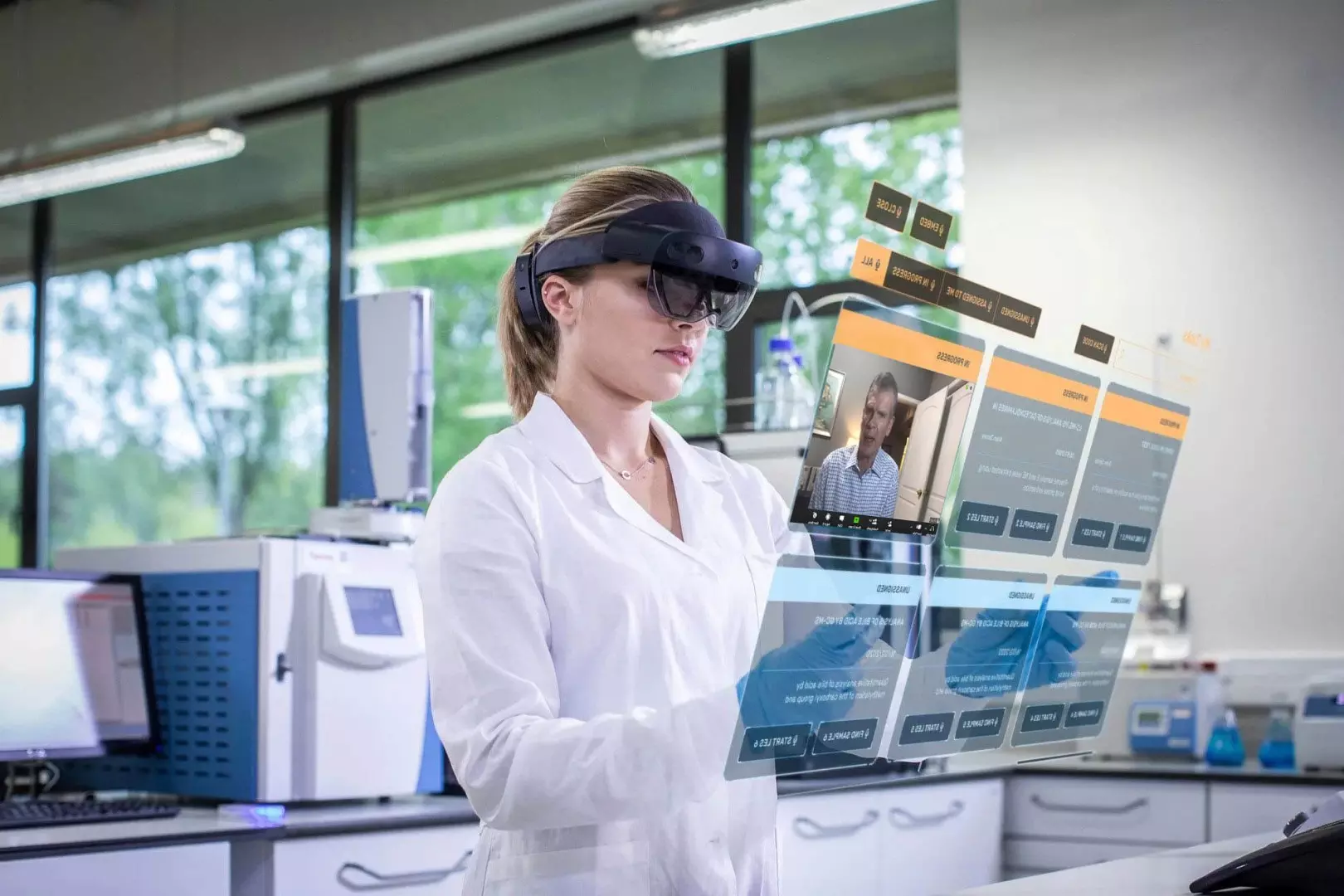 The pressure on pharmaceutical companies to find life-saving solutions in double-quick time has always been exceptionally high.
To meet this unrelenting demand, the involvement of AR in pharma activities promises exciting possibilities for the industry.
As we know, the COVID-19 pandemic has brought the pharmaceutical industry under an unforgiving, and slightly unfair, spotlight. Despite the massive pressure, organizations such as Pfizer, Moderna, and AstraZeneca have created vaccines in record time to inhibit the SARS CoV2 virus that causes respiratory disease. Without a doubt, technologies such as IoT and AI have played a big part in this process.
Another technology that can facilitate rapid and far-reaching developments in the pharmaceutical field is Augmented Reality (AR).
Partly due to its coolth factor, AR's practical applications can sometimes go unnoticed or underappreciated in some areas. AR offers a host of benefits and applications in fields as diverse as supply chain management and robotics. Here, we will discover some of the existing and future applications of AR in pharma companies: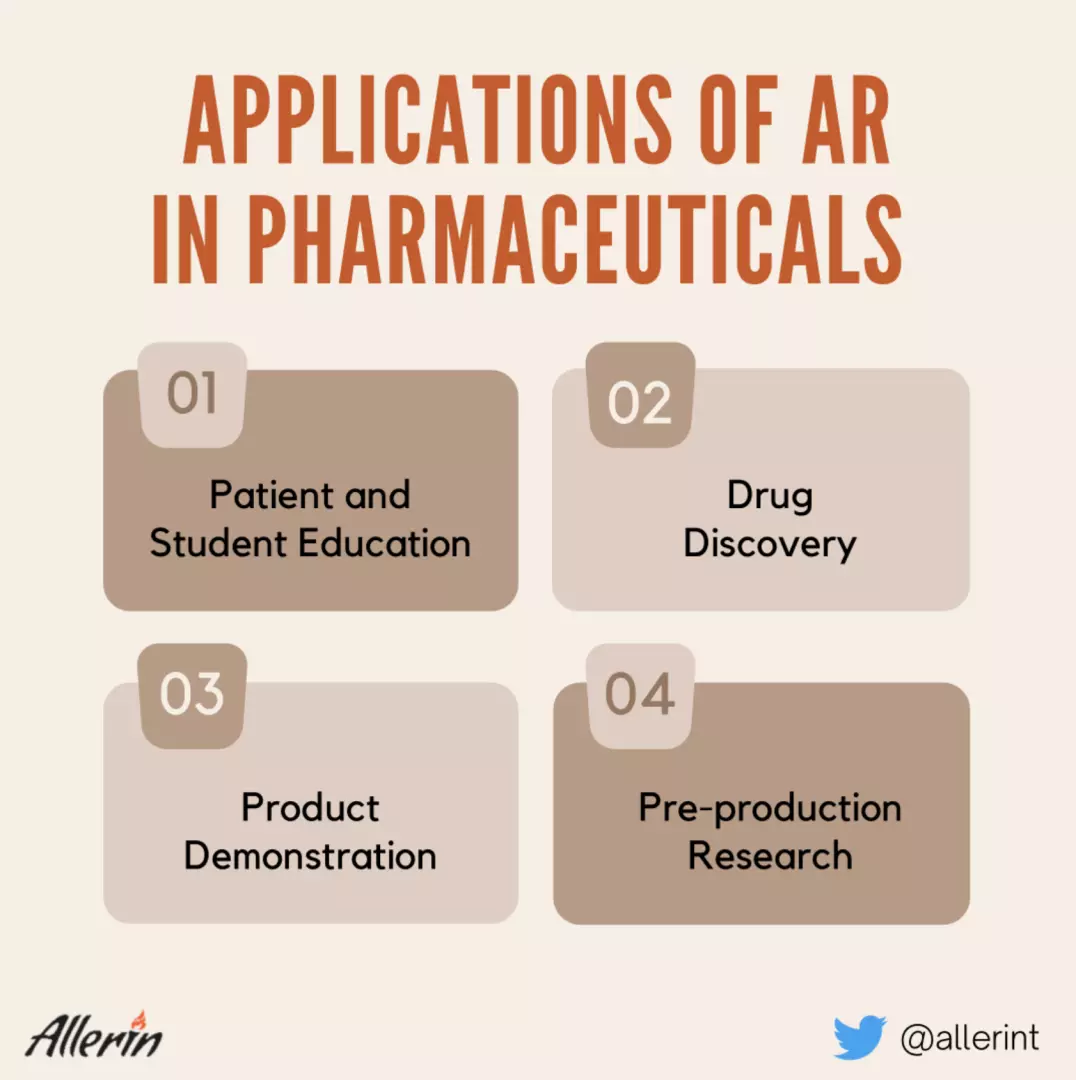 1) AR in Pharma Product Demonstration
Product demonstration is an exercise for which AR's amazing visual capabilities can be put to good use by pharmaceutical companies.
Putting together sales and promotional events can be challenging for pharma organizations. The process of explaining the health benefits of newly formulated medicines to researchers, hospitals or other buyers or regulatory bodies needs to be done in an easy-to-understand way during product demonstration sessions.
Understandably, such individuals or bodies may not have the time or money to patiently listen to sales executives from pharmaceutical companies as they have to tend to their own patients or clients. As a result, the intelligent usage of time becomes critical, making a visual approach perfect for the task.
This is where AR enters the fray. The involvement of AR in pharma marketing activities can be game-changing for medicine makers. As we know, AR is a technology that creates simulations in which imaginary objects are superimposed over a real-world environment on a display screen.
Sales meetings with clients can be simplified with AR-based tools. Firstly, presentations that involve AR-generated imagery can be conducted and viewed from anywhere. As a result, the congregation of people in a common location can be avoided for sales and marketing purposes.
AR allows pharmaceutical companies to showcase medicines and other healthcare products to their buyers. More impressively, the demonstration can be seen by viewers on their own phones, tablets or other devices, thereby preventing needless spending on expensive VR-like headsets.
The presentation can include attractive graphic imagery of structures and chemical bonds to capture the viewers' attention.
The use of AR in pharma companies' sales and marketing presentations is especially a blessing for clients who reside in faraway countries with contrasting time zones to your pharmaceutical company's location.
In addition to product demonstration, AR can also be used to remotely provide tours of buildings, laboratories and other research facilities to regulatory bodies during a likely compliance inspection session.
One of the real-world examples of this was exhibited by Boehringer Ingelheim, a Germany-based pharma company, in 2013. The company launched one of its products named Spiriva Respimat, an inhaler using AR. The innovative demonstration session used 3D animations and gesture-based controls to exhibit how the product could be used, its features and its components. The product's 2020 promotional advert also featured some elements of AR.
2) AR for Drug Discovery
One of the key functions of AR in pharma-related activities is to facilitate quicker and more accurate drug discovery. AR facilitates the research and development process in pharma companies for drug discovery and research for multiple types of diseases.
Sygnature Discovery, an England-based organization that is heavily present in the field of drug discovery, has used VR's capabilities to create a unique discovery involving the monitoring of chemical molecules involved in new drugs in 3D.
AR can be deployed for data visualization in drug discovery. Scientists and other health experts can use AR to assess complicated genetic data related to specific viruses. Usually, this process takes a lot of time. However, AR's data visualization allows researchers to study the characteristics of such particles in order to discover existing elements and medicine combinations to deal with such viruses.
Data visualization is a useful feature of AR that helps in identifying elements that would otherwise be almost impossible to find for pharma companies and researchers. Moreover, the information collected by AR tools can be shared with other scientists working from remote locations. As a result, discoveries made in one part of the world can be shared in no time somewhere else, thereby increasing coordination within the global pharmaceutical community.
3) AR for Patient and Student Education
As AR is a highly visually descriptive tool, it can be used to exhibit decidedly complicated medication or treatment-related information to patients and their relatives in such a way that it is easily understandable for them. Understandably, patients will be curious to know about what kind of exact health condition they have and what medication can be used to cure them. AR allows pharmaceutical companies and healthcare experts to use expressive graphics and 3D imagery to show their patients how their health condition is affecting their body, and how certain recommended medications will act once it is ingested by them.
VR provides an extremely detailed and immersive visual experience to such patients, allowing them to really grasp what is wrong with their body and how medications created by certain pharma companies will help build their immunity to fight their health condition. This level of knowledge and awareness will put patients and their family members at ease, and they will allow themselves to trust the treatment methods used in a hospital as well as the drugs or products manufactured by pharma companies. The process of patient education needs to be carried out as a collaboration between hospitals and pharma companies. As a result, AR is a tool with multiple use cases, especially in healthcare as well as medicine-making.
Patient enlightenment is not just the only educational application of AR in pharma-related areas. Pharmacy and medical students around the world could greatly benefit from AR as well. Albeit expensive, AR tools can be truly revelatory in medical and pharmacy colleges. As we know, learning chemical reactions and formulae can be a tedious affair that could leave a student scratching his or her head in some instances. With AR, future doctors and pharmacists can visualize how certain surgeries and medicines work.
Although this application is not directly related to pharmaceutical companies, the students who have completely understood the complex chemical workings and equations with the use of AR in their curriculum will ultimately turn out to be rich pickings for such organizations whenever they visit medical and pharmacy colleges for recruiting skilled freshers and adding them into their workforce.
It is always wise to make strategies and business, or recruitment plans, for the long term. Over several years, the involvement of AR-related systems and tools in pharmacy colleges will be extremely beneficial for pharmaceutical companies.
4) AR for Pre-Production Research
Drug production, as one can imagine, is a long and arduous process. It requires months, and sometimes years, of research, testing as well as trial-and-error methods to successfully formulate a drug and bring it into the market for commercial use.
With AR, the production process can be sped up with the use of its data visualization capabilities. During the research and development phase of certain drugs, pharma companies can visualize the structure and composition of their future product with AR tools. The visual projection can be seen on a computer or tablet screen. Visuals-based research eliminates the need for several trials of a given drug, thereby saving pharmaceutical companies thousands of dollars in the process.
Apart from visual research and forecasting, AR also allows drug production management to be completely automated. AR allows production supervisors in pharmaceutical companies to test new production mechanisms remotely. AR tools can allow them to virtually monitor the trial process and, based on their observations, such mechanisms can be greenlit for adoption.
One of the main jobs of AR, and any automation tool in the industry, is to reduce the element of human error from pharmaceutical functions and operations. We can safely say that AR's capabilities meet this requirement by allowing the virtual testing of new production processes without human intervention, thereby reducing the likelihood of accidents or deaths caused due to workers' poor understanding of new machines and production operations.
All in all, the potential of AR in the pharmaceutical industry is huge. If organizations adopt AR for the applications listed above and others, they will be able to boost their ROI, productivity, and compliance with regulations.