Artificial intelligence (AI) and blockchain can enhance the vaccination process worldwide by providing speed and clarity of information, reporting low quality vaccines, and reducing manufacturing costs.
Vaccinating the global population against COVID-19 is a herculean task for the World Health Organization (WHO) as well as governments everywhere.
Governing bodies all over the world face a race against time to quicken large-scale production, storage and distribution of vaccinations for countries that desperately need them. The involvement of blockchain and AI in healthcare brings structure and speed into the process.
As expected, COVID-19 vaccines are not available equally across the globe. Rich countries, through independent deals and other sources, have gobbled up the lion's share of vaccine doses for their citizens, leaving poorer nations to play catch up in the process. As we know, a vast majority of the world's population resides in middle and lower-income countries. As things stand, several such countries may not even get a glimpse of their vaccination doses until the later months of 2021. So, while developed countries such as the US, UK and Italy strategize to reignite their economies after successfully dealing with their respective pandemic problems, others will continue to face the relentless horrors associated with mounting infection rates, death tolls, mutant virus variants and unemployment on an unimaginable scale.
As the saying goes, no one will ever be truly safe until everyone is safe in the time of a global pandemic. Therefore, decision-makers everywhere must figure out a way to ensure that nations that need vaccinations desperately get it with minimum delay. To achieve that goal, countries can rely on technologies such as blockchain and AI in healthcare. Blockchain, in particular, can be useful for channeling welfare services to the needy at all times. Here's how these two modern technologies can administer the much needed shot in the arm to global vaccine allocations:
HOW ARTIFICIAL INTELLIGENCE CAN IMPROVE THE VACCINATION DISTRIBUTION PROCESS
Apart from vaccine allocation, AI can play a big role in assisting healthcare experts with COVID-19 diagnostics, research and information related to new and existing drugs and treatments. Despite these aspects, AI's use in making the global vaccination supply chains (Raw material procurement, long-distance transportation, real-time monitoring and storage) more effective and efficient can end up being the technology's most significant contribution during the pandemic. On a long-term basis, AI's involvement in the vaccination supply chain promises to lower the overall costs and avoid any negative impact on the quality and quantity of the package during the process.
The COVID-19 vaccinations were conceptualized, researched, trialed and created by pharmaceutical companies in less than a year. Therefore, many people across the world seemed to be worried about the efficacy and safety of these vaccines. So, it is necessary for pharma companies as well as public healthcare bodies to be accountable and transparent during vaccine creation and distribution.
Here are a few ways in which AI can improve the vaccination distribution process internationally: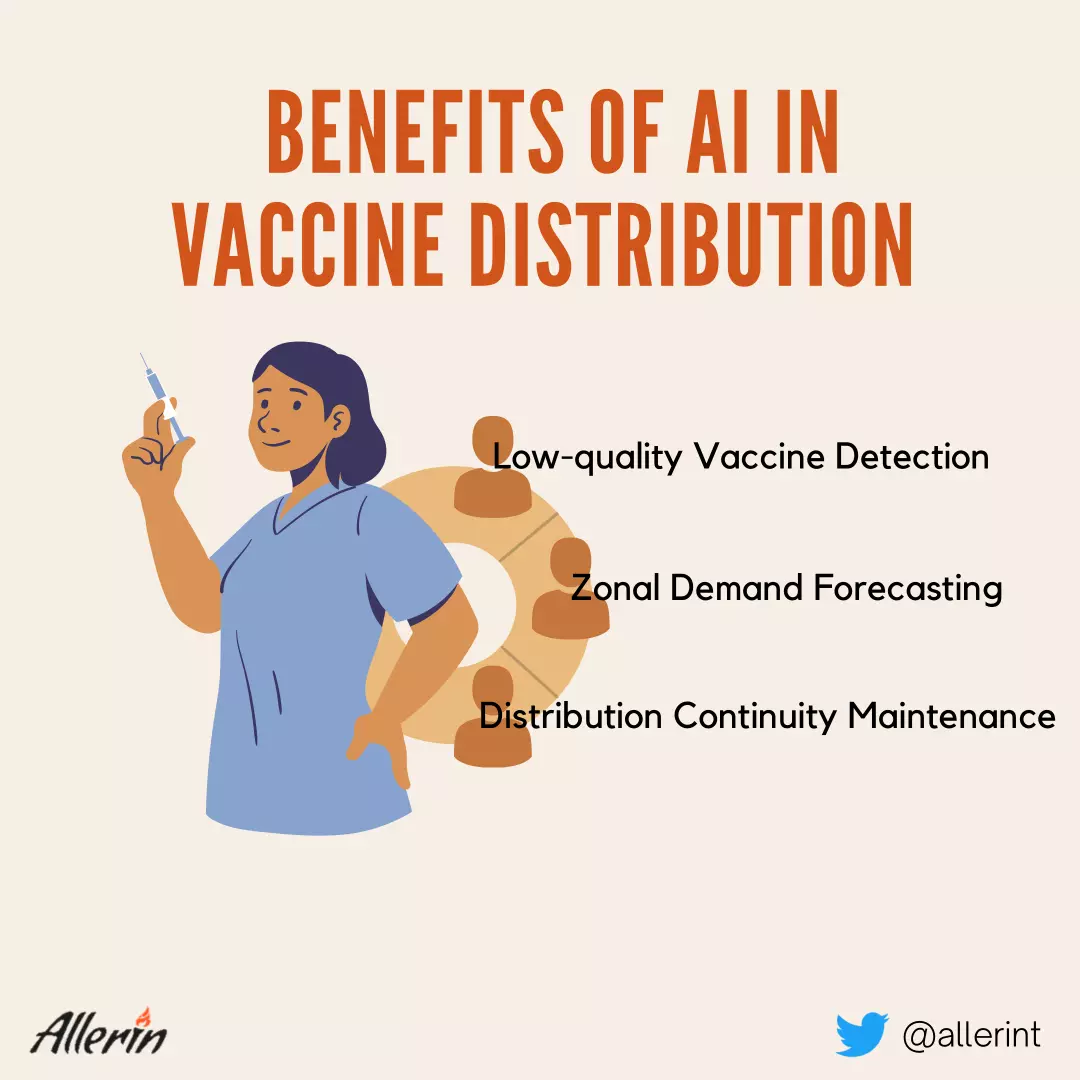 1. Identification of Real-Time Zonal Demands
Vaccine demands can vary from place to place owing to various factors, such as zonal population, number of hospitals, infection rates, and the total number of people yet to be inoculated. Demand impacts factors such as storage and transportation costs. This is where the involvement of AI in healthcare makes sense for all parties. AI's advanced predictive analysis and demand forecasting capabilities can provide clarity to the allocation authorities regarding vaccine requirements in specific zones. Exact allocation in a zone can reduce the chances of wastage as well as stockouts there. Predictive analysis in AI uses data from the recent past to give governing bodies a clear idea of actual zonal demands. AI can also use social security information from government databases to understand the demographics of a region. With this information, vaccination doses can be administered to the old and vulnerable to reduce their chances of succumbing to the virus.
2. Detection and Reporting of Low-Quality Vaccines
Low-quality vaccines are extremely dangerous for the recipients. Unfortunately, a large number of people die due to the usage or intake of substandard vaccines and medicines. Detecting and notifying the concerned healthcare officials and doctors about subpar vaccines from each production batch is vital to prevent their production and distribution, thereby preventing unfortunate individuals from getting them.
Healthcare regulation bodies may carry out the testing and quality control of vaccines after importing them or during their creation phase. The scanning process can be time-consuming and expensive for such bodies. AI's surefooted assurance enables healthcare experts to spend minimal amounts of time in this phase. Additionally, testing samples can be reduced, thereby decreasing the costs associated with the process. And finally, AI's ability to track down medicine bottles based on their serial numbers can allow pharma companies to know exactly which ones are defective and unfit for production and distribution. While defect detection may not be directly involved in the allocation process, it surely allows AI to reduce the number of delays in the process.
3. Maintenance of Distribution Continuity
Without a doubt, the most vital necessity during a raging pandemic like this. Logistics and supply chain complexities may cause unnecessary delays in the process of vaccine allocations in countries that need it the most. Unfortunately, such delays may be the difference between life and death for several individuals in nations where healthcare systems are completely overwhelmed.
In that context, AI-powered systems' capabilities of ensuring continuity and autonomy in production and supply as well as taking lightning-quick decisions regarding the procurement of raw materials, ingredient storage, and distribution can be invaluable for all parties involved. The use of IoT and sensors allow the monitoring of the vaccine supply chain in a region. Additionally, AI can also provide recommendations for the storage of vaccine vials during rains or major climate-related events such as cyclones and floods.
AI's proactive algorithms can truly solve the problem of the global vaccine shortage. Vaccine manufacturing organizations and governments across the world must exploit AI's vast range of capabilities to ease the process of vaccine distribution. AI in healthcare, if used competently, can resolve the ongoing crisis efficiently.
HOW BLOCKCHAIN CAN IMPROVE THE VACCINE SUPPLY CHAIN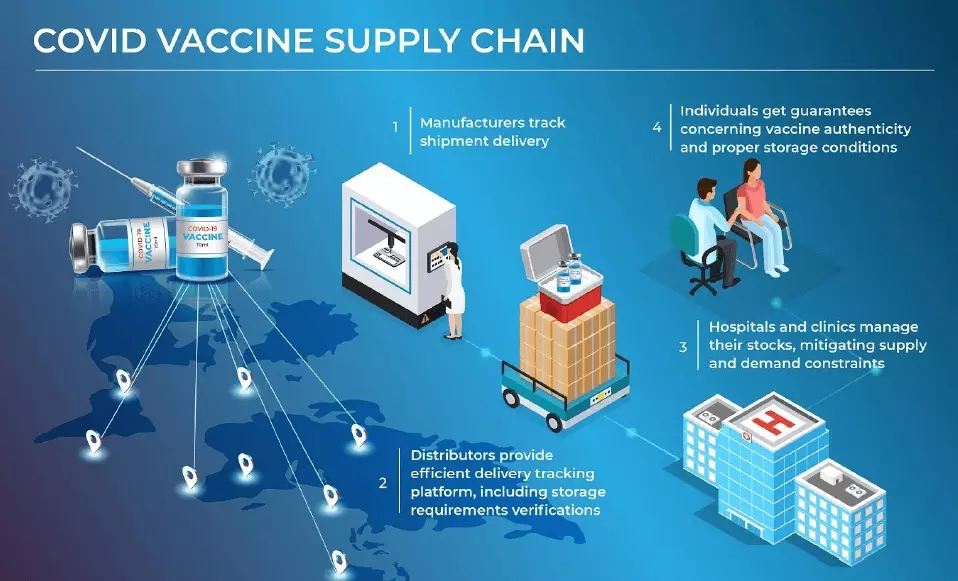 Using blockchain technology, these bodies keep an eye out for adverse reactions or effects caused by the vaccines. In case an issue is detected, vaccine producers can facilitate smooth reverse logistics. Apart from that, vaccine distributors can continually monitor supply chain disruptions to enhance inventory management and safety monitoring. Most of blockchain's benefits in this regard may be similar to those of AI's. Most importantly though, blockchain helps to remove doubt from citizens' minds due to its transparency across the board. Here are some of blockchain's main benefits in the area of vaccine allocation:
1. High Visibility During Distribution
As we know, blockchain boosts the transparency factor during the storage and transfer of information. Similar levels of transparency can be witnessed during the vaccine allocation too. Blockchain systems provide a steady and interlinked chain of vaccine custody, from manufacturing, storage, transportation and distribution, during the supply chain process. The main task of blockchain systems is to eliminate the metaphorical blind spots for all the stakeholders involved.
2. Mitigation of Spoilage and Other Risks
Just like AI, blockchain systems also show defect detection and notification capabilities at any stage during the supply chain. These capabilities are useful to mitigate spoilage, shrinkage, and other such incidents during the allocation of vaccinations in different countries.
3. Prevention of Counterfeit in Vaccinations
Unfortunately, counterfeit medicines and vaccines are still highly prevalent in healthcare supply chains everywhere. As we know, transparency and clarity in information are two of the biggest plus points of blockchain systems. Therefore, several companies, such as Walmart and IBM, use blockchain technologies to facilitate quicker reverse logistics in case a counterfeit or fake product unit or package has been detected in an import or export batch of goods. A use case similar to this can be deployed in the case of vaccine allocation also. The elimination of counterfeit medicines or vaccinations can be incredibly useful and reassuring for people everywhere.
4. Evaluation of Health Condition
Apart from vaccine allocation, blockchain systems can also be configured to allow users to assess their health conditions while not compromising their privacy in any way. With blockchain technology, users can manage this information through their smartphones. This particular benefit of blockchain may not be related to vaccine allocation, but it is vital from a recipient's point of view as they can continuously monitor their health condition while waiting to get vaccinated.
As we can see, while AI in healthcare actually impacts the supply chain to influence the allocation of COVID-19 vaccines globally, blockchain systems cover the remainder of the issues related to the process. All in all, both technologies play a part in enhancing the entire process.
Countries such as India and Brazil are desperately in need of vaccines, while others, like the US and Canada, have vaccinated large percentages of their population and still have plenty to spare. Such inequality can be reduced if modern technologies such as AI and blockchain are introduced to improve the global vaccine supply chain.