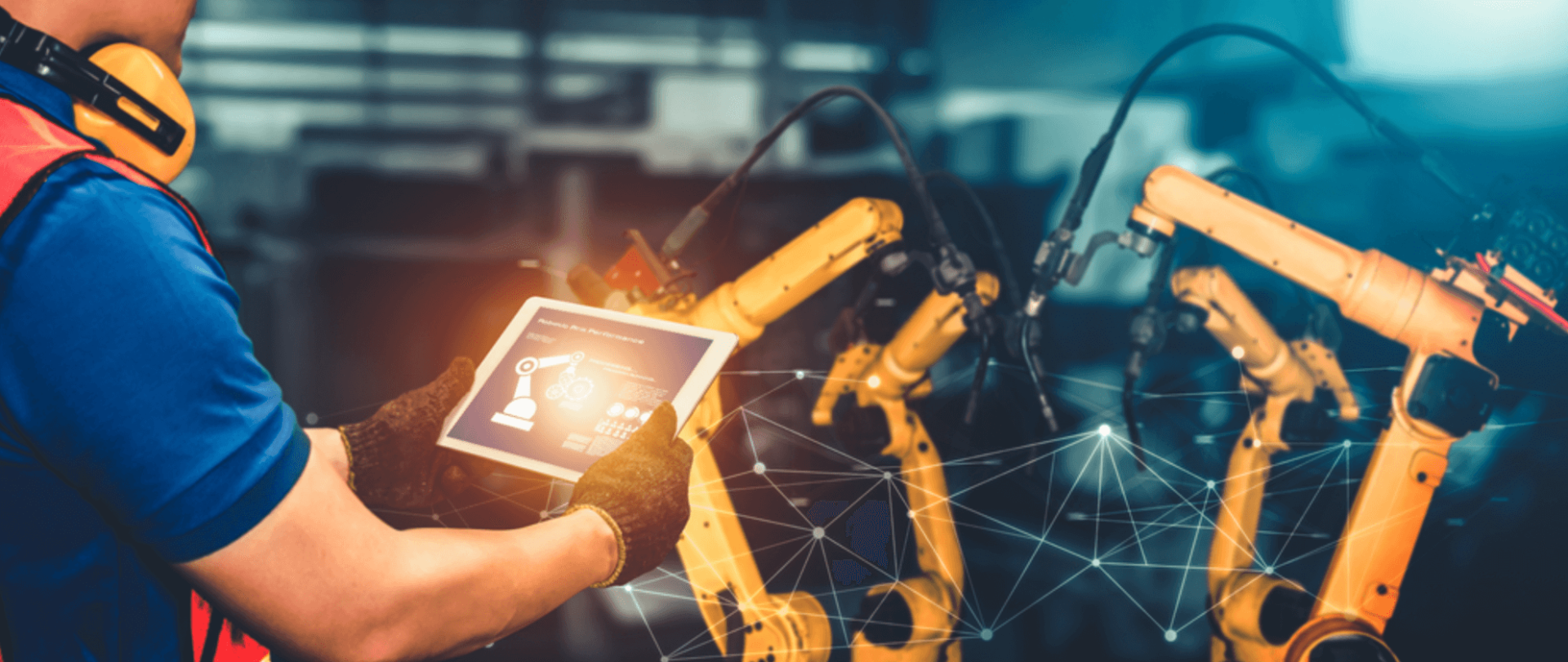 Automakers are now faced with a pivotal choice: to embrace the digital world or risk being left behind in the wake of innovation.
Digitalization in the automotive industry is no longer a choice, but a necessity if an automobile manufacturer wants to stay ahead of the curve. Benefits range from increased competitiveness and market expansion to enhanced customer experience and supply chain optimization.
Automated factories, electric vehicles, and autonomous cars — are some major disruptions in the automotive industry. As this industry faces disruptive transformation, digitalization in the automotive industry is not a choice anymore. Automakers must consider the challenges of evolving customer needs, emerging technologies and trends, improved connectivity, and environmental regulations when mapping out their digital transformation journey. Digitalization in the automotive industry will bring about a shift from traditional disconnected systems to connected, digitized ones.
According to the Fictive 2022 State of Manufacturing Report, around 90% of companies are implementing digital manufacturing technology. As digital technologies usher in the era of smart factories, automakers can leverage this digitalization to improve other areas like customer experience, vehicle connectivity, automobile supply chain and more.
Benefits of Digitalization in the Automotive Industry
While the automotive industry has already initiated the process of automating traditional processes and implementing digital technologies, it can do more to embrace digitalization further. Following are some of the benefits of digitalization in the automotive industry.
1. Supply Chain Optimization
Integrating digital technologies into the supply chain of your automotive business can help you improve transparency throughout the supply chain for all stakeholders. It can provide a unified interface that will remove the functional barriers between different departments in your automotive business. Along with a unified system, you will also be able to monitor all phases of your automotive supply chain in real-time. This will help you evaluate risks, pinpoint areas of improvement, control the effects of certain events, and prevent potential disruption. All levels of the supply chain, like procurement of raw materials, logistics, customers, suppliers, and dealers, can be easily integrated and monitored through digitalization in the automotive industry.
2. Market Expansion
Your automotive business can expand its market reach and cater to new geographic areas by leveraging digitalization in the automotive industry. The digital world doesn't have any cultural or geographical boundaries, making it possible for your automotive business to enter new markets and improve your sales portfolio. Through digital technologies, you can update your products to address newer, more innovative trends.
3. Improved Competitiveness
As digitalization in the automotive industry involves smart factories and Internet of Things (IoT), it will improve the flexibility of the production processes and reduce the time to market for your vehicles. You can increase your product competitiveness by providing your customers with vehicle models with all possible customizations. This can help you build more responsive supply chains, add agility to your production lines and reduce feasibility risks.
4. Enhanced Customer Experience
Digitalization in the automotive industry can lead to improved cost-savings and customer satisfaction by adopting digital technologies to cater to a wide customer base simultaneously. You can facilitate a better customer experience and improve communication through automation and artificial intelligence. Adopting digital technologies also leads to embracing agile transformation in your organization. This agile structure leads to a regular feedback system between employees and customers, which can be addressed to enhance customer experience and overcome organizational challenges.
Key Drivers of Digitalization in the Automotive Industry
Another reason why the time is right for automakers to step into the digital world is the increased prevalence and easier availability of key driving technologies.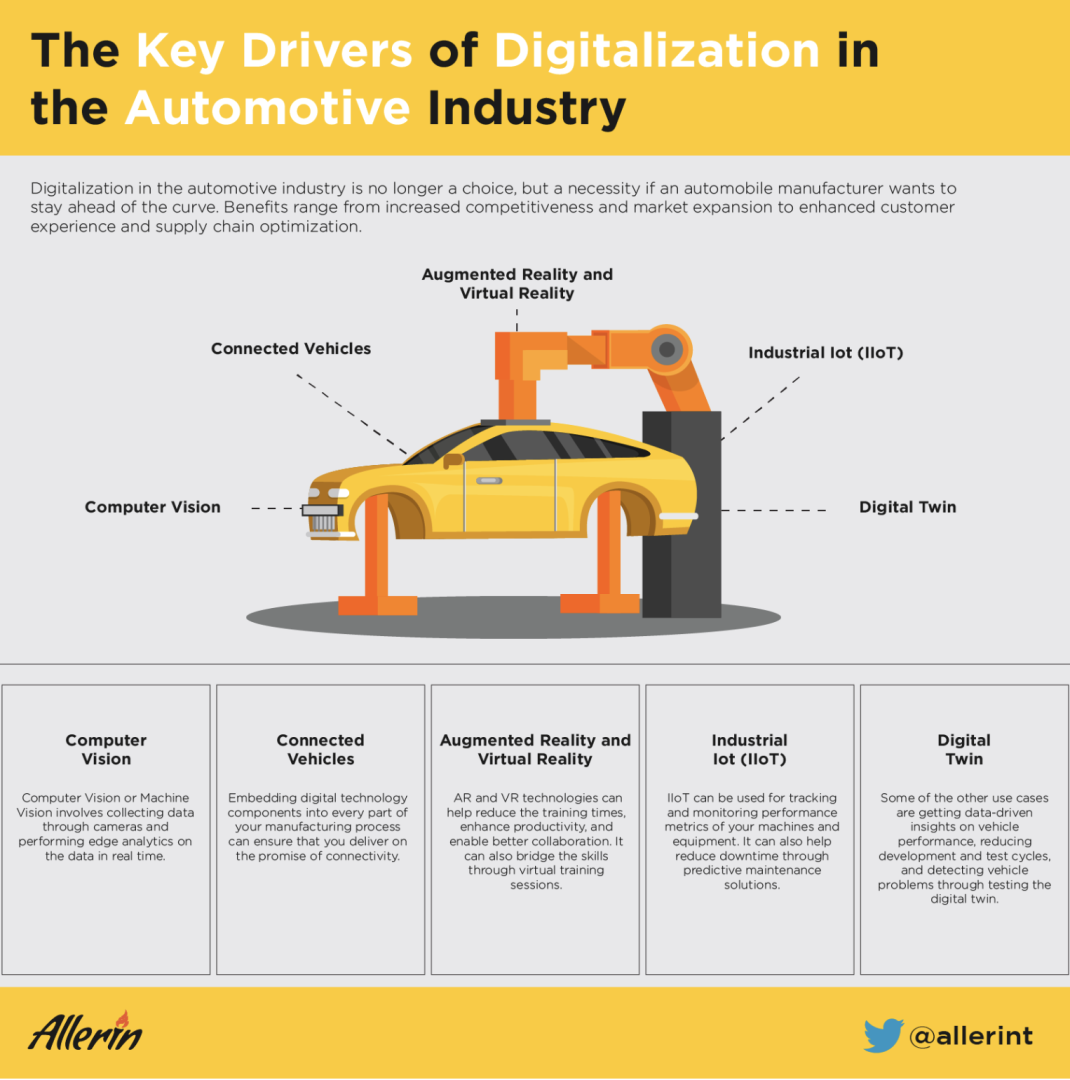 Digital Twin
Digital Twin enables automotive manufacturers to design and simulate vehicles in a virtual environment. Through Digital Twin, your customer can take a digital tour of your vehicle without visiting the showroom. Apart from improving the brand experience, digital twin technology can be used to demonstrate the effects of changing vehicle design and testing process improvement, leading to better production efficiency. Some of the other use cases are getting data-driven insights on vehicle performance, reducing development and test cycles, and detecting vehicle problems through testing the digital twin.
Industrial Iot (IIoT)
Industrial IoT involves collecting data through IoT sensors and leveraging cloud and analytics to generate actionable insights into industrial processes. You can capitalize on this technology to implement remote diagnostics and predictive analytics in your automotive industrial process. IIoT can be used for tracking and monitoring the performance metrics of your machines and equipment. It can also help reduce downtime through predictive maintenance solutions. The data gathered through IIoT can be analyzed to unearth insights that will help you make your product and process more efficient.
Augmented Reality and Virtual Reality
Workforce training is an important part of the production process of an automotive company. Augmented Reality (AR) and Virtual Reality (VR) can assist in workforce training by providing virtual and immersive training experiences. Through AR-powered glasses, workers can get instant guidance and instructions while doing their jobs. Such immersive technologies can help them quickly grasp complex tasks and take them through emergency scenarios like fire drills. AR and VR technologies can help reduce the training times, enhance productivity and enable better collaboration. It can also bridge the skills through virtual training sessions.
Connected Vehicles
Customers expect increased connectivity in their vehicles in a similar manner to that of their smartphones or laptop. This can mean infotainment systems, assisted driving, paying for parking through vehicle dashboards, etc. Embedding digital technology components into every part of your manufacturing process can ensure that you deliver on the promise of connectivity. This will also require you to recruit and train workers with digital capabilities. As everything on the factory floor will become digitized, traditional factory workers will have to upskill to build connected vehicles.
Computer Vision
Computer Vision or Machine Vision involves collecting data through cameras and performing edge analytics on the data in real-time. Application of computer vision in the automotive sector includes anomaly detection in the production process, identification of products on the factory line, and quality control and compliance check of the vehicle parts. Additionally, computer vision technology can also improve workplace safety by continuous surveillance of factories and warehouses.


Digitalization in the automotive industry is well underway with many key players investing in emerging digital technologies to improve their operations. An example of digital transformation in this space is BMW which has implemented IoT in its Regensburg plant in Germany. This implementation has led to reduction of deployment time by 80% and minimized quality concerns by 5%. To get ahead of the curve, automotive manufacturers need to rapidly adopt digitalization and experiment with the potential of cutting edge technology and automobiles. Now is the time to drive transformation and embrace digitalization before it's too late.