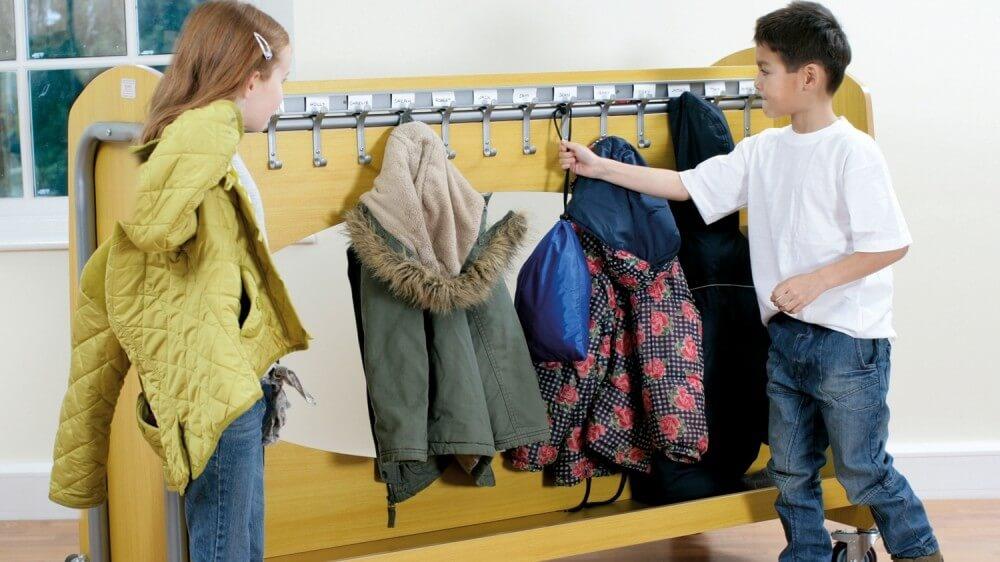 Ensuring that a school has sufficient cloakroom storage is crucial within the contemporary education system.
But what is the school cloakroom solution that will suit your needs best?
From locker room design ideas to freestanding storage benches, there are a plethora of school cloakroom solutions to choose from. Each solution serves a different purpose and has varied suitability for different levels of the UK education system.
To help you make an informed decision, we've outlined a helpful list of 7 school cloakroom solutions.
1. Cloakroom Benches
One of the most common options for school cloakroom storage is cloakroom benches. With a variety of options available, it ultimately depends on your students, their needs and requirements.
Cloakroom benches are often found in primary school cloakrooms, with space available underneath benches for bags. These can be freestanding or often fixed to the floor and provide fantastic built-in seating and storage.
Some solutions come equipped with the added option of including hooks poised above the bench. These hooks provide space for students to hang coats and other items off the floor, creating a cleaner and safer environment with additional storage features.
2. Tall Lockers
Another school cloakroom solution that is often used is tall lockers. These have the flexibility to be used for both students and staff as well as for storage of school equipment. Tall lockers are versatile and sturdy to hold a range of equipment bags, sports equipment, and general school supplies.
The options of locker sizes can also vary, depending on the number of tier levels you're looking for. Bespoke range of school lockers can often be fitted floor to ceiling, depending on the locker room design ideas you may have. A selection of tall lockers can range from 1 tier compartments to 3 tiers and above, with other options available.
3. Cube Lockers
Another suitable school cloakroom solution would be cube lockers. Smaller in size and depth, they instead allow for a larger volume of lockers in the same amount of space as tall lockers. Cube lockers work perfectly for larger schools as well as changing facilities.
Constructed from a variety of child-friendly materials and colour options, combined with intelligent and easy to use locking mechanisms for security and user satisfaction, cube lockers make for an appropriate school cloakroom storage solution.
4. Cloakroom Trolleys
Often found in primary school cloakrooms are cloakroom trolleys. With the option of either single or double-sided trolleys, most options come complete with a bottom rack for storage of larger items.
Most general cloakroom trolleys come complete with an anti-bacterial powder coated finish, providing an attractive and safe changing environment. Cloakroom trolleys are excellent at providing an economic school cloakroom storage solution with their manoeuvrability and space-saving features.
5. Wall-mounted Storage Solutions
Perfect for primary school cloakrooms, wall-mounted storage solutions provide a security feature for children to keep their belongings safe. From wall-mounted benches to compartments and hooks, mounting something to the wall in a school cloakroom also acts as a clear indication of a designated area to store coats and other items.
6. Open Compartments
Open compartment storage benches and units are perfect for primary school cloakrooms. They are a suitable storage solution for younger children in the nursery too. These units provide a way to teach children about personal belongings and boundaries with sufficient storage space. With the options to be fixed or freestanding, open compartment units are a unique and cost-effective locker room design idea.
7. Storage Accessories
While every school cloakroom is different such as room design ideas and installations, there are additional avenues that can enhance your storage solution. Through the use of extra hooks, additional shelves, storage compartment boxes or even dividers, there's an array of options available to you to help improve your school cloakroom.