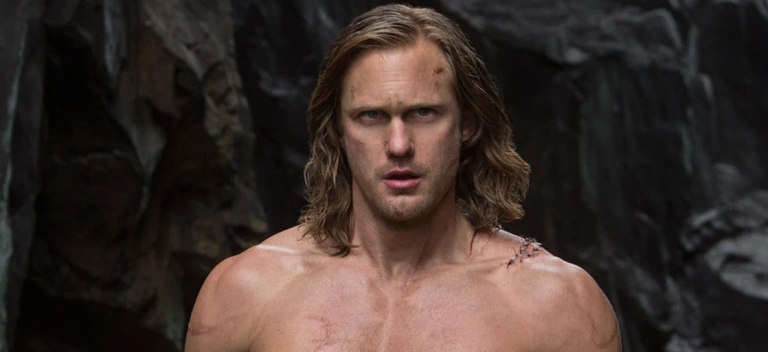 I will avenge you, father. I will save you, mother. I will kill you, Fjölnir
Alexander Skarsgård as Amleth
Author, director, and actor Ethan Hawke is one of America's most literate performers, who easily quotes Mark Twain, Ernest Hemingway and Shakespeare, among many others. So, when he initially was given the script for the mythical and Viking epic thriller, The Northman, he suggests, "When I read the script, I felt it aspired to be like a beautiful grand poem about a Viking King."
Hawke, who plays King Aurvandil the father of young prince Amleth who's slated to become king, praises Alexander Skarsgård for shaping and building his extraordinary body into a vengeful warrior, The Northman—the warrior who will avenge his father.
Hawke, whose breakout movie performance was in the inspirational Dead Poets Society when he was still a teenager, says of Skarsgård:
"To prepare for his role, Alex basically made a sculpture of his body, as if the great Michelangelo had shaped him. In the process, Alex showed such mental application and physical discipline, and he ended up looking better than Schwarzenegger's Conan. He's an incredibly dedicated and talented man, and comes from a family of great actors. I've had a few roles in my own life when that was asked of me and I understand how challenging that is, showing incredible discipline to not only look like an athlete but you have to live like one. He didn't put on prosthetics or a costume, and he managed it with a smile on his face."
Skarsgård, who has appeared in everything from series like True Blood and Big Little Lies, to comedies like Zoolander to mythical tales like The Legend of Tarzan, talks of this movie's thunderous battle scenes, explaining, "The fight scenes were shot in long continuous takes, and they were so incredibly exciting. But, it was challenging to get that right. We had weeks of choreography and had to work on them for months before shooting. Plus getting into shape for the scenes. It was exhausting and time-consuming. But ultimately, very rewarding. When you nail it, the director's vision is realized, and everyone behind the camera is celebrating like we'd just won a big sporting victory. It was so amazing to see and feel that reaction on the set."
Born in Stockholm, Sweden, Alex is the eldest son of famed actor Stellan Skarsgård, and his siblings include actors Gustaf, Bill, and Valter Skarsgård. And, he loved portraying a Nordic character like Amleth who is the figure in a medieval Scandinavian legend, and was also an inspiration for Shakespeare's Prince Hamlet.
But, interestingly, Skarsgård was most chuffed to meet Icelandic singer/composer/actor Björk who plays a "witchy seeress," suggesting, "The movie has a formidable cast with Ethan and Nicole Kidman, but she told me it had been 17 years since her last film, so shooting a scene with Bjork was one of the highlights, one of many. The privilege of sharing that with Björk, such an amazing artist, was humbling."
Alex suggests we settle in and enjoy the ride, as the movie opens this weekend, and he adds: "Near the end of movie, there is a chant in the old Norse language that we had to memorize. Basically, it was the lines from the beginning which had set the tone, a mantra that went, 'I will avenge you, Father. I will save you, Mother. I will kill you, Fjölnir!'"