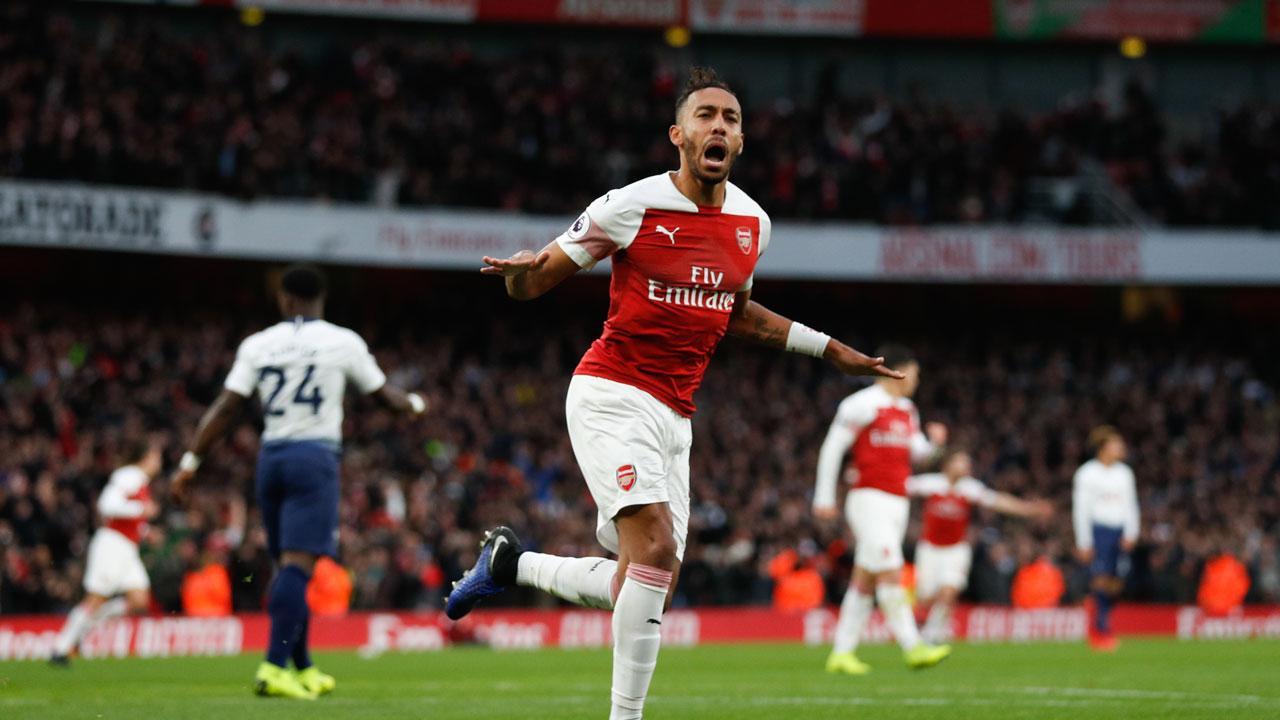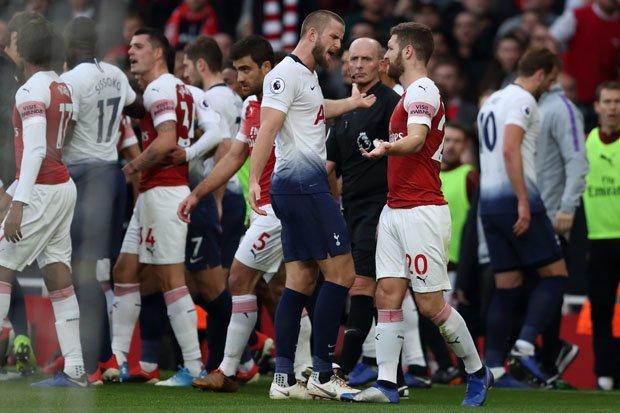 Tottenham's Dier and Arsenal's Mustafi square up

What a game! What an example of the thunder, power and passion of the Premier League! Arsenal ultimately came out on top, 4-2, and with Sunday's game the great derby rivalry of North London is back on. Is it ever!
To recap, after Arsenal took the lead with Pierre-Emerick Aubameyang scoring on an early penalty kick, Tottenham's Eric Dier equalized off a superb glancing header. Combative Dier, who played in the World Cup for England, put his finger to lips in celebration to "shhhh" the home crowd and some argy bargy happened on the sidelines. It was mostly handbags, but you could feel the palpable energy and ferocity.
Then shortly after, England's captain Harry Kane also scored a penalty for Spurs to take the lead, and go up 2-1 at the half, with the game finely balanced. And, in charge, were two great young managers, Tottenham's Mauricio Pochettino and Arsenal's Unai Emery, who are good friends off the pitch, but fiercely competitive on it.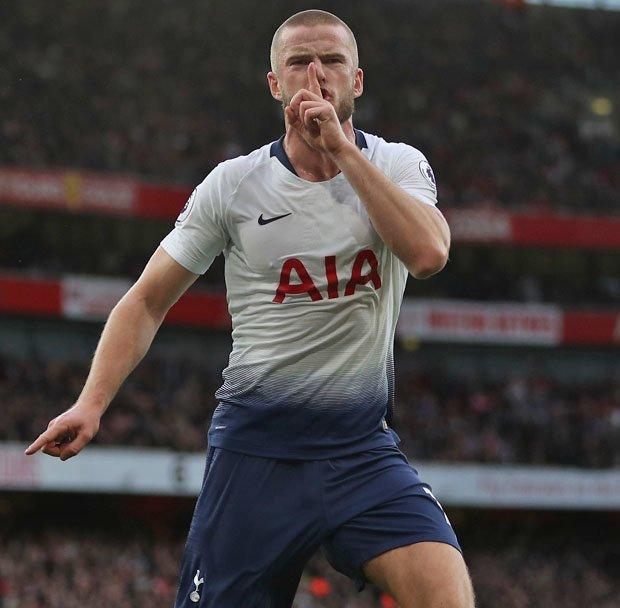 Dier's "shhhh" gesture to home crowd sets off handbags at ten paces

In the second half, due to some unfortunate Tottenham defensive errors, and some timely substitutions by Emery, Arsenal scored three straight, with Aubameyang, Alexandre Lacazette and Lucas Torreira sealing the comeback win. It was glorious for Arsenal fans but sobering for Spurs fans who had seen, within the last week, their team both dismantle Chelsea and edge Inter in the Champions League.
New Arsenal manager, who had replaced legendary Arsene Wenger at the start of this season, was ecstatic but not going overboard, saying, "This was a very big victory, we give our supporters this victory because it's a special match for them. (But Tottenham) are still with 30 points in the table like us. We need to continue in our process..."
Indeed, at a third of the way through the Premier League's schedule, the two North London teams, who are separated geographically by a scant 5 miles, are now separated only by goal difference, tied for fourth.
As a lifelong Spurs fan, I was pleasantly happy to exchange some positive banter with lifelong Arsenal fan, Badr Berrada, founder and publisher of BBN Times. At The Greyhound Bar & Grill in Los Angeles, over 150 LA Spurs fans convened to watch this enthralling game at 6am. Afterwards, this is what Badr had to say via LinkedIn about the game:
"So glad we won the NLD What a game! That was unbelievable! Finally we have got our Arsenal back. Tottenham played really well but tactically we outsmarted Spurs thanks to our substitutes. Ramsey, who deserves a contract renewal, and Lacazette changed the game, I feel. By playing with two strikers, Lacazette and Aubamayeng, we had plenty of chances in the second half.
"Emery is an underrated coach, his attention to details is second to none. He is so passionate about every single aspect of the game. By introducing Toreira to the first team, Arsenal has become strong defensively. Many players have improved such as Iwobi, Lacazette and Xhaka. Overall, Emery is building his team from the back. He wants his full backs to advance a bit further to overlap with the wingers. Toreira plays a third centre back whenever the team is under consistent threat. Mikhitaryan and Iwobi played today because they were the workforce of the team, even though their finishing may have been off, they helped the team defensively. I expect Emery to bring more centre backs in the summer 2019.
"Emery and Pochettino are ironically good friends. They have many commonalities, young aspiring managers that are pushing their teams beyond their limits. Arsene Wenger did a good job at building Arsenal. I am so grateful towards him. Although the last years were dreadful, I don't blame him because I sense he was blinded by his love towards his own strategy. For me, Pochettino is arguably the best tactical manager that I have seen in a while. With limited funds and star players leaving the club in the past (Modric, Bale, Walker), he has still managed to create a strong team. His football philosophy is such a treat. I never get tired of watching his team playing. Now, it feels good seeing both teams getting stronger and I expect Emery and Pochettino to stay there for many years."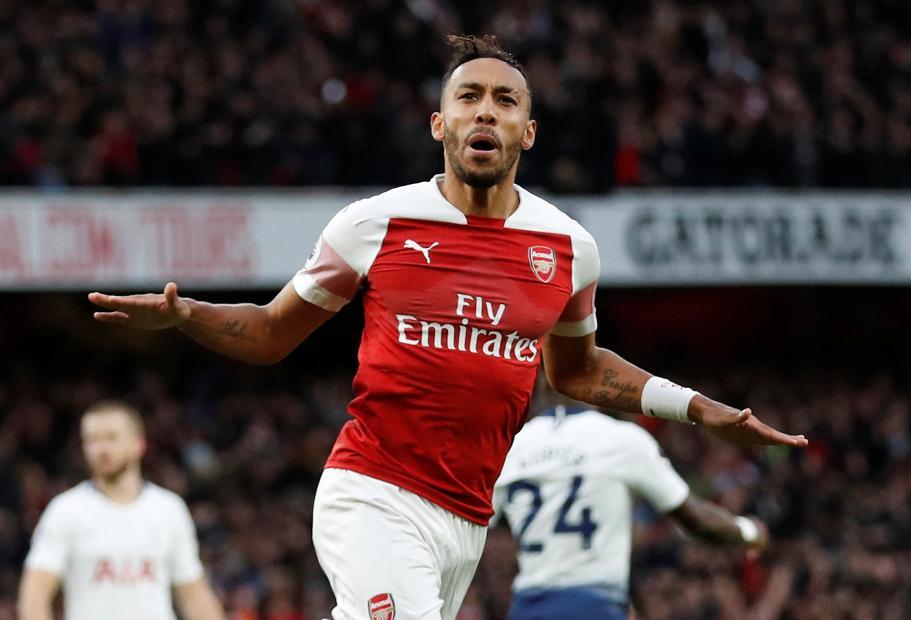 The North London Derby spoils go to Arsenal


As for the strength of the Premier League and its power to attract packed crowds at the Emirates, and150 fans at 6am in the morning in Los Angeles, Badr suggests:
"That was definitely the best game of the season. The Premier League is a must see for all football fans. I really enjoy watching all the games, as they're so entertaining and thrilling to watch. I hope an English team wins the Champions League because it's to bring back some balance to UCL. The Spanish domination was great but we need more team to win Europe's biggest competition. I seriously want Tottenham and Arsenal to become even stronger. With more funds, they can become unstoppable. It's exciting times for both clubs, and I love this rivalry. But personally for me, this is definitely a new era for arsenal."
Guess what, Arsenal and Spurs do this all again on December 19 in the Carabao Cup. And then next March 02, the North London Derby has its return encounter, hopefully at Tottenham's awesome new stadium.
Bring it on, eh — the Premier League rocks!
For a schedule of games check out the Premier League's site, as well as THFC, and Arsenal FC.