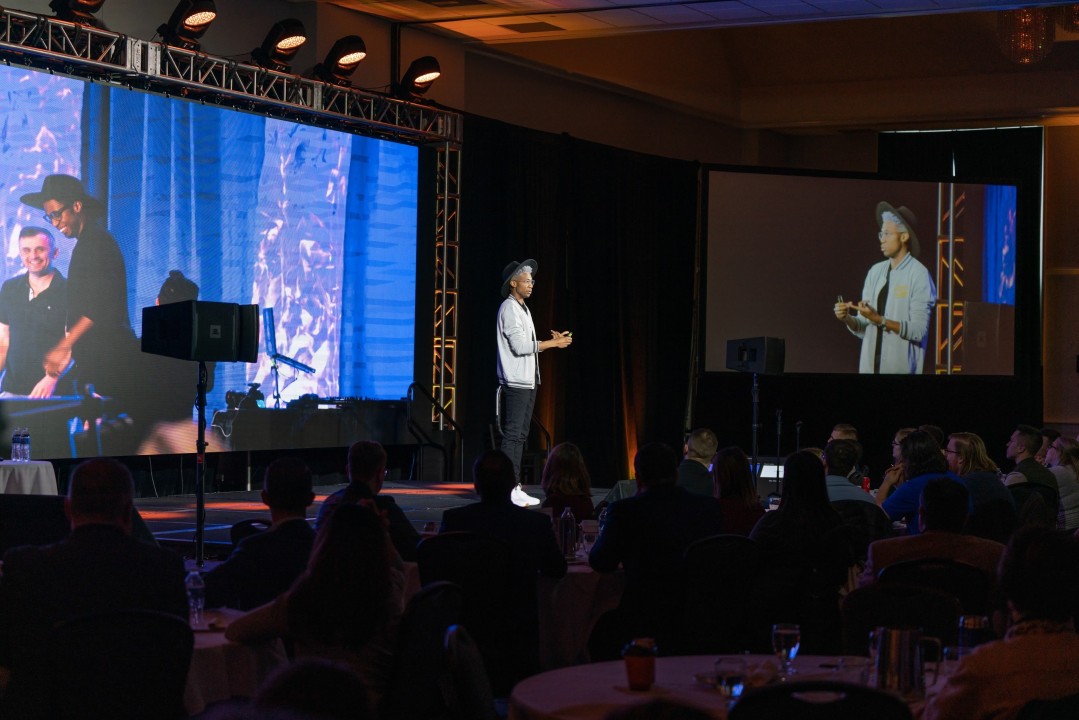 Community is one of the most important things in my life. It's something that I love creating and encourage everyone to build (or plug into) in some capacity.
But how do we go about growing our communities faster? That's the question.
My definition: When I say "community" I don't mean social media following. To me, a following is simply that… people that follow you. A community is a place (physical or digital) where people can gather to get, bring, or exchange value.
Test Everything
I want to start out by saying you don't have to do any of the things I'm going to mention. This is just for those that want to grow their communities faster.
I sat in a YouTube training for one of our Greatness Media programs and one thing that came up was split testing thumbnails. On one YouTube account, thumbnails that include a person's face may perform better than a thumbnail without a face. I learned how on a different account it might be the opposite. I've noticed that, especially on LinkedIn, so many preach about how there's a certain way you should do things. Or maybe certain areas that you should focus on/ignore. Maybe you've thought, or heard, things like:
I need to post more text posts because they get more views.
I should be doing videos because (insert name) told me to do videos.
I shouldn't write articles because they don't get enough reach.

Start with your goals. You're going to achieve different results with different types/forms of content. And based on who you are, who you're trying to reach, your skillset, etc. you will have different results as well. So, test these things. Test everything.
Just because something doesn't get a lot of views that doesn't mean it failed. Unless views are your only goal… but I'm guessing since you clicked on this article you'll want to get people to click through to your communities/pages/etc. I'd rather have 10 ideal clients click through than hundreds of unqualified people read my text post. If you know your goals, it's a lot easier to understand what is successful and why (and make adjustments as needed).
Let's take it one step further. When you are testing, what performs vs. what doesn't. Make sure you know what success looks like. But also, only change one variable at a time so you can understand where the impact is. If you change more than one thing, it's going to be difficult to pinpoint why something worked/didn't work.
Example: You want to figure out which form of content will drive more traffic to your text community. Post a text post. Take that same information at a different time (depending on what platform you're testing on) and post it as a photo post. Turn that same info into a video, etc. With organic you're going to get variables that you can't control and that's okay.
Tracking Where Growth Comes From
Which leads me to my next point. Understand where your traffic is coming from. You can use tracking links or if that doesn't work you can get creative with it depending on the medium. I'm building a new text community, where you text me to get on a list for free virtual exclusive events and experiences. To track where people are coming from, I'm telling you to text me a specific word or phrase based on where you see the content. So if you're reading this right now and want to join the list, text me "article" to join @ +1 (414)-240-6062 and I'll get you added to the list.
Based on the performance of this post, I'll know if doing something like this is worth my time or not. Maybe I'll try something more direct next time… which might get less views, but will probably get more click-throughs/texts. I'll test that and report back when I have that data :).
Lean into the things that help you achieve your desired goals.
Create Advocates

What in your community is a 'must have' for other people? Why should others join? Why should your members encourage others to join?
I've launched so many communities over the years. Sometimes I've gotten this right and many times I've gotten this wrong. The communities that grew quickly were typically more niche or had a strong value proposition. The communities that grew slower (or not at all) relied solely on (or were centered around) my personal brand but offered no real value or the value wasn't communicated well enough.
What's your community about? If the message is clear and the value is there, you'll create advocates.
Bonus: Invest in the people. If you're just starting out I would say you have an advantage over a lot of big influencers because of access. People can talk to you, ask questions, build a relationship, etc. Invest everything you have into this community and it will grow. Try not to look at it as a numbers game. But recognize that each member is a human being. People will remember how you made them feel and/or the time you invested in them. I only have like 60k followers on LinkedIn. But I'm remembered here because of the relationship I have with a lot of the influencers. I either helped get them started, worked with them directly, collaborated, or we're friends. Our stories are intertwined.
Why are you Creating this Community?
Can you answer this question? Write it down. Live it. Breathe it. And remember it on those days where it feels like things aren't going anywhere. If the reason is strong enough, it doesn't matter how many people are in your community. Just keep going!
Join My New Community (it's free!)
I'm launching a new text community — free exclusive and unique events and experiences via Clubhouse or via Zoom (depending on the event). I'll be creating stories about these events. Here's an example of an event I did pre-Covid that emulates the energy that I plan to bring to this community.
Text me "Article" @ +1 (414)-240-6062 to get on the list!
About Me — I'm Quentin Allums (justQ) 🖖🏽🖤

I spent the majority of 2016-2020 building companies, growing personal brands, hosting events and helping brands tell powerful stories through video. Early 2021 I accepted a position with Greatness Media (School of Greatness, Lewis Howes, Etc.) leading the marketing team & that's what I'm doing now! I'm also the host of the Stupid Deep podcast, a narrative show that explores the power of stories and how they shape us.
I was also one of the first video creators to use LinkedIn. Collectively my videos, thoughts, podcasts, and writing have been viewed over 15 million times across platforms. I spend most of my time (outside of my new day job) speaking, creating, running experiments, learning about everything video games/esports, and petting way too many dogs.

If you've read this far 1). thank you for reading my words! 2). Drop a link to your community in the comments and let us know why people should join. I'm sure a lot of you have something epic that many people can benefit from.
Stay strange,
#justQ 🖖🏽🖤