Fifty years ago this November, The French Connection, a gritty, brilliant and almost documentary-style cop drama started filming in Marseille and New York City.
The filming in and around Manhattan took place from November 1970 to March 1971 during a brutal winter. The film starred "Popeye" and "Cloudy," two unforgettable characters—yeah, you remember some of the classic quotes like," Alright, Popeye's here," and "Are you still picking your feet in Poughkeepsie?"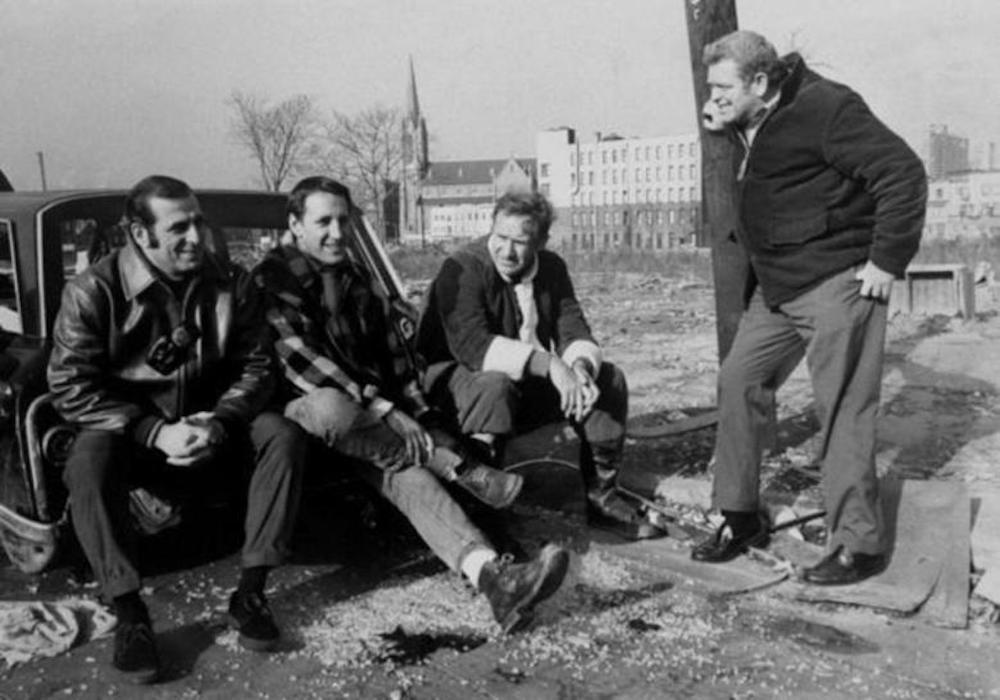 To celebrate that 50th anniversary of the film shoot beginning, here's another mind-blowing chapter from Det. Sonny Grosso's upcoming posthumous memoir, Harlem to Hollywood, My Real-to-Reel Life by French Connection Detective Sonny Grosso.
Chapter 7—'And the Academy Award Goes to...'
Speaking of Popeye and Cloudy...
"And The Academy Award Goes To..." those heart-thumping words are spoken ever year at the prestigious Oscars which are held in Hollywood in February. Back in 1972 at the 44th version, those words were spoken five times for The French Connection movie—Best Picture, Best Actor, Best Director, Best Adapted Screenplay, and Best Film Editing.
The mesmerizing. hard-hitting story based on the real life exploits of NYPD detectives Eddie Egan ("Popeye Doyle" played by Gene Hackman) and Sonny Grosso ("Cloudy Russo" played by Roy Scheider) was about the largest heroin drug bust in American law enforcement history. In 2016, BBC Radio traveled to New York to interview Grosso, and other key people including producer Phil D'Antoni who actually received the Best Picture Academy award from then-up-and-coming actor Jack Nicholson.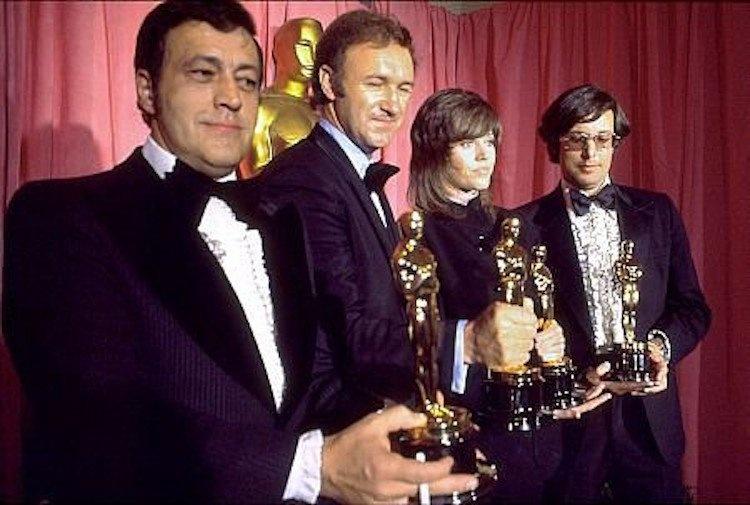 The resultant BBC Radio 4 program "And The Academy Award Goes To..." featuring The French Connection brought it all back for former NYPD detective Grosso, who went onto a sterling career as a television and movie producer. Grosso recalls: "What really interested the film producers (Zanuck and Brown) was not just the 60 kilos—the largest heroin bust in the world—which was very important, but that was more of a B-story for them. The A-story for them was these two very unique cops, one Italian, one Irish. They called me priest-like and next to my man Eddie, I was priest-like. I was certainly far from being a priest, but sometimes he was so far from being human, even though Egan was the best cop I ever worked with."
The BBC program noted that Egan and Grosso were still on the job with the NYPD during the movie, but also offered their expertise on the set, and that while Egan was a maverick, Grosso was a restraining force in the duo. Grosso continues: "Egan was the balloon and I was the guy holding the string. He was afraid of 'no one and no-thing.' Didn't matter to him, good side or bad side, he wasn't afraid of the wiseguys, he wasn't afraid of the judges or our bosses on the job. Of course, he was very well aware of the rules we had to go through, but he would bend them as far as he could. But we led the City in drug arrests, year after year. So, fuggedaboudit. You have to pay attention to that."
The program also noted that Grosso and Egan's roles and influence in the film, which the AFI included in its Best American Films list, cannot be overstated. Not only were they the actual subjects of the film, they were credited as technical advisers and were given acting parts. The dynamic cop duo also showed director William Friedkin and producer Phil D'Antoni what life on the streets of New York was really like. Grosso adds: "Egan and I used to go hit a bar with them on the outside looking in and watching what we did—it's like that scene in the movie when Hackman shouts, 'Alright, Popeye's here!' The next time we hit that bar, we'd go in with them and they'd be there with us while we made these busts. Then the next bar, we'd let them go in by themselves and we'd be in the back of the bar watching the actors play us. They were great and that's another reason the film was so real."
As technical consultant, Grosso was given free rein by the producers, further explaining in the BBC program: "I used about 100 cops on the shoot, and Billy was great, letting me use whomever I wanted as extras. We'd shoot a scene with some cops playing bad guys in the day. Then I'd go back on night duty with the same cops, except we were now busting people for real at the same bar. As Popeye would say, 'Alright, let's hit 'em!'"
So while Grosso helped bring this reality to the reel world, producer D'Antoni told the BBC: "We shot a hundred locations in eighty-six days, that's why the movie looks so real. The streets were unsafe and had become an esthetic disaster. But the movie reflected the reality of the early 1970s in New York. It was one of the coldest winters ever, and we worked in adverse conditions, just brutal."
And Friedkin also added in the BBC program: "My concept for The French Connection was induced documentary. To make it look like the camera just happened on the scene, it was not like anything was set up. From time to time, I wouldn't even rehearse the actors or camera crew together...And Sonny and Eddie's approach to law enforcement was absolutely the right touch for the time. It was like a game to them."
The French Connection was initially turned down by every studio, including twice by some studios. But producer D'Antoni and Friedkin persisted, and they tell how Fox's Dick Zanuck finally called them in, saying, "I've got a $1.5 million sitting in a drawer, if you can make it for that, go ahead!" As Sonny Grosso adds, "It's those kind of moments that make movie magic."
Including the moment that still detective Sonny Grosso had, sitting alone in a Harlem apartment on Oscar night 1972. This was a guy who'd been on the job for 20 years on the dangerous streets of Harlem, and yet he had a fear of flying. So on that memorable night, he sat and watched his partner and their filmmaking friends accept one Academy award after another. As Grosso says, "Frank Sinatra, who I worked with on three movies, sang, 'Regrets, I've had a few but then again too few to mention.' Well, that's one regret I got, for not going!"
But before those awards, it all started with Grosso and Egan taking the director and lead actors to witness some other jaw-dropping experiences, taking them into the gritty, real, often ugly world that was drug addiction: "We took them into the heart of darkness—to 'shooting galleries' where addicts injected heroin. We'd kick in a door on 110th Street and Fifth and inside would be twenty people, some shooting up. Billy was shocked to see such desperation. He said, 'My god, I only live a few blocks from here!' Gene added, 'It was a life changing experience. Roy and I watched, stunned by the enormity of what was going on and what these two detectives were doing on a daily basis.' So my advisor job was to say to Billy, we don't say just 'the facts ma'am' like Dragnet, which was a good show, but nobody was buying that as being real. And by the time Billy was ready to make the movie, he'd walked in the shoes of a New York City detective. I think you can attribute the movie's authenticity to the fact that the director and actors saw it all with their own eyes."
And, Friedkin was so impressed with Grosso's real-life savvy from having grown up on Harlem's streets, that right after they shot the last scene, he drove Grosso to Filmways Studio at 127th Street and Second Avenue where they were doing prep work for The Godfather. Friedkin advised director Francis Ford Coppola, "You can't do a movie in New York without Grosso's gorillas, without his people."
Grosso explains: "Those were my fellow cops and pals, and that was some praise. Over the next few years, I was proud to bring an element of reality as technical advisor on these groundbreaking shows. And as I moved away from the NYPD, retiring after 22 years, I learned how the entertainment business really worked from some of America's greatest filmmakers—Friedkin, Coppola and producer Phil D'Antoni (Bullitt, The French Connection, The Seven-Ups)—and how they took creative license going from real to reel."
It's been over 50 years since NYPD detectives Sonny Grosso and Eddie Egan, along with Federal law enforcement, made the biggest drug bust in U.S. history, nabbing 60 kilos of pure heroin worth $32 million that had arrived from Marseille. In 1971, director Billy Friedkin adapted Robin Moore's 1969 book of the infamous bust and turned it into his brilliant, 5-time Oscar winning movie, The French Connection—the American Film Institute has included it in its list of the best American films.
But the "French Connection," as the drug trade from Marseille to America was dubbed by U.S. law enforcement, was somehow allowed to thrive through the 1960s and into the 1970s—some suggest it was because of political exigencies, both here and in France, and based on hidden agendas.
In the intriguing and very stylish recent movie, The Connection, directed by Cédric Jimenez and filmed in Marseille, the director's hometown, there's an early clip of President Nixon in 1971 saying: "America's public enemy number one is drug abuse." The movie, loosely based on real events in Marseille in the 1970s, stars former Oscar winner (The Artist) Jean Dujardin, as magistrate Pierre Michel, the law enforcement man going after a gangster but celebrated, Marseille bon vivant, Tany Zampa.
Jimenez says of The Connection: "I love the original Billy Friedkin-directed movie, The French Connection, as it's a masterpiece, and I'm a huge fan. But it's a story from the early 1960s. My story is about the 'French Connection' in the 1970s. Unfortunately, the illicit trade went on for a long time, you could do twenty stories about it. The organization grew in the 50s, became very big in the 60s. And, Friedkin made his movie in the early 70s when the American people were saying we have to put a stop to these drugs. That's why we used that President Nixon clip. So my movie's timeline starts in the mid-70s, and Judge Michel, who Jean Dujardin plays, was one of the last law guys on the case, and when he died, the French Connection finally stopped in the early 80s."
And, it all goes back to that music club in New York in the early 1960s, when Grosso and Egan fortunately stumbled upon and began their initial stakeout and investigation of the heroin drug trade.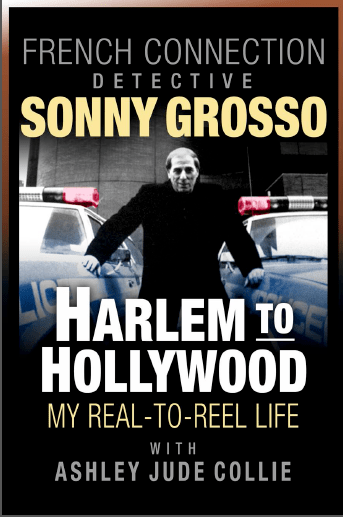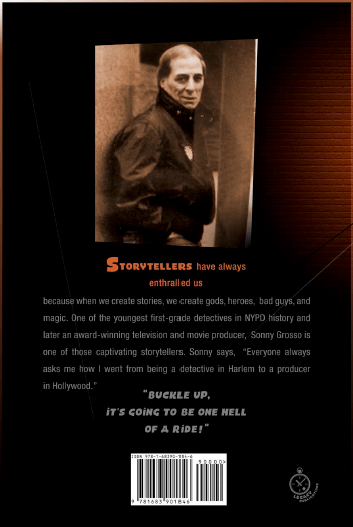 Check out The French Connection documentary, the movie trailer, and Oscar-winning director Billy Friedkin talking about the movie.