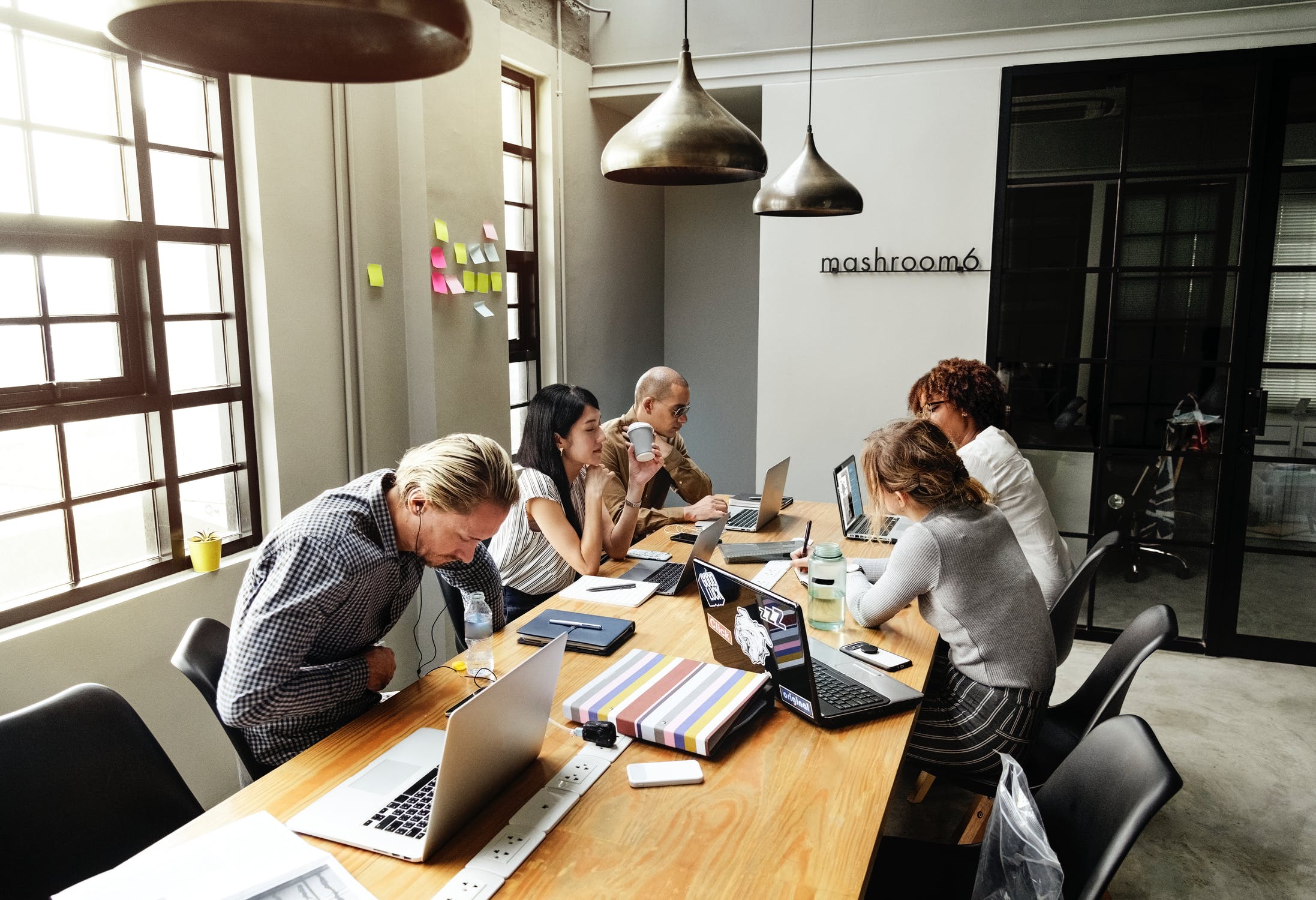 I think we've got it wrong...now. Where once it was imperative to have everyone in the same, open space to collaborate, build the culture, and chase the unicorn concept of "team" we've now entered a new era of business where those things are actually achieved in a much different way. And, as knee-jerk unpopular and oxymoronic as it may feel, separation actually breeds togetherness.
The WFH Debate
I don't know about you, but I find that working from home allows me to be 2-3x more productive and effective than working at the office. The lack of distraction. Not having to fight the urge to listen to conversations within earshot at my open plan office. Spending the 2 hours of commute time actually producing results instead of worrying whether or not I'll get rear ended by yet another idiot texting-and-driving behind me. Eliminating all of these time and emotion consumptive issues allows for an environment where I can focus, think and ideate more clearly, make phone calls without frantically looking for the nearest available hovel, and complete tasks at warp speed, interruption free.
For years we've been deluded into believing that working from home was code for "meet me on the golf course." It's simply not true. Many who work from home a day or two a week will attest to the fact that they get much more accomplished, in less time, than when they're in the office. They are able to dial-in to meetings and stay just as informed as the employee who wasted an hour commuting to work to physically sit in the same meeting. They are able to text/IM/Slack clarifying questions and receive the answer they need without some random butting in on their A-to-B conversation with their C (minus) opinions or queries.
Working from home shouldn't be treated as a privilege. It should be offered to those who excel in that environment and produce their best work. Sure, employees should be required to be at the office a day or two per week as a form of forced socialisation with the rest of the organisation. But I believe it's to a company's detriment to not offer the option to employees who request it, especially if their results justify the perceived hit to company culture.
Why We're Wrong...Now
In a case study published The Royal Society B titled The Impact of the 'Open' Workspace on Human Collaboration that tracked two corporations transitioning from a traditional, cubicle-based office to an open plan office environment it was found that face-to-face interaction and collaboration actually decreased while interaction over email and IM increased.
In our studies, openness decreased F2F interaction with an associated increase in email interaction. In the digital age, employees can choose from multiple channels of interaction and a change in office architecture may affect that choice.
I, too, was bamboozled by the promise of open plan concept offices curing culture. In fact, I created two beautifully-designed, open plan offices for an LA startup that landed me on the front page of the LA Times business section and scored me "Top-5-Coolest Offices" mentions in various tech rags. I think my smartest, most intuitive move was equipping everyone in the office with their very own pair of noise-cancelling headphones to create an invisible barrier or wall so that they could tune out the shenanigans around them and focus, largely uninterrupted, on the work they were doing while sending a culture-based-and-accepted message of, "When these are on my head, piss off." Though my boss loved the offices I'd created and the convivial environment and culture that I'd helped to build, his #1 complaint and frustration was that no one was producing at the same efficiency and quality as they had when we had no office and everyone was working from home and collaborating via IM and Skype. My intent was to create an environment of open collaboration and "team," but the hit on employee productivity and losing our first-to-market foothold in an incredibly competitive market likely contributed to our competitors eating our lunch and booting us from our own table.
We've Changed
Social media kinda killed human communication. Instead of a reliance on face-to-face time, our preferred communication style has shifted to SMS and IM. And it's most evident in open plan office environments. Show of hands: How many of you have heard random bursts of laughter cut through the eery silence in an open plan environment, likely caused by someone receiving an IM from another employee sitting 3 feet away from them? Unpack that and you'll completely understand what I'm talking about. We show up at work, don our headphones, open the Slack app and dive into the day's work. People walk in and receive no "Good Morning!"as a courtesy. They make their way to their desk and fall in line with the same, aforementioned choreography. The office is uniformly quiet, only broken up by that one loud-mouth who still hasn't grasped the concept of "Shhhhh! We're trying to work, here!" and blabs on and on about something non-work related, or that could easily have been solved by a simple Slack and a lot less noise from their pie hole. If you take a closer look at your own open plan offices, you'll find that many people post up way over there on those super comfy, Restoration Hardware couches not because they're cooler than, but because they're trying to isolate and be productive among all this togetherness and collaboration the company is forcing down their throats.
Executives and HR departments are blithely ignoring the trends, research and drops in productivity happening right before their eyes. On paper, the barrier-less environments, ping pong/foosball tables, ample beer spigots, living room vignettes, and free food are a great attraction/retention tool for the website. But they're like fondant on a cake. Pretty to look at, but a barrier to what you're actually trying to get at...the cake!
Another Take
Office culture is often ruined by discordant personalities within the office. Hierarchies tend to incite fear or power struggles. Overachievers get annoyed by underachievers and vice versa. Emotional employees derail the momentum of tactical employees. By giving employees one to two days to escape the office idiot and the micromanaging manager allows an employee to reset and refresh the energies sucked away by the various vampires within the org. Much of the civil unrest inherent in every organisation could be mitigated by giving employees separation from one another physically, while keeping lines of communication open and active in the way in which most of now communicate. Think about how many people literally run from a voice phone call. I'm guilty. I'll text you two seconds after the call rolls to voicemail with a "Sorry. What's up?" in an effort to not engage in a lengthy, verbal conversation, especially when I'm trying to knock something out that's time sensitive. (Sorry, Mom.)
We're too close already. I'd much rather see your avatar on my laptop signifying that you're online while working from my couch, with my #stupidfantastic, 9th floor view of downtown Denver vs. looking up from my screen and seeing your eyeballs staring back at me and immediately feeling awkward. As much as we'd like not to admit it, for many of us it's truth. And ignoring it as an organization stuck in an antiquated, sheep-herding mentality will lead to attrition over the long haul. It's time to think differently here and at least beta it with a group or two to see if works for your organization instead of dismissing it as hogwash from the jump.
The Office of the Future...My Take
Let me speak from the perspective of a songwriter. Which I was. When I was writing for a project my first order of business was to isolate. That was to give me the headspace and emotional clarity to come up with grooves, melodies, lyrics, etc. Once I had an idea I would call my guitar player and he and I would meet-up and bang out the song structure that we'd eventually present to the rest of the band. Then we'd meet with the rest of the band, get their input, individual ideas, and flavour on the song and, once we were all happy, we'd head to the studio to record it. The song would be recorded, mixed and sent to the label for their blessing and then distributed to the world.
I believe that the office of the future will run in a similar manner. A team may meet, initially, to understand the objective, dole out responsibilities, then fan out to their respective "happy places" to focus intently on their individual accountabilities. They'll check in regularly via IM, Slack and hangouts, but not be saddled with the burden of constant interruptions, meaningless conversations within earshot, somebody else's dog taking a poop under their desk, etc. The team leader will call everyone to the office only one or two days per week (vs. five) and just long enough time to sync on progress, grab lunch together, and maybe even work together for a couple of hours.
It seems like we're already headed in this direction. Increasingly, employees are requesting a work-from-home day as a condition of employment during their recruiting phase or for their retention during annual reviews. The implicit assumption that employees will f*ck around during their work-from-home time is unfounded and silly. We're actually seeing increased productivity throughout that WFH day with employees returning to work on Monday happier, more engaged and better prepared for the week ahead.
In Conclusion
Don't sleep on this info. It's a rapidly growing trend that will hopefully start the conversation toward rethinking huge, barren, open plan offices in favour of tighter, more curated spaces with fewer distractions, some form of physical barrier at each desk for psychological privacy, and the expectation/acceptance/culture that those who work best from home, will.
Sure, this won't work for every company. But I'd safely wager that a large percentage of startups and companies less than 1,000 employees could get away with offices with far less square footage, spend way less money on BS, startup-y accoutrements, and see productivity and cohesion actually increase by allowing employees to work from home a day or two a week. Try it! You might like it. Thank me later.