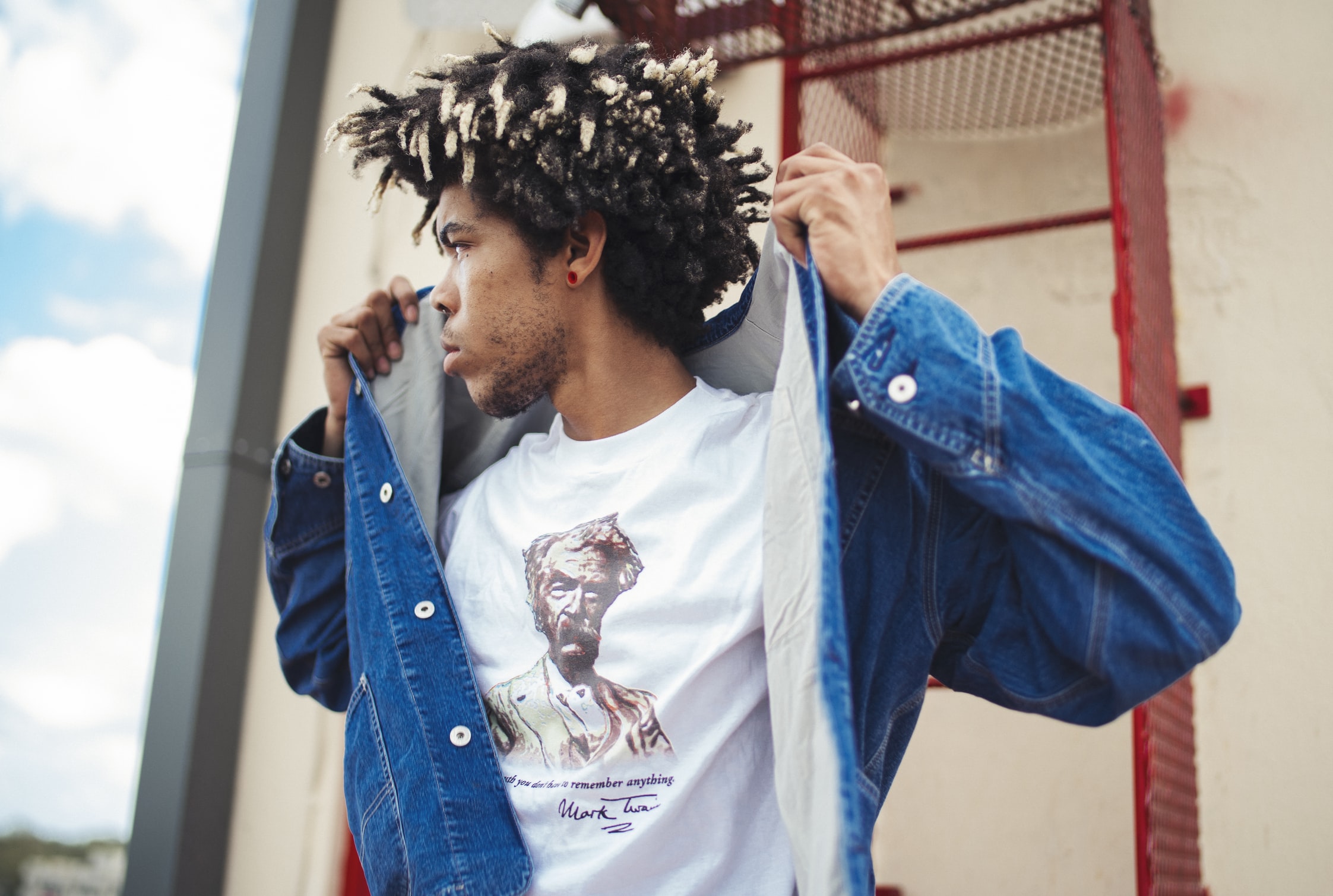 I had an encounter on my daily morning run a few days ago that stuck with me. So much so I wanted to share.
As I was running the virtually empty streets of Downtown Los Angeles blasting my favorite workout tunes in my in-ear headphones I came upon someone ahead of me on the sidewalk. I jumped off and started running in the bike lane to the left, my knee jerk reaction since social distancing became a thing. As I passed I heard the gent scream something at me. It didn't sound offensive or provocative so I stopped, turned around, and pulled out one of my earphones. The guy was probably mid-to-late twenties, about 5'11", thin athletic build, wearing a white t-shirt, khakis, and sneakers. He was carrying a rather large can of Modelo beer and what looked to be the same case that I have that houses my hair clippers. What was striking was that he was a beautiful kid. Perfect skin. Perfectly executed, close-cropped haircut. Piercing green eyes. Hmmm...and a teardrop tattooed at the corner of his left eye, typically a gang symbol of having taken a life or spent time in prison.
The exchange happened pretty quickly, but it's incredible how the mind works in warp speed to assess the situation, your preconceptions, your safety, your escape plan should shit go pear-shaped real quick with a lit dude drinking a Modelo at 9 am on a Sunday, holding a mystery case, with "a past."
"Sorry, what was that?"
"I asked you if you were Cubano but you just kept running."
"That's why I stopped, I didn't hear what you'd said."
He seemed a little agitated so I did my best to be respectful but brief and diffuse the situation as best I could.
"Well you stopped and took your earphone out but you never answered my question. So what are you Cubano, Black, whatever? You in such a hurry and shit you can't answer a simple question?"
At first, I could feel myself starting to get pissed off. Like, who TF are you to feel so self-important for me to stop myself in my tracks to answer a question about my heritage from a complete (tho hot) rando? But then my empathetic side kicked in. Here we were, two dudes who'd encountered one another on eery, once-in-a-lifetime-empty DTLA streets. Both likely from completely different worlds with completely different pasts and paths. Perhaps his life was one of misfortune or a rough childhood. Perhaps he had taken a life or been imprisoned as his tattoo intimated, yet he was still seeking some form of validation and courtesy from a complete stranger. Perhaps he needed that 9 am buzz just to get through the day with all of the isolation, a lack of socialization, and perhaps a lack of hope. Or perhaps he was just being an asshole and trying to rile me up to get some sort of rise. All of these thoughts crossed my mind in what felt like a split second.
What I concluded was here was a young man who deserved my complete attention and intention. Sure, the yelling thing may not have been the most graceful way to get my attention but it was effective. And once I'd stopped, removed my earphones, and looked him in his eyes, I realized that I was actually the asshole. Because I'd already written him off as some rando not important enough to entertain a conversation with. Once I saw the tattoo my mind strayed beyond his words and into a bunch of perceptions that had nothing to do with what he'd asked me. He didn't deserve that.
"I'm actually Black. About as Black as they come."
"See, now was that so hard? Damn!"
"No, you're right. And I apologize, my friend."
We quickly chatted about him "feeling kinda good" first thing in the morning as he lifted his Modelo as cheers. We exchanged a laugh and a few smiles all within the space of about a minute.
"Hey. Thank you. Seriously."
"You're welcome. Enjoy your run."
Often we get caught up in our own worlds and forget those simple courtesies like saying or nodding "Hello" to someone on the street. What I learned from that exchange is on that day I'd low-key become the person I detest. Too important. Too busy. To "above it" to engage in any exchange where I wasn't the one in control or where there was no perceived ROI. I'd chosen to pass up conversation with another human being, probably struggling during Coronapocalypse and just needing some sense of validation in favor of a thumping House jam in my ears exclaiming, "Bitch, get my wig!" It's equal parts farcical and pathetic when you think about it in aggregate.
My Point
We're in a really jacked up time right now. The air is filled with a malaise that none of us has experienced before and that hit us seemingly overnight. And we're all going through it in our own way. Now more than ever it's important to be aware of our fellow man and let empathy prevail over our individual agendas and attention. Simple courtesies, even when wearing a mask, like saying hello, smiling with our eyes, chivalrous social distancing, a kind wave, are those simple things that make this new reality suck a whole lot less.
I also encourage you to get outside as often as you can. Mask up, take a walk in the sunshine, and wave as you pass a few people. The fresh air, an unfamiliar street or two, and a kind courtesy exchanged does wonders for your mental health and reminds us that we're human...underneath all of the obligation, financial worries, uncertainty, etc. The one thing we all have in common is our humanity. It can't be commoditized or coopted or used against us. It's free of our socio-economic status, our pasts, or our current reality. It's a conscious choice. It's all ours. And it's free.
So thanks, hot, lit, perceived gangster dude. You reminded me of who I am. You let me know who you were. And we both were able to share a moment of humanity in a time when we're all feeling a little less than human.