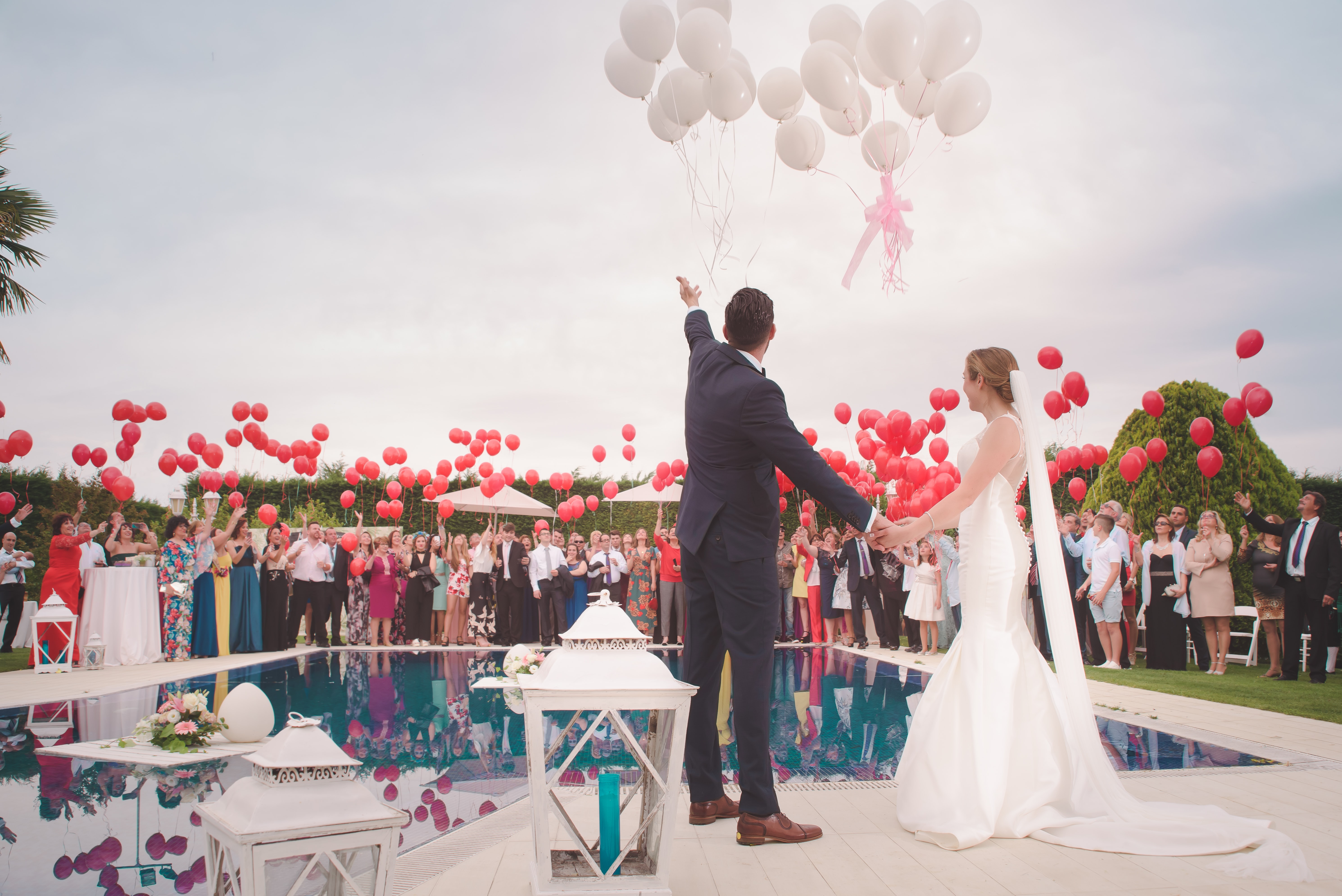 Creating the perfect wedding day can be stressful for many couples at the best of times.
But with the new reality of social distancing to prevent the spread of COVID-19, there are many weddings originally scheduled sometime during the next few months, which will likely be postponed. Instead of looking forward to their nuptial celebration, these unlucky couples now have their own crises that need to be managed.
If your wedding has been affected in some way by this pandemic, remember that there are literally countless other couples around the world who are also facing similar logistical, social, and economic challenges of postponing their wedding day.
Thankfully, industry experts are rallying around couples, ready to guide them through planning and problem solving of rescheduling. If it looks like your special day might potentially be affected, we've listed a few things you should be considering when planning or rescheduling your wedding during the time of Coronavirus.
Do a Virtual Venue Tour
In fact, virtual weddings are on the rise and according to a survey, 34.9% of people said that they would be willing to attend a virtual wedding. Thanks to the wonders of 21st-century technology, there is an ever-increasing number of wedding and reception venues that have 360-degree virtual reality tour video available on their website. So, you can see way more venues together in a day at home than you could possibly see in the real world.
There will most likely still be some places that don't have access to the latest advancements in VR tech. If you find a venue you love without access to a virtual reality video, simply contact them to ask about video tours using apps like FaceTime, Skype, or Zoom. Not only are most wedding venues happy to accommodate your request, but you may also have the opportunity to ask the coordinator or manager any questions you have.
Virtually try on Your Wedding Dress
Many bridal dress designers and brands are also embracing the future of technology by utilizing apps like Facetime or Zoom so the bride can virtually try on different dresses without leaving the house. By connecting face-to-face with this technology, they can create a bridal salon experience by video streaming services such as one-on-one styling sessions and virtual appointments.
For those who understandably want to physically try on their dress and feel the fabric before making any big decisions, there are some bridal companies who send samples of both bridal gowns and bridesmaid's dresses directly to your home.
Find Your Photographer Online
While the vast majority of wedding photographers are going to have samples of their work available for you to peruse on their website or social media, you may still have questions you'd like to ask them.
The best way to handle this would be to set up a virtual consultation with your first choice of photographer that you'd most like to book. This will provide you with the chance to talk about photoshoot ideas as well as any shots that you already know you want of your special day.
Sending Invitations via Email
Not only is having paperless invitations a great way to save a lot of time, but you can also save thousands of dollars. Savings like this can make a big difference for any couples who have a tight budget, or those who would rather invest that large sum of money somewhere else like the open bar.
Online invitations make it super easy to create a matching design suite of save-the-dates, wedding website, wedding invites, as well as the follow-up, thank you cards. With some attention to detail combined with the right approach, emailed wedding invitations can often be just as memorable as physical paper and envelopes.
These online wedding invitation websites also make RSVP-ing extremely simple for everyone involved, from the guests, responding, to the bride and groom keeping track of total numbers. Instead of everyone needing to fill out their RSVP and physically sending it back via snail mail, all guests can simply check yes or no after immediately being directed to your exclusive wedding website.
Be Flexible
The only real way that you can almost guarantee your dream wedding is by considering less popular calendar dates, such as moving away from a weekend. There's certainly nothing wrong with couples deciding on having a Wednesday wedding so much that it ends up becoming a popular choice. Wedding industry experts seem to agree that being flexible is going to be key for the rest of this year and into the next, not only with the wedding date and venue location but also with guest counts.
Can't get the wedding venue you had in mind? Be flexible with your wedding; consider having a smaller toned down version at home or in a nearby backyard. As long as you have enough room with a nice and tidy garden, you can host a small and cozy wedding at home.
Once Lockdown Laws are Relaxed
Even if you are only considering a wedding postponement, you should get in touch with your wedding planner and any other vendors you've booked as soon as possible so that you can check their availability on new dates you are looking at. You should also discuss the proposed dates with your key guests as well, and check to find out if canceling or rescheduling things will mean any loss of deposit.
There is an ever-increasing number of couples who are all rescheduling their weddings which means that dates will likely be booked out much faster than usual. Everything is going to fill up extremely quickly as the wedding industry attempts to consolidate and accommodate around 12 months of weddings into a period of around six months. It is so important that once you have made your decision on the most suitable dates, you need to put a hold on everything ASAP to ensure those new dates are totally locked in.
Remember that despite everything that is going on in the world, your wedding is the celebration of your very own love story surrounded by your family and closest friends. As soon as social distancing rules are lifted, you need to have all of your plans drawn up and ready for your big moment at the best wedding ever.