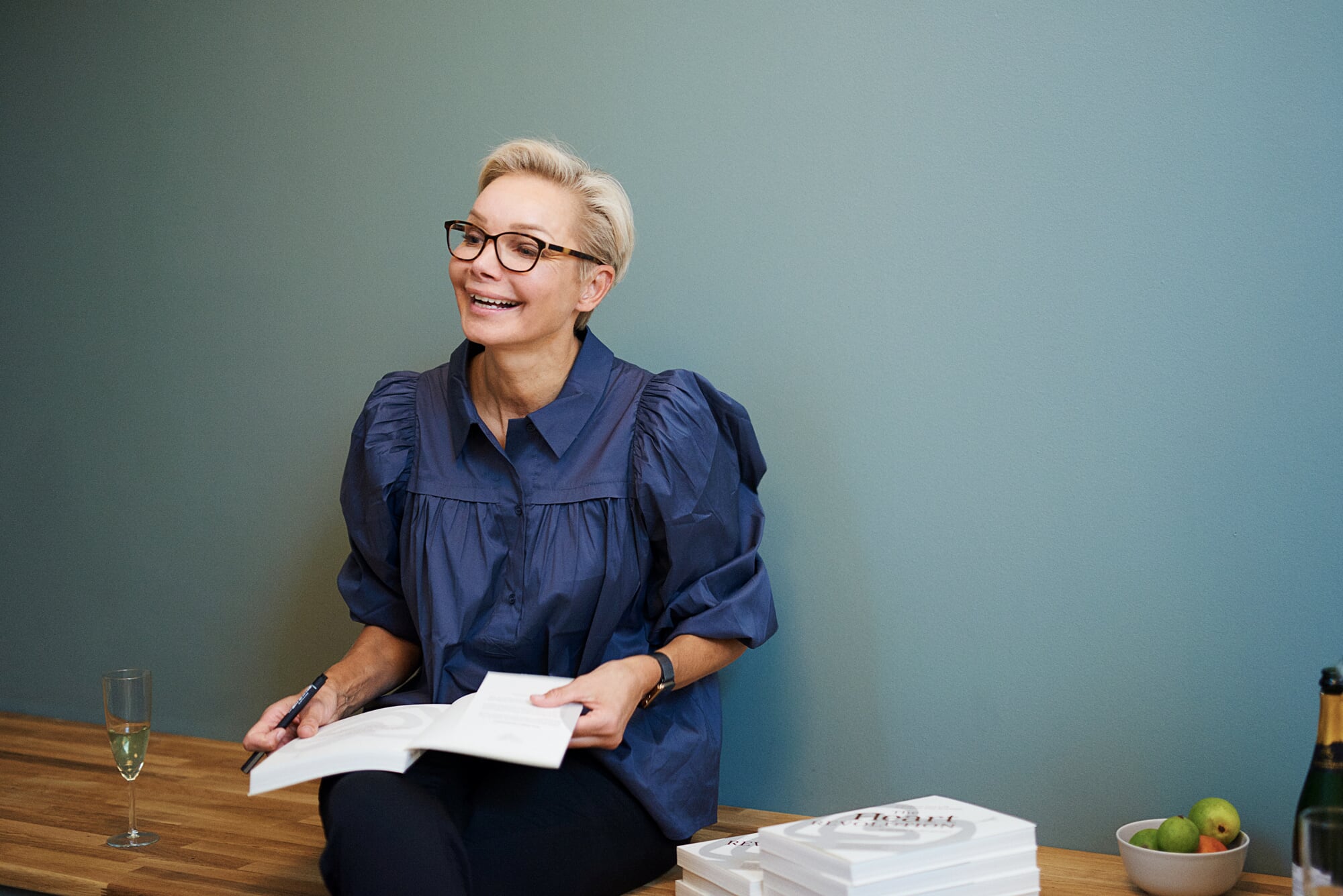 Change and disruption constantly affects our lives and businesses.
Another Industrial Revolution and technology's advancement is making traditional jobs and industry models obsolete. Regulation, climate change, social justice movements and a global pandemic shows transformation isn't just inevitable, but necessary for solving our challenges.
The Heart Revolution by Karen Tobiasen is your profound and practical guide to doing just that; helping you walk beyond your comfort zone, tear down your internal blockers and follow the Ten Steps of Transformation®. And as you transform, you transform your business – empowering you to stay resourceful, relevant and resilient – wherever you are in your organization, your life and the world. I had the opportunity of sitting down with Karen to learn more about her transformational work.
Tell us a Little about Yourself
Karen Tobiasen, Founder of BreathingBusiness and author of Amazon best-seller, 'The Heart Revolution'
I hate waste in all forms and shapes – and I love impact. That's why I have a burning desire to help individuals and organizations to transform, disrupting their lives as a way to enrichment.
As a business executive with over 20 years in People, Culture and Transformation leadership, I know a bit about human and business transformation. In fact, I wrote a book on it – The Heart Revolution – and founded BreathingBusiness to help organizations design and deliver another way to transform.
I'm a collector of the lightbulb moments, where people do things, they never imagined they could. And I myself come fully alive when I'm deeply engaged in asking, listening to and sensing people – both what they're saying and not saying.
A lifelong student and learner, I hold a bachelor's in Economics – specialized in Organizational Development –, an Executive MBA and a Masters in Gestalt Psychotherapy. But I originally started my career as a nurse, caring for terminally ill AIDS patients. Seeing how differently people would meet death – whether embracing it having truly lived or facing it begrudgingly with regret – gave me existential insight into the importance of living fully, both personally and professionally.
Whatever the label though, working with people, their well-being and transformation has been the red thread throughout my life. And I'm here to help everyone who wants to disrupt and enrich their lives – transforming through love and laughter – whether as individuals or whole organizations.
What Exactly does your Company do?
BreathingBusiness is a consultancy that helps design and deliver another way to transform – a way built on the understanding that any business transformation requires a human transformation.
We have deep expertise in human transformation and approach it as an integrated dimension of your business transformation, co-creating and implementing solutions that have both immediate and lasting impact for your organization and people.
Our five focus areas are:
Accelerating Personal Transformation

Building Resilient Leaders

Catalyzing Effective Teams

Igniting Organizational Purpose

Transforming Cultures and Organizations
What Were the Biggest Challenges you have Faced and how did you Overcome Them?
Well honestly, my biggest challenge is one that I haven't cracked yet. It's one that I continue to work on every day – which is to accept who I am.
In The Heart Revolution, you are guided through the Ten Steps of Transformation which each capture a dimension that you can work with to increase your ability to thrive in transformation. And Step Two in the Ten Steps of Transformation is actually 'I Accept Who I Am'.
It's important because what often happens when we are not in true acceptance of ourselves, we waste energy in trying to be something we are not or rejecting the essence of who we really are. It shows up as a challenge for me for instance on many days or in many situations where I strive for and hold myself to the expectation of perfection, even though I know that it is the enemy of progress.
What happens in these instances is that I end up working way too hard, which has the consequence of my not allowing myself to be as human, present, vulnerable, and experimenting as I know I can be, as often as I would love to.
I work on overcoming this daily by asking myself: What do I fully accept about myself today? And then taking time to celebrate the moments where I stand in full acceptance. Because that really is the only place from which change can happen.
What Inspired You to Write Your Now Bestselling book The Heart Revolution?
I wrote The Heart Revolution because I believe that we need one. A revolution that is.
The thing is, I have been working with transformations for more than 20 years and I have seen so many transformations fade or fail. The waste that that creates for our businesses and us as human beings is significant. And I really don't like waste.
Research backs up my experience also suggesting that the vast majority of transformations fail. Companies have shorter and shorter life spans. At the same time, as people we are living longer and longer but we are largely disengaged and unhappy.
I believe there is another way – to approach business and transformation. A way that creates more value than waste. That disrupts and enriches our lives as part of it.
That is the revolution the book calls for. That each of us, and business alike choose to place just as much focus on working as much on the inner dimensions of ourselves and our businesses – our mindsets, beliefs, behaviors, and culture – as we do the tangible dimensions of structures, processes, systems, material artefacts.
That's a call that requires us to deliberately move ourselves from a mindset of fear, to a loving mindset. And that's something we can all do, no matter where we are in our organization, our life, the world. Because the matter of the fact is that any business transformation requires a human transformation.
How Do People Achieve Personal & Business Transformation?
By standing in acceptance – acceptance that transformation is a journey that never ends, and acceptance that it always starts with ourselves. And beyond acceptance is empowering ourselves out of fear with a loving mindset that overcomes a widely shared belief that transformations can only be led by certain people – the especially powerful, high-ranked, brave, or bold. That's not true.
We can all be brave and bold transformers, stepping into the role of CEO starting with our own lives.
Transformation is simple but not easy. And that is why I have outlined the Ten Steps of Transformation in my book, The Heart Revolution. It allows you to take one step at the time in building your capacity to transform. It starts from the very foundation, and progresses you step by step through the journey until you are able to lead your own transformation, and also business transformations from wherever you are.
What Do You See as Your Greatest Success in Life?
I try to live a life that is a series of little successes – rather than a single moment of greatness. And to me those successes are found in each interaction, connection, meeting, intervention – where I manage to leave people, including myself, just a little better and more enriched.
How Can People Follow Your Journey?
You can follow my journey, get inspired and transform your life by following KarenTobiasen.com, BreathingBusiness.com. You can also follow me on LinkedIn.