Velma from Scooby Doo takes the top spot as the most cosplayed TV or film character, with 60,993 combined hashtags on Instagram. Velma's iconic look consisting of an orange sweater, red skirt, and glasses is an easy costume for cosplayers to replicate. Following closely behind is killer clown Pennywise from It. Similarly, five of the below top 10 are iconic horror film icons; Pennywise, Michael Myers, Ghostface, Chucky, and Jason Voorhees.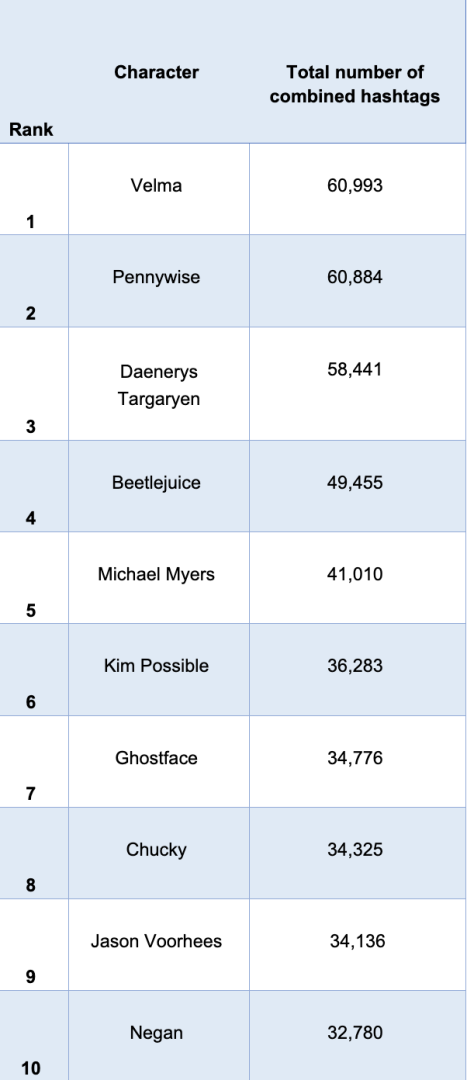 The World's Most Popular Characters to Cosplay
The research revealed that Harley Quinn takes the top spot as the most popular character to cosplay worldwide. The term 'Harley Quinn cosplay' receives 11,000 average monthly searches worldwide, and the character has a whopping 758,449 combined hashtags on Instagram. Since making her live-action debut in the 2016 film Suicide Squad portrayed by Margot Robbie, the world has become captivated with the DC villainess. With the multiple Harley Quinn variants and portrayals through comics, film and animation, fans are spoiled for choice with cosplay options.
Spiderman is the second most popular character to cosplay worldwide. With a total number of 710,667 Instagram hashtags, Spiderman is the most popular Marvel character to cosplay and has more than double the number of hashtags compared to DC's Batman, who ranks third.
The study revealed that Batman is the third most popular character for cosplayers, with a total of 347,639 combined hashtags on Instagram. Additionally, due to Batman's unwavering popularity, the phrase 'Batman cosplay' receives an average of 8,600 monthly searches worldwide.
Following closely behind is supervillain and Batman's nemesis, the Joker, with 321,166 combined hashtags. From Joaquin Phoenix in Joker to Heath Ledger in The Dark Knight, the character continues to be reimagined for different adaptations, giving fans plenty of iconic looks to draw inspiration from.
The fifth most popular character to cosplay is Deku, also known as Izuku Midoriya, from My Hero Academia. Deku also ranks as the most popular anime character to cosplay, with a combined number of 248,935 Instagram hashtags. Cosplayers often enjoy portraying Deku's iconic green and black hero costume, complete with his distinctive hairstyle and signature freckles.
The study placed DC's Wonder Woman next, ranking sixth, with 231,247 Instagram hashtags. The top ten is rounded out by D.Va ranking in seventh place, Deadpool in eighth, followed by Todoroki and Poison Ivy in ninth and tenth, respectively.