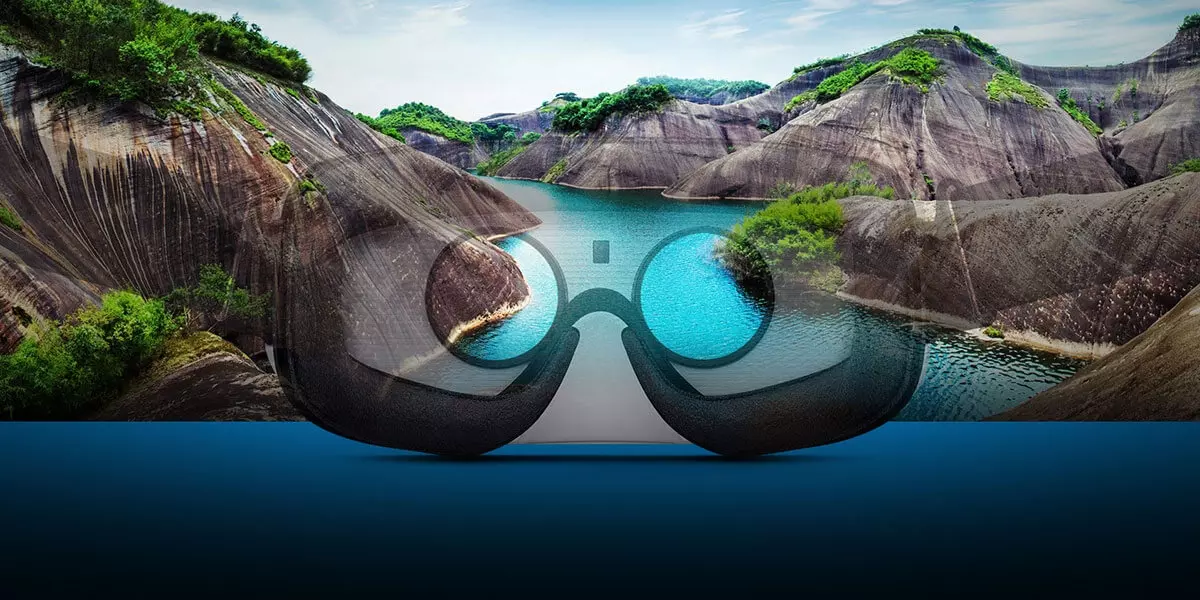 360 video is growing rapidly alongside virtual reality and the expansion of video content platforms such as Youtube, Vimeo, and Facebook.
If you're not a videographer of any sorts you may find the variety of terminology used in these growing forms of video content overwhelming, and this makes it very difficult to assess potential vendors when planning a 360 video project. I am writing this blog to provide a reference tool when researching or discussing the immersive video and it's potential. Below is a list of terminology I'll be covering, you can skip ahead to areas of interest if you would like.
360 Video
VR 180
Monoscopic
Stereoscopic
Foveated Streaming
Video Hotspots
360 Video
360 videos can be best visualized by imagining a sphere with a rotating camera in the very center.
As you view 360 content you are able to rotate the camera in order to view the area of the video you are most interested in. This can be accomplished through a click and drag system on your computer, touch and drag or gyroscope on your mobile device, or the movement of your head in a VR device.
It is also typically filmed at the average human height, in order to replicate the idea of standing in a specific spot. This is a powerful tool that allows your viewers to truly experience what it's like to be observing something as if they were there.
The main downfall of this medium is the fact that the playback device has to play the entire video sphere at once. When assessing 360 video its very important to understand that due to the nature of viewing a fraction of the content at a time, the resolution of the content should be substantially higher than standard media in order to achieve the same results. Most modern devices are unable to render 360 videos in a high enough resolution to match our high definition standards without using special systems, known either as foveated streaming or video hotspots, which will be discussed later in this blog.
VR 180
VR 180 is a video style very similar to 360 videos, however, it only covers half of a sphere, opposed to the full 360 views of a 360 video. There are two main benefits to this. First of all the content can be viewed in higher resolution, since the device would only need to render an area half the size of a 360 video. Secondly, it can be easier to direct the attention of the viewer, by centering the subject of the video directly in front of their view, without the ability to look around elsewhere too much.
Stereoscopic
The term stereoscopic may seem overwhelming at first, but the concept is something many of us can relate to because of the movie theatres. When we see a movie we have the option between watching it in 3D and the standard 2D. Stereoscopic video is the 3D option, and the movie theatre utilizes very similar technology as stereoscopic 360 videos and VR 180.
The basic concept of viewing stereoscopic imagery is to see the same scene from two very slightly different perspectives, just like our eyes see the world. Our eyes are slightly spaced apart and when we focus on an object, our eyes slant inwards until they can both focus on the object we are looking at, this is known as convergence. This is also why we go cross-eyed when looking at an object too close to our face. Whether a video is filmed or CGI, the same concept applies to create a stereoscopic video, the scene is recorded from two perspectives and then delivered to each of our eyes separately. At the movies, the footage of each eye has a polarized filter, which works together with the 3D glasses to see it in 3D. With virtual reality, each set of footage goes through each lens of the headset, allowing us to see in 3D.
Viewing this content in 3D is only possible with a 3D TV, a 3D cinema screen or a virtual reality headset, this is why VR headsets are an amazing opportunity to create immersive experiences with a sense of depth, closely replicating the real world.
The easiest way to identify a stereoscopic video is when there are two very similar images, either one on top of another or side by side. Each of these images represents the perspective from one eye.
Monoscopic
This term is used to differentiate the 3D content from 2D, mainly when discussing the options for VR content. It is essentially standard media that we view on most of our regular devices, whether that be a television, computer screen or mobile device.
Foveated Streaming
Also known as tiled rendering, foveated streaming overcomes the weaknesses in modern processors to allow video content to be viewed in higher resolutions. This is accomplished by separating the high-resolution video into pieces, with a low-resolution video behind it. All of the videos are synchronized and the viewer's perspective is tracked. When the viewer looks in a different direction, the panels of high-resolution videos are activated and will display as soon as they are ready. The low-resolution video is displayed so that the viewer does not see a blank space when looking somewhere new. This requires special software to accomplish so you lose the capability of adding additional functionality in your custom VR apps when you choose this option.
Video Hotspots
Video Hotspots use a 360 photo as a background, with small areas of video playing. This is a perspective trick and is used as another alternative to achieve higher resolution visuals. When done properly there is no seam between the photo and video and can seem as if the entire image is a video.
The limitation of this method is that the movement in the scene must be contained in a few small areas, and objects can't move around the camera.
This option can be easily integrated into your 360 video application or website and can improve the experience by providing higher resolution imagery on limited bandwidth or with limited processing.
Conclusion
Understanding immersive media as a buyer can be difficult, hopefully, these descriptions and visuals will aid in making an informed decision. There are loads of potential in using VR for practical business solutions but the technology must be understood in order for any company to adopt it. If you need any more information to be sure to reach out and I will be happy to discuss the topic.