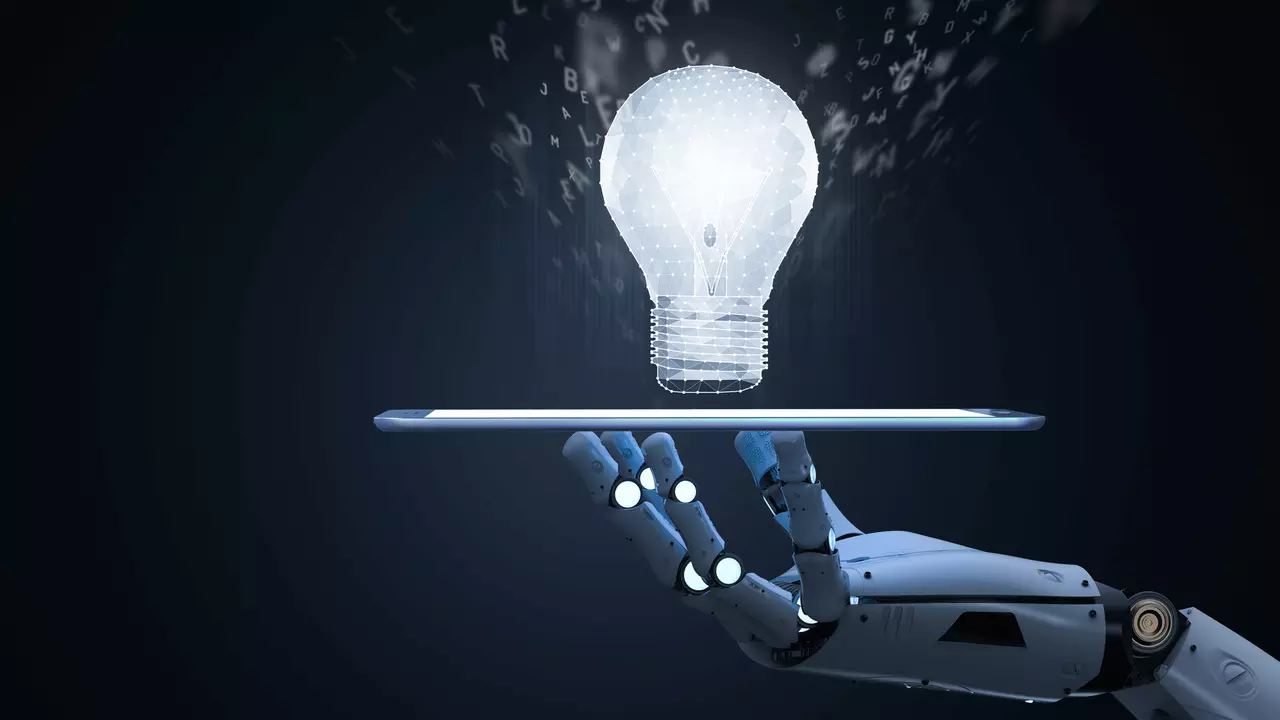 Data collection has become remarkably easy for businesses with the emergence of several digital communication channels.
Using machine learning in digital marketing enables organizations to harness data to improve their micro-moment marketing strategies.
Marketing has always been about connecting the gap between you and your target audience. To achieve that objective, you need to know exactly what your customers need. For several years now, marketers have used existing trends and consumer demand patterns to create ad campaigns and long-term marketing strategies. However, there are two main problems with trend-based marketing. Firstly, in the age of viral memes and stories, trends may not be as clear-cut as they were a decade ago. Secondly, and more importantly, not every customer of yours will be heavily into existing trends. For example, there may be a large part of your target audience that may not be into sports. So, they may not connect with sports-themed marketing content, even when an ongoing global sporting event like the Olympics is going on. Additionally, a 2015 study found that demographic-based marketing does not guarantee success as it does not focus on the existing customer moods and requirements in great detail. As a result, the businesses that used demographic-based marketing risked losing about 70% of potential mobile shoppers as per a recent study.
This is where micro-moment marketing enters the picture. The dictionary defines a micro-moment as an "internet-rich moment" which indicates that a customer is looking to purchase a product or service either immediately or in the near future. Specific customer interests or requirements at any given point in time create such micro-moments. Capitalizing on such moments is necessary for your business to have the edge over your market rivals, many of whom may be chasing micro-marketing perfection too.
The involvement of machine learning in digital marketing has increased in recent years. The technology allows organizations to identify target customers, curate marketing content, create marketing strategies and regulate dynamic pricing based on customer behavioral patterns. Machine learning can similarly be impactful for micro-moment identification and exploitation.
Identifying and Using the Right Micro-Moments
Unlike, say, a decade ago, internet connectivity is readily available to a large percentage of your target audience today. Therefore, about 91% of all smartphone users turn to the internet whenever they need to complete any task. As a result, people use online searches to find information about the most trivial of things. Therefore, not every "internet-rich" consumer micro-moment will be useful for your business. Therefore, identifying the moments that will have critical value for you is necessary for your long-term marketing operations. This segregation and classification of micro-moments will ultimately be useful to create accurate and targeted campaigns for your audience. According to Google, there are four types of micro-moments that carry particular significance for your business: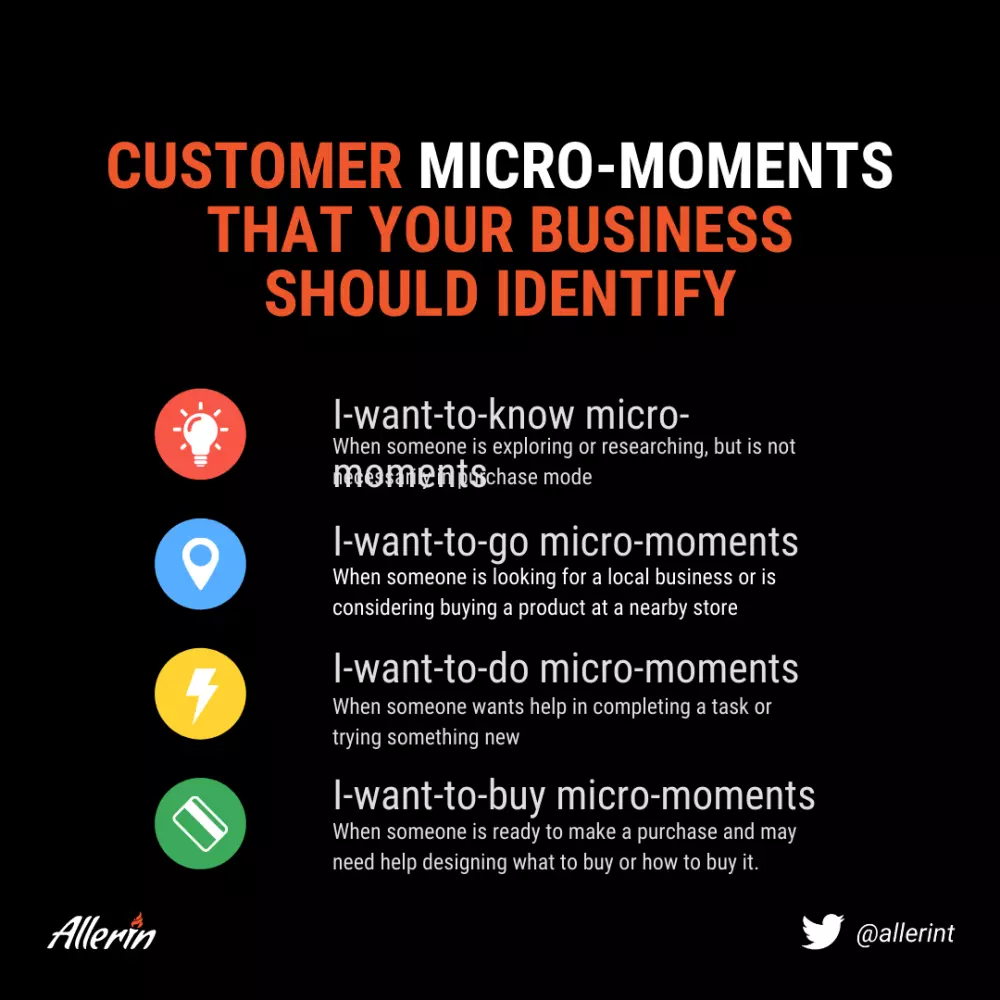 a) I-Want-To-Know Micro-Moments
This moment involves consumers making Google searches regarding certain products or services. Such searches are generally done only out of curiosity and nothing else. These micro-moments can be categorized as exploratory or research-based.
b) I-Want-To-Go Micro-Moments
At times, customers may simply make a Google search to get information about the availability of certain products near their location. Such micro-moments can be indicative of customers stepping out of their houses to visit local stores or shopping malls to purchase said products in the immediate future.
c) I-Want-To-Do Micro-Moments
These micro-moments involve netizens making Google searches when they intend to perform a new action. These micro-moments are indicative of audience interests that can range from being cuisine-related, interest-related or style or creativity-related. Generally, such customers look for articles, blogs or YouTube videos that begin with the words "How to."
d) I-Want-To-Buy Micro-Moments
The micro-moments classified under this category are indicative of individuals being interested in purchasing your products or services. Such consumers click on sales touchpoints available on social media sites or other websites. Additionally, they can directly visit your website for the same purpose. To visit your website or click on one of the touchpoints, customers may use different devices, but smartphones are seemingly the number one choice for customers everywhere.
As stated above, the number of smartphone users in the world has risen dramatically in recent years. As a result, mobile phones are one of the most dominant data points for the collection of micro-moment-related data. Past studies have found that about two-thirds of customers carry out I-want-to-buy decisions using their mobile phones. Due to this high tendency of users to prefer smartphones instead of other devices, businesses may make their content more mobile-friendly. Most big corporations have their own dedicated mobile apps that literally bring the act of purchasing products and services to consumers' fingertips. Using specially-trained machine learning tools, your business can identify the customers who have done searches that feature the name of your business, the products or services you provide or the name of your direct market rivals. Such tools generally use session cookies to extract this data. Machine learning-based tools perform pattern recognition on the data from such session cookies to accurately predict customer intent.
Using Big Data for Predictive Micro-Marketing Analytics
As stated above, identifying and collecting data related to micro-moments and consumer intent dynamically is impossible without the use of machine learning in digital marketing processes. Over a period of time, such data keeps getting bigger and more diverse. AI and machine learning tools are useful for big data analytics over the long term. The involvement of machine learning in digital marketing is especially helpful for analyzing past trends in purchase records and consumer demand to make forecasts for the same in the future. This type of predictive analytics can be invaluable for micro-moment marketing too.
Several companies over the past decade or so have understood the value of data and predictive analytics to guess customers' moods and micro-moments. Therefore, businesses are hiring data scientists, engineers, and developers to make their micro-moment marketing more data-driven. The skills of such workers will prove to be instrumental in the growth and development of such businesses through strong micro-moment marketing campaigns moving forward.
The involvement of AI and machine learning in digital marketing allows businesses to treat the internet as a collection of millions of data points. Gathering dynamic information about every customer's actions and purchase intent can be handled adeptly with the inclusion of machine learning in the digital marketing operations of businesses. Machine learning provides insights by studying every customer's digital journey that consists of thousands of micro-moments. Such insights then go on to shape your micro-moments marketing campaign and other business strategies.
By investing in AI and machine learning in digital marketing, organizations can personalize their ad campaigns to draw in their customers. There are several examples of businesses using machine learning in digital marketing to optimize their micro-moment marketing efforts. One such example is of French retail company Sephora. Sephora deployed the data collection and analysis resources to understand the potential of I-want-to-buy micro-moments. After assessing the data collected by such resources and tools, the marketing department of the business found that their consumers would tend to go online and compare two products to select the best one based on price, preference, brand attraction, amongst other factors. This knowledge was used by Sephora to create a specialized mobile app that allowed customers to compare two goods, provide information regarding product reviews and ratings, and virtually try out items like make-up accessories to see how it suited them. Additionally, the mobile app could also be used to push relevant information regarding a product's past purchase history, ratings, and other details that could be used by customers to make clear purchase choices.
Micro-moment marketing seems to be the way forward for businesses as it helps them understand audience requirements on a real-time basis. In a way, micro-moment marketing is the natural replacement for significant but dated concepts such as trend analysis and demographics-based marketing. More importantly, this type of marketing allows organizations to get over the concept of boxing customers into specific types. Human interest keeps changing, and micro-moment marketing reflects those shifts in the real world.
The involvement of machine learning greatly helps micro-marketing by performing in-depth data analytics of available consumer information. Carrying out micro-moments marketing is not possible even if your business employs a big team and several workers in your marketing department as it involves large amounts of evolving data. Hence, the use of machine learning in digital marketing is the solution to harnessing the true potential of micro-moment marketing.