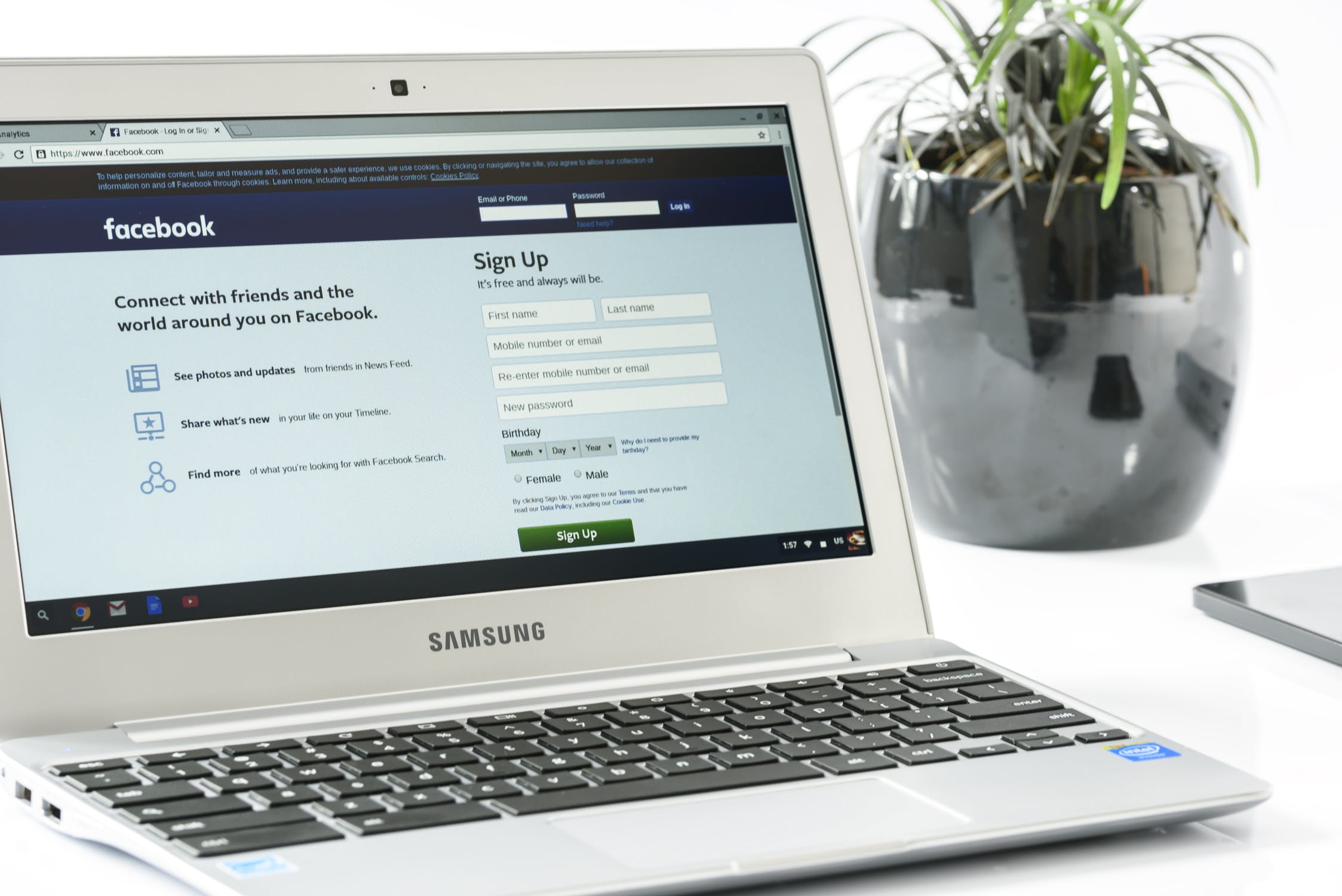 Maggie Summers is a thirty-year-old elementary school teacher in the quiet, leafy suburb of Brentwood in Nashville, Tennessee. But Summers also has a secret that she's not too keen to share with her co-workers or family members.
A conservative Christian, Summers hooked up with someone she met at a party over eight weeks ago, a casual encounter and a brief moment of (for her at least) indiscretion, had now ended in an agonizing wait, perched over the bathroom sink waiting to see if the tell-tale pink strips confirming her pregnancy would show up on the test kit she had just picked up from Walgreen.
The test results confirmed her worst fears. Summers was pregnant and a subsequent visit to the doctor would confirm what she already knew.
But it wasn't just Summers and her doctor who knew she was pregnant.
Over the next few weeks, Summers noticed an increase in the number of pregnancy-related ads showing up on her Facebook newsfeed.
And the pregnancy-related ads weren't just confined to Facebook. She noticed them when she was Instragramming as well.
Not being particularly tech savvy, an alarmed Summers panicked that somehow her Facebook friends and family members might soon discover her pregnancy well ahead of when she had planned to tell them.
Though Summers contemplated deleting her Facebook profile, it was also the means by which she kept in touch with her former college classmates, her friends in other cities, as well as her relatives scattered across the country.
And the same dilemma is being faced by millions of people across the globe. Their lives have become so entrenched in the social media platform that quitting Facebook is not just a simple matter of deleting one's account.
Because users bleed copious amounts of data which is hoovered up to deliver targeted ads to users, Facebook is able to predict with a relatively high degree of accuracy the status of our personal and social lives, our socio-economic status as well as create a pseudo-profile of our most intimate details.
With so much of our personal lives in the hands of Facebook, should we also surrender the privacy over how we spend our money as well?
It's All About the Money
In a note to clients on Monday, Barclays analyst Ross Sandler sees a potential Facebook cryptocurrency as being a huge revenue generator for the social media giant.
Sandler forecasts as much as US$19 billion in additional revenue by 2021 from a "Facebook Coin" with conservative estimates of an incremental US$3 billion in revenue from a successful cryptocurrency implementation.
According to Sandler,
"Merely establishing this revenue stream starts to change the story for Facebook shares in our view."
According to Bloomberg and The New York Times, Facebook has been developing a cryptocurrency for global payments that will be tied to the value of traditional currencies and available to use through its Facebook messenger service as well as WhatsApp.
And while price volatility has hitherto hampered greater adoption of Bitcoin, one view is that Facebook's "stableoin" would be less likely to attract speculators as it would be tied to a currency like the dollar.
But before we even get that far, it makes sense to ask if we should even be entrusting the social media giant with our hitherto personal spending habits and data.
Big Brother is Watching
In China, the Facebook equivalent, Tencent's WeChat and its ubiquitous WeChat Pay, is the de facto standard for financial transactions and used for payment for anything from cabs to canned drinks.
But given China's long history of surveilling its own citizens, a certain ambivalence has developed towards monitoring tools, which has also insulated technology companies such as Tencent's WeChat from greater scrutiny in what it uses its data for.
Yet in the case of Facebook, successive and egregious privacy lapses and outright breaches have generated a heightened sense among its user base that the social media giant can't in fact be trusted to do the right thing when it comes to user's data.
An ongoing Federal Trade Commission investigation is assessing whether Facebook broke a 2011 consent order requiring it to make third-party data-sharing practices clear to users.
The New York Department of Financial Services is also running a probe into whether several smartphone apps were automatically sending Facebook data without knowledge of its users and even when users were not logged into their accounts.
Given the checkered history of the social media giant's (mis)use of user data, there is reason to be more than a little suspicious over its issuance of a cryptocurrency for financial transactions.
According to one equity analyst based in Hong Kong,
"They're (Facebook) just looking to diversify their sources of revenue as their ability to milk user data to maintain the status quo comes increasingly under pressure."
"But it's not like there isn't data in spending patterns. Imagine how much you can know about a person based on what they spend their money on or who they transfer money to."
"Put that together with what they already know about you from Facebook and imagine how powerful that data would be."
But Facebook is increasingly under pressure to develop non-data leveraged means to generate revenue.
Reeling from a 12-hour service outage of its main Facebook platform as well as Instagram over the last day, Facebook is under a string of challenges from regulators all across the globe, in its inability to prevent nefarious forces from leveraging its platform for misinformation campaigns and political meddling.
And while Facebook CEO Mark Zuckerberg has pledged to make the platform more privacy-centric, the social media giant and its shareholders have long expected its ability to soak up data to be monetized, an addiction which will understandably be hard to kick.
To be sure, a Facebook-issued cryptocurrency would raise even more privacy-related issues than already exist for the social media giant.
But it's likely that these issues will only gain a foothold in the liberal democracies of the West.
Cool in the West But Warm in the Tropics
Despite consternation over Facebook's management of user data in the West, users in Southeast Asia, a region of over 600 million people may not necessarily have the same hangups.
With the spread of the mobile internet and a diaspora of peoples located across a vast and non-contiguous physical landscape, Southeast Asian Facebook user growth stands in stark contrast to the United States, where user numbers in the key 14 to 24 year-old demographic has dropped off by 10%.
Facebook users are not just growing in numbers in Southeast Asia, but WhatsApp is the most popular communication tool in the region as well.
From Indonesia to Vietnam, Myanmar to Malaysia, Facebook is used by millions in the region as their primary source for news and WhatsApp (which is also owned by Facebook) is the preferred communications platform.
Against this backdrop and with 11 different territories and sovereign currencies, a "Facebook Coin" has tremendous potential for strong adoption in the region.
With as much as 10% of the GDP of the Philippines being contributed by overseas foreign workers as well as millions of Southeast Asian migrant workers scattered across the globe, the use case for a "Facebook Coin" on platforms which users are already accustomed to, is compelling.
In a region with ever-increasing demand for remittances and with remittance fees costing as much as 7% in many cases, a "Facebook Coin" that would allow foreign workers to remit money more cheaply to their loved ones back home would no doubt be welcome by millions of overseas Southeast Asian workers.
As Southeast Asia leans towards greater economic cooperation and integration, it would be reasonable to suggest that Facebook may literally be banking on the region as a test case for its cryptocurrency.
Facebook's headquarters in Singapore are already some of the largest in the world and it has been increasing its headcount in the region — but not in the areas one would think, such as content moderation — rather in areas such as financial engineering and software development.
For now at least, especially if the value proposition for a "Facebook Coin" in Southeast Asia are self-evident, concerns over privacy will likely remain on the back burner.
With millions in the region looking to elevate their standard of living, bread and butter issues will likely precede any further climb up Maslow's hierarchy of needs.
If "Facebook Coin" is adopted in the region, it would be a retrograde step towards decentralization and the democratization of access to finance.
Considering that Bitcoin was created to provide a frictionless means of value transfer which would remove the need for "trusted" intermediaries, a "Facebook Coin" would be anathema to the decentralized ethos.
Quite the contrary, a "Facebook Coin" would centralize influence and power even further into a corporate entity that is primarily accountable to its shareholders.
Whether or not the evolution of cryptocurrencies will take us towards a decentralized utopia or a further entrenchment of the status quo remains to be seen.
Suffice to say that with the issuance of JPM Coin by JPMorgan Chase, the ideological battle for the soul of finance is far from over.