Creating an enterprise automation process is the ultimate objective of hyperautomation in businesses.
It consists of a framework and a collection of cutting-edge technologies for expanding automation in businesses.
A thorough approach to automation is known as "Hyperautomation". The selection of tasks to automate is a step in the hyperautomation practice. By reusing automated processes, it fosters agility by choosing automation tools. Additionally, it increases its capabilities by utilizing several types of AI and machine learning. A center of excellence coordinates all hyperautomation projects and helps to speed up the automation process. Hyperautomation also lowers costs, boosts productivity and enhances efficiencies in the service industry. Additionally, it uses the data produced by automated strategies, which businesses can use to generate quicker and wiser business decisions. The limits of what is possible with conventional automation have been stretched by hyperautomation. Enterprises can now use a collection of cutting-edge technologies that enable process mining, intelligent business process management (iBPM), robotic process automation (RPA) and machine learning rather than relying on a single technology or job automation (ML). It involves more than just fusing technology. Robotics Process Automation handles administrative procedures in the retail sector and simplifies fundamental duties like product scanning and inventory management. Better customer relationship management, cost savings, enhanced audit capabilities, improved productivity, and many other benefits follow the initiation of hyperautomation in businesses. RPA can assist businesses in foreseeing market fluctuations and preparing to satisfy changing customer demands. Additional teams are involved in a traditionally automated business approach. Let's use a standard order-to-cash procedure as an illustration. For example, email communication might make it challenging to track order processing times and obscure bottlenecks. On the other side, businesses can acquire end-to-end visibility of the process, including bottlenecks and missed Service Level Agreements or SLAs, by combining technologies like RPA and intelligent document processing.
HYPERAUTOMATION TOOLS
A layer of orchestration enhances the usual automation technique in hyperautomation. Hyperautomation can completely change the way that industries operate in the future since human intelligence and technology work hand in hand. Let's examine a few of the tools that make up hyperautomation:
Robotic Process Automation
It is no longer necessary to spend many hours performing tedious administrative duties that can be delegated to software bots thanks to robotics process automation (RPA). RPA bots automate tasks quicker than a human would, freeing up human time for more creative and productive work. Whether web scraping, account reconciliation, invoice processing or CRM record auto-updating, this technology has changed how organizations operate. The software bots shorten cycle times, increase throughput and accuracy, and enhance flexibility, scalability and resource efficiency. All repetitive operations can be automated when processing insurance claims, which is a complicated procedure. For example, client data for the claims can be handled by instructing the bot to retrieve data from specific sites and create the report.
Doc AI
Around 80% of the world's data is unstructured, according to IBM's estimations. Doc AI can be used to decipher enormous amounts of dark data and extract insightful information from it. Natural language processing (NLP), intelligent optical character recognition (OCR), and machine learning are examples of technologies that fall under the umbrella of artificial intelligence. It aids businesses in becoming insight-driven organizations (IDO). Conversational FAQ, form processing, contract administration, reading bank statements and invoice processing are a few of its uses.
Smart Business Process Management
Traditional BPM platforms enhance the efficiency and effectiveness of business process operations. The foundation of hyperautomation is low-code Intelligent Business Process Management (IBPM), which adds intelligence and analytics to the typical BPM solution. IBPM enhances company operations by fusing AI, cloud capability, analytics and complicated event processing.
Analytics
In all businesses, analytics converts data into information. It aids in outcome prediction and generates recommendations for maximizing ROI based on historical trends. Analytics platforms have built-in dashboards where users can view helpful information that helps with decisions in the company's supply chain, customer, workforce, financial and risk areas.
Natural Language Processing
NLP examines semi-structured, structured and unstructured documents to find, extract and use the data they contain for additional research. A few examples of Natural Language Processing include invoice processing, text categorization, spam filtering, contract analysis, contextual proofreading and slang detector, mood sensor, summarization, and other tasks. By analyzing the sentiment in the text, the integration of NLP into RPA aids businesses in improving the customer experience.
BENEFITS OF HYPERAUTOMATION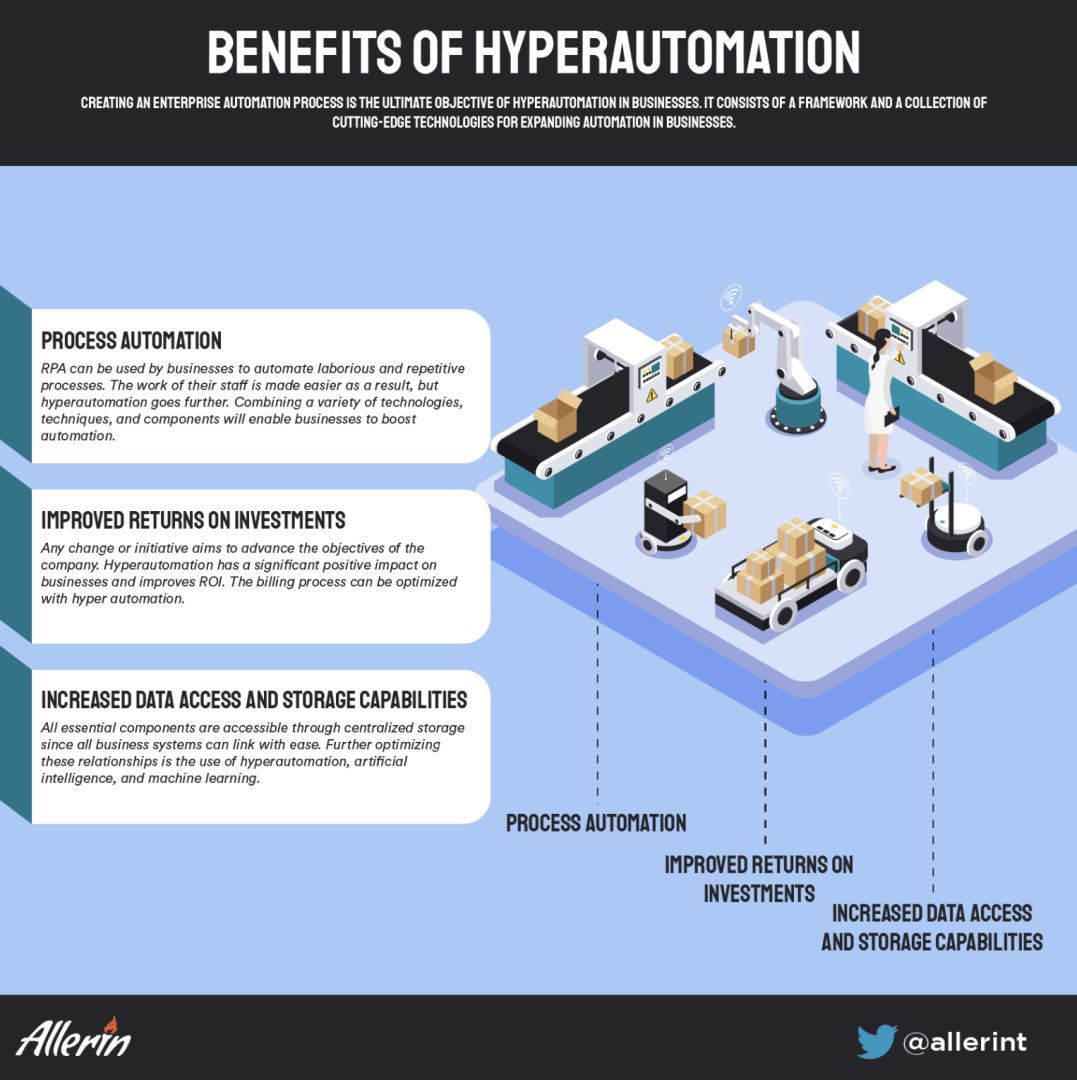 The core automation capabilities of an organization are expanded by hyperautomation. RPA and other cutting-edge technologies are used in order to accomplish this. Businesses may benefit from the following as a result:
Process Automation
RPA can be used by businesses to automate laborious and repetitive processes. The work of their staff is made easier as a result, but hyperautomation goes further. Combining a variety of technologies, techniques and components will enable businesses to boost automation. Additionally, this facilitates the company's existing tasks and enhances its capacity for productivity.
Improved Returns On Investments
Any change or initiative aims to advance the objectives of the company. Hyperautomation has a significant positive impact on businesses and improves ROI. The billing process can be optimized with hyperautomation. Automating the multi-layered, end-to-end method achieves this, resulting in favorable results and profits.
Increased Data Access and Storage Capabilities
By using cutting-edge software and procedures, hyperautomation seeks to increase productivity. Businesses can anticipate smoother user-infrastructure interactions. Another crucial component of digital transformation is system integration. The proliferation of hybrid and multi-cloud technologies is to thank for this. All essential components are accessible through centralized storage since all business systems can link with ease. Further optimizing these relationships is the use of hyperautomation, artificial intelligence and machine learning.
USE CASE SCENARIOS OF HYPERAUTOMATION IN BUSINESS
Below are a few use case scenarios for improving business operations with the assistance of hyperautomation.
Consumer Assistance
Consumer expectations are always increasing. Companies are searching for strategies to speed up response time. They want to respond right away to client complaints. Their goal is to communicate effectively through all channels. Integrating hyperautomation technologies into the system is simply accomplished. They can act as the client's first point of contact. Before directing customers to particular departments, they can respond to and sort queries. This can lessen the manual labor required for routine chores. The customer can be engaged at live contact points and connected to the right customer service representative for a speedy resolution.
Lead Generation
A majority of corporations criticize their outreach-boosting marketing strategies. They underline how crucial lead creation is, despite how difficult it is. Most visitors are reluctant to disclose their personal information. Businesses can collect IP addresses and other important information from incoming traffic with the use of hyperautomation. On their website or app, they can then monitor customer behaviors. This information is immediately saved and forwarded to a platform for outreach. It becomes simpler to separate the targeted audience from incoming traffic. Businesses specifically improve their offerings to boost sales. They can target certain potential customers with their advertising and easily communicate with these profiles. All touchpoints in this process are automated, including responses from sales representatives.
Invoices Payable
This involves carrying out numerous accounts payable procedures on a huge scale. It may take a lot of time and repetition, which could cause delays or defaults. But hyperautomation has made it easier to simplify processes. It unifies available information into a single data system and standardizes invoicing formats. ML and document extraction methods are used as inputs.These technologies include pre-existing RPAs and optical character recognition (OCR). They are given a push to make the process easier, from acceptance of invoice to payment, without any outside assistance.
CONCLUSION
Human intervention is quite limited in this process compared to the conventional method. The present focus is on hyperautomation, and all businesses must embark on this path to accomplish digital transformation and continual development for better results. Organizations from various industries are reducing their reliance on human resources to implement digital transformation and improve human skills. The main force behind this change is hyperautomation. In the service industry, hyperautomation is a fusion of cutting-edge technologies. Many processes can be automated as a result. Hyperautomation in businesses is becoming more and more popular. To stay competitive, businesses need to implement hyperautomation to maintain an advantage for those who have already accepted the strategy. Businesses can achieve this by evaluating current procedures and making sure the toolset is still suitable. They must use contemporary tools wisely and effectively, just like a company would with any other technology. As a result, businesses want to select hyperautomation solutions and software that can work together. Hyperautomation in the service industry also creates a coordinated environment. The employees' ability to work is made simple by these automated operations. Additionally, it facilitates their cooperation and collective effort to reach organizational goals.