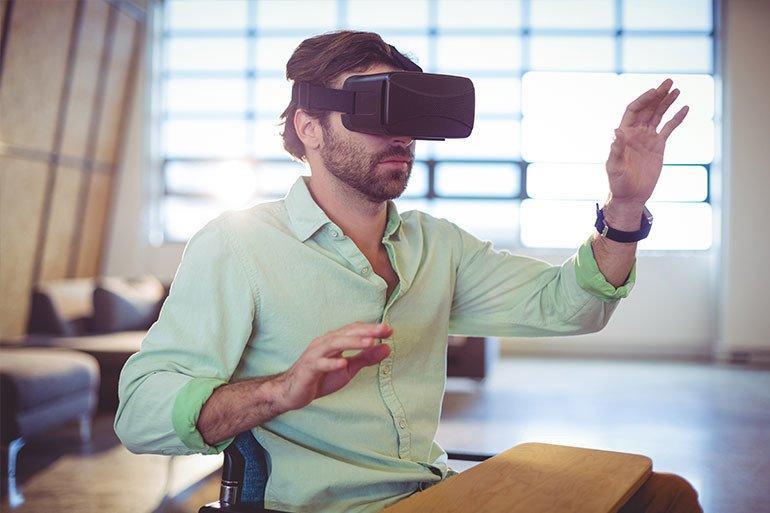 The impact of IoT on augmented and virtual reality is adding new dimensions in the space of innovation and research.
IoT, augmented reality, and virtual reality, are currently the three most popular and rapidly evolving technologies. Billions of dollars are spent in developing applications around them, especially IoT, which is expected to reach $1.4 trillion by the year 2021. Earlier the benefits of these technologies were appreciated more by the end users than businesses. Now, with a high demand for product variations, businesses are bound to dedicate more time and resources on the integration of buzzing technologies, like IoT, AR, and VR.
Augmented and Virtual Reality: The Difference
Most people are always confused between augmented reality and virtual reality. While both AR and VR are technologies that transpose the user, there exists a fine line of difference between the two. Virtual technology immerses the user into a surrounding and stimulates his senses to feel as if he is within the virtual experience. So, when you watch a 3D movie or play 3D video games, you feel like you are transported right inside the movie or the game. Augmented reality, on the other hand, overlays and positions virtual things in the physical or real world. The best example of augmented reality would be the Microsoft HoloLens. What the HoloLens does is that it overlays apps, images, and information on the walls or surroundings of your home, in the same way in which apps are laid out on our smartphones. So the sight of robots walking, or a holographic dog wagging his tail in your living room, or similar bizarre things, is an evolving augmented reality. While virtual reality is trending in apps and games like VRSE and google cardboard, augmented reality is finding use amongst marketers, businesses, and popular applications, like Pokémon Go and Snapchat. However, the underlying aim of the two technologies is the same - altering a user's perspective for an enhanced experience.
IoT: A Revolution
IoT is the interconnection of various physical devices, enabling them to exchange information among themselves and provide real time data. This data is then used for driving other processes, products, or services. Picture this: All the devices at your home - your coffee machine, switchboards, car, furniture, wearable devices, and the like – are capable of exchanging useful information. This way your coffee maker prepares your coffee right after you get back from your jog, lights in your living room are set at just the right brightness levels to soothe your mood, and your car automatically takes the route that's low on traffic. What I've laid down is the concept of smart living. However, with continuous developments in IoT, much more is possible. IoT's wide application proves that the implementation of this technology is not too complex. This is why the real-time information provided by IoT is being analyzed and deployed in sectors like agriculture, retail, energy management, logistics, and healthcare.
IoT, AR, and VR: Mixing Realities
The hype around AR, VR, and IoT is undeniable. Each technology lays down an array of advantages for us, individually and in conjunction. However, technologists are now concentrating more on the latter. The confluence of IoT with augmented and virtual reality is nothing less than a revolution. It aims at merging the physical and digital world, not in a way where we can just see things, but one where we can give digital objects physical characteristics. This means the actual grounding of digital objects into physical environments and interacting with them in the same way we interact with physical objects. Since IoT is creating new ways of interacting with our environment, it lays down a multitude of advantages for enterprises to completely transform their business methods and their revenue models. We're already seeing an exponential decrease in product ideation and delivery time, due to IoT. However, the interlacing of these 3 technologies lays down the framework for a new concept known as mixed reality – a reality that breaks the barriers and limitations of current technology for the creation of new possibilities. What this allows us to do is to collaborate on a global level with enterprises irrespective of their location, paving the way for technological innovation.
IoT's impact is all encompassing. The same can be said for augmented and virtual realities that add an exciting touch to our lives. In addition to improving productivity and efficiency of several sectors, they hold within them the potential to completely revamp digital infrastructure. However, it is even more exciting to see how organizations will go about the merging and implementation of these fast paced and ever-changing technologies.