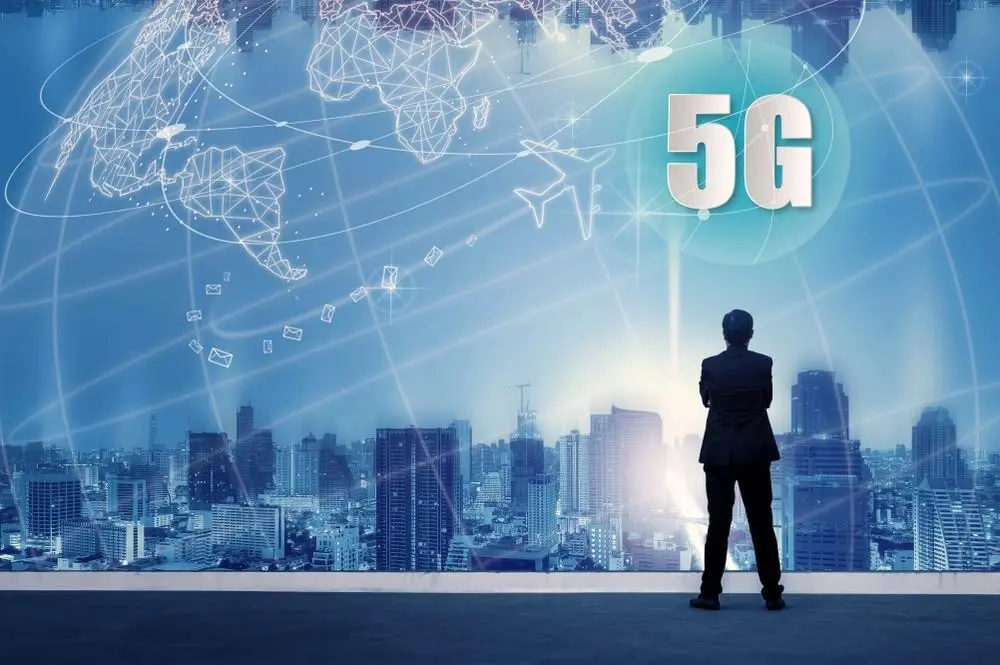 5G will act as the catalyst for the creation of 'true' smart cities. 5G and smart cities will become interdependent and even synonymous with each other in the near future.
The world is witnessing a rapid increase in the number of smart cities. These smart cities will be dependent on advanced technologies with lightning-fast computing speeds for their functioning. And 5G connectivity will serve as the foundation for the efficient and smooth working of each and every aspect of smart cities. Artificial intelligence, computer vision, and other advanced technologies can be utilized better with 5G and smart cities can be developed to unimaginable levels with these technologies. With an increase in urbanization in recent years and governments looking to heavily invest in smart cities, it becomes imperative to efficiently plan the development and working of such cities. However, there are certain challenges currently faced by smart cities that must be overcome to ensure their efficient functioning.
Connectivity Challenges Faced by Smart Cities
The functioning of smart cities depends upon smart devices. Smart devices are gadgets that are able to connect, interact, and share data over the internet and with other smart devices. As these smart devices rely on internet connectivity, a fast network connection becomes a necessity. However, with the current technologies such as 4G, slow internet speeds and high latency remain huge issues for these devices. This can lead to delays in their processes and communications. Such delayed communications can prove harmful in emergency situations where data needs to be analyzed, processed, and transferred in an instant. 5G can help overcome the connectivity and data transfer issues as it provides higher speeds when compared to 4G networks. The device response times and data transfer speeds are enhanced significantly on a 5G network. Thus, it can greatly benefit in enhancing the functioning of a smart city. The transportation system, healthcare and emergency services, education, and even the functioning of smart residential homes in a smart city can be improved significantly by incorporating 5G services.
5G and Smart Cities Development
5G significantly improves the functioning of smart cities by providing fast data transfer speeds, low latency, and better connectivity for smart devices. The smart devices are at the core of an efficiently functioning smart city. 5G will be helpful in harnessing the true potential of these devices. The following are some of the ways 5G and smart cities development can go hand in hand.
1. Smart Transportation and Parking Systems
An efficient transportation system is a key requirement for the smooth functioning of a smart city. With the future of transportation being autonomous and internet-connected, the use of advanced connectivity technologies like 5G will become imperative. The implementation of 5G devices will not be limited to vehicles alone. It can be employed for sensors and computer vision systems deployed on junctions, roads, and along the sidewalk. The data gathered by these devices is not only humongous but also needs to be processed and analyzed in real-time to avert undesirable situations. As 5G promises speeds up to 100 times faster than 4G, it proves to be a more reliable source of internet connectivity. Drivers as well as government authorities can monitor road conditions for accidents or congestions in real-time using 5G technology. The most beneficial component will be emergency response services as they can narrow down on the exact route to take to an accident or a healthcare center, potentially saving precious lives. A fully automated transportation system with driverless cars, automated signaling, and traffic management can be made possible by 5G technology and smart cities can possibly have a much safer transportation system.
Expanding on the transportation system, 5G can be leveraged to efficiently manage smart parking lots. Smart cities employ IoT solutions to solve the parking issues faced by them. IoT devices depend on internet connectivity for their functioning. With 5G, the communication between the various components of a smart parking system is improved significantly. Drivers can see the vacant spots in real-time with the shortest route available to them. This significantly reduces the time wasted by users. Digital payment methods at these smart parking lots, too, can be improved upon with 5G technology as it enables faster checkouts. Drivers will be able to move in and out of a parking lot without even the slightest delay thanks to 5G technology. Thus, the overall functioning of the transportation system can be efficiently managed using 5G technology.
2. Smart Homes
Residents are the core beneficiaries of any city. The homes of these citizens will be managed by smart devices capable of carrying out various tasks. 5G can prove to be the key element for the connectivity of these internet-connected devices. The range of smart devices in a smart home will vary from smart speakers, smart electricity solutions, to smart security home solutions. Basically, every device or an object can act as a potential smart device in the future. With 5G technology, these devices can transfer data instantaneously between each other and to data servers with low latency. This will significantly improve the responsiveness and ultimately the output of the devices. Users can get their work done within the blink of an eye if 5G technology is incorporated in these smart devices. With the introduction of fog and edge computing for IoT devices, 5G can work wonders with regards to the speed, responsiveness, and overall performance of these IoT devices. Smart devices can help carry out even complicated tasks instantaneously with little to no physical involvement of the user.
3. Smart Education
Edtech is the future of education. Edtech relies on technologies like machine vision, artificial intelligence, and big data for improving the current quality of education provided. With the introduction of 5G, the deliverables of the above-mentioned technologies are enhanced further. The data generated by smart devices can be analyzed and processed at a much faster rate when compared to 4G technology. Basic technological applications in the education sector like video calls for conducting lectures can be enhanced significantly using 5G technologies. 5G provides better clarity and minimum delay than the currently used modes of communication. This significantly removes the hindrances caused by network speed and connectivity issues currently faced by the education sector. Traditional teaching methods may cease to exist if 5G technologies can prove to be an efficient and robust means for a smart classroom.
4. Smart Energy Conservation
Smart cities are progressing by leaps and bounds in the energy and utility sectors. Smart cities can prove to be the driving force in our attempts for energy conservation. Using data gathered through vehicular and pedestrian movements, smart traffic lights can be programmed to be dimmed or even switched-off in low traffic areas. It can be quickly turned on if the sensors detect any activity nearby. With fast speeds provided by 5G technology, it can turn the electric devices on or off within a fraction of a second. Residential buildings and commercial complexes can also work on the same principle and contribute to energy conservation. The energy savings at every stage eventually get multiplied over a period of time. It can help in saving a substantial amount of energy and eventually prove to be cost-efficient for businesses as well as ordinary citizens.
5G solutions are already being rolled out in major cities. Las Vegas, New York, Washington DC, Oklahoma and other major cities in the US have already seen 5G rollout and many others will follow suit. 5G and smart cities may eventually pave the way for 'smart nations' where every town, city, and neighborhood will be 'smart.'