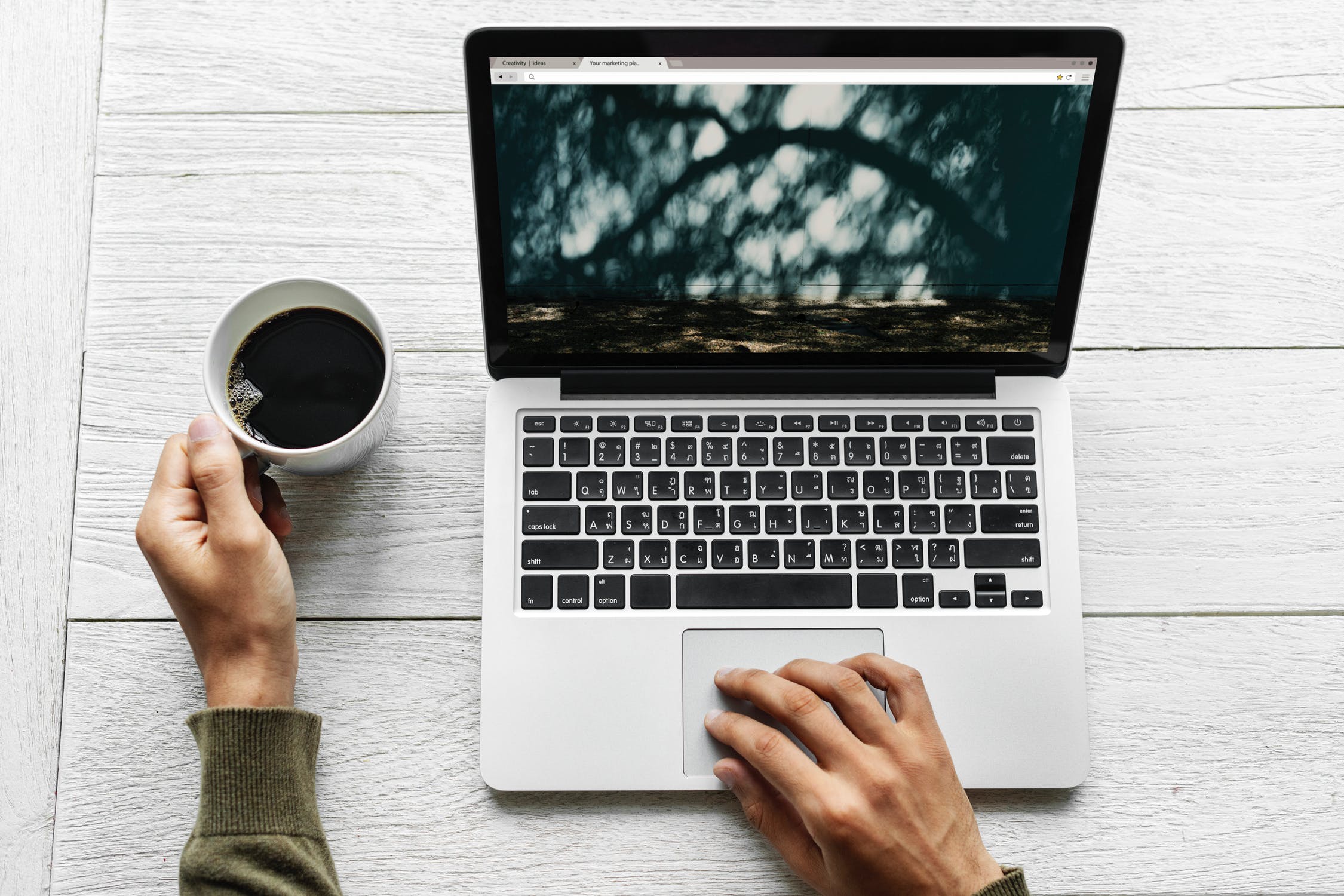 Since the digital world is expanding, it has opened opportunities for business owners as well as cyber-criminals.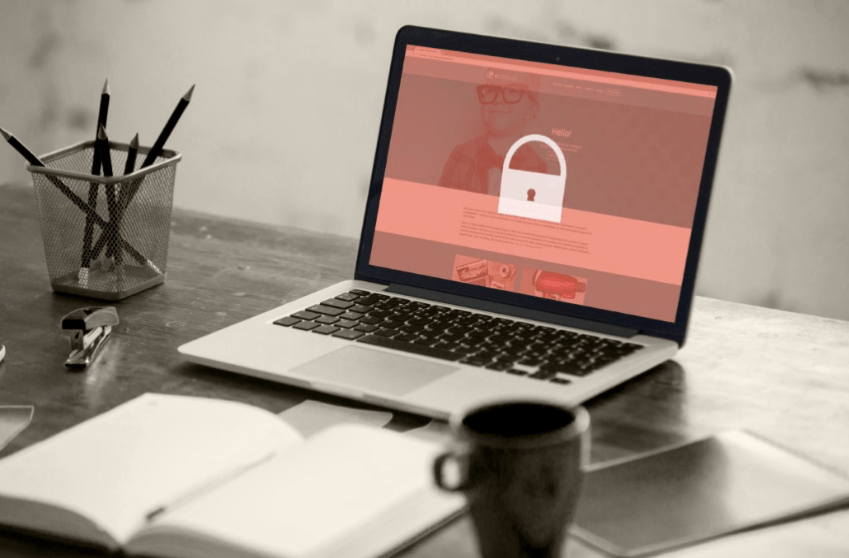 Ever wondered, "Why does a hacker want to penetrate to your site?"
Apart from gaining private information stored in computers, hackers wish to reach the server, where the website is hosted. Sending spam emails and accessing personalized emails by forwarding them into the junk folder, hackers try all sorts of ways to fulfil their vicious desires.
Hence website security is very essential to keep these intruders away from accessing sensitive information. Strategically planned digital securities help reduce escalation of malware attacks, or any other cyber-attacks, thus reducing business risk. One such website security comes in the form of SSL certificates.
What is an SSL Certificate?
SSL (Secure Socket Layers) is a digital certificate that secures all your data & communications made between browser and website. Different web security protocols use different techniques to secure digital data. SSL certificates use encryption techniques to secure sensitive information.
Encryption format visuals like a coded format.
Example:
Simple Text: I like this website.
Encrypted Text: dfjewreijsk*fkdj&s12dkfj#dj
The above example shows how difficult it is to decrypt the below data.
Safeguarding Features of SSL
SSL certificate helps prevent the threats by its awesome features.
Its encryption technique is unique and it ensures that the encrypted information cannot be decrypted by anyone, unless the intended recipient. SSL protocol uses two keys: Asymmetric and symmetric key bind the information.
Since these digital certificates are issued post verification (business, business owner, or domain name), they ensure the authenticity of the website. Customers trust sites having SSL security. IT protects users from MiTM attacks and develop users' trust.
This digital signature ensures data integrity since thorough verifications are done by trustworthy CA's (Certificate Authority) before issuance of the same, and hence can't be falsified.
SSL certificates show these 2 trust icons, HTTPS in the address bar and a padlock in the URL.
A few reasons, why your website needs SSL are:
Boost in SEO ranks by Google
Trust symbols and trust seals on the website
They showcase confidentiality, data integrity, and authenticity of the website
Secures all sensitive information (passwords, social security numbers, bank account numbers, credit card details, etc.) which is communicated online, with encryption security.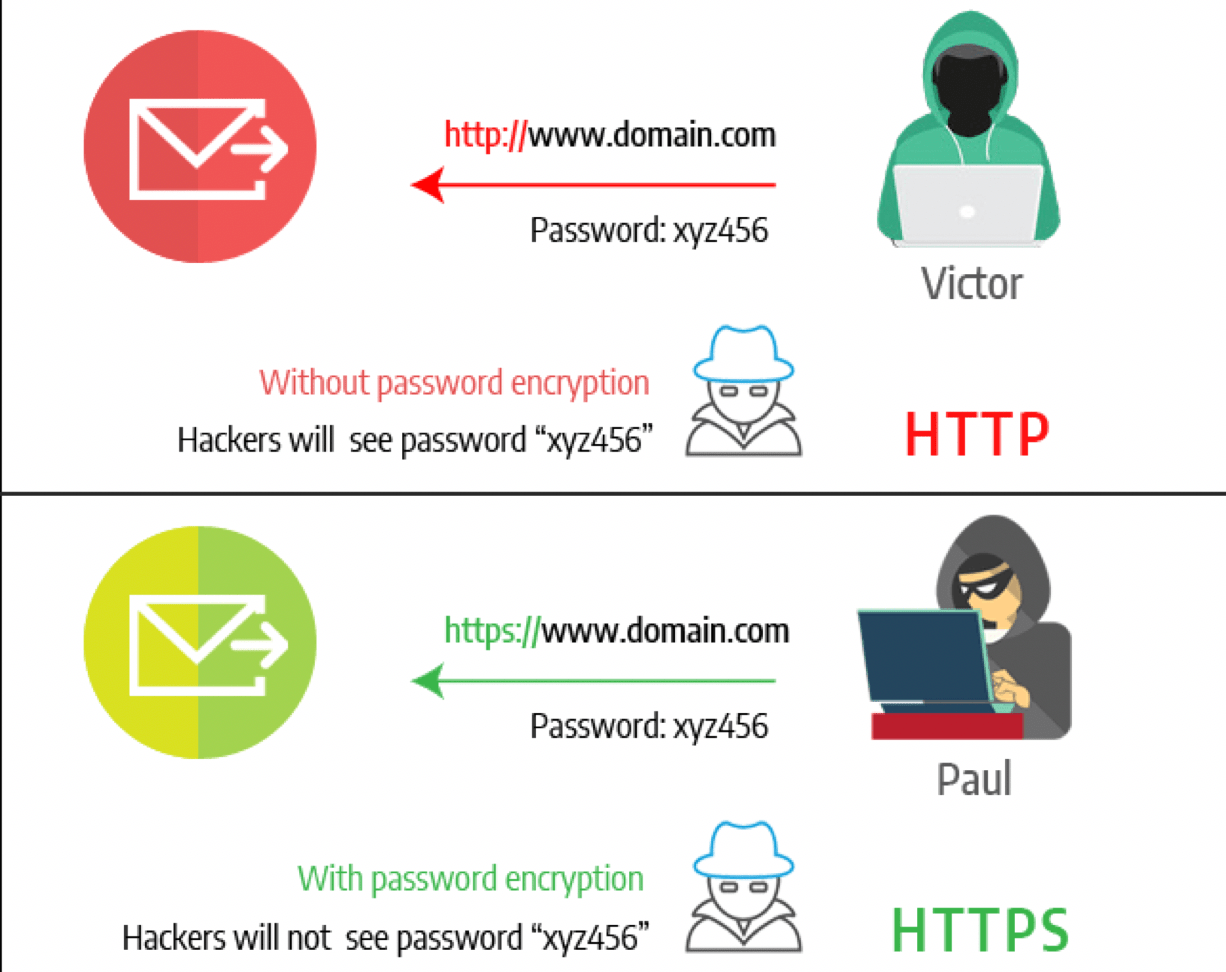 Compulsory for eCommerce industries and companies where monetary transactions take place.
How to Choose the Best SSL Certificate?
Varied types of SSL certificates are available in the market, having different validations.
Since all the SSL certificates provide robust 256-bit encryption strength, 2048-bit key length, and come with various other features like unlimited re-issuances, unlimited server licenses, and money-back offers, including 99% mobile browser compatibility, choosing the right one for your business can put you in a dilemma situation.
To prevent this situation, I have shared some types of SSL certificates and their specific characteristics.
1. Domain Validated (DV) SSL Certificate
DV SSL is the Standard SSL certificate which provides strong encryption to blogging sites, individual websites, and small businesses having a single domain name. They are less pricey than other SSL certificates and they can be quickly issued, thus being one of the best options for domain security.
Here, the CA verifies the domain name with the name listed in the WHOIS register and issues the certificate. The only setback is that it does not authenticate the business entity or verify the business owner, neither does it include the company name in SSL certificate details.
DV SSL certificates secure only the main domain of the company. i.e. if your domain name is example.com, it will only secure www.example.com.
Example: Comodo Positive SSL DV, GlobalSign Domain SSL, etc.
2. Organisation Valided (OV) SSL Certificate
Such certificates are best used by medium and large businesses, corporations, government & financial institutions, etc. who wish to authenticate their business too with an additional layer of security. OV SSL verification includes verification of business, address, telephone, and domain name. Hence the issuance time of OV SSL takes 1-3 business days, and websites with OV SSL certificates are termed authentic sites and fully trust-worthy.

OV certificates are also used for code signing, document signing, MIME email certificates, etc.
Since thorough verification is done before issuance of OV SSL, chances of this SSL being issued to fraudsters are almost nil.
Customers can view your business information in the SSL certificate as well as on the site seal stamped on the website.
Example: Symantec Secure Site OV and Thawte Secure Site Pro OV etc.
3. Extended Validation (EV) SSL
An EV SSL symbolizes a very high level of security because it is issued only after rigorous verification of business, background checks, and strict vetting processes. Hence sites having EV SSL are termed as very genuine ones and customers completely tend to trust those sites.
EV SSL helps in increasing business revenue because, when trust increases, conversions are bound to upsurge along with revenues, and hence a majority of the companies opt for EV SSL for their business site. All EV SSL certificates come with site seals and the company name is visible when you click on the padlock.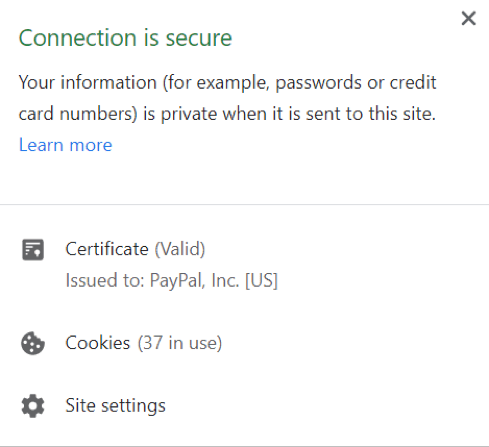 EV SSL certificates are termed as the best SSL certificate amongst all others, due to its high customer value, authenticity, and trust. Though EV SSL certificates are slightly expensive than OV SSL certificates, the benefits of EV SSL far outweigh other SSL certificates.
Examples: Comodo EV SSL, DigiCert Secure Site Pro EV
4. Wildcare SSl Certificate
Wildcard SSL certificates help secure all first-level sub-domains under FQDN(Fully Qualified Domain Name). An "*" is termed as a wildcard character and it is written before the domain name to secure all sub-domains.
Example: If your domain name is www.example.com, a Wildcard SSL certificate will secure blog.example.com, article.example.com, etc.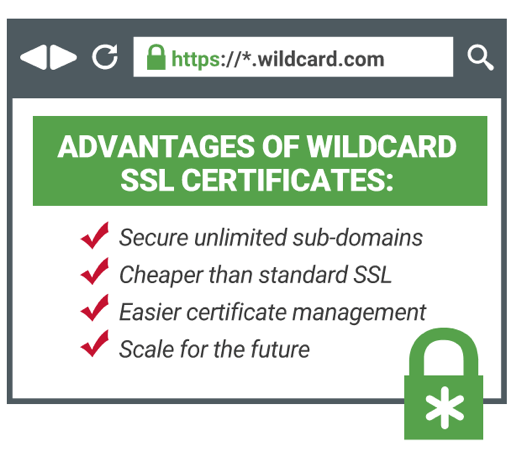 Wildcard SSL certificates simplify your web security measures because a single Wildcard certificate can secure multiple sub-domains along with the main domain on multiple servers, and hence can easily be managed. Hence Wildcard SSL certificates are cost-effective and many times cheaper than Standard SSL certificates.
The only drawback of a Wildcard SSL is that it is available in DV and OV validations only. Comodo Essential SSL Wildcard, GeoTrust True BusinessID Wildcard SSL, etc. are a few good names.
5. Multi-Domain SSL Certificate
As mentioned above, Wildcard can secure only one domain, but if your business empire is huge and you need to secure multiple sites, you need an SSL certificate that secures multiple domains along with multiple sub-domains. A Multi-Domain SSL certificate is an ideal choice since it fulfils the above requirement. This SSL certificate can secure up to 100 domains and unlimited sub-domains of all levels depending on the Certificate Authority.
The domains are listed as SANs and hence are termed as SAN certificates too.
Example: You can secure example1.com and example2.com, it will also secure blog.example1.com, article.blog.example1.com, resource.example2.com, etc.
Comodo Positive SSL Multi-Domain can secure up to 100 domains and comes with a 30-day refund policy.
Factors to Consider before Selection of SSL Certificate:
Many factors need to be considered before selecting and purchasing an SSL certificate. They are:
What do you wish to secure? (domains, sub-domains, multiple sub-domains, etc.)
Issuance Time
Type of Validation
Warranty
Money-back Guarantee
Encryption Strength
Security Tools
Reputation of CA
Customer Support
Price
The Bottom Line
Certificates signed and issued by non-trustworthy CA's are risky and hence they should not be trusted. Always prefer a trust-worthy CA for your web security requirements. Selecting the appropriate SSL certificate can be a tedious puzzle if you are unaware of the features of each of them.
In the above article, I have summarised the options so your selection process becomes easier and smooth. Many SSL providers have all global brands of SSL certificates to fulfil their customer's desires. The best prices and the best deals are available with them to secure your digital business. So, go, grab your best option, and secure your online empire.