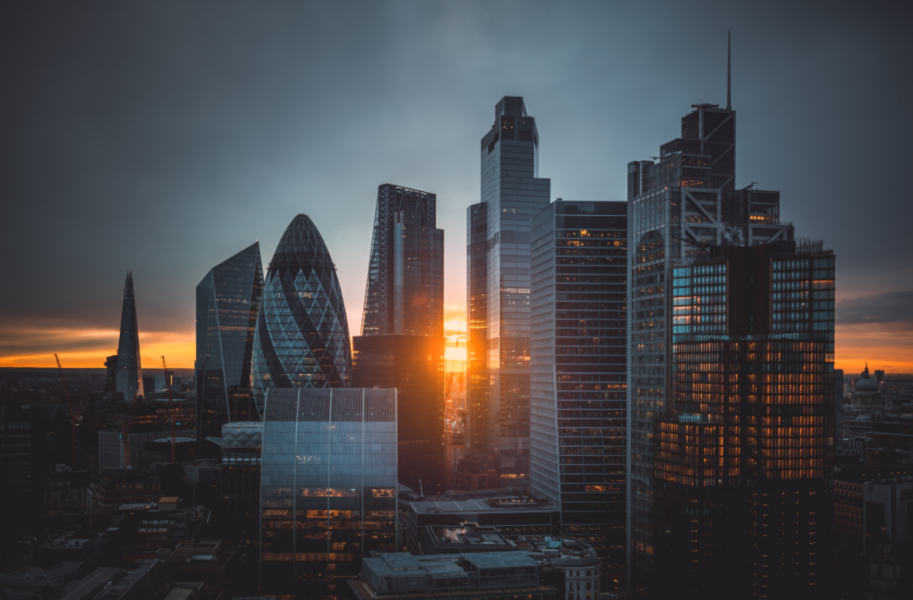 Financial services play a crucial role in helping people manage their money and achieve their financial goals.
However, these services often face challenges in serving both customers and employees effectively. Here are some ways to make financial services work better for both:
Customer-Centric Approach
Financial services should focus on delivering solutions that meet the specific needs and preferences of their customers. This can be achieved by gathering feedback from customers, conducting market research, and using data analysis to understand customer behavior.
Employee Training and Development
Employees play a key role in delivering financial services to customers. Providing them with adequate training and support can help them better serve customers and improve their job satisfaction. This can include regular training sessions, mentorship programs, and opportunities for professional development.
Digital Transformation
Financial services can greatly benefit from the adoption of digital technologies, such as online banking, mobile apps, and digital payment systems. These technologies can make financial services more accessible and convenient for customers, while also improving the efficiency and accuracy of financial transactions.
Collaboration and Partnerships
Financial services can benefit from working with other organizations, such as technology companies and non-profits, to develop new solutions that meet the needs of customers and employees. By partnering with organizations that bring complementary expertise, financial services can create innovative solutions that address the challenges they face.
Ethical and Responsible Practices
Financial services should prioritize ethical and responsible practices in their operations. This includes protecting the privacy and security of customer data, providing transparent pricing and fee structures, and avoiding practices that may harm customers or employees.
By implementing these strategies, financial services can better serve both customers and employees, and contribute to the overall financial well-being of communities.
Q&A with Mike Softley - Director of Business Applications, Microsoft UK, hosted by Sally Eaves - Emergent Technology CTO and Global Strategy Advisor
Microsoft recently hosted a private roundtable discussion in partnership with The Financial Times. The event: 'A Case for Change: Making Financial Services Work for the Customer and the Employee,' brought together customer experience and operation leaders from financial institutions across the UK.
Under Chatham House rules, attendees discussed a range of pressing issues and emerging opportunities, from automation and compliance to personalisation and employee empowerment.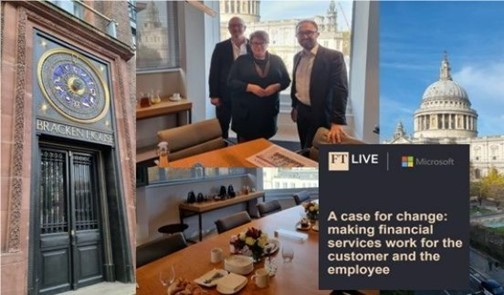 To continue and expand this conversation, I hosted a follow up Q&A session with Mike Softley, digging deeper into how organisations can better align their journey with their goals, and balance investment in optimising the colleague and customer experience.
Mike, please tell us more about your role at Microsoft and how this has evolved?
I've been at Microsoft for nearly 10 years, working on business applications including Microsoft Dynamics, the Power platform and other key technologies. Today we're at the heart of customer engagement and experience conversations, and part of the continuum of Microsoft's collaboration and Modern Workplace solutions, including Teams. We're focused on creating technology that adds value and positively impacts the 'business of doing business'.
My roles have included direct sales for business applications, supporting our corporate sales and strategy for four years - covering solutions, go-to-market and partnerships around the world. Since September 2021 I've been working a lot with NatWest Group. So I'm part of the financial services industry vertical at Microsoft and focused on driving great business outcomes for our clients.
What key milestones have you experienced so far?
A key moment for me was when people stopped talking about CRM and started talking about customer engagement and customer service. That was gratifying, and the shift is still happening. CRM has matured, and become more sophisticated to focus on customer insight, engagement, and service.
What are some of the biggest challenges or opportunities facing financial services, or any particularly interesting issues that came up during the roundtable?
One of the most useful issues discussed was how best to understand the economics of customer experience and engagement, and why it's so important. There are various schools of thought, including the concept of earned value - that enables organisations to see the impact of technology on customer experience, engagement and loyalty.
Technology leaders in financial services are often asked to justify their investment in customer experience and engagement, so we discussed the concept of value, driving meaningful impact and how investment in people, process and technology can align to deliver business outcomes.
Another interesting subject was how board members responsible for customer engagement and experience should act - the key behaviours that help them shape the agenda at executive level. This means not assuming technology 'is just going to deliver'. Technology projects tend to plan for 'the happy path', but it's important to plan for exceptions if things go wrong.
We had attendees from insurance, assurance, loan, risk and debt management to conventional banking - a varied group, but it was clear everyone wanted to be goal driven and journey aligned, with customer and staff experience investment put in the right places along those journeys.
What signals can inform a sophisticated customer experience was an interesting discussion, because it has to be generated from internal and external insights. Recent FCA language regarding consumer duty will help executives reframe how they talk about their investment in customer engagement. Everyone recognises we're all in a services business at the end of the day, so must be willing to keep refining our behaviour to continually serve customers better, whether it's loan screening or something at the other end of the financial services spectrum.
There was general agreement that human-centred, design-led thinking is essential for planning from the start, whatever you're doing - this philosophy elevates technology investment to become more than the sum of its parts. But it's a challenge for organisations, it requires different internal resources and people who can guide that type of process. This means checking the experience and skills the big advisories and systems integrators can offer, as well as consulting businesses and contractors. Microsoft is working with organisations to help develop the skills internally.
Recent research shows customer experience and brand alignment is at least as important as the quality of products and services. A single broken experience can negatively impact brand affection, which then reduces loyalty and increases propensity to churn. What else are you seeing in these areas?
Good experiences, across any modern channel for a financial service consumer will have similar DNA. There's a need to record and curate for compliance purposes, and value in automation. You must generate insights for accurate customer experience management, with a downstream workflow and case management process in place. Whether you're dealing with wealth management onboarding, a KYC process, or dealing with loans and financial risk - the demands are very similar.
Human-centred design is relevant to all of this. Almost everybody has conceptually moved on to focus on the impact of customer experience (versus solely focusing on product) but the challenge now is to explain the economics of that to leadership teams. It's back to my point about justifying value to the board - senior people liked hearing about products and when they didn't like products they liked experiences, which were really just product journeys. Now the customer experience remit is even bigger, broader and more complex, so you have to plan for more than just the happy path and consider atypical customer personas too.
It's also vital to think about the most vulnerable customers and focus support on people who need it the most, as a way of managing finite service resources. Agents must be enabled give those meaningful, caring, and sensitive conversations the time they need. There's some disagreement on what volume of conversations to anticipate here, medium-term. Some of my peers predict telephone calls and person-to-person time will go down, significantly freeing up resources - catalysed by the type of digital transformation and agent enablement activity Microsoft supports for customers like NatWest.
But overall, personally, I believe core average call handling times are going to go way up. Because as we remove manual labour and divert more conversations to digital channels when suitable, we're still faced with people who just need time on the phone. Even, say, a wealth brand trying to position itself correctly and grow the business, they probably need to spend an hour on the phone talking about their findings, the customer's needs, aspirations, and goals. These are connected themes, and the economics of customer engagement and the business value of good service for Microsoft are tremendously important.
Identifying potentially vulnerable customers so you can give them and their challenges personalised, human-to-human care and attention is even more important during a cost-of-living crisis. Can AI help with this and reduce friction in the customer journey?
There has been a lot of digital channel investment in AI, and there's growing focus on 'applied AI' – a term I like because it's about applying what you know about a customer, and what you can predict about them in the context of the moment. That is our North Star - to enable those personalised moments that matter, powered by AI-derived insights from the conversation, and a holistic understanding of all other relevant customer data.
There's a level of disillusionment in some big enterprises where they've invested heavily in (often competing) AI technology and haven't seen the economic benefits. For example, some organisations invested in virtual agent-based conversations to deflect and resolve yet are still faced with 30% resolution rates.
It's not that they haven't done the work to connect their digital-to-physical-to-digital type journeys and invested sufficiently in their app and website. It's more that this kind of virtual agent support must be extended to assisted channels, to meaningfully connect them with digital channels. This is also a major differentiation for Microsoft - bringing world-class digital and assisted journeys together to create AI-enabled personalised care, requires scale, understanding and patience.
During the roundtable when we discussed the importance of human-centred design, everyone agreed you must 'think first about the journey!' This means understanding the wider impact of changes you're making on your organisation - because they can be fundamental.
When you change the customer journey, you're changing the demands on multiple parts of the organisation, whether it's a demand for data, or people's time. This can have a tremendously positive or negative effect. Focusing on the positive though - it's a way of making the whole employee experience more rewarding and exciting. Human centred design means thinking about colleagues as much as customers - this must be at the centre of your efforts if you want to enable the world-class collaboration needed to create a world-class work and customer experience.
Investing in people, culture and skills is clearly as important to making AI work, as investment in the technology itself. But what are the necessary skills for delivering a world class customer experience today? And what about staff meta-cognitive skills, such as learning how to learn more effectively?
Every major B2C business relies on heroes to run their business, but they're relying too much on these heroes, which is why contact centre attrition rates are 40% or worse in places.
Addressing this requires focusing on colleague alongside customer when thinking about what you're trying to create. This is happening more post-COVID than it ever did before because of the acceleration of digital transformation, increased familiarity and reliance on digital tools, and more remote work. We've all felt the need to make the work experience more valuable, more personal growth oriented. To do this, you must make work both more automated and more insightful.
Organisations have realised the impact on focusing on both the colleague and customer sides of the journey. A forensic examination involves thinking about the colleague - their role, skills, aspirations, love of work, willingness to go the extra mile - and doing your best to support them.
I've been working recently with a large enterprise customer's skills and development council, looking at moving, for example, business analysts into more technical roles - examining how to move talented people into new careers from unlikely places. NatWest Group is leading some of the work in this area and is genuinely interested in evolving its approach to human capital management - making sure everyone in the organisation is on board and has access. Especially those who join at a younger age and stay for a long time.
It's similar at Microsoft - we offer the chance to work in so many different elements of the business and make a contribution, and the role of technology in enabling this is extraordinarily important, and will only become more so in future. Thinking about business apps, including the Teams platform, I think we will soon start seeing even more AI-type functionality, such as OpenAI's ChatGPT-3, landing in these applications, for our customers. This means we could have AI chat, insights and connected journeys all within Microsoft apps - and we're already seeing how much of a game changer this technology is.
The speed at which we're able to develop and roll out these things has significantly accelerated over the past five years.
And finally, what's your key takeaway regarding how businesses, especially financial institutions, can put their customers and their people, equally, at the heart of their purpose?
Focus on the customer and colleagues from the earliest stages of business change planning. Adopt human centric, design-led thinking, and hold yourself to account for the earned value created - for both colleagues and customers.
About the Author
Prof. Sally Eaves is a highly experienced chief technology officer, professor in advanced technologies, and a Global Strategic Advisor on digital transformation specializing in the application of emergent technologies, notably AI, 5G, cloud, security, and IoT disciplines, for business and IT transformation, alongside social impact at scale, especially from sustainability and DEI perspectives.
An international keynote speaker and author, Sally was an inaugural recipient of the Frontier Technology and Social Impact award, presented at the United Nations, and has been described as the "torchbearer for ethical tech", founding Aspirational Futures to enhance inclusion, diversity, and belonging in the technology space and beyond. Sally is also the chair for the Global Cyber Trust at GFCYBER.