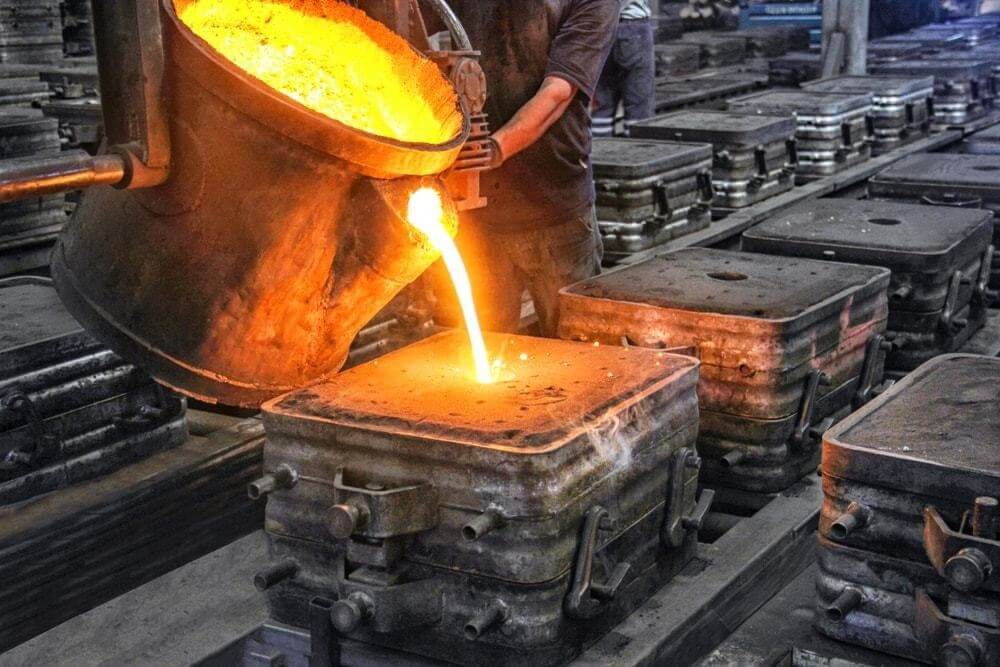 What are the pros and cons of the main types of casting processes?
Successful industrial casting requires careful selection of the right casting method and materials. There are 11 main methods to choose from, varying in cost and complexity.
1. Sand Casting
One of today's most common and versatile types of casting processes is sand casting. This method works for all metal alloys, which makes it particularly popular in the automotive industry. It is also one of the most affordable casting methods. An estimated 90% of manufactured goods include metal castings today, which includes sand casting.
Sand casting uses moulds made of tightly-packed, finely-ground bonded sand. It can result in less accurate, rough castings than some other methods. However, sand casting can produce a range of casting sizes with both ferrous and non-ferrous materials at a low cost.
2. Investment Casting
Also known as lost-wax casting, investment casting uses multiple disposable moulds, first wax then ceramic. The moulds are melted or broken away in stages after the metal is cast. This is one of the most expensive types of casting process due to the complex, lengthy production process.
However, investment casting does yield highly accurate results, which makes it ideal for complex parts. It can handle thin castings, as well.
3. High and Low Pressure Die Casting
High and low pressure die casting are specifically for casting non-ferrous materials, such as tin or aluminium. Copper can also be a good material for this type of casting due to its ability to handle high pressures well without leaking out of the mould.
Pressure casting method injects material into a pressurised reusable mould. It's fast, precise and efficient. Usually more complex parts that need precision moulding will use high pressure while larger or less complex parts use low pressure.
4. Vacuum Die Casting
Vacuum die casting uses a mould inside a vacuum chamber, which forces out as many air and gas bubbles as possible. As a result, it is ideal for applications where mechanical properties like density are a concern. Vacuum die casting is popular in aerospace and automotive manufacturing.
Unfortunately, vacuum die casting can be relatively expensive and it's not ideal for manufacturing large batches of castings. However, it does deliver castings that are well-suited for heat treatment processes.
5. Squeeze Die Casting
Squeeze die casting uses a two-piece die. Molten metal is poured into the cavity in the bottom piece then pressurised by "squeezing" the metal with the top piece of the die. This method is slower than some other types of casting processes but results in lower defect rates.
Squeeze die casting is particularly popular in the automotive industry since it creates strong, durable castings. There are even different varieties of squeeze die casting, including horizontal squeeze casting, direct casting and indirect casting. In direct squeeze casting, the metal is poured into the cavity while it is injected in indirect squeeze casting.
6. Permanent Mould Casting
Also known as gravity die casting, permanent mould casting can be expensive but delivers precise, tight-tolerance results. With reusable metal moulds, permanent mould casting uses gravity to force the molten metal into the mould cavity, where it cools and solidifies.
Permanent mould casting is good for castings that need a high-quality surface or precise shape. As a result, it's popular for casting items with important mechanical properties, such as gears. It may not be ideal for casting highly complex parts, though.
7. Centrifugal Casting
As the name suggests, centrifugal casting uses centrifugal force to mould molten metal. There are a few types of casting processes within this method. In some, the cavity is vertical and spins along the vertical axis — others are horizontal and spin along the horizontal axis. The metal is poured into the preheated die and shaped by centrifugal force.
The nature of centrifugal casting makes it ideal for cylindrical castings, such as pipes. However, asymmetrical castings are not well-suited for this casting method. Centrifugal casting is good at removing air bubbles, though, resulting in castings with high density.
8. Plaster Casting
Plaster casting uses a unique material known as "Plaster of Paris," a calcium mixture that's popular for moulding art due to its sleek white finish. When used for moulding metal, plaster casting works very similarly to sand casting, only with a different mould material. Plaster casting tends to be more accurate than sand casting, though.
The main downside of plaster casting is the cost. The plaster moulds typically crack or warp after the casting process, so they are not reusable. However, plaster casting does result in a nice smooth finish and works well for complex or thin shapes.
9. Lost-Foam Casting
Lost-foam casting uses the same process as investment or lost-wax casting only with foam instead of wax. The molten metal is poured into a foam pattern, which is disposed of afterward. Like lost-wax casting, this is one of the most expensive types of casting processes. However, at higher volumes it may cost less than lost-wax would.
Lost-foam casting makes up for its higher cost by delivering superb accuracy and precision. Castings usually come out fairly clear of any excess material, resulting in easy finishing and post-processing.
10. Shell Mould Casting
Shell mould casting is a type of permanent pattern casting that uses disposable moulds. It uses a shell of ultra-fine sand mixed with resin, hardened to create the mould. It requires minimal machining due to the smooth finish most castings have. It is good for large-scale production and popular for casting industrial and automotive parts.
11. Continuous Casting
In continuous casting, molten metal is continuously poured through a mould and cut off at designated intervals to create individual parts. It results in consistent castings that are essentially identical to one another. Continuous casting is ideal for items like metal bars, which have a very simple, symmetrical shape.
While continuous casting is limited in the type of items it can produce, it is highly efficient for that niche. It can also produce the same product in a variety of sizes without much process adjustment.
Achieving Optimum Industrial Casting Results
Industrial casting can be a complex, sensitive process that requires a bit of trial and error to fine tune. Minimise turbulence during the casting process to reduce porosity and avoid production defects. For sand casting specifically, studies show that sand additives and synthetic sands can reduce the cost of moulds and improve durability.
Pouring rate is a crucial metric in industrial casting. It needs to be just right for success and consistent from one casting to another. A spiral mould test can be used to determine the fluidity of a certain liquid metal. Raising the metal's temperature can improve fluidity and allow the metal to retain a liquid composition longer.