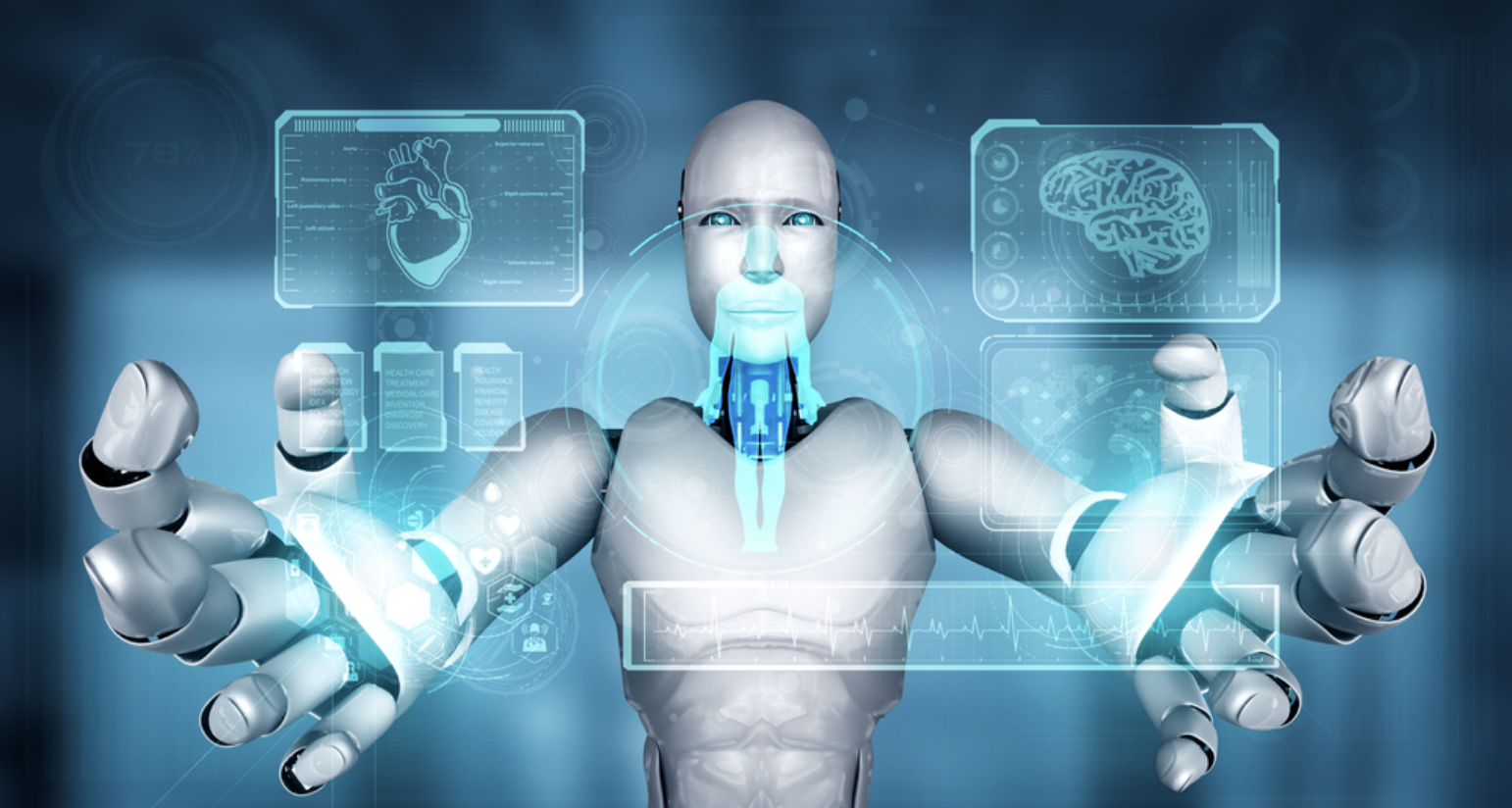 The concept of smart robotics, also known as intelligent robots, is gaining popularity in the business world.
It offers multiple benefits, such as improved efficiency, greater accuracy and cost-effectiveness. When integrated with advanced technologies, smart robotics for businesses can overcome implementation challenges effectively.
In recent years, businesses from various industries have depended on advanced technologies, such as artificial intelligence, machine learning, Internet of Things, to optimize their various operations. And now, a lot of these businesses are integrating these advanced technologies with smart robotics to make them more autonomous, intelligent and adaptable. To say smart robotics for businesses plays a significant role in the growth of industrial automation would be an understatement. A study shows that over 88% of businesses plan to invest in smart robotics to optimize their operations.
One of the major reasons why smart robotics is gaining popularity is because it can easily be used in a wide range of industries, such as manufacturing, transportation, logistics, public safety, healthcare and many more. They can potentially revolutionize the way businesses work as they offer new opportunities for automation, productivity and innovation.
To completely unlock the potential of smart robotics for businesses, we first need to understand what they are.
Smart Robotics Explained
Simply put, smart robotics, also known as intelligent robots, refers to advanced robotic systems that are equipped with sensors, software and artificial intelligence capabilities. They are designed to operate autonomously or in collaboration with human beings to perform various tasks.
Smart robotics can sense and adapt to their environment in real-time. They even make decisions based on data their sensors collect and perform complex tasks without any human intervention. When integrated with advanced technologies, such as artificial intelligence, machine learning and more, they can communicate with other machines as well as humans.
Businesses in various industries use smart robotics to increase efficiency, save costs and improve accuracy. Implementing smart robotics into any business can be challenging, especially when it comes to integrating them with existing processes.
Smart Robotics for Businesses: How to Overcome Implementation Challenges
One of the major challenges businesses face when it comes to smart robotics is their implementation into their operations. This becomes especially more difficult when businesses have to teach employees how to use them.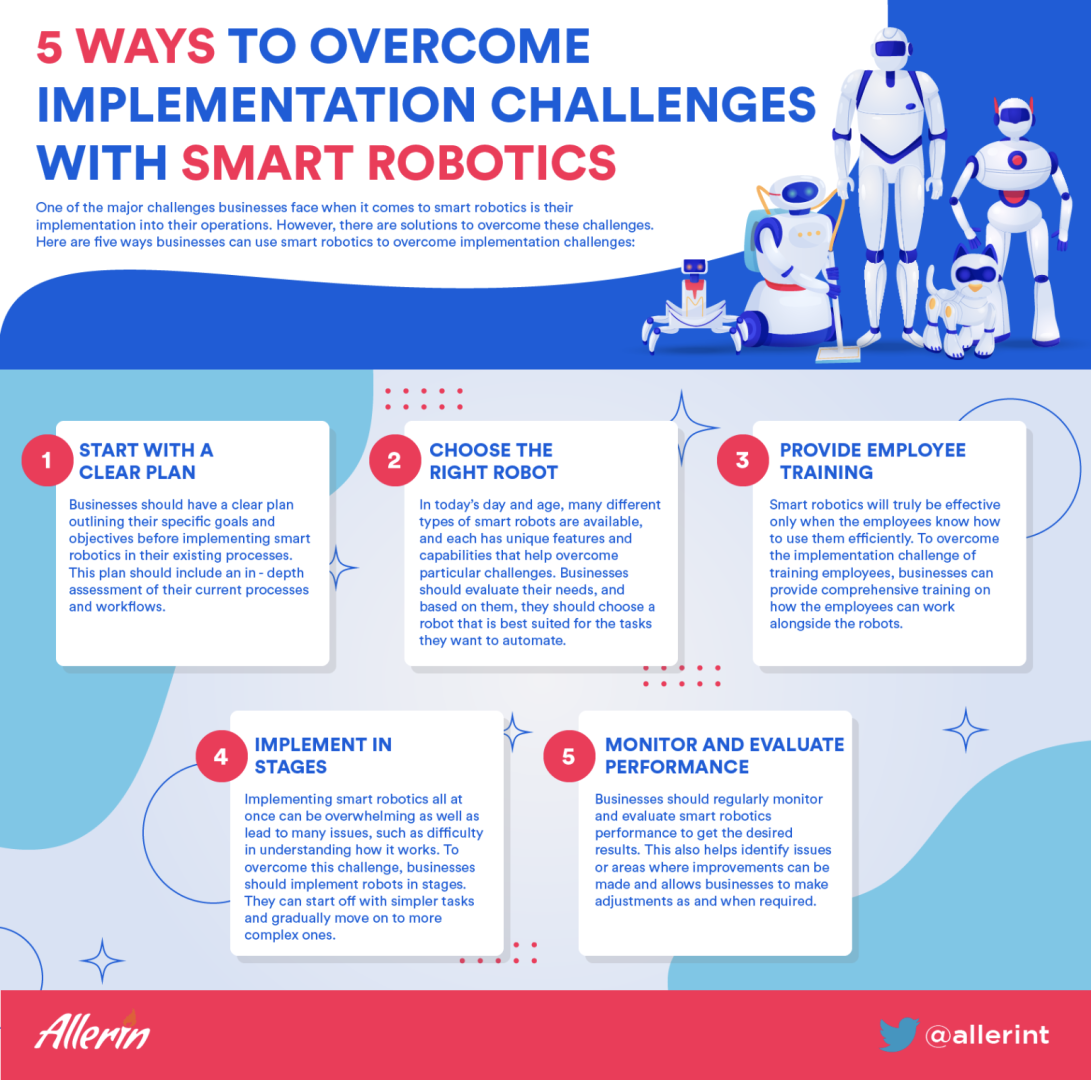 Here are five ways businesses can use smart robotics to overcome implementation challenges:
1. Start with a Clean Plan
Businesses should have a clear plan outlining their specific goals and objectives before implementing smart robotics in their existing processes. This plan should include an in-depth assessment of their current processes and workflows and a roadmap for how and why they want to integrate robotics into these processes.
2. Choose the Right Robot for the Job
In today's day and age, many different types of smart robots are available, and each has unique features and capabilities that help overcome particular challenges. Businesses should evaluate their needs, and based on them, they should choose a robot that is best suited for the tasks they want to automate.
3. Provide Employees Some Training
Smart robotics will truly be effective only when the employees know how to use them efficiently. To overcome the implementation challenge of training employees, businesses can provide comprehensive training on how the employees can work alongside the robots. The training should also include how to troubleshoot any issues that may arise when using the robot.
4. Implement in Stages
Implementing smart robotics all at once can be overwhelming as well as lead to many issues, such as difficulty in understanding how it works. To overcome this challenge, businesses should implement robots in stages. They can start off with simpler tasks and gradually move on to more complex ones.
5. Monitor and Evaluate Performance
Businesses should regularly monitor and evaluate smart robotics performance to get the desired results. This also helps identify issues or areas where improvements can be made and allows businesses to make adjustments as and when required.
Wrap Up
To conclude, smart robotics for businesses has proven to be a beneficial tool across industries. But to reap the benefits, it is important that businesses properly plan, train and evaluate issues to overcome any associated implementation challenges.