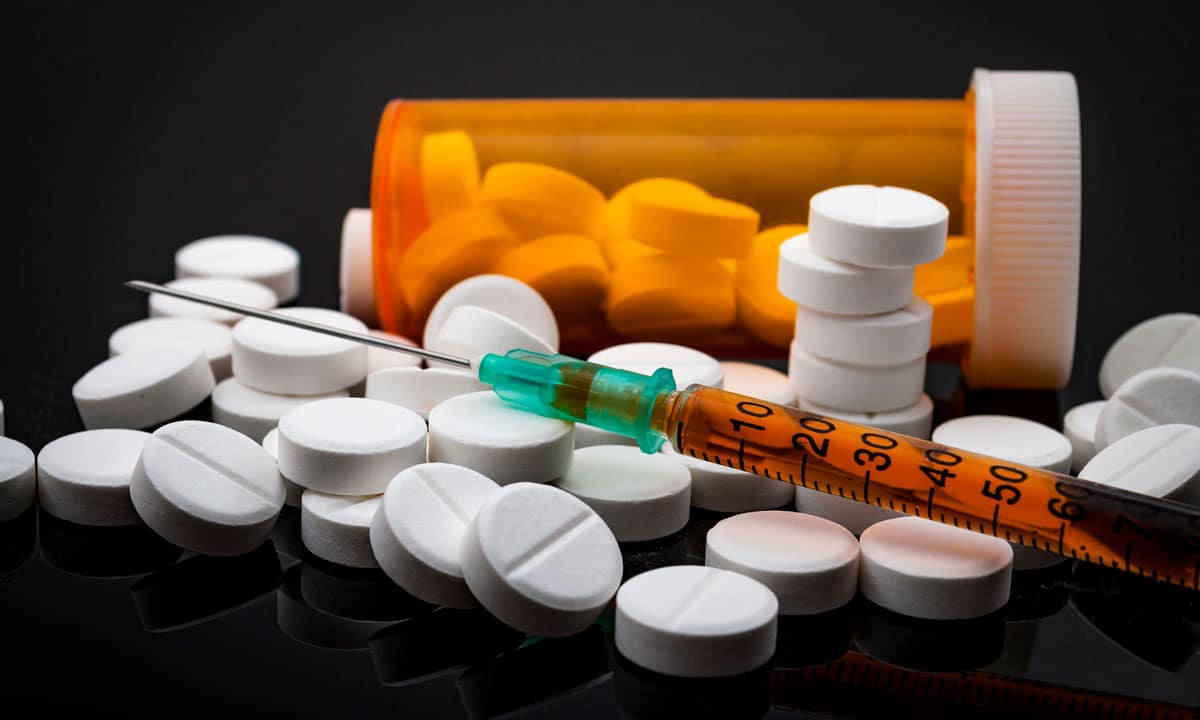 For those who began abusing opioids in the 1960s, more than 80 percent started with heroin. Yet for those who began abusing opioids in the 2000's, 75 percent reported that their first opioid was a prescription drug. (1)
Drug overdose is the leading cause of accidental death in the US, with 52,404 lethal drug overdoses in 2015. Opioid addiction is driving this epidemic, with 20,101 overdose deaths related to prescription pain relievers, and 12,990 overdose deaths related to heroin in 2015.(2)
Overdose deaths involving prescription opioids were five times higher in 2016 than 1999, (3) and sales of these prescription drugs have quadrupled.(4)
One growing cause of this epidemic rests in the over-prescription of opioid pain medications. According to the CDC, prescriptions for opioid painkillers quadrupled in the United States between 1999 and 2014.

If we look back 150 years ago, we had a similar abuse crisis with laudanum and morphine - two opiates that became massively abused after the Civil War.
The epidemic came to a slow end with the passage of the Food and Drug Act in 1906, as well as the Harrison Act of 1914, regulating opiates and coca products.
In other words, it took tough and bold action...and time. And recently, I learned about a bold promise and goal set by one of America's top health systems Intermountain Healthcare.
As it happens, Utah is fourth in the nation for drug overdose deaths (2012–2014) and has experienced a 400 percent increase in prescription opioid-related deaths, as reported on the Intermountain's link above.
In light of this growing epidemic, Intermountain has stepped up to take a strong stance - committing that by the end of 2018 - they will be reducing by 40% the amount of opioids prescribed per acute situation.
So I reached out and brought their leadership onto the RED HOT HEALTHCARE show to interview - and they did not disappoint. Refreshingly transparent and a bold strategy integrating in-patient, outpatient, and community tactics to drive education, behavior change, and measured follow-through.



In this podcast episode, you will hear host Dr. Steve Ambrose, speak with Intermountain Healthcare's Dr. David Hasleton, Associate Chief Medical Officer and SVP of Community Health, Mikelle Moore.
The engaging content revolves topics that include these and many others:
The staggering statistics of opioid abuse
The mechanisms of addiction...and the symptoms to know addiction
Dropping acute prescription + community health innovation & solutions
The impact of culture and hospital payment structure toward cause
County lawsuits arising across the country against Big Pharma
Views on medical cannabis as a viable alternative for stopping abuse
Here's a small snippet of transcription from the show interview --- (Click THIS LINK to hear the complete, riveting audio interview):
DR. STEVE: "Recently, news has come out suggesting that deaths from opioid overdoses may be the BIGGEST factor driving a decline is U.S. life expectancy. Bob Anderson, from the CDC, stating the following:
"We could have two years of declining life expectancy in a row...which we haven't had since the influenza pandemic of 1918"
I was reeling when I read that. Mikelle, you head up population health at Intermountain Healthcare. Apart from the changing of prescribing levels and the teaching of physicians, what types of tactics and strategies are you using in your communities to help combat opioid addiction?"
MIKELLE MOORE: "Those data points that Bob Anderson mentioned are really disturbing; and its's one of the reasons that Intermountain decided to focus on this, not just inside our facilities, but in our communities.
As we spoke to those within our community to help determine the most pressing needs and how we could coordinate with them, we saw a lot of opportunity related to opioid misuse.
We are integrating mental health screening for substance use into all of our primary care settings, including pediatric providers - starting at age 13. We also are embedding medication assisted treatment into all of our primary care settings.
We've had a 16-month demonstration project in our community. Part of that work is to our government colleagues in the Medicaid program, as well as our primary care providers within Intermountain. And we've had remarkable results.
There's been about 52% retention in the program, compared to 13% in treatment-as-usual (therapy without medication). With those in medication assisted treatment, we have about 91% abstinence from opioids at the 16-month mark."
DR. STEVE: "That's incredible.
David, I'd like to throw this question at you. I know that Kaiser lowered its opioid prescribing, through its own initiative. So I wanted to ask...
From the perspective of an integrated healthcare system vs. a non-integrated system, of which most health systems are, do you think that it makes a big difference to get the kind of effort and results that you're having with opioids?
DR. DAVID HASLETON: "That's a really good question, and I think with an integrated system, it's really a question of how fast the ship can be turned - so to speak.
It's also possible with those who are affiliated with a system to do it - but it may take longer, as their goals and incentives may not be as easily aligned. At Intermountain, we are fairly integrated so it is easier for us. But we also have affiliated providers, who are working lock step with us. Over the years, we've developed incentives for them too.
DR. STEVE: "Mikelle, did you want to add something?"
MIKELLE: "Well within our system it has been fairly easily. Our pharmacies all dispense Naloxone without a prescription - and offer secure medication drop boxes. This gives our community places to go to dispose of medications when they're finished.
SelectHealth, which is our insurance arm, educates membership on safe storage and disposal of opioids - and only covers 7 days of medication for acute conditions. So we have great reinforcement from what we're trying to create as a health system.
And then beyond the health system, we are funding the public awareness campaign in our state, trying to perceive how the public perceives the dangers and risks of opioids. All of our public awareness campaign development we're sharing with the public health departments, the counties and prevention coalitions.
We're giving funding to community pharmacies that Intermountain DOESN'T own, to establish drop boxes. Plus, we're sending out our pharmacists into rural communities to educate them as first-responders and to distribute Naloxone. So we're looking to bring our resources not just into and through our health system, but to coordinate positive relationships with other entities for this epidemic."
Listen to THIS FULL ENGAGING ENTIRE INTERVIEW HERE...or by finding Red Hot Healthcare podcast (episode #54) on ITunes, Google Play, or other podcast applications.
----------------------------------------------------
(1) Drugabuse.gov. (2018). Prescription opioid use is a risk factor for heroin use. [online] Available at: https://www.drugabuse.gov/publications/research-reports/relationship-between-prescription-drug-heroin-abuse/prescription-opioid-use-risk-factor-heroin-use
(2) Rudd, R., Seth, P., David, F. and Scholl, L. (2016). Increases in Drug and Opioid-Involved Overdose Deaths — United States, 2010–2015. MMWR. Morbidity and Mortality Weekly Report, 65(5051), pp.1445-1452.
(3) Hedegaard H, Warner M, Miniño AM. Drug overdose deaths in the United States, 1999–2016. NCHS Data Brief, no 294. Hyattsville, MD: National Center for Health Statistics. 2017/ CDC. Wide-ranging online data for epidemiologic research (WONDER). Atlanta, GA: CDC, National Center for Health Statistics; 2016.
(4) Ossiander EM. Using textual cause-of-death data to study drug poisoning Ossiander EM Am J Epidemiol. 2014 Apr 1;179(7):884-94. doi: 10.1093/aje/kwt333. Epub 2014 Feb 1112.)