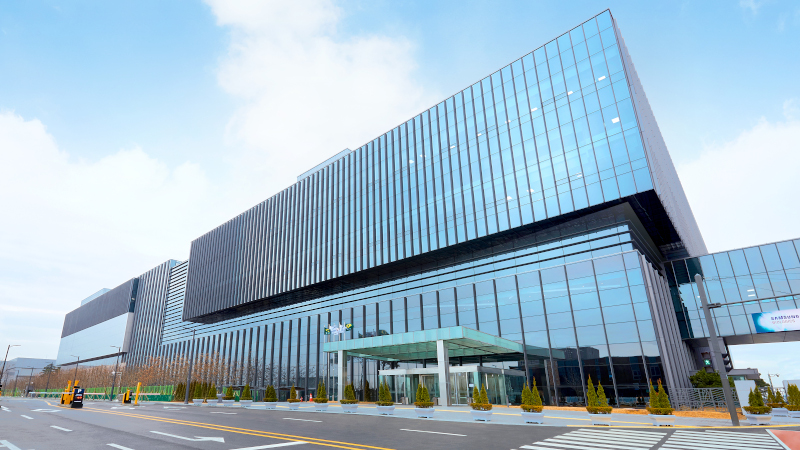 Samsung Biologics has added to its industry-leading capacity with the commencement of partial operations at its fourth manufacturing plant in Songdo, South Korea.
The contract development and manufacturing organization (CDMO) launched the facility just 23 months after breaking ground in November 2020, continuing its practice of building good manufacturing practice (GMP) facilities at an unprecedented rate. Currently able to handle 60,000 liters of capacity, Plant 4 is expected to provide 240,000 liters when it becomes fully operational in early 2023, making it the largest biomanufacturing facility in the world.
"At the Plant 4 groundbreaking ceremony in late 2020, we committed to have the plant up and running by October this year. I am very proud to have delivered on that promise, and confident that this will further solidify our position as a global leading CDMO," said John Rim, president and CEO of Samsung Biologics. "As a trusted partner, we will continue investing domestically and globally to support our clients worldwide and provide expanded services."
When full operations at Plant 4 begin in 2023, Samsung Biologics will have a total of 604,000 liters of capacity at its Bio Campus I in Songdo, making it the largest single biomanufacturing site in the world and accounting for over a quarter of global contract biomanufacturing capacity. In addition, the CDMO recently purchased 357,366 square meters (about 88.3 acres) of land for the construction of its second Bio Campus, which will be 30% larger than Bio Campus I and will house large-scale manufacturing capacity and an Open Innovation Center.
Expanding CDMO Capacity
For Rim, Plant 4 is another example of what has distinguished Samsung Biologics as a CDMO since its founding in 2011: namely, the ability to build facilities quickly and efficiently. He attributes this ability to the backing of the Samsung Group, explaining that the company has a history of supporting rapid growth across its businesses and a track record of building multibillion-dollar semiconductor facilities.
"There's no company in the world that can build facilities faster than Samsung and that really comes down to the Samsung DNA," said Rim in a recent interview. "Having that track record, having that experience, enables us to do simultaneous construction. In record time, [we do] engineering, procurement, construction, validation … facility ramp-up to GMP, probably 40% faster than all our competition. So that's been spectacular," he continued. "We are now on Plant 4 within 10 years, and I would say there's no one in the world who's done that, and no one who has the biologic capability of building those facilities that quickly."
Plant 4 follows the CDMO's construction of three plants within its first seven years of operation. In addition to Plant 4, it operates facilities with 30,000 liters, 154,000 liters, and 180,000 liters of capacity, focusing on the production of monoclonal antibodies.
The commencement of partial operations at Plant 4 utilizes six 10,000-liter bioreactors for GMP production of recombinant proteins for contracts secured in advance of the plant's launch.
Samsung Biologics' Multidimensional Growth Plan
In a 2022 letter to shareholders, Rim outlined a multidimensional growth plan for the CDMO, which is based on three pillars: continuing to build manufacturing capacity, diversifying its portfolio, and expanding its global footprint.
The construction of Plant 4 is in line with the first of these pillars, but Samsung Biologics has also been actively pursuing the other two.
In terms of portfolio diversification, the CDMO has focused on mRNA vaccine production and biosimilars. After providing fill/finish services for Moderna's COVID-19 mRNA vaccine in 2021, it developed its own end-to-end mRNA vaccine production suite in 2022. The suite launched with a project to produce COVID-19 vaccine candidates for GreenLight Biosciences, which completed its first commercial-scale run in July.
"We are delighted to partner with GreenLight to leverage our expertise in manufacturing a messenger RNA COVID-19 vaccine candidate to better serve patients in lower income countries," said Rim in a statement on the partnership. "This collaboration demonstrates a major milestone for Samsung Biologics as we will commence our expanded capabilities and operations to provide one-stop end-to-end messenger RNA production from drug substance to aseptic fill/finish to commercial release, all from a single site. At this time of urgent global demand, we will strive for seamless service across our biomanufacturing network to fight the COVID pandemic and in turn, help make progress toward Korea's vaccine hub goal."
The CDMO is also investing in biosimilars, medicines that are developed to replicate the effects of reference biologics. In April, Samsung Biologics completed a full acquisition of Samsung Bioepis, a biosimilars company that had been operated as a joint venture with Biogen. The second quarter of 2022 marked the first consolidated earnings report for Samsung Biologics and Samsung Bioepis and demonstrated the growth potential for the biosimilars industry. Samsung Biologics' total revenue exceeded 1 trillion KRW (approximately $767 million), while Samsung Bioepis earned 232.8 billion KRW for 24.2% year-over-year growth and increased its operating profit to 58.5 Billion KRW for 95.7% year-over-year growth.
"Health authorities across the globe are recognizing biosimilars as a cost-effective solution that will bring medical products to larger populations and also enable better government spending," said Rim.
What's Next for Samsung Biologics?
Samsung Biologics doesn't show signs of slowing down its expansion following the completion of Plant 4, as demand for CDMO services has continued to increase in recent years and has accelerated since the onset of the pandemic.
In addition to plans to construct several facilities at the new Bio Campus II, Samsung Biologics has not ruled out an expansion into the U.S. and Europe. It established a CDO R&D Center in San Francisco in 2020 to better serve clients in and around the U.S. and could pursue further expansion in the future, according to Rim.
"We do look at expansion opportunities, and we have looked at both purchasing, as well as greenfield construction. Samsung has two large semiconductor facilities in Texas; they also have a huge appliance facility in South Carolina. So it's not that we don't have facilities in the United States. We do, but [for Biologics] it's trying to figure out what's the right timing."