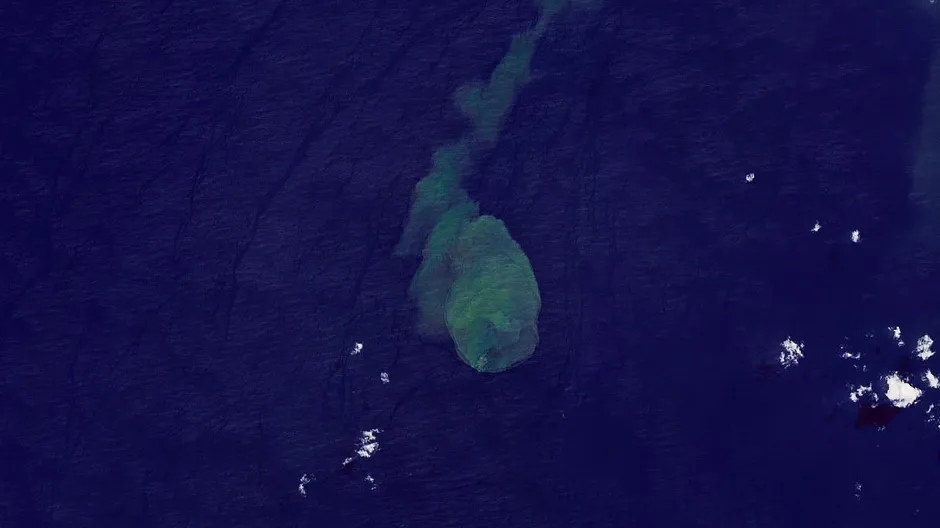 NASA has released satellite images of the Kavachi volcano erupting.
Located south of Vangunu Island in the Solomon Islands, it is named after a sea god of the New Georgia Group islanders.
There have been at least 11 significant eruptions since the late 1970s, and two – in 1976 and 1991 – were so powerful they created new islands.
However, these islands were not large enough to resist being eroded and ultimately became submerged.
Recent satellite images show a plume of discoloured water being emitted from Kavachi.
The Kavachi volcano in the Solomon Islands is one of the most active submarine volcanoes in the Pacific, NASA said.
Lava released by Kavachi tends to be basaltic (rich in iron and magnesium) to andesitic (with higher levels of silica) in content.
The volcano is about 24 kilometers south of an island called Vangunu. The summit of the volcano is currently estimated to lie 65 feet below sea level. Its base lies on the seafloor at the depth of 1.2 kilometres.
Kavachi was dubbed "Sharkano" after a 2015 expedition to the site revealed that the crater was an unlikely home to two species of shark, suggesting that large marine animals are able to exist in an extreme environment, tolerating hot and acidic water.
The volcano erupts almost continuously, according to NASA, and steam and ash are often visible. The nearby island is named for a sea god of the Gatokae and Vangunu peoples, and it's sometimes also referred to as Rejo te Kvachi, or "Kavachi's Oven."
The volcano entered an eruptive phase in October 2021, according to the Smithsonian Global Volcanism Program, and the new satellite data suggests activity on several days in April and May 2022.
According to the NASA scientists, sharks must have mutated to survive in the hot and acidic environment.