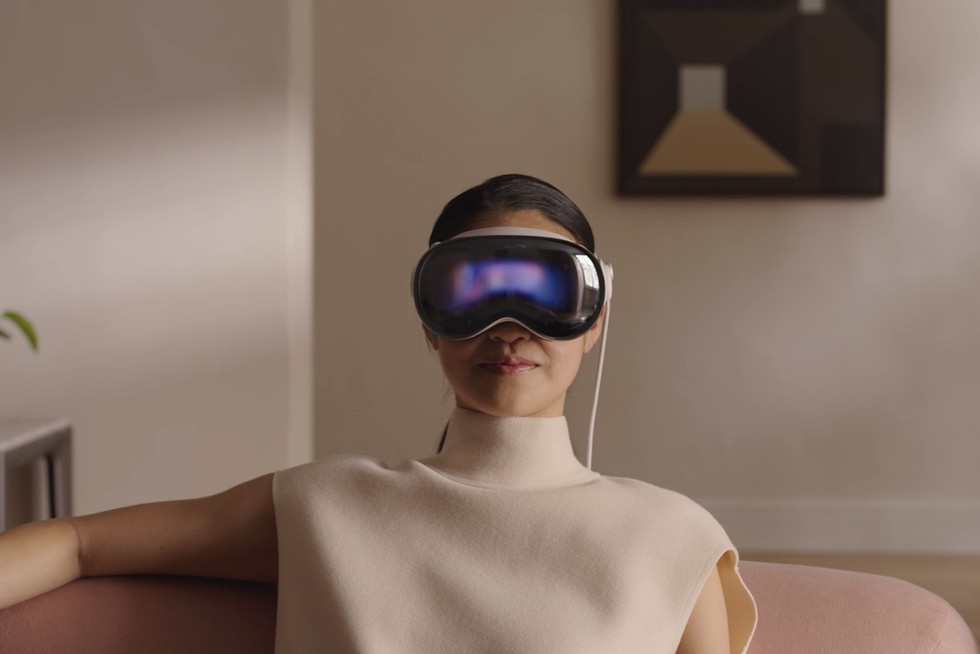 Apple's Vision Pro represents a significant leap forward in mixed reality technologies, offering a panoramic view of our environment captured by twelve cameras.
It's a significant technological advancement in mixed reality technologies, uses twelve cameras to capture a 360-degree panoramic view of our environment, enabling the creation, storage, and revisitation of detailed, immersive experiences. This shifts our conventional understanding of memory by offering 'perfect recall' unbounded by human cognitive limitations. As Vision Pro creates an extensively comprehensive record of our reality, it might override our personal memories with an objectively constructed yet seemingly more 'real' memory, as described in Jean Baudrillard's theory of simulacra. Moreover, Vision Pro enables 'experiential memories,' forming new memories from realities we didn't directly experience. However, the creation of such a comprehensive digital perspective raises ethical concerns about commodifying memory, delegitimizing personal experiences, and jeopardizing privacy and personal autonomy. Balancing the potential of our technological future while preserving our human identity thus becomes critical as we integrate mixed reality technologies into our lives.
The concept of memory, intricately woven with our experiences, emotions, and cognitive biases, has traditionally been the cornerstone of our identity. However, given the malleable nature of memories, their preservation and interpretation have always been subject to distortion. Now, at the cusp of a technological transformation, our conventional understanding of memory is undergoing a radical transformation, catalyzed by innovations in mixed reality technologies.
One such example is Apple's Vision Pro. It fundamentally alters the way we capture, store, and revisit experiences. Equipped with twelve cameras, Vision Pro encapsulates a 360-degree panoramic view of our environment, thus creating an extensively comprehensive and ostensibly objective record of our reality, frequently surpassing the subjective scope of our personal abilities.
Technically, this immersive reality recording manifests as a significant advance in the realms of imaging and computing technology. The colossal requirements of data storage and processing, coupled with intricate machine learning algorithms for image recognition, transcend this technology beyond being a mere facilitator of photographic memory. And Apple's recent launch, in most likelihood, has only revealed a fraction of the technologic prowls of Vision Pro and the Apple's website teases this concept.
Vision Pro is Apple's first 3D camera. You can capture magical spatial photos and spatial videos in 3D, then relive those cherished moments like never before with immersive Spatial Audio. Your existing library of photos and videos looks incredible at remarkable scale. And panoramas wrap around you — making you feel like you're standing right where you took them.
However, the fascination doesn't cease at the technical level. When we traverse into the philosophical domain, we encounter profound questions. With 'perfect recall' no longer tethered by human cognitive limitations and biases, what is the fate of our shared human experience? Do our inherently subjective and personal memories lose their value amidst the perfection of flawlessly recreated past events?
Jean Baudrillard's theory of simulacra elucidates this conundrum. Baudrillard posits that in contemporary society, the simulation often ascends in importance, overshadowing the original. Consequently, the 'simulacra', or the augmented reality crafted by Vision Pro, might surpass our personal memories, replacing them with an objectively constructed yet seemingly more 'real' memory.
A central theme in this paradigm shift is the emergence of 'pseudo-experiential memories' — the formation of new memories based on realities we didn't directly experience. Mixed reality technologies, such as Vision Pro, expand our memory template, permitting the construction of new memories anchored in these second-hand experiences.
The 'comprehensive digital perspective' potentially generated by Vision Pro captures a reality that places the user at its very core. This core, which can be seen as a unique temporal and spatial digital fingerprint, provides a template for recreation — either immediate or far into the future. This recreation sets up an experiential reality that can be revisited and reinterpreted from a new perspective at any point in time. Consequently, our perception of time and reality may undergo a substantial transformation, with the past morphing into a flexible entity, open to revisitation, reinterpretation, and re-experience.
This new reality does not come without its challenges. The pursuit of a perfect memory raises pertinent ethical concerns. Are we at risk of commodifying memory and delegitimizing personal, subjective experiences? How can we ensure privacy and personal autonomy when every moment is potentially recordable and replayable?
As we journey into the integration of mixed reality technologies in our lives, we must acknowledge and grapple with these far-reaching social, ethical, and philosophical implications. We are in the process of fundamentally reshaping human experience, not merely creating new tools. Therefore, the task ahead is to strike a balance: harnessing the potential of our technological future while preserving the essence of our human identity.