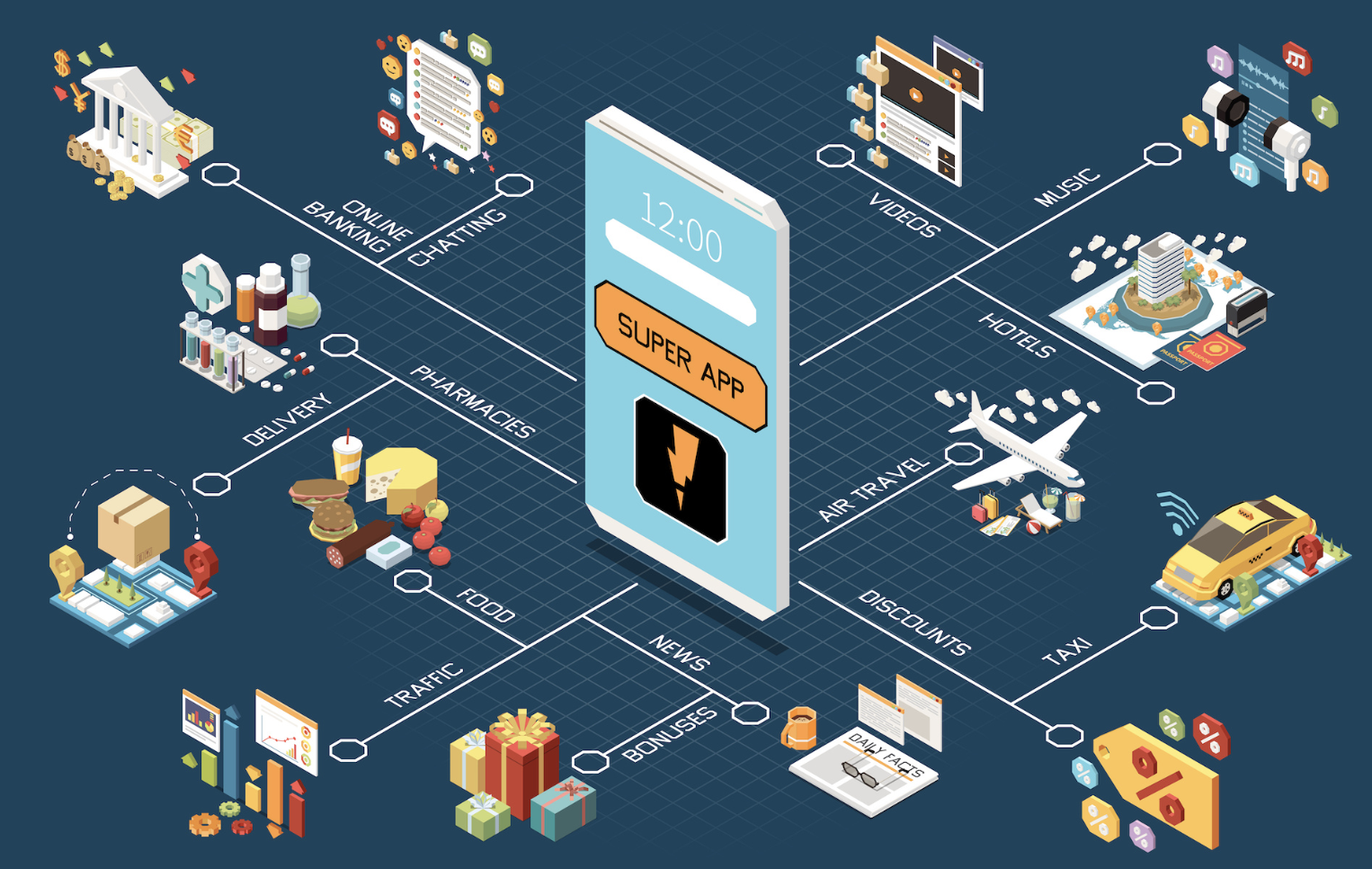 Super apps are a revolutionary strategy for attracting more customers.
Moreover, its ability to combine numerous services into a single app makes it unique. In this article, we unravel a few use cases of super apps to understand their applications better.
As using apps has become established in consumers' daily routines, many customers are now at ease performing an expanding range of activities online on their smartphones. In essence, a super app is a portal to numerous services simultaneously. Imagine being able to reserve dinner reservations, hotel accommodations and flights all through a single app. Super apps make it possible and can do it all in addition to more. As the name implies, super apps give users a satisfying experience without requiring them to switch between multiple apps. The use cases of super apps prove that these apps are practical, intelligent and time-saving and can go above and beyond your expectations of convenience.
3 Use Cases of Super Apps
Super apps help brands and businesses provide the ultimate convenience to their users. Here are three use cases of super apps.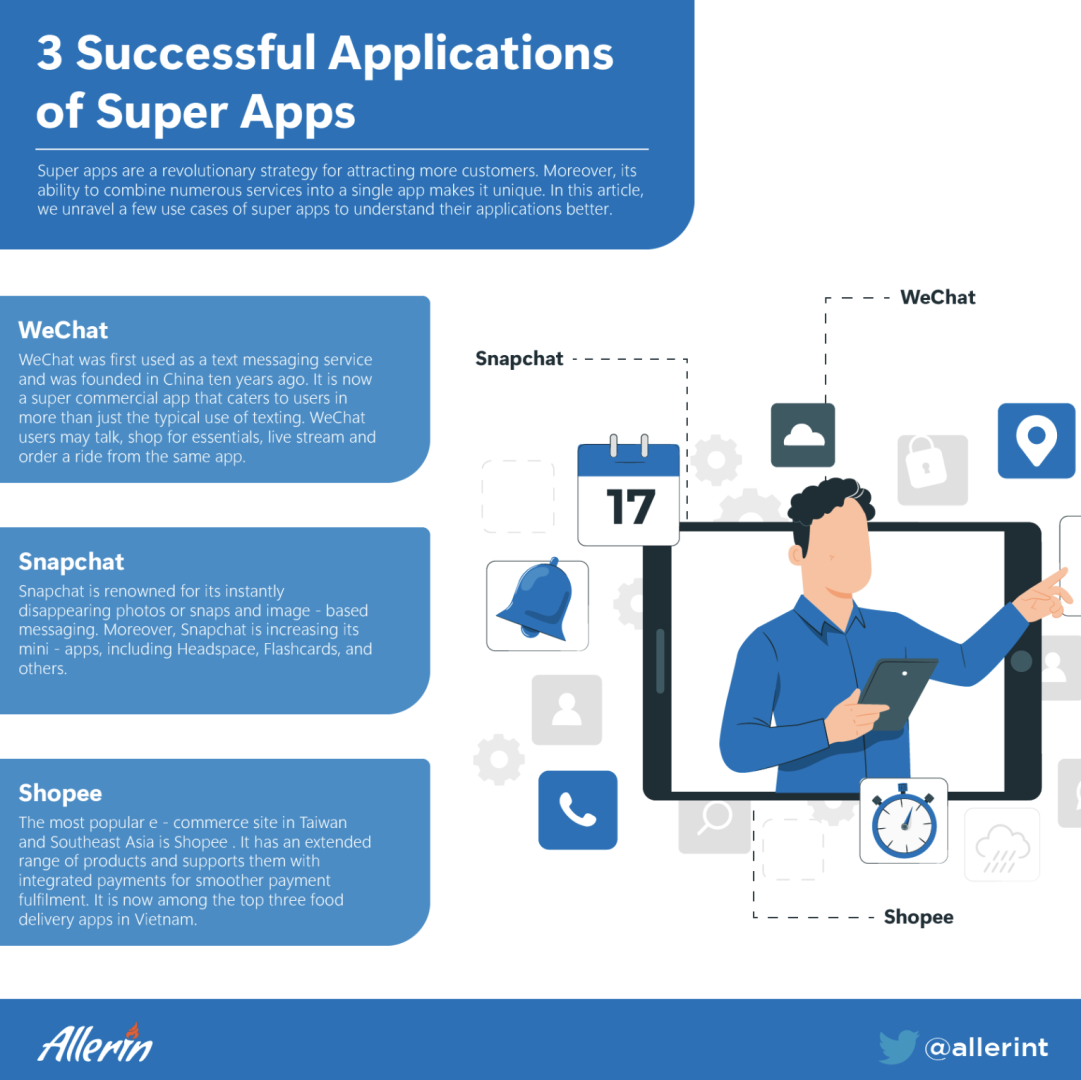 WeChat
WeChat was first used as a text messaging service and was founded in China ten years ago. However, WeChat back then, being simply a messaging app, had to transform and modify its services to stay relevant in the market. Today, WeChat is home to dozens of small services. It is now a super commercial app that caters to users in more than just the typical use of texting. WeChat users may talk, shop for essentials, live stream and order a ride from the same app. In addition, users may anticipate its growth to online meetings, TV broadcasting and more in the coming years.
Snapchat
Snapchat is renowned for its instantly disappearing photos or snaps and image-based messaging. With mainly young people being the prime users of Snapchat, this app aims at becoming one of the first western super apps. Moreover, Snapchat is increasing its mini-apps, including Headspace, Flashcards, and others. Users can anticipate a spike in Snapchat mini-services soon. This may include online stores where Snapchat users purchase mobile top-ups, concert tickets, clothing, etc. Therefore, large companies are undoubtedly intrigued and are carefully evaluating Snapchat's effectiveness.
Shopee
The most popular e-commerce site in Taiwan and Southeast Asia is Shopee. It has an extended range of products and supports them with integrated payments for smoother payment fulfilment. To become a super app, Shopee's parent company, Sea, acquired a significant meal delivery service and changed its name to Shopeefood in 2017. It is now among the top three food delivery apps in Vietnam. Moreover, users can expect Shopee's expansion into e-wallet services via ShopeePay. This will enable users to no longer switch to other e-wallet apps in order to transfer money or pay for Shopee purchases. Due to this, Shopee is one of Southeast Asia's top super app use cases.
Business sectors have undergone tremendous modernization in this digital era. As we have seen with the successful use cases of super apps, businesses need to adopt the current trend of launching their endeavour digitally through platforms to stay relevant and ahead of the competition.