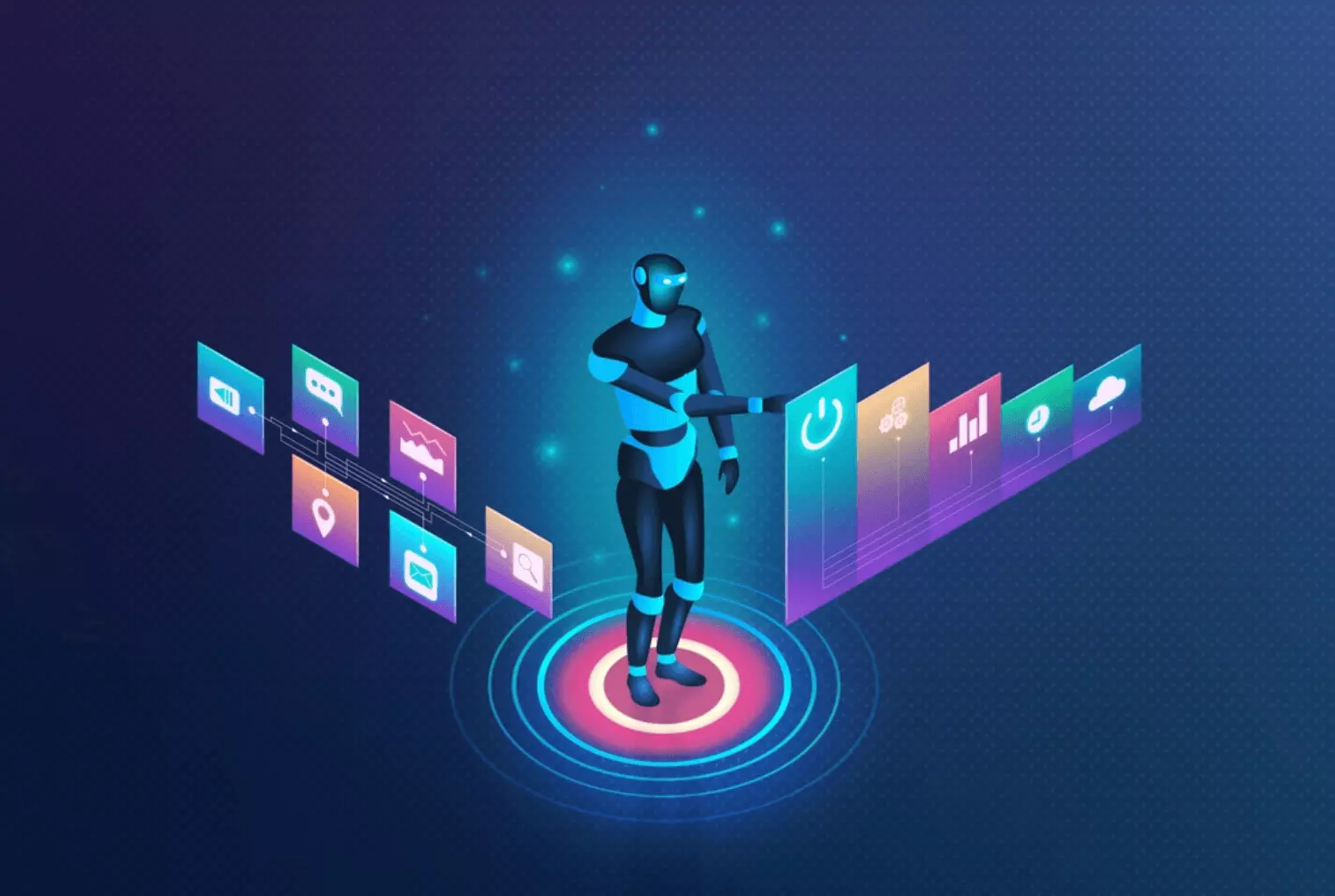 Hyperautomation integrates several process automation aspects, incorporating tools and technology that boost the capacity for job automation.
Read on to learn more about the various hyperautomation technologies used to boost business operations.
The idea of hyperautomation is to automate everything within an enterprise that is automatable and engage everyone in an organization to be a part of this transition. To maximize the scope of automation, hyperautomation brings together a variety of intelligent automation systems, tools, and technologies. Hyperautomation is exemplified by techniques like artificial intelligence (AI), machine learning, robotic process automation (RPA), and other forms of decision, process, and task automation.
Organizations can embed digital technology into their business processes and legal frameworks by using hyperautomation. Businesses can enhance employee capabilities, reduce operational costs and errors, reduce manual labor and increase productivity by implementing hyperautomation technologies in their daily operations. Hyperautomation depends greatly on the synthesis and integration of various technological resources.
Hyperautomation Technologies Used By Businesses
Let's examine some of the most efficient hyperautomation tools and systems driving this new paradigm shift in corporate operations.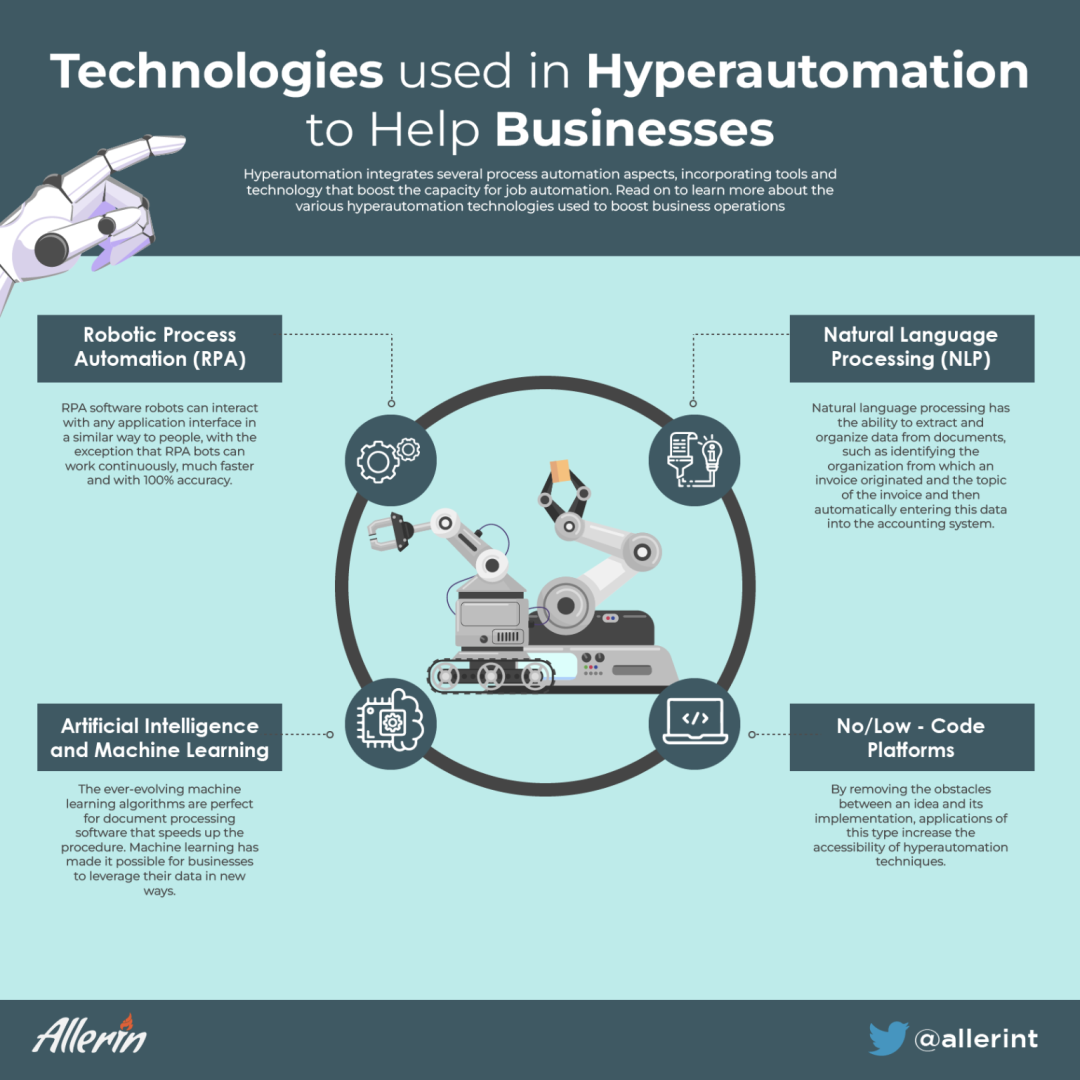 1. Robotic Process Automation (RPA)
A very diligent rule-follower, robotic process automation (RPA) is a tool that will carry out any instructions you provide. It enables users to make use of software "bots" that can comprehend, copy and then carry out business activities. RPA software robots can interact with any application interface in a similar way to people, with the exception that RPA bots can work continuously, much faster and with 100% accuracy. In addition to copying and pasting, bots can also conduct computations, access and transfer files, analyze emails, log into programs, connect to APIs and extract sophisticated data. Therefore, by hyperautomating document and process management, robotic process automation can contribute immensely to any business.
2. Natural Language Processing (NLP)
Natural language processing has the ability to extract and organize data from documents, such as identifying the organization from which an invoice originated and the topic of the invoice and then automatically entering this data into the accounting system. Text analytics is used to separate sentences into their constituent parts, such as sentiment analysis, text categorization and named entity identification. Then, using NLP to analyze the text and further categorize the message being transmitted, these components are decrypted. Organizations can use NLP to their advantage for intelligent document comprehension and analysis.
3. Artificial Intelligence and Machine Learning
AI is essential for obtaining levels of automation that are impossible for humans to reach. By extending automation's powers and purposes, hyperautomation advances with the help of AI. The outcomes are more precise, quick and effective. The ever-evolving machine learning algorithms are perfect for document processing software that speeds up the procedure. Machine learning has made it possible for businesses to leverage their data in new ways. Instead of staring at a multitude of disconnected data bits, they can discover insightful information.
4. No/Low-Code Platforms
Without no/low-code platforms, none of these hyperautomation technologies would be practical at a large scale. By removing the obstacles between an idea and its implementation, applications of this type increase the accessibility of hyperautomation techniques.
For instance, creating a self-service appointment maker used to require a team of programmers, a protracted development cycle, and a huge financial commitment. A scheduling tool like this one or a workflow with numerous steps, like payment and account creation, may now be created as easily as a PowerPoint slide, thanks to no/low-code platforms.
CONCLUDING THOUGHTS
Hyperautomation has the potential to change how we use technology in more than just daily tasks. Implementing hyperautomation technologies in corporate processes will no doubt be another step toward success for any organization. Additionally, by making data management simpler, hyperautomation is expected to alter business strategies completely. When data is less cumbersome, businesses may use it in innovative ways, uncover hidden opportunities and gain a competitive edge.