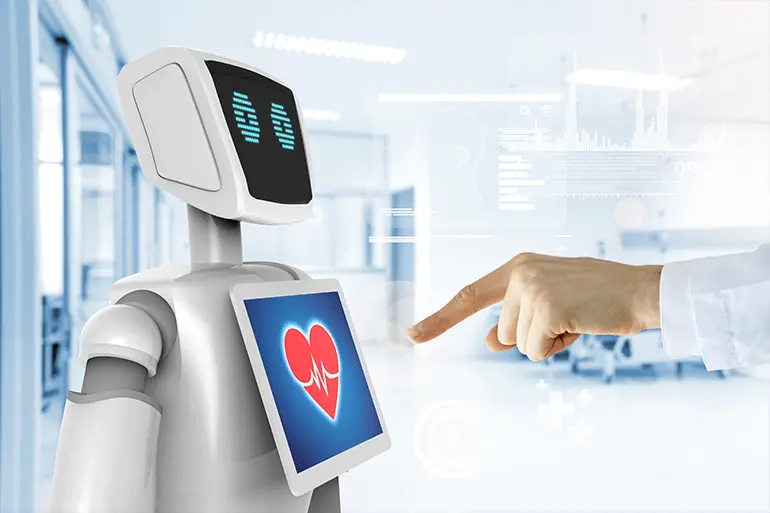 The use of artificial intelligence (AI) in healthcare will not replace doctors, it will rather assist them to perform more effectively.
Healthcare is important for humans as it directly deals with their quality of life. Every healthcare institution focuses on avoiding even the slightest of errors. Any mistake with helathcare can lead to death or make a person medically unfit. According to NPR, medical errors are 3rd in the top causes of fatalities among citizens of the US. With such stats, healthcare authorities look to avoid errors that can lead to deaths. Medical errors vary from complicated surgeries to incorrect diagnosis. As these mistakes lead to deaths that are avoidable, the healthcare industry is leveraging technologies such as big data to improve their current status. John McCarthy, the father of AI, relates to this technology as "the science and engineering of making intelligent machines." As AI focuses on making intelligent machines with the assistance of algorithms, it has grown in the last few years. With AI's increasing popularity, robots assisting humans in making sound decisions soon became a reality. Empowering AI in healthcare can assist healthcare institutions to improve treatments and avoid medical errors. Here are four ways AI in which healthcare will enable doctors to operate efficiently: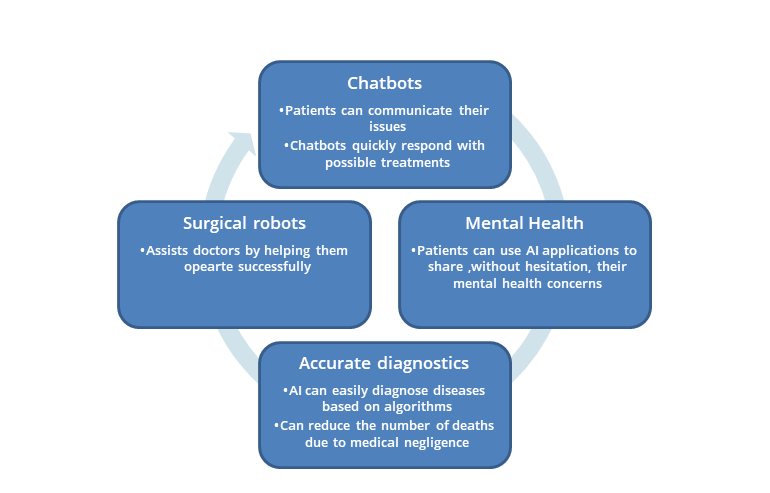 1. AI Chatbots in Healthcare
As the phrase goes, "prevention is better than cure" healthcare focuses on detecting diseases well in time. This detection not only ensures that the disease fails in affecting the patient but also enables healthcare institutions to provide preventive measures at the time of an emergency quickly. AI in healthcare can allow hospitals to inform patients about diseases based on their symptoms. AI chatbots can be used to communicate with a patient; the patient can know what the symptoms are and determine what is wrong and how it can treat. Several AI chatbots assist patients in understanding health issues, some of them are Your.Md and HealthTap that have been most efficient in informing the patient and clearing health concerns.
2. Monitoring Mental Health
Mental health is an aspect of a person's health they often choose not to disclose. However, when a person decides not confide their psychological status, the consequences can be dangerous. With AI, patients get a platform to discuss their emotions and those aspects of life that take a toll on them without the fear of being judged.
3. Better Diagnostics of Diseases
Medical errors range from failure in diagnosis to giving the wrong dosage of medication to a patient. With AI in healthcare, diagnosis of deadly diseases early on, before they get serious, becomes possible. With algorithms that define what the symptoms of a particular disease are, AI machines can quickly scan and display on a monitor about the possible conditions from their symptoms. This quick and precise diagnosis can lead to a downfall in the number of deaths related to medical errors.
4. AI for Successful Surgeries
The development of surgical robots is one of the groundbreaking innovations that enabled doctors to operate precisely on patients. One of the successful operations conducted by AI robots was in Montreal in 2010. With AI in healthcare, doctors can surely have assistance that can precisely inform about the next steps to be taken. AI can assist doctors and surgeons in various aspects of treatment, but the complex surgeries and other emotional factors still rely on human presence. Healthcare authorities should now lookout for how they can leverage this technology.