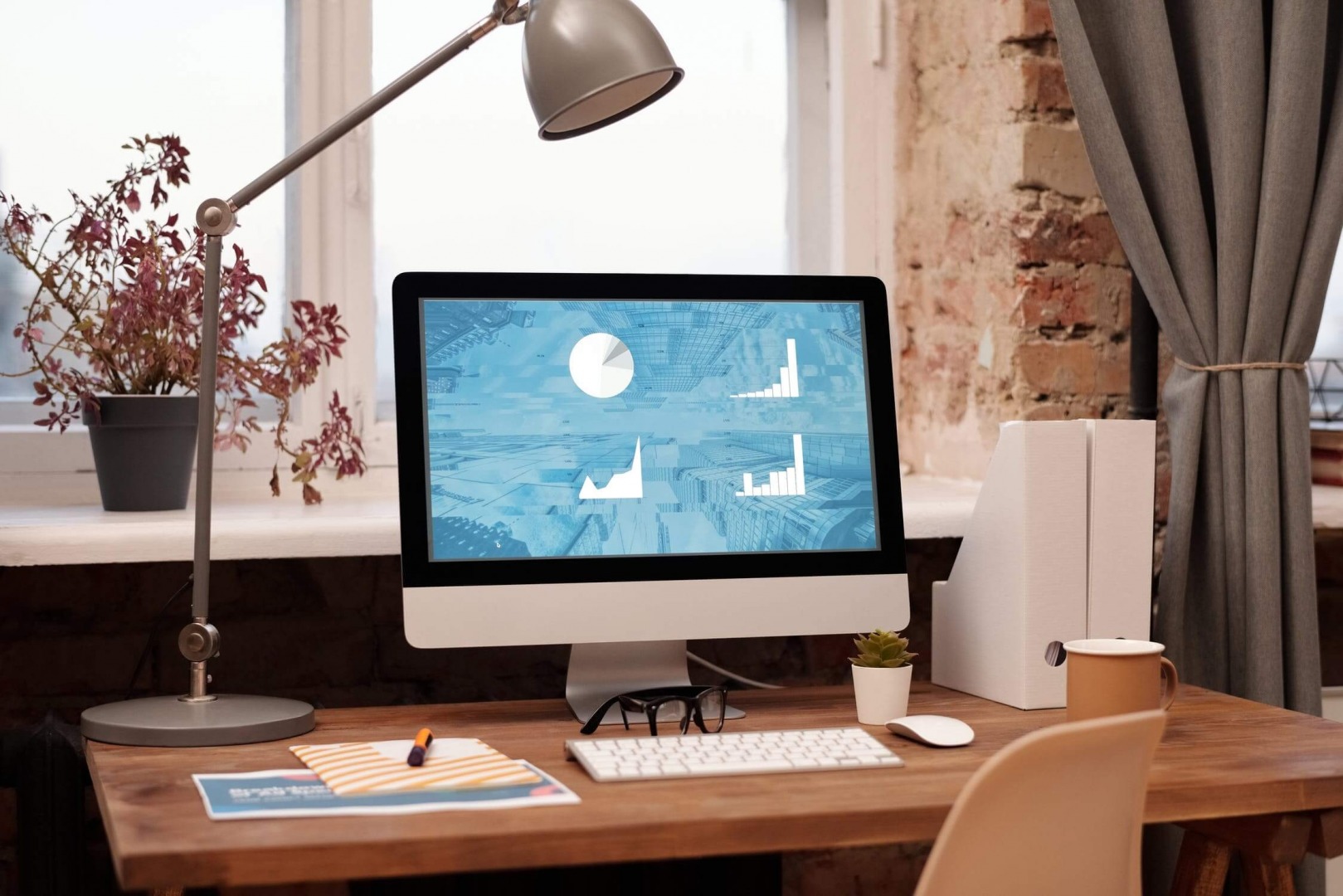 Google Analytics is undoubtedly one of the most popular tools for web analytics.
Yet many webmasters are on the lookout for the best Google Analytics alternatives.
Why is that?
Google Analytics does come with some drawbacks.
For one, Google Analytics uses data sampling. This means that the results you see are based on a certain percentage of your actual data. Because of this, you may see distorted data.
Another major issue is that Google tracks all of your data to use it for advertising. If you are worried about data privacy, this can be a major roadblock.
Thankfully, there are many Google Analytics alternatives available that offer the same functionalities.
Some of these web analytics tools even offer more advanced features.
Want to know which ones?
Check out this list of the best web analytics tools.
In this list, I've tried to list the key features, pricing details, pros, and cons of all the web analytics tools. If you're looking for the best Google Analytics alternatives, you should take your time to understand which one fits your needs the best.
Google Analytics Alternative #1: SEMrush
This all-in-one SEO tool is a popular Google Analytics alternative because of its versatility and rich functionality. They have solutions for content marketing, market analysis, keyword research, and social media marketing.
Key Features
Organic and advertising research
Backlink checker
Traffic analytics
Site audit
Competitor research
Pros
In-depth analytics presented in an easy-to-understand manner
Custom plans based on client requirements
Easy competitor research
Traffic analytics API access (on request)
Cons
Long learning curve
May seem too advanced for beginners
Pricing Plans
Pro Plan: $99.95 per month
Guru Plan: $199.95 per month
Business Plan: $399.95 per month
Free trial available
Pro Tip: Use SEMrush Big Data visualizations to see a domain comparison of your competitors.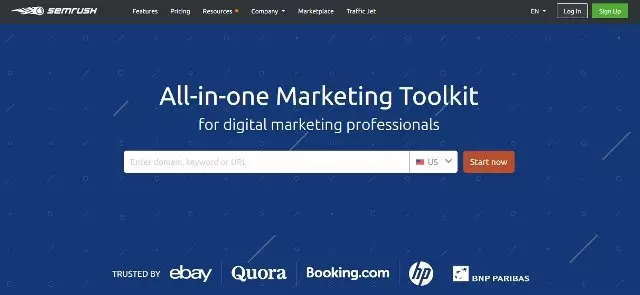 Image via SEMrush
Google Analytics Alternative #2: Finteza
In terms of functionality, Finteza gives tough competition to Google Analytics.
Finteza's advanced features are designed keeping in mind the needs of experienced webmasters, advertising buyers, and traffic managers.
This web analytics tool comes with a Conversion Funnel and an Advertising Engine. They can help you generate more leads, traffic, and boost your conversion rate.
Key Features
Identify bot traffic: Finteza's report on traffic details divides traffic sources into three colors — Green traffic, Yellow traffic, and Red traffic. While green represents real users, red traffic shows spoofers and bots.
Customization for conversion funnels: Finteza allows you to add multiple criteria to customize your funnel. Your events can include actions like button clicking, mouse hovering, or even adding a product to the cart. This feature can help you gain insights that can be used to build powerful funnels.
Automatic funnel creation for similar events: By using the same prefix for events that are related, you can automate your funnel creation process in Finteza. This web analytics tool automatically links all related events together.
Ad optimization with retargeting options: Along with targeting and retargeting ad options, Finteza also offers multi-channel attribution. This means that you can reach out to your audience through multiple mediums.
Bypass ad blockers: Finteza sends all of your shared data through a proxy that is on your own website. Because of this, browsers and plugins won't be able to block your sent data.
Pros
User-friendly
Multiple integrations
Detailed and accurate reports
Reports segmentation
Automatic event-based sales funnel
Cons
May take a while to learn
Pricing Plans
Website and App Analytics: $25 per 100,000 unique visitors per month
Multi-Purpose Advertising Engine: $4 per 100,000 impressions per month
You can get a free demo and a 30-day free trial.
Pro Tip: Leverage Finteza's multi-channel attribution option for retargeting ads.
For more information about this web analytics tool and its features, check out my detailed review of Finteza here.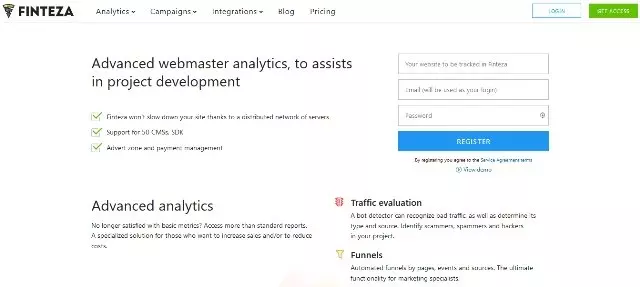 Image via Finteza
Google Analytics Alternative #3: Clicky
If you like simplicity, Clicky's interface is bound to win you over. It's neat and puts the main focus on the data. Using this web analytics tool, you can track and analyze your site traffic in real-time.
Key Features
Heatmaps
Bot detection and blocking
On-site analytics
Uptime monitoring
Pros
Clean interface
Real-time campaign tracking
Detailed reports
Cons
Can face speed issues sometimes
Pricing Plans
Free Plan
Pro Plan: $9.99
Pro Plus Plan: $14.99
Pro Platinum: $19.99
Custom Plan: Varies as per requirements
All new accounts get a 21-day free trial of their Premium Plan
Free demo available
Pro Tip: Use filtering and segmentation options for a more accurate result.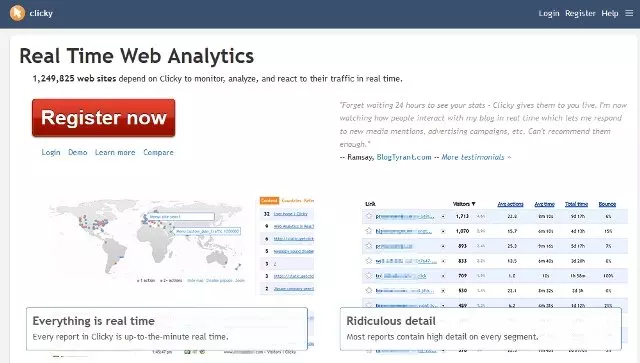 Image via Clicky
Google Analytics Alternative #4: Serpstat
This web analytics tool is designed to take care of all your SEO needs. From keyword research to backlink analysis and competitor analysis, it has features for all of it. Whether you are a pro at SEO or only beginning, this tool has something for everyone.
Key Features
Competitor research
On-page audit
Search and advertising analysis
Market Intelligence
Pros
Multiple functionalities
Budget-Friendly
Easy website audit
Large database of backlinks
Cons
Some tutorials may be outdated
The UX may seem a bit confusing
Pricing Plans
Lite Plan: $69 per month
Standard Plan: $149 per month
Advanced Plan: $299 per month
Enterprise Plan: $499 per month
For a free trial or personal demonstration, you can ask their team.
Pro Tip: Turn email alerts on to get notified if there is a change in your domain or keyword ranking.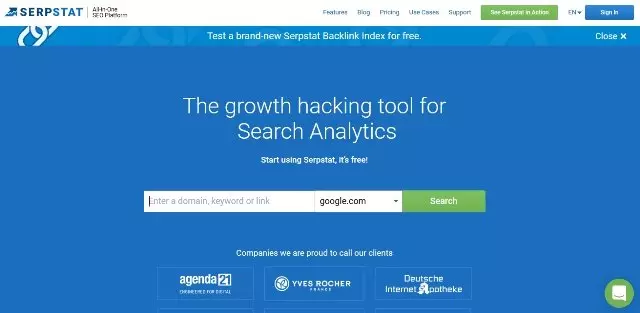 Image via Serpstat
Google Analytics Alternative #5: SERanking
This all-inclusive tool has features for keyword suggestions, backlink analysis, SEO/PPC competitor research, social media management, and more. This web analytics tool can come handy for small business owners, SEO experts, as well as digital marketing agencies.
Key Features
Keyword grouping
Track backlinks and keyword ranks
Website audit
Lead generator
Pros
Affordable
Accurate results for keyword tracking
Detailed reports with options for custom branding
Integrations with popular apps
Cons
Interface can be hard to navigate
Additional fees to get access to certain features
Pricing Plans
Optimum Plan: $39 per month
Plus Plan: $89 per month
Enterprise Plan: $189 per month
Free demo available
14-day free trial available
Pro Tip: Not sure if your canonical tags are set up correctly? Use their deep website audit feature to get more clarity.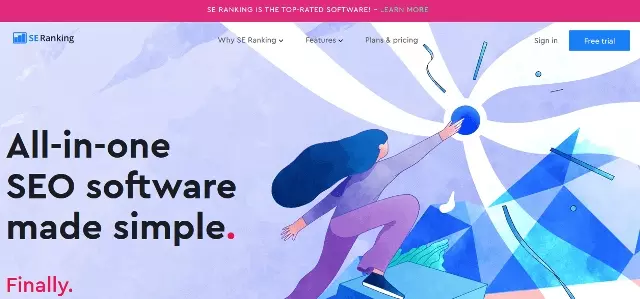 Image via SERanking
Google Analytics Alternative #6: Leadfeeder
Leadfeeder is aimed at small and medium-sized business owners and marketers who want to grow their business.
It's a great web analytics and lead generation software solution. Using this tool, you can find out who visits your site. What's more, you can also get contact information from individuals from an interested company.
Key Features
Identify website visitors
Track visitor movement on your site
Automatic lead scoring
Get contact information of leads
Pros
Easy to use
Frequent email updates
Multiple integrations
Great customer service
Cons
Can show duplicate results
Pricing Plans
Lite Plan: Free
Premium Plan: Starting from $55 per month
14-day free trial available
Pro Tip: Set up the Leadfeeder Booster to make sure more data gets pushed out every day.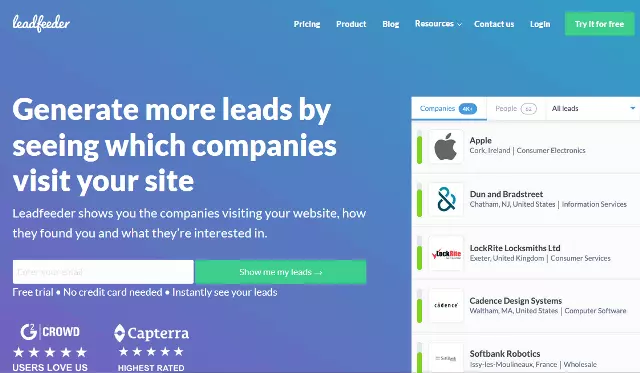 Image via Leadfeeder
Google Analytics Alternative #7: HubSpot
HubSpot offers multiple solutions for sales, marketing, CRM, and CMS. It has features that can help you improve your customer service.
This Google Analytics alternative also comes with a web analytics dashboard that makes it easy for you to track your site's effectiveness. Pick HubSpot over Google Analytics if you are also looking for a marketing automation tool.
Key Features
Traffic and engagement metrics
Marketing automation
Lead generation
SEO recommendations
Contact attribution reporting
Pros
Easy to use
Excellent user support
Multiple integrations
Rich functionality
Cons
Maybe expensive for SMBs
Long learning curve
Pricing Plans
CRM: Free
Marketing Hub: Plans ranging from $35 to $2,240 per month
Sales Hub: Plans ranging from $35 to $840 per month
Service Hub: Plans ranging from $35 to $840 per month
CMS Hub: Plans ranging from $210 to $630 per month
14-day free trial available
Pro Tip: Leverage HubSpot's email sequencing feature to keep prospecting on autopilot.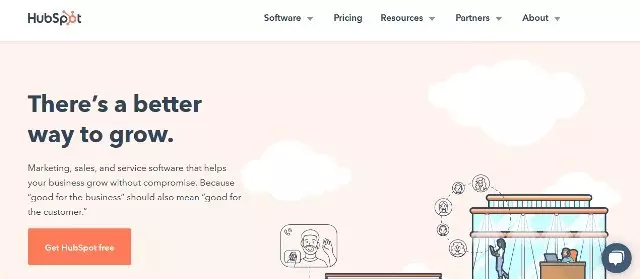 Image via HubSpot
Go Ahead, Take Your Pick
Whether you're looking for more data privacy or want unsampled data, there are a lot of Google Analytics alternatives out there. As you can see, the tools listed above have rich functionalities and can cater to budgets of all sizes.
It's time to look beyond Google Analytics.
What are you waiting for?
Go ahead, take your pick!