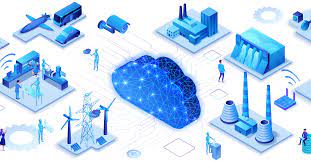 Smart manufacturing relies on technological adaptability, highly skilled workers and computer integrated solutions to monitor the production process.
Modern manufacturers analyze the latest trends in data through smart manufacturing to spot steps in the production process where there is a slow down or inefficient use of materials.
As smart manufacturing becomes more common and more machines become networked via the internet of things (IoT), there are numerous advanced technologies that are helping machines communicate with each other, potentially supporting greater levels of automation.
Indeed, in addition to the internet of things, artificial intelligence (AI), blockchain, edge computing, predictive analytics and digital twins are powering smart manufacturing.
My week has been taken to a new height after getting first hand immersive smart manufacturing experience at Hannover Messe and meeting the best movers and shakers in manufacturing.
Here are some fun facts about IMTS, Hannover Messe and McCormick Place:
There are 120,000 attendees, with 313 exhibitors.

Chicago McCormick Place is the largest conference center in the Americas with four connected buildings.

I packed in 46,000 steps within 3 days and reached my weekly fitness goal.

According to Deloitte. women represent 47% of total labor, only 29% are in manufacturing. I was pleased to meet many bright minds at the Women Make Manufacturing Move event.

IMTS displayed the first 3D printed car in 2014. They had another IMTS car on display. I am not sure if it is 3D printed.
My favorite events and sessions are:
Besides attending Hannover Messe and IMTS this week, I had the pleasure sharing my perspectives with Alicia Nieves at Cheddar News on the following topics.
How is the manufacturing industry benefiting from a digital revolution?

What are smart factories and how are they allowing businesses to reach their full potential?

The seismic impact of 5G and how it drives growth of the manufacturing industry.

What do manufacturers say is the biggest barrier to IoT adoption?
You can watch my interview with Cheddar news here.
I came away from the event impressed, inspired and energised. In the end, digital transformation happens at the intersection of technology and humanity. We want to delight customers and follow-through on the promises we make to them; make it easy for team members to do their job well, create a resilient environment that shares our mission as a company, and be proactive in delivering long-term business value.
In the next 10 to 20 years, manufacturers will be smarter, more sustainable, more automated and more connected. Digital factories need modern leaders to create and transform the convergence.
The factory of the future is not something to be feared, but a vision to be embraced and a modern passageway to reach our greatest potential.