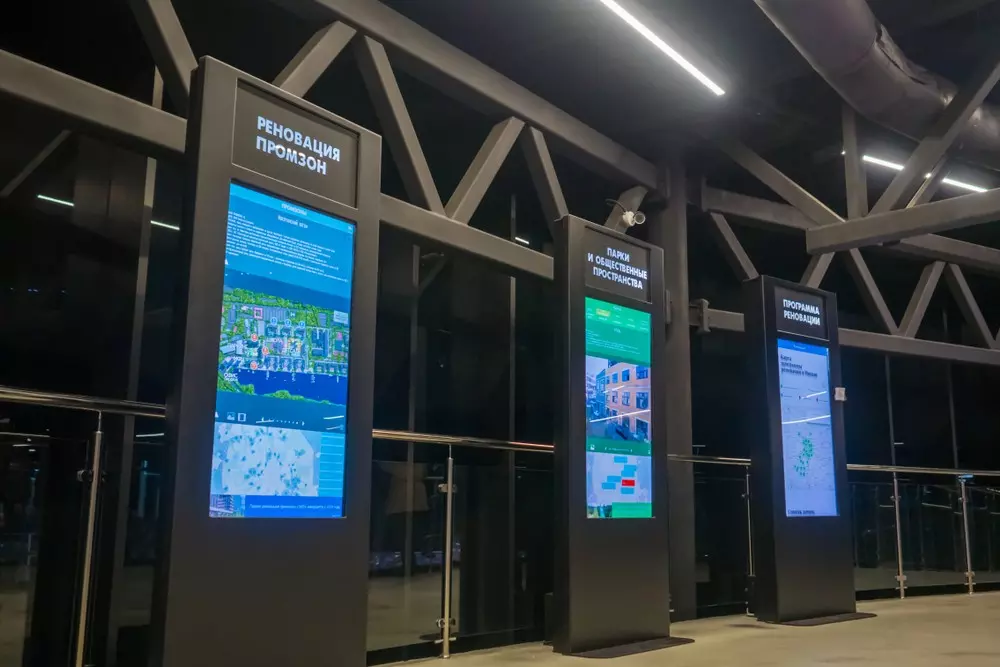 AI-driven kiosks are going to revolutionize the way we interact with kiosks by providing an intelligent voice and gesture user interface.
"I am Iron Man." This line immortalized Robert Downey Jr's portrayal of the superhero character and made Iron Man probably the most loved superhero (at least mine). Even if you are not a fan of Iron Man, because of his egoistic personality or eccentric behavior, you can't help but MARVEL at the technologies he uses. One of the most useful pieces of technology that helped Iron Man become Iron Man was his artificial intelligence system, J.A.R.V.I.S. Although named after his household butler, the artificial intelligence acronym has every bit of a shade of Tony Stark's personality. The acronym stands for Just A Rather Very Intelligent System. The AI system helped Tony develop multiple Iron Man suits, to form the intelligence for Vision, and most importantly to test the time-travel machine designs that helped the Avengers undo the snap. What's interesting is the way Tony Stark communicated with J.A.R.V.I.S. He used hand and voice gestures to talk to J.A.R.V.I.S as if he is talking to another individual. He used hand gestures to move around the interface of the system by waving, pinching, or pointing his hands in the air. Similarly, Mr. Stark gave voice commands to J.A.R.V.I.S, to have it carry out tasks such as running prototype simulations. Basically, Tony Stark used to interact with J.A.R.V.I.S as if he was talking to a fellow human being. This futuristic concept is something that we have seen restricted to sci-fi movies and comics. Now, imagine, what if you could bring the same functionality into real-world objects such as kiosks and change the way users interact with these devices? Sounds amazing, right? Let's have a look at where the current kiosks ecosystem stands and where we can advance it, in terms of user interaction, with artificial intelligence technology.
Non-AI kiosks: The Pre-Dated Technology
A non-AI kiosk relies on simple touch inputs. It is similar to interacting with the early iterations of touchscreen phones. The kiosk carries out actions based on the input provided by the user, which are usually limited. When it comes to user interaction, there is actually none. Users just tap on different parts of the screen, and the kiosk responds accordingly. But when you think of it, kiosks were originally used as human replacements to help customers. However, the interaction they provide with the current interface is anything but human. This is due to the kiosk's limited intelligence and its incapability to learn new things. In addition, if the kiosk fails to complete a task, or users have difficulties in operating the kiosk, they have to find a human representative. Thus, kiosks often fail at achieving their purpose. To summarize, non-AI kiosks are boring, unintelligent, and rather obnoxious to work with. Now let's turn our attention to AI-driven kiosks.
AI-Driven Kiosks: A Quantum Leap in Kiosk Technology
Imagine if you could interact with kiosks the same way Tony Stark does with J.A.R.V.I.S. You could gesticulate to move around the kiosk interface, or talk to the kiosk in an organic manner to get tasks done! Imagine the possibilities if the kiosk could accurately understand your every word and action, no matter how nuanced they would be. Well, AI-driven kiosks can make this sci-fi concept a reality. AI-driven kiosks can utilize voice and gesture recognition tools to provide highly engaging user interaction. Voice user interface: An AI-driven kiosk with Natural Language Processing capabilities can enable users to communicate with the kiosk in an organic manner. This means users can interact with the kiosk in the same manner as they would if they were talking to another person. The kiosk can understand a user's speech, even if it includes colloquial language or slang words, thanks to artificial intelligence technology. The kiosk can then provide feedback to the user in an audio format, similar to having a one-on-one interaction. Thus, AI-driven kiosks with voice user interface result in being a much friendlier, simpler, and interactive way of communication when compared to touchscreen kiosks. Gesture control interface: AI-driven kiosks can also leverage gesture recognition technology to provide a gesture control interface to the users. With GCI, Individuals can gesticulate to carry out tasks. The computer vision and motion tracking software can analyze and precisely understand hand movements to allow the user to navigate through the kiosk interface. Users can scroll through the menus using waves, point to select items, or perform other gestures that are similar to touch inputs. GCI is easy-to-understand as it almost replicates all our actions with touchscreen devices. The benefit of using GCI in kiosks is that it helps eliminate our contact with touch shared surfaces, which is highly essential for maintaining public hygiene standards. Both the methods of user-interaction eliminate the need for touching the kiosk surface and provide an engaging and interactive method of communication.
Where Can We See the Futuristic Technology in Action?
AI-driven kiosks can see applications in a large number of places. They can be used to replace every single touch screen kiosk in the world. Some prominent areas where we can expect to see the first touchless AI-driven kiosks include:
Airports
Touchless kiosks can be implemented at airports to provide convenient check-ins to passengers. Users can get their identity verified, documentation cleared, and get answers to their questions with AI-driven kiosks. With computer vision technology, the kiosk will be able to identify and validate the biometrics of passengers. Similarly, it can scan and verify documents such as passports and visa papers to provide a hassle-free check-in. And with Natural Language Processing (NLP) capabilities, passengers can interact with the kiosk as if they are talking to a human representative. If needed, users can interact with the kiosk using a combination of voice and gesture commands to have a pleasing experience interacting with the kiosk that is suited to their preference.
Restaurants
How cool would it be if you just asked a kiosk to order a meal using voice commands? Imagine saying, "I need a double cheeseburger with extra veggies, two medium fries, with extra sauce, and a large coke," and the kiosk actually understanding your request word by word. Or using gestures to choose between hundreds of food options available to create your perfect meal. With AI-driven kiosks, you can actually do that. And when it comes to paying for the meal, the kiosk can verify your identity with computer vision technology and deduct the bill amount from your bank account or membership card.
Parking Lots
Now imagine, you drive into a parking lot. You simply enter and exit it without any stoppages. As soon as you are about to enter the facility, there is no time wasted on noting the vehicle number. Similarly, when you exit the facility, the parking fee gets automatically deducted from your account. You don't have to manually pay the parking fee or even scan credit cards or use other digital payment methods. You simply 'Drive-in and Drive out.' Sounds uber-cool, right? With AI-driven kiosks, the parking experience can turn into something exactly like this. AI-driven kiosks can use computer vision technology to automatically scan the license plate of the drivers when entering, and then deduct the parking fees automatically from their accounts when they leave the parking lot.
In addition to being used at airports, restaurants, and parking lots, touchless kiosks can also be implemented at various other places such as hospitals, shopping malls, and cinemas. AI-integration in the existing kiosk ecosystem is relatively easy. It only requires minor tweaks in the hardware and software. Organizations can easily upgrade the hardware by implementing computer vision cameras and depth and motion sensors. Similarly, software integration is also an easy step. Allerin's AI library can be easily integrated into your current software to upgrade your kiosks and make your customers get the "I am Iron Man" feeling! Get in touch with Allerin to know more about how to transform your kiosk from boring to future-ready.