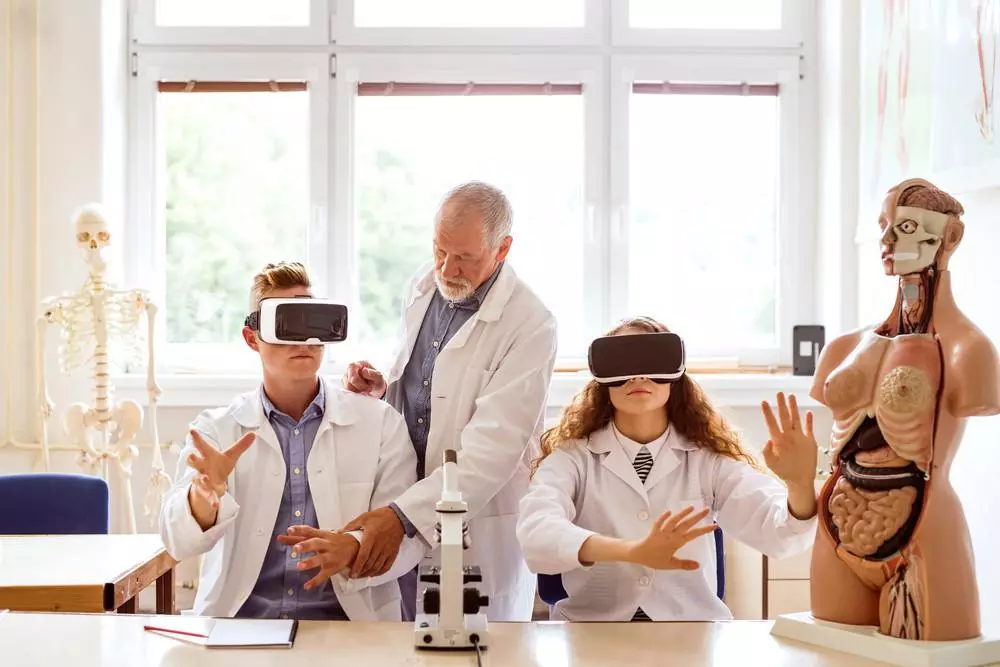 Augmented reality and virtual reality have transformed several industry sectors and education is no exception. The adoption of augmented reality and virtual reality in education will lead to the development of multiple applications to improve the learning experience of students.
Several reports have suggested that the current education system in the US is ineffective.Multiple factors, such as low funding and outdated curriculums, are responsible for this situation. Additionally, attention spans of children born in the age of digital technology are decreasing rapidly. The brains of young children are constantly exposed to stimulation due to smartphones, social media, and the internet. Other activities are incapable of constantly stimulating human brains, unlike digital technology. Hence, educators need to find a solution to address these existing concerns.
The introduction of augmented reality and virtual reality in education can prove to be a feasible solution for all these problems. AR and VR can make lectures and books more immersive and interactive, which can reduce distraction. With this approach, educators can address the issue of decreasing attention spans. Additionally, educational institutions can introduce personalized virtual lectures and courses for subjects that are not included in the curriculum. These courses can be easily updated using premium VR tools. With this approach, educational institutions can effectively improve the quality of education.
Augmented Reality and Virtual Reality in Education
The deployment of augmented reality and virtual reality in education will give rise to the following applications:
Lecture Halls
One of the most remarkable applications of virtual reality in education is giving students the ability to attend classes remotely. Educational institutions can introduce virtual lecture halls that can simulate a typical classroom setting. These virtual lecture halls can also incorporate videos, images, and other immersive experiences to create engaging lectures. Virtual lectures can also be set up in different virtual environments. For instance, a lecture about space technology can be held inside a virtual spaceship and taught by a virtual avatar of an astronaut. Such virtual lectures can enhance the learning experience for students.
Interactive Classrooms and Books
Educational institutions can create interactive classrooms using augmented reality. Educators can present interactive animated content in their classrooms to provide additional information about certain topics. For instance, an animated chart about 'Types of Rocks' in a geology class can display additional information about the rocks when students hold their phones in front of them. A similar technique can be applied to textbooks. Students can scan certain sections of their books to receive additional information, links to videos, and extra tips from professors. With this approach, understanding complex concepts can be made simpler for students. Also, educational institutions can integrate augmented reality experiences across the campus to offer an informative scavenger hunt for their students.
Education for Students with Special Needs
Students who suffer from learning and physical disabilities and sensory impairments find the conventional education system quite challenging. Therefore, educational institutions are always looking for solutions to make education inclusive for students with special needs. The adoption of virtual reality in education will offer a platform to develop personalized learning solutions for students with special needs.
Educators can provide 360-degree VR videos for their students to give multi-sensory stimulation using different environments, landscapes, and scenes. Additionally, virtual environments can help students with physical disabilities experience activities that may not be physically accessible to them. By leveraging virtual reality in education, educators can develop certain skills that students with special needs may be lacking. For instance, educators can utilize VR to help autistic children learn social interaction and nonverbal cues by simulating a virtual social environment. Also, educators can create customized learning environments for different students with special needs.
Academic Project Design
In fields such as engineering and architecture, students have to design several structures for machines or buildings. Generally, students use 3D modeling software for their designs. Although 3D modeling software can offer an overall view of the entire design, some design aspects can be poorly represented. For instance, in architecture, a 3D model can never offer a truly immersive experience of how the final building and its interiors would look like.
The implementation of virtual reality in education for domains like architecture can help students design virtual structures. Educators can teach different design aspects to their students in detail using VR. Students can create their own designs that can be viewed in 360-degree virtual environments. For example, an architecture student can design a hotel for a project that can be viewed using VR. Using VR, the student can precisely showcase the different features, such as lobbies, kitchens, bedrooms, staircases, elevators, bars, and swimming pools in an immersive environment. With this approach, designs can be made more presentable and detailed.
Medical Simulation
Medical students go through years of training to learn different medical procedures and the technicalities involved in them. Usually, students of medicine learn with the help of images and cadavers. This training and learning process can be made more informative by deploying virtual reality in education.
Virtual reality can help train students by simulating various medical procedures. For example, a neurosurgeon can perform virtual surgeries on patients and recognize their mistakes and the effects of their mistakes in real-time. Educational institutions can also develop virtual human anatomy to help students understand the various organs in an interactive manner. Besides, surgeons can ask patients to wear VR headsets in surgeries for brain tumors. VR headsets will display virtual environments to patients for triggering brain activity. Using this approach, surgeons can map specific zones and connections in a patient's brain during surgeries.
Field Trips
Educational institutions need to fund and organize field trips for their students frequently. These field trips offer real-world experiences to students to help them learn about heritage sites, museums, and other places of historic and scientific interest. However, organizing such field trips and managing students in various locations can be a tedious task. Also, based on the institution's budget, options for the locations of field trips can be quite limited.
The advent of virtual reality in education will open up better opportunities for students to explore newer sites and locations. Educational institutions can organize virtual field trips to various locations around the globe. For instance, using VR headsets, students in a school at Arkansas can go for a virtual field trip to Paris. In the virtual trip, students can experience the Parisian culture, visit different tourist attractions, and interact with virtual Parisians. Such trips can be educational as well as engaging for students. Virtual field trips can also contain trips to space or a specific historical timeline. For example, educators can organize a virtual field trip to the Jurassic Age, where students can be immersed in an environment surrounded by dinosaurs and other prehistoric creatures.
Vocational Training
Educational institutions can train their students for professional environments by adopting virtual reality in education. Using virtual reality, educators can simulate workplace environments for students in different domains. With the help of such simulations, students can get used to a previously unfamiliar workplace environment. By leveraging virtual reality, educators can also train their students in different aspects of their jobs. For example, law students can find clues for a case in a virtual environment. Students will score points for each clue and professors can evaluate their performance. The greatest advantage of using VR in vocational training is that students can practice complex exercises and tasks more than once and learn at their own pace.
The development of augmented reality and virtual reality in education is still in its early stages. With further development, AR and VR solutions will become less expensive and more mainstream in educational institutions. Also, the rise of extended reality will combine the core features of AR, VR, and Mixed Reality (MR) to incorporate virtual environments into the real world and vice versa. The applications based on extended reality will help explore new possibilities in the world of education.