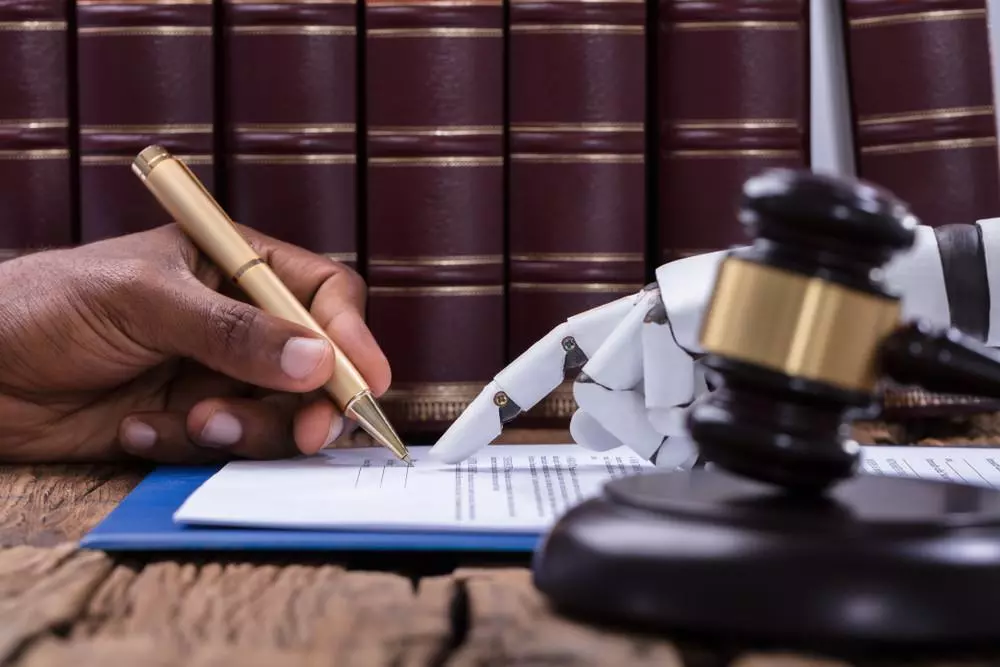 Right from contract review and management to legal outcomes anticipation and performing due diligence to conducting legal research, the impact of artificial intelligence (AI) in the legal industry is indeed worth mentioning. But lawyers, you are safe from the AI apocalypse, as of now.
The intensifying buzz and madness around the groundbreaking and revolutionary technology, AI, shows a clear indication of the fact that AI is here to stay. While negative comments have been passed on the technology, the media and popular personalities share optimistic views on AI. To add to the list, the convenience that AI provides with its blend of automation and smartness simply pulls people's attention. The showstopper, AI has also attracted several business sectors. Enterprises facing issues in coping with efficiency, productivity, and accuracy requirements look for solutions offered by AI. And, the legal firms are no exceptions. We will soon see AI in the legal industry, revolutionizing and redefining the way legal activities have been carried out so far. AI works well for performing mundane, repetitive, and time-consuming jobs, as we all know. The legal professionals, on the other hand, are piled up with numerous tedious tasks, that actually have the scope to be automated. In this regard, AI can prove to be a strength for the law firms.
What will be the Impact of AI in the Legal Industry?
Until a few years ago, the legal industry has been least enthusiastic about new-age technologies and their adoption. Attorneys continued to get inundated by heaps of legal contracts, documents, and client information. Plus, legal research work was a time-consuming task. Such a busy schedule left them with negligible spare time at hand to take up strategic work like legal advising, studying, and preparing for their cases. But considering the immense potential that AI holds, the legal industry has now understood and realized the use cases of the technology. Soon, we will be seeing AI going mainstream, causing big changes in the legal industry.
Automation
As mentioned earlier, attorneys and paralegals have to deal with large chunks of legal data on a daily basis. The data could be in the form of contracts, case studies, client details, case proofs, and much more. They have to go through every page of every document mandatorily. Scrutinizing this tremendous level of data is easier said than done.
Along with this task, the lawyers are also expected to be available around the clock to answer client queries. Most of the times, the queries are so simple that they honestly do not require lawyers to respond personally. Here's exactly where chatbots can play a role. With its astounding and friendly Q&A interface, chatbots can help clients with their doubts and queries. The features that make these automated agents stand out are 24*7 availability, prompt replies, and hassle-free communication. And, when the queries are beyond the relevance range of chatbots, they can even schedule appointments with lawyers.
Document Analysis and Review
Even though both tasks are monotonous, document analysis and legal research hold priority over the other legal tasks. These mundane tasks eat away a significant amount of lawyer's time, slowing down other, potentially more important work. To shorten the document analysis turnaround time, there can be no better option other than AI. AI can be trained to read, comprehend the context and flag anomalous areas (if any) in documents pertaining to any case. The most-advanced ML and NLP capabilities make it possible for the AI-powered software to understand natural language and spot irrelevant items.
Legal Research
Lawyers have to spend their early lives learning and analyzing precise, speedy, and effective ways of researching legal documents. Their win rate depends solely on how well the research task is carried out. Hence, it becomes imperative for lawyers to be mindful while carrying out the research work. The amount of time spent is tremendous, not to mention the stress and effort involved in this activity.
Now, consider the same operation with the superpowers of AI. When trained, AI applications can do the heavy lifting for attorneys. The AI applications can search for the relevant case studies, similar legal cases, appropriate books, other important facts, and other references pertaining to the case as required by the lawyers. The activity that used to take up weeks to months when done manually can now be carried out within just a matter of minutes or even seconds.
Case Outcomes
Advocates are often expected to give at least a rough estimate of clients' winning chances after they analyze the documents of the case. As AI is meant to take the input, study the context, and give better anticipation details, it can be used in the law space too. The AI software can be trained such that on getting inputs on case matters, it gives a prediction rate on the client's winning chances. No doubt, AI is set to help lawyers be more confident and precise at their work.
Is AI better than Lawyers?
Though AI hasn't completely pervaded the legal sector, the technology is seemingly establishing a firm place in a few areas and has already outperformed humans. Recently, an experiment was carried out between twenty top US lawyers and AI software, where the task was to identify problems in five NDAs. The whole idea behind conducting such an experiment was to determine the efficiency, precision-level, and performance of the participants. For the experimentation, trained, highly-skilled, and experienced lawyers were picked against the AI tool. The results of this study were quite shocking, to be honest.
Accuracy - AI achieved an accuracy rate of 94% while attorneys could reach only 85%.
Efficiency - The time taken by the AI tool to complete the reviewing process was 26 seconds, while humans took an average of 92 minutes.
Performance - The lowest performing lawyer took 156 minutes, whereas the best performer took 51 minutes, which is still a lot of time when compared to AI.
So, who is the winner? Well, the test result says it all. However, referring to the remarkable advances, there is an outburst of fear and anxiety about AI replacing lawyers, taking control over the courtrooms, and leaving them unemployed. But to be honest, AI will not automate the legal industry to an extent that the legal profession becomes extinct. Adopting AI will automate a lot of repetitive and error-prone legal jobs, but it cannot reach a level of sophistication where it matches the human ability to think or make strategic decisions critically. For example, in scenarios like dealing with cranky clients, negotiating deals, appearing in courts, the power to understand a situation and make a decision, and so much more is just not possible for AI.
Taking the current situation, it's imperative that legal professionals move past their anxiety issues. AI can never be a substitute for human attorneys. The rapport, strategy, and judgment of attorneys can never be replaced by an AI tool. In fact, lawyers should consider AI as their assistant, that helps them to be more productive, confident, and efficient at their work.